MLPs bounced back this week on stabilized oil and gas prices, benign broader stock market and limited equity issuance. Interest rates continue to creep higher and may be contributing to MLPs recently lagging oil's rally. Most of the gains came Monday as WTI closed above $52/bbl and MLPs rallied more than 2% for their best day since June 23rd. The rest of the week saw limited follow through, with some interest Friday following Alerian's updated methodology announcement.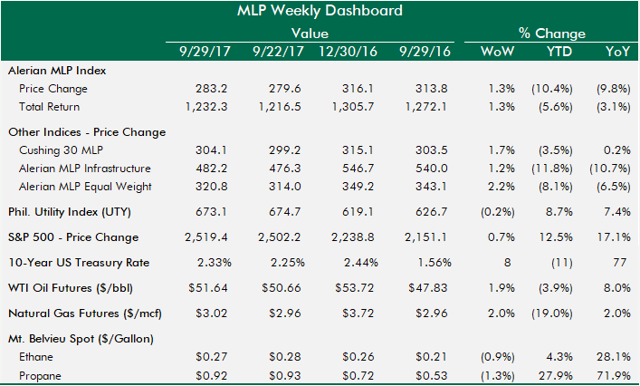 Why do you build me up?
Alerian, the recently sold index provider with the most prominent MLP Index out there, released a statement Thursday addressing pending changes to its index methodology. The timing was strange, because Alerian doesn't tend to discuss methodology changes in advance of releasing them. But, we were all given a heads-up Thursday night that the long-awaited improved index methodology would be released imminently and would include a 10% cap on individual securities, but still no corporations.
Then it was announced the new methodology would be put into practice immediately due to a special rebalancing related to WNRL's merger with ANDX and removal from Alerian's indices. So, after nearly a year of conversations between Alerian and buy-side and sell-side MLP folks, suddenly everything was set to happen all at once.
Now that the changes have been released, the biggest change had already been announced with the 10% cap. The only other change appears to be a period of leniency with it comes to trading qualifications before an MLP is removed from the Index.
Early Friday, trading seemed to confirm fears oft-expressed that such an announcement would weigh on EPD and its 20% weight in the index. But, after a volatile day of trading that included nearly 10x normal volume (33.5mm units traded Friday), EPD finished the day down 20 bps, maybe helped by some short covering late in the day. I don't expect the overhang associated with the AMZ methodology change to linger (any more than it already has over the last year!).
The 10% cap is an improvement in reducing concentration, but it sounded like Alerian was considering more radical changes to its flagship index, maybe even including GPs that issue K-1s. I understand the desire to keep the flagship index pure in terms of capturing MLP exposure, not all midstream assets in any wrapper. Alerian has other indices that do that.
I'm interested in your thoughts on whether these changes are enough to "fix" the index.
Status Update
MLPs managed to finish slightly positive for September on the back of this week's gains. The quarter finished -3.1% for a second straight negative quarter.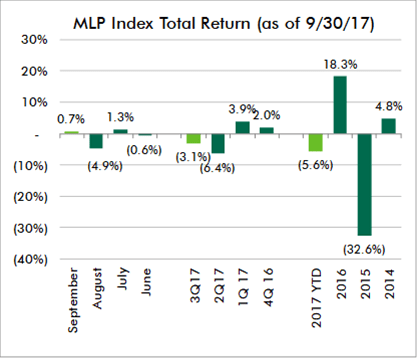 MLPs need to produce 6.0% total return over the next three months to finish flat for the full year. In the early 2000s, MLPs routinely had 6%+ fourth quarters, but it hasn't happened in the last five years.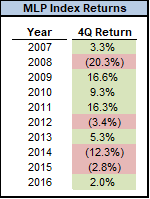 Winners & Losers
Smaller capitalization MLPs with small weights in the MLP Index outperformed this week, with SPH leading the way. WLKP was the only one in the bottom five with any news this week, and it finished the week well off its lows.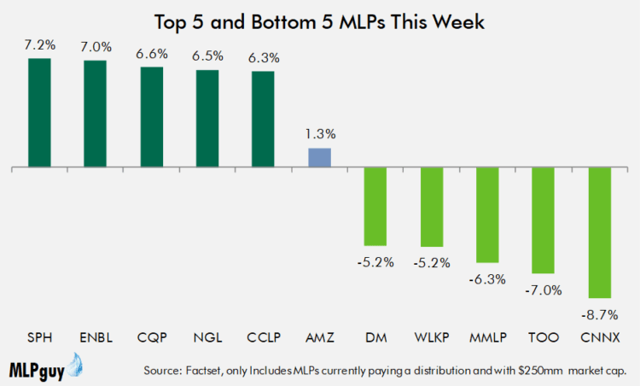 DM gave back some of last week's gains, and went from best performer to bottom 5 this week. NGL made it two weeks in a row in the top 5. NBLX rallied on increased 3Q guidance to extend its lead for the year so far.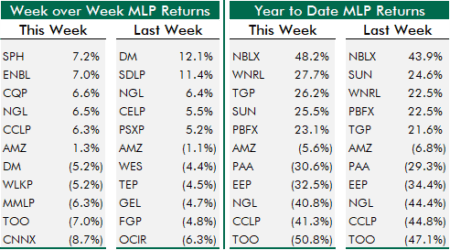 General Partners and U.S. Midstream Corporations
GPs and corporations overall outperformed the MLP Index this week, led by smaller GPs. KMI continues to lag the group.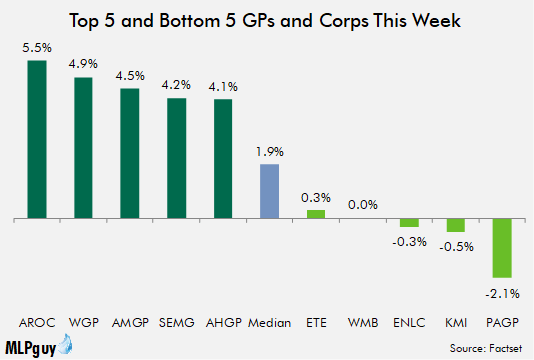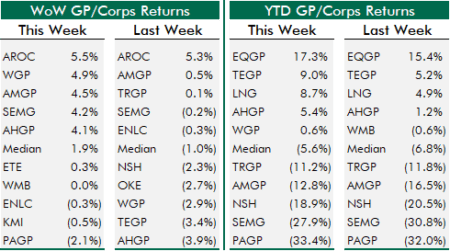 Canadian Midstream Corporations
In Canada, Inter Pipeline (OTCPK:IPPLF) and Pembina (NYSE:PBA) continue strong recent performance while Keyera (OTC:KEYUF) fell back this week, finishing alongside KML as the only two negative Canadian midstream stocks this week.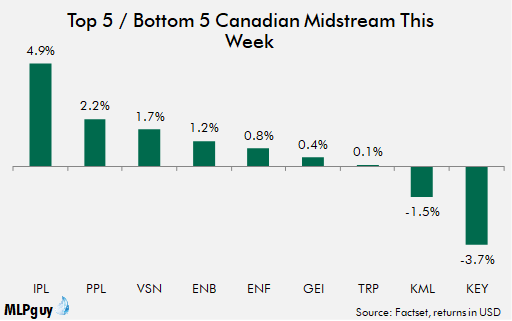 Pembina continues to climb up the year-to-date leaderboard. Inter is slowly climbing back towards positive YTD performance, which would make every stock in the group positive for the year.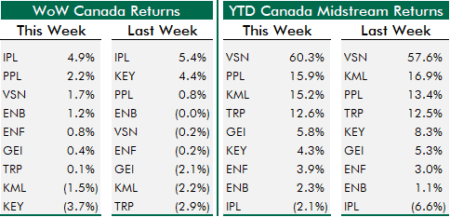 News of the (MLP) World
There wasn't much action on the transaction front this week. There were a couple of small equity offerings, including another preferred offering, and a drop-down acquisition. Also, private midstream companies continue to hang out there as the next potentially high multiple acquisition by a midstream company (Oryx (OTCPK:ORYX) and Medallion (OTCPK:MLLOF), in particular).
Capital Markets
Growth Projects/M&A
Other
Editor's Note: This article covers one or more microcap stocks. Please be aware of the risks associated with these stocks.