Offering business software on cloud platforms, the so-called SaaS (software as a service) model in which companies do not buy software packages to run on their own servers but subscribe to solutions based in a third-party cloud, has taken off since Salesforce (NYSE:CRM) pioneered the solution.
The advantages are numerous, enabling companies to outsource much of their ICT (which can be a bit of a headache), get rid of legacy applications which can't talk to other apps and are difficult to maintain, scale easily, tailor use to need, etc.
There are also a few possible drawbacks: it can prevent companies from using software as a source of distinction, and mission-critical applications might be better kept in-house.
Still, the success of Salesforce speaks for itself: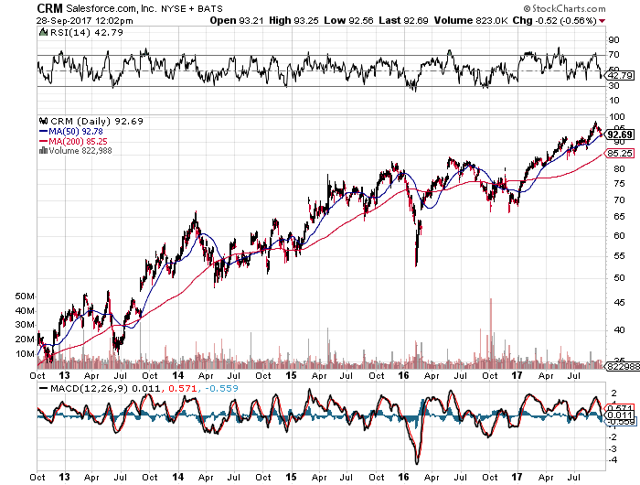 We have been admirers of another SaaS provider, Ellie Mae (NYSEMKT:ELLI), although we've gotten valuation concerns of late, especially given that (at least before an accountancy change) GAAP EPS used to be half of non-GAAP EPS due to substantial share-based compensation.
But Ellie Mae has done even much better than Salesforce, even if the shares have returned to earth quite a bit in the last couple of months: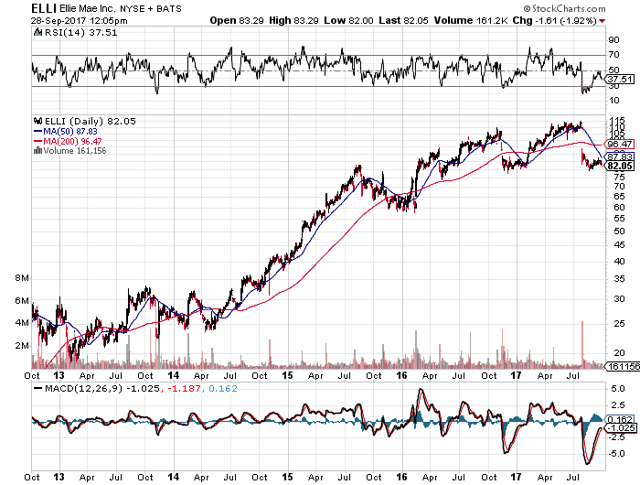 So there is little doubt that in principle SaaS offers an attractive business model, as it's new, thereby offering potential high revenue growth, and platforms enable providers to leverage that revenue growth by adding solutions and operational leverage.
A further attractiveness is that it allows platforms to become dominant in their category, creating positive feedback through earnings, growth and improvements.
So, there are good reasons why these SaaS companies command premium valuations, and perhaps we have been a little harsh on these, as in the case of Ellie Mae as well as Paylocity (NASDAQ:PCTY) recently.
In the rest of the article, we will compare three of these companies, Elli Mae, Paylocity, as well as Workday (NYSE:WDAY) to see where there are important valuation differentials and what can explain for these.
Competitive position
Perhaps the most important dimension for these companies is how they dominate their respective spaces. These platforms have a chance to benefit from, in the words of the Workday CEO (Q2CC): "Success begets success."
Paylocity is a payroll solutions provider, although that has now declined to below 50% of its revenue.
The company has ventured out into HRM (human resource management) applications and has done quite well, as we recently argued. However, it hardly enjoys the space for itself.
It services the mid-market, with clients having an average of 120 employees, and this has been the case for quite some time. The company also has considerable competition like Ultimate, Paycom and Paycor.
Just like Paylocity, Workday also operates in HRM (or HCM, human capital management, as the company prefers it) and finance, but its solution is for bigger (basically the biggest) companies and the suite of solutions is broader.
Workday's CEO argues that it gains on competitors which offer more ample ERP (enterprise resource planning) software like SAP AG (NYSE:SAP) and Peoplesoft (owned by Oracle (NYSE:ORCL)), even if the company's offering is rather broad itself (it has applications for accounting, HRM, payroll, planning, etc.). In fact, another SA contributor, Larry Alexander, has already done the legwork here as he describes Workday's competition (and depicts a pretty grim picture).
While one can safely conclude that Workday doesn't have the field all for itself, the company has already managed to get 30% of Fortune 500 companies as clients, at least for its HCM modules. And, as was stressed during the Q2CC, winning Siemens (OTCPK:SIEGY) as a customer in what would normally be SAP country - that's not a sign of a weak competitive position.
Ellie Mae also has a dominant position in its market for mortgage origination. The biggest competition which seems to be left is the big financial institutions' own internal applications.
On the count of competitive threat, there is little doubt that Ellie Mae is way ahead of the other two companies.
Growth
Despite the grim assessment of its competitive situation of Workday, it is still by far the fastest grower of the three, and what's more, the company seems to have arrested its growth decline in the last couple of quarters: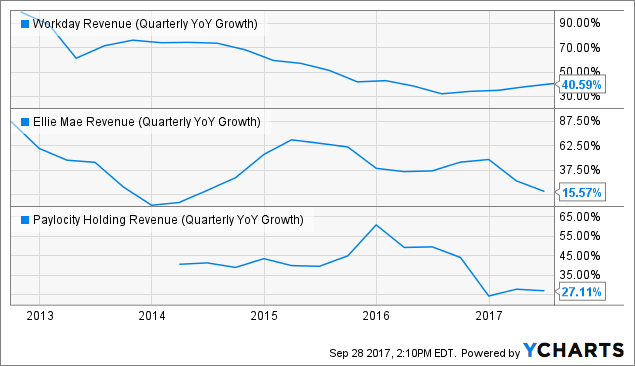 As we argued in an earlier article, Ellie Mae is struggling, as the refi market has shrunk and is not likely to recover anytime soon in a rising rate economy.
Paylocity's growth has declined as well, but it's still pretty respectable in the low 20s.
Each of these companies relies on a model of gaining new customers and adding new modules to its existing package, but Workday seems by far the most prolific in the latter, evolving into a veritable Swiss army knife of solutions, almost becoming a sort of SaaS ERP company (we hope to have a separate article out next week detailing the opportunities).
Margins
Given its superior competitive position, one is inclined to expect Ellie Mae enjoying the best margins, but this doesn't seem to be the case for gross margins: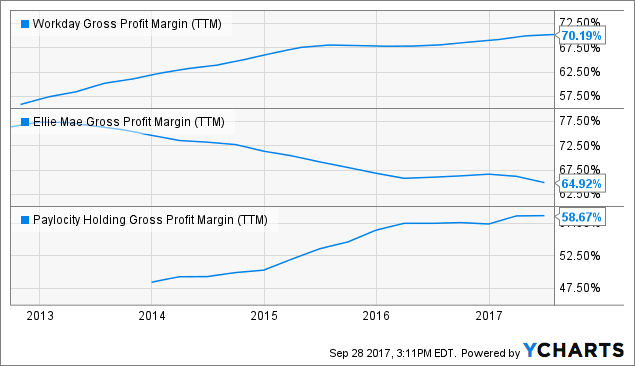 Operating margins provides another picture, though: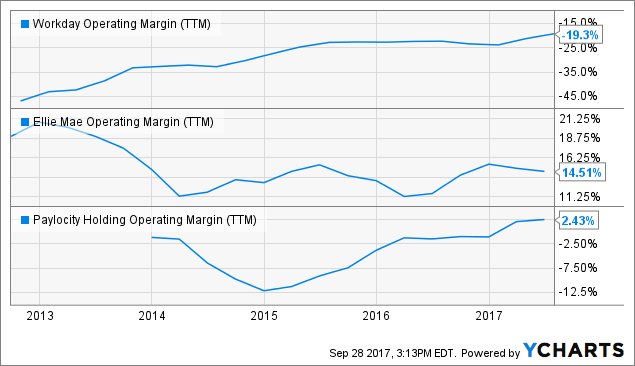 It's amazing that Workday still hasn't managed to move into positive territory here, though at least the trend is moving in the right direction. These are GAAP figures in the charts, and on a non-GAAP basis, the company has turned in a profit in the last four to five quarters or so.
The gap between GAAP and non-GAAP figures is huge at Workday. From the earnings PR:
Operating loss was $81.6 million, or negative 15.5% of revenues, compared to an operating loss of $86.7 million, or negative 23.2% of revenues, in the same period last year. Non-GAAP operating profit for the second quarter was $49.0 million, or 9.3% of revenues, compared to a non-GAAP operating profit of $6.1 million, or 1.6% of revenues, in the same period last year.
That's a $130.6 million difference just for the quarter, or 25% of revenues, reminding us of another SaaS company, Tableau Software (NYSE:DATA), and just as with the latter, nearly all of it is caused by share-based compensation ($121 million for the quarter).
For Paylocity, share-based compensation was $26.7 million for the year, or just under 9% of revenue. Ellie Mae spent $16.36 million on stock-based compensation in the first half of 2017 on revenues of $197.1 million, or just over 8% of revenues.
Overall, as one expects, Ellie Mae is the clear winner here, at least on a GAAP basis.
Cash flow
Less amenable to accounting gimmicks, cash flow often provides a clearer picture. Paying employees in shares suggest that these companies, Workday especially, should generate considerable amounts of cash. Indeed: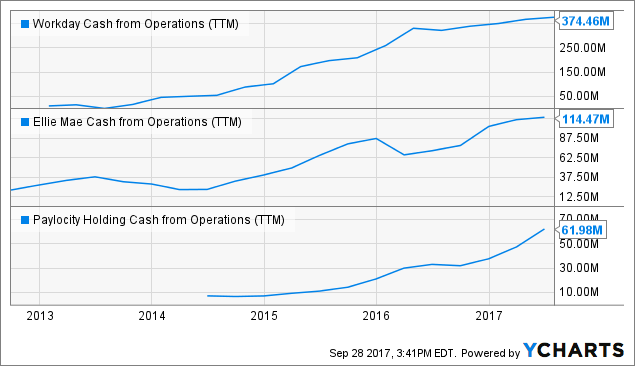 But one could argue that Workday's cash flow is artificially boosted because of its much larger amount of stock-based compensation.
Valuation
On an EV/S basis, Workday is by far the most expensive of the three: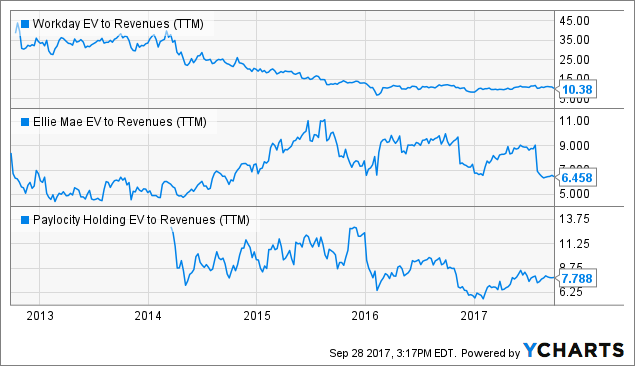 Analysts expect EPS of $0.83 for the company this year, rising to $1.10 the next (but remember, these aren't GAAP figures, so exclude most of the stock-based compensation).
For Ellie Mae, analysts expect $1.49 this year and $1.82 in 2019. For Paylocity, the figures are $0.79 and $1.02 respectively.
Workday is clearly considerably more expensive compared to the other two, especially considering its large amount of stock-based compensation.
Conclusion
Each of these companies has their relative strengths and weaknesses. Workday's strength is really its proven track record with Fortune 500 companies, and how it's been able to successfully implement these projects. The company also has plenty of runway, as moving finance to the cloud especially is a pretty recent development.
However, it spends a quarter of revenues on stock-based compensation, and its valuation is rather onerous.
Ellie Mae is virtually unopposed in its space, mortgage origination, but the company could run into growth problems (if it hasn't already), as further gains are more difficult, almost needing a win from a big financial institution shifting from its own internal solution to Encompass.
Ellie Mae is also facing headwinds from the refi, market and this is likely to continue for quite some time. While its valuation is more reasonable compared to Workday and its stock-based compensation is much less important, we'll have to see whether the company is able to return to the 20%+ growth path before we can recommend the shares.
Paylocity faces more competition in its space, but for now, that hasn't held it back growing at a fast pace - even if that is slowing down due to the law of large numbers setting in. The shares are fairly valued, though.
Disclosure: I/we have no positions in any stocks mentioned, and no plans to initiate any positions within the next 72 hours.
I wrote this article myself, and it expresses my own opinions. I am not receiving compensation for it (other than from Seeking Alpha). I have no business relationship with any company whose stock is mentioned in this article.