Large pharmaceutical companies generally offer a great deal of diversity, high barriers to entry and competitive advantages that allow them to produce steady levels of profitability and impressive dividend track records. But not all big pharmaceutical companies are able to translate their strong market positioning into truly attractive levels of return for investors seeking high levels of value creation.
We approach the pharmaceutical industry like any other, in that we set "quality" hurdles based on return metrics such as return on equity (ROE) and return on invested capital (ROIC) and their stability through time. The steadiness of these metrics through time/cycles is as critical as the absolute level, but the main focus is to invest in highly value-creating companies or perhaps to avoid investment in value destructive companies.
In the pharmaceutical industry, we often look to pair strong dividend profiles with value creation and of course look for appropriate use of financial leverage. While most of the companies in this analysis do demonstrate the steady profitability one might expect, we find it quite intriguing that companies like Novartis (NYSE: NVS) or Sanofi (NYSE: SNY) are struggling to translate protected market positions into substantial value creation for shareholders.
We define large pharmaceutical companies as companies with a market capitalization over 90 MUSD for the purpose of this article. It excludes other healthcare companies like biotech companies. The resulting company list is as follows:



Source: Thomson Reuters Eikon
Purpose of this article
The purpose of this article is not to do a deep dive into each company's competitive positioning and financial profile, but to help direct quality-focused investors where to initially focus their research efforts in the large pharmaceutical space by providing a number of hurdles companies should pass. These basic hurdles could of course also be applied to smaller companies or companies in other sub-industries.
We wanted to work with a relatively comparable sample of highly diversified and established pharmaceutical companies. We do not recommend investment or divestment without a more complete analysis of the companies and their fundamental strength.
Hurdle number 1: The balance sheet
A good starting point is to check for red flags in the balance sheet. We are generally conservative investors and look for appropriate levels of leverage over time. Large pharmaceutical companies can certainly support reasonable levels of leverage considering the generally steady nature of profitability and strong cash flow production, but we still don't want to be taking any unnecessary risks. The debt profile also needs to be considered when looking at ROE or when comparing ROE across the industry.
Let's quickly have a look at total debt to total equity to get an overview.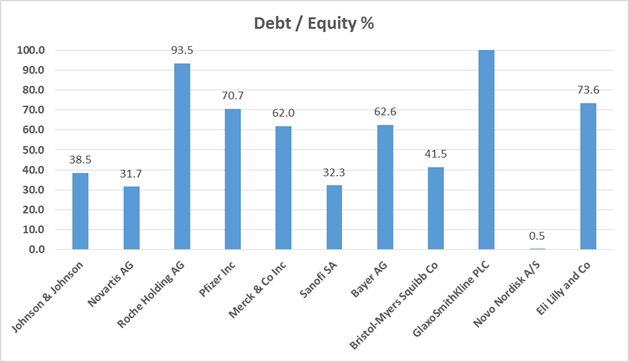 Source: Thomson Reuters Eikon
Other than GlaxoSmithKline (NYSE:GSK) (which we let go far off the chart), none of these levels give cause for great concern. We do note that Novo Nordisk (NYSE:NVO) is operating with essentially no debt. It is perhaps more useful to look at the companies from a net debt to EBITDA perspective.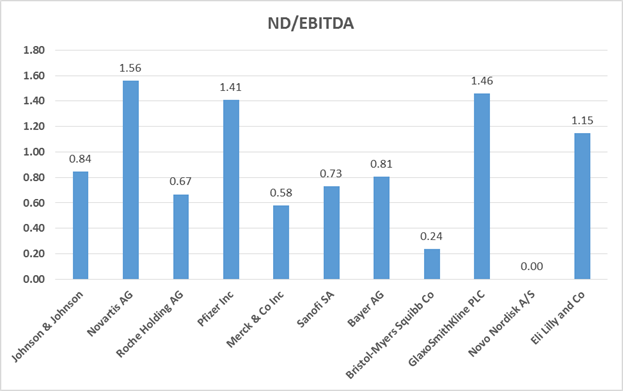 Source: Thomson Reuters Eikon, trailing EBITDA
None of the values from the chart are clear red flags, and we can see that GlaxoSmithKline looks more reasonable using this metric, but a closer investigation of the values over 1x is likely warranted, especially considering that the industry median is closer to 0.5x. Let's stick with the high level view of the balance sheet for now and let all the companies clear the first hurdle.
Hurdle number 2: The dividend
The dividend is not necessarily a hurdle for every investor. There are plenty of people interested in companies that don't pay dividends or that don't have a safe and growing dividend. So maybe this hurdle is not applicable for everybody, but in our case, we generally look for a dividend component for our healthcare investments (especially in our dividend-focused products) and also view strong dividend metrics as a general positive in essentially all investment situations.
Taking a complete view of the dividend is complex and involves evaluating items like payout ratio, balance sheet strength, stability of cash flow, earnings and cash flow growth and the capital allocation policies of companies. We will not go in depth in all those areas but will simply focus on the current forward yields of the companies combined with recent growth in the dividend to make a high level conclusion about the dividend profile of the companies while trying to highlight a few key risks.
We do want to remind investors that historical dividend growth is not necessarily predictive of future growth. These dividend metrics may also have been affected to various degrees by currency fluctuations. We will evaluate whether the current yield plus dividend per share growth percentage clears a cost of equity hurdle. For this test, we will use 8% as a cost of equity or "hurdle" for the companies to pass.
The following chart summarizes the current forward dividend yield of each company and the average 5 and 10-year growth rates in the dividend per share. If we combine the yield with the growth rates, we get to a total return level which theoretically needs to clear the 8% cost of equity hurdle.

Source: Thomson Reuters Eikon
Looking at the list, we can make a few general comments. All the companies pay a substantial dividend with yields generally above 2.5%. All have also grown their dividend per share on average over the last 5 and 10 years. We also see that growth has been slower in recent years for most of the companies. For some like Novartis and Sanofi, there has been quite a substantial drop in dividend per share growth, which has left them with minimal overall growth. We will first focus on the forward yield plus the 5-year average growth figures for this test.
On average, the companies pass the 8% hurdle, but not all the companies look attractive from this angle. Let's have a look at a summary of the forward yield plus the 5-year dividend per share growth output: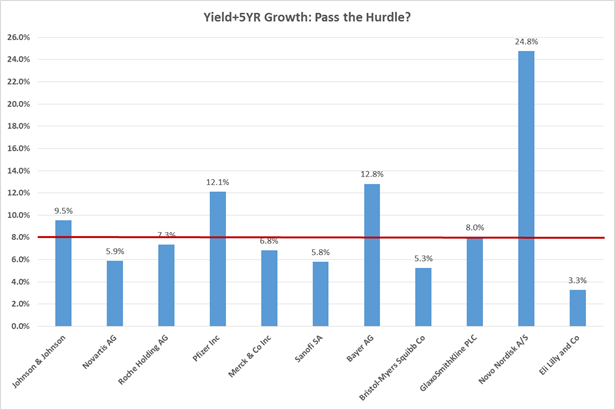 Source: Thomson Reuters Eikon
We see that very few companies actually pass this hurdle. If we use the generally higher 10-year growth in dividend per share, we get a better outcome: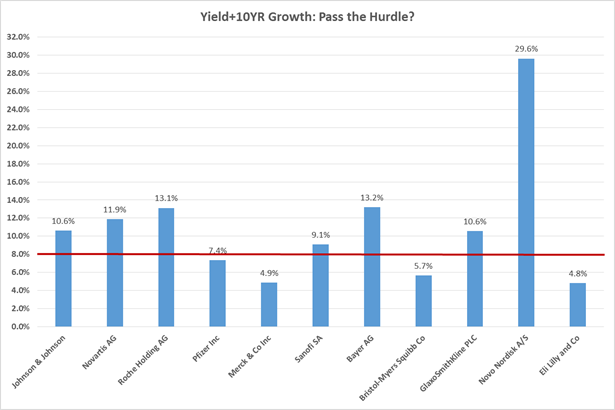 Source: Thomson Reuters Eikon
If we are generous and let any company pass this hurdle that either passes it on the 5-year or 10-year chart, we only lose Merck (NYSE: MRK), Bristol-Meyers Squibb (NYSE: BMY) and Eli Lilly (NYSE: LLY). But we do encourage investors to closely evaluate companies that clearly fail the 5-year test even if they pass the 10-year test like Novartis and Sanofi that have also had even shorter-term dividend per share growth close to zero.
Hurdle number 3: Value creation
The third and likely most critical hurdle is based on value creation. We measure value creation on a high level using ROE and ROIC, two metrics that combine profitability and capital efficiency. These metrics should be above a company's cost of equity or cost of capital to show clear value creation. We also want to test these metrics for steadiness as we value how consistently companies can create value. Dramatic fluctuations or negative trends in return metrics are less desirable than a steady and reliable return level. The long-term trajectory may also give investors insight into how sustainable return levels are going forward.
For the purpose of this article, we will focus on ROIC over the past 10 years. Investors can also look at ROE, but should take into account debt/equity-related issues when doing so. ROIC is also simply more practical as some companies like GlaxoSmithKline have awkward ROE profiles due to special items. We split the companies into groups in order to make the charts less crowded. Let's leave the hurdle at 8% and have a look at the different groups: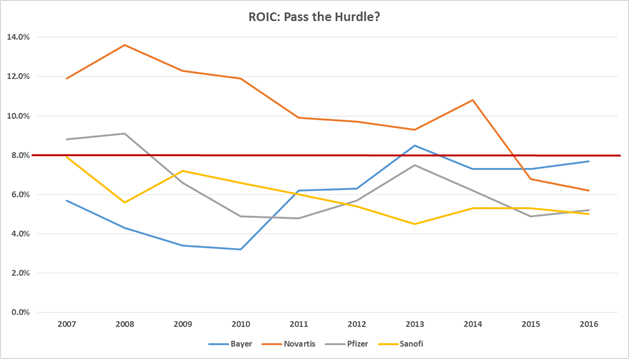 Source: Thomson Reuters Eikon
The first group gives us a number of interesting companies and situations. The clear losers here are Sanofi and Pfizer (NYSE: PFE). They not only fall well below the hurdle but have a generally downward or flat trend. Sanofi has struggled to return to the 8% for over a decade. Bayer (OTCPK: BAYZF) (OTCPK: BAYRY) also essentially fails the test, but the trend has been more encouraging recently. Perhaps the most interesting is Novartis. The company used to have admirable return levels but has suffered from margin/profitability deterioration and is now struggling to create value. Do Novartis investors still consider it a high quality company?
Its status as a significant value creator is certainly in doubt. In the case of Novartis, the company has announced that a new CEO will start early next year, and there are some potential transformational events on the table (Alcon and its Roche (OTCQX: RHHBY)(OTCQX: RHHBF) stake, for example). The developments are almost certainly a result of this profitability deterioration, and investors will have to gauge if the new CEO can restore more attractive margin levels.
We do make one more positive observation. Even these companies with relatively weak value creation have been steadily profitable over the period despite some deterioration. The trend lines in the graph never dip into negative territory and are usually around at least the 5-6% mark. This steady profitability certainly reflects the protected nature of the industry and the diversity of the companies, but why can't they create more value from such a base? Essentially, all of these companies fail the test.
Let's have a look at the second group: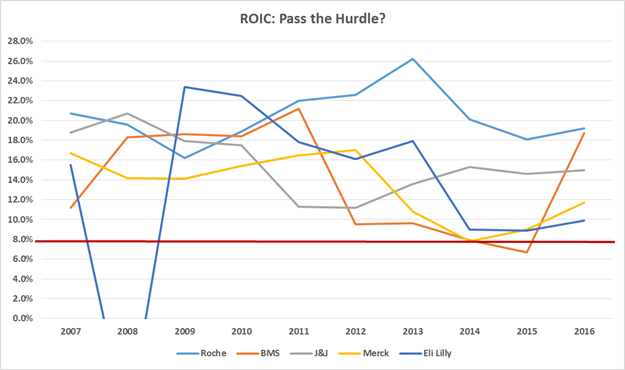 Source: Thomson Reuters Eikon
Now that's more like it. This looks like a group of companies that is creating significant value for shareholders. The real winner from our perspective is Roche, which not only generally produces some of the highest levels of ROIC but also is a steady producer of value with a flattish trend over the decade that never drops below 16%. Roche looks like an extremely reliable value creator. The other companies seem to have come under more pressure during the period, but we do view Johnson & Johnson (NYSE: JNJ) as having an edge on the rest of the pack.
Returns never really even approach the hurdle, and the company steadily produces significant value for shareholders. The company is of extremely high quality. Eli Lilly has been more volatile and even moved into loss-making territory. The trend for some of the companies might not be optimal, but they all demonstrate consistent value creation (with the exception of perhaps Eli Lilly if one takes an extreme view), and we will give them all a pass.
The final group is less a group and more a pair of interesting companies. The chart essentially speaks for itself: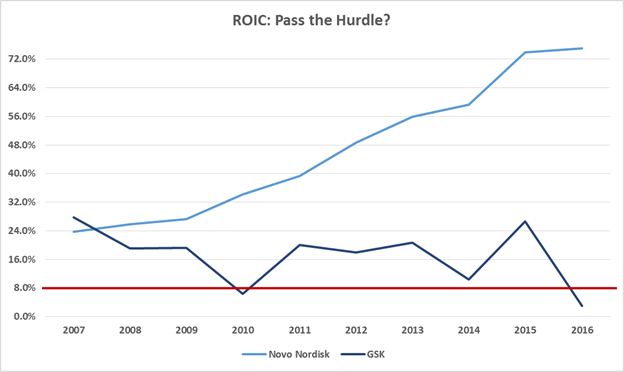 Source: Thomson Reuters Eikon
GlaxoSmithKline paints an interesting picture with volatility at a high level followed by a recent drop well below the hurdle rate. It certainly begs for more analysis and needs a more detailed evaluation to draw any meaningful conclusion. Not an easy pass in any case. The exact opposite is true for Novo Nordisk, which has demonstrated a steady climb into unbelievable value creation.
And don't forget the company has achieved this with essentially no debt so the ROE chart doesn't look much different! We can conclude that Novo Nordisk easily passes this hurdle and should draw the attention of any investor looking for quality. It's almost too spectacular.
So who wins the race (or, where should we start our in-depth research)?
Clearing the hurdles is one thing, winning the race is another. Companies that make it over these hurdles still need to be analyzed in proper depth to be considered for investment, but drilling down into individual company patent protection, product pipelines, R&D spend and industry dynamics is beyond the scope of this article. However, clearing these hurdles could essentially be a pre-requisite for investment for investors with a similar process focused on sustainable value creation and therefore this analysis can help provide a starting point. So let's review how the companies performed.
There are a few clear winners in our opinion (without going into addition depth of analysis). Only considering the metrics reviewed in this article, Novo Nordisk gets the gold medal based on its truly incredible value creation with essentially no debt, and its competitive dividend yield and champion dividend per share growth metrics. On a side note, we also are bullish on Novo's recent drug launches and upcoming products in the diabetes and weight loss space like Tresiba and its Semaglutide-related products so see no reason why the company would be dethroned anytime soon.
Johnson & Johnson is also a clear winner and our silver medalist. The steady and impressively high level of value creation is a rare find. It also nicely passes the dividend hurdle on both the 5 and 10-year growth charts and has a very reasonable debt profile. It should be an easy company to own given acceptable valuation.
We will also classify Roche as a clear winner to round out the podium. The company has the second most impressive value creation profile and is larger than most with attractive diversification. The balance sheet is also very reasonable. Its recent dividend growth might not quite impress all dividend-focused investors, but a longer-term view looks better, and we are perhaps willing to accept a slightly weaker dividend profile considering the spectacular value creation of the company.
If we take a broad view of the rest of the field, we can make a few comments. Bayer, Novartis, Pfizer and Sanofi should be researched critically in terms of value creation and the future prospects for improved value creation. Novartis may be of particular interest as its profitability trajectory has been steadily deteriorating in recent years, which may have gone under the radar for some investors. On the flip side, new management and potential strategic shifts for the company might make for an interesting investment case based on a return to historically higher margin levels.
We do continue to ask ourselves, considering the supposed barriers to entry and competitive advantages, why are these companies not able to create more value? It's perhaps not a surprise that Novartis and Sanofi are also struggling to clear the dividend hurdle as of late.
GlaxoSmithKline might be a special case with some noise in the high level numbers while Merck, Bristol-Meyers Squibb and Eli Lilly are struggling to provide the dividend metrics we prefer.
The short conclusion
Investors focused on value creation and perhaps preferring strong dividend metrics may want to start their search in the large pharma space with Novo Nordisk, Johnson & Johnson and Roche. However, none of the companies in this article are of terrible quality and can certainly be researched in more depth for company-specific opportunities or if investors focus on different metrics such as dividend safety.
We are fully aware that this is a high level exercise. We also avoided a detailed discussion on valuation, which should of course be a key input to any investment. This article primarily serves to provide an overview of large pharma and which companies could be a priority for further research and/or perhaps to help inform position sizing.
Disclosure: I am/we are long NVO, JNJ, RHHBY, NVS, SNY.
I wrote this article myself, and it expresses my own opinions. I am not receiving compensation for it (other than from Seeking Alpha). I have no business relationship with any company whose stock is mentioned in this article.
Editor's Note: This article discusses one or more securities that do not trade on a major U.S. exchange. Please be aware of the risks associated with these stocks.