Changes in labor force trends, tech, and laborer preferences will transform one of the most iconic images we have of corporations: the office building. With these changes, long-term opportunity in office REITs will be limited. In this article, I will identify labor force trends, technology, and consumer preferences to show that offices, and office REITs, will become increasingly irrelevant. To back it all up, I'll introduce some current, corporate strategies and economic data.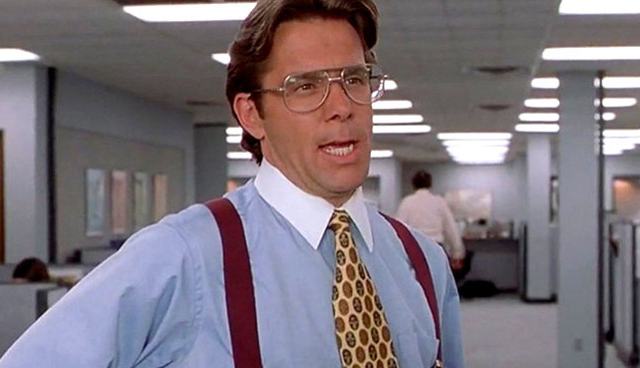 - 411mania.com
Relating Office REITs "The Amazon Effect"
The Amazon Effect has notably affected retail, grocery, and shipping. Yes, Amazon (AMZN) is changing these industries, but the Effect attributed to the company is about more than what its changing. If we truly want to protect ourselves from it, or grow our portfolios with it, it is vital that we understand The Amazon Effect to be an adaptation to broader, societal changes - a change in consumer preferences. Put more clearly: The Amazon Effect is the business adaptation to new consumer preferences of immediacy, flexibility, and convenience - it's what I want, when I want, where I want it, and how I want it. Amazon just happened to do it first.
How does this affect offices? The traditional image of offices are places we commute to, spend 8 hours there (give or take), and eventually end up leaving to go home. That image is antithetical to what we understand to be The Amazon Effect. When it comes to work, and thus offices, it will also become what I want, when I want, where I want it, and how I want it.
Reacting to Consumer Preferences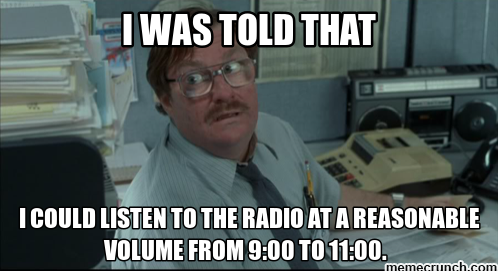 - memecrunch.com
This attitude change is easy to see with the evolution of the gig economy, the Lyfts and Ubers and others that enable people to work when and where they want. There used to be a word that branded these sorts of people: freelancer. Still a common term in certain industries, notably journalism. Intuit and The Freelancers Union suggest that the freelancers will make up at least 40% of workers over the next few years. However, that may only convince you that people don't want to work for one company, because average workplace tenure is only 4.6 years when controlling for age. If so, Flex+Strategy Group published this infographic in 2013 developed from a phone survey of 556, full-time working adults.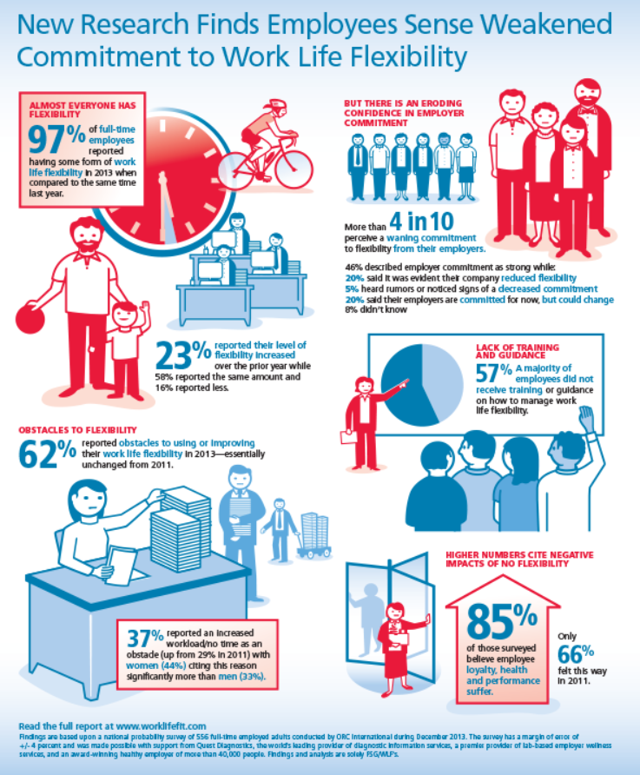 It is pretty apparent that flexible work arrangements are important to a lot of people. We can consider other changes in consumers' lives for that, too. Commuting to work may stress you out just thinking about it, but the average commute of the average, full-time worker is only 26 minutes, according to the Census. That may seem small, but 17% of the full-time, working population commutes at least 45 minutes and nearly 3% commute more than 90 minutes to work. Three is a small number, but as a percentage it represents about 600,000 people. For comparison, that's also how many people in the U.S. received no paid sick leave before a 2016 rule. It's little less than the amount of people in six Michigan Stadiums, the largest college football stadium, or the entire city of Baltimore, Maryland. Those 3% of people spend one full month each year commuting to work.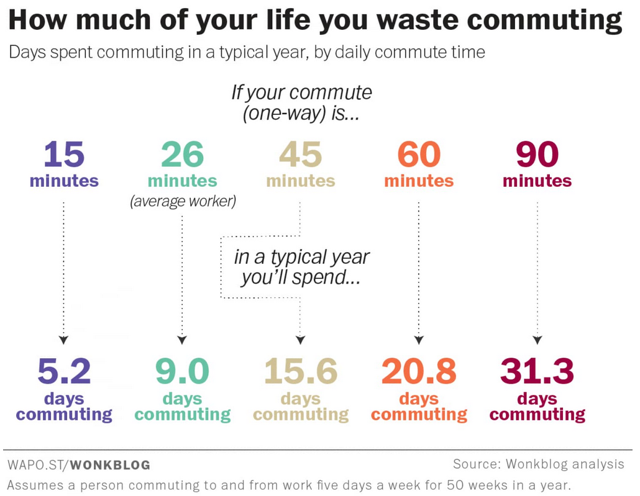 Add to the equation the current state of student loan debt and retirement savings, and the desire for more work flexibility may just come down to saving the gas money that commuting requires.
The New Labor Force: The New Idea of The Office
In Gallup's 2016 "State of the American Workplace", an increase in those who work remotely was found. 31% of workers work remotely 80-100% of the time, or 4-5 days each week, compared to only 24% in 2012. Also interesting is that the lowest tier of remote work had fewer people compared to five years ago, 20% in 2016 compared to 34%. Here's the full rundown:

But offices will not be another thing millennials kill. AARP says 34% of "older workers" would like to work from home. The same survey found that 74% want greater flexibility in their work. PGi in 2015 found that these trends were global, where a majority of part-time-remote workers want to increase their remote hours.
The Gallup report also showed that in 2012, the employees that felt the most actively-engaged at work were those that spent the most time on-site. In 2016, those that spent 3-4 days off-site felt most actively engaged.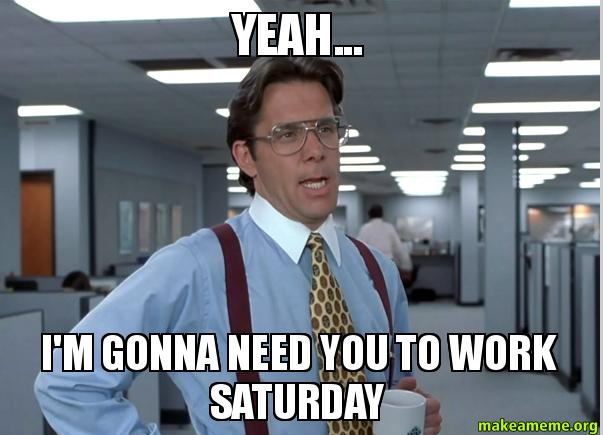 - makeameme.org
Consider the amount of work we do outside the office after putting in our face time: in 2011, about half of people felt the expectation to respond to work emails on weekends, a third feel expected to respond on vacation. If we're expected to work outside of work, of course people will choose to do so as their own time permits. Potentially more astonishing is that 80-90% of workers want to work remotely at least part-time, where 2-3 days seems to be most desired.
Corporations are Adapting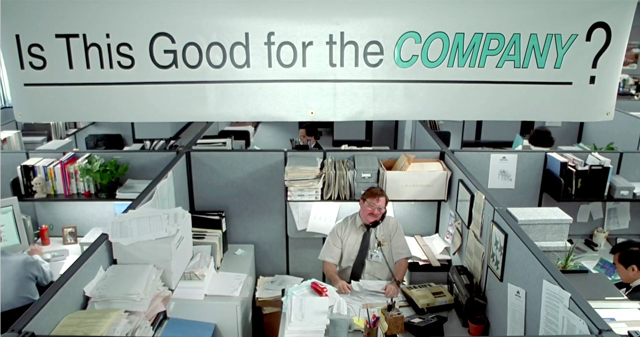 - virtualstapler.com
Do you think corporations are motivated to adapt? I do. I think it makes sense for them to change their workplace perspective even without accounting for what its employees want. It seems to me like a more remote-friendly work environment is better for everyone!
First, consider all the cost savings. Corporations can shrink their physical footprint, saving money on rent or a mortgage. By doing so, they'll save money refreshing the office every so often to keep morale afloat. They'll save supply costs as their remote workers are more motivated use digital methods to transfer and edit information. Cost savings even go beyond the physical building: your employees will be less stressful. The aforementioned PGi survey found that 82% of telecommuters reported less stress. Confined offices with tons of colleagues of whom any can be sick will result in fewer sick days. Shorter commutes are generally correlated with increased activity, so your employees will likely be healthier or even have time to focus on their health. This all could reduce the cost of health insurance for employees. A study of remote workers in China determined that employee turnover at publicly-listed companies decreased by 50%! That's less training and hiring that's necessary!
It can also make employees more productive. In a nationwide survey of 2,060 professionals older than 18 years of age, SurePayroll found that 61% believe loud colleagues are distracting. 40% believe spontaneous colleague conversation is a distraction. Furthermore, 86% believe working alone is essential for maximum productivity. In the same survey, 5,160 hiring managers, HR professionals, and full-time, private sector workers were asked for "primary productivity stoppers". Of the things working remotely can control, gossip, noisy coworkers, coworkers dropping by, and calls on speaker phone were identified 42%, 24%, 23%, and 10% of the time, respectively. Distractions such as the ones above cost employers an estimated $1.8 trillion in lost productivity each year.
When I think about the deconstruction of the traditional office, the first company that comes to my mind is Capital One (NYSE:COF) and its Capital One Cafes. At these Cafes, anyone - employee or otherwise - can get a cup of coffee and relax on a couch. It's intended to be a casual environment where people can seek financial help if necessary - and for free. The target market is millennials (as if that wasn't your guess) but given the workplace trends noted above, it is apparent that many others would find working in a Cafe to be more appealing. To me, the locations look like bank branches, if your teller was a barista and it was your first stop every morning. You can find more info on these locations here and here.
Capital One is by no means the only corporate employer taking notice of the trends. PatientPop is a California-based healthcare software company. It started bringing puppies to the office. Undoubtedly as a stress-reliever, but also reminiscent of the pets employees have at home. FlexJobs has been providing a list of companies that are adapting the until-now unmentioned TRaD workplace model: Telecommuting, Remote, and Distributed Model. Below are some of the companies in the top 25. You might recognize them in your portfolio.
2. Amazon
10. UnitedHealth Group
11. Hilton Worldwide
14. Xerox
16. Dell
17. Intuit
20. Humana
21. ADP
22. IBM
25. Allergan
There are many more companies, and it is apparent that not all of them are tech companies. Even Wells Fargo comes in at #31. Neilsen is #39. Surprisingly, a lot of government departments are on the list, too.
Is there hard data?
In an attempt to make the hard data comparable, I tried using a time frame that corresponded to the change in feelings on telecommuting. We know from the surveyed data above that it is more or less a recent phenomenon. In the chart below, manufacturing employment and government employment look to be what's holding back the total payrolls from increasing in-line with the professional and business services employment growth. The latter category is used as a substitute for office workers. Discounting the convergence seen during the recession, it's incredible to see how the number of office workers have changed pre- and post-recession. Judging by the index, current office employment is about 15% higher than just before the recession, whereas the other categories are at or below pre-recession levels. This means that most of the employment growth post-recession has been in professional services, or office-type jobs. With all that growth, there must have been a lot of office construction going on...

The chart below emphasizes how few office buildings have been built to accommodate such office employment growth. This would suggest that offices have become more crowded.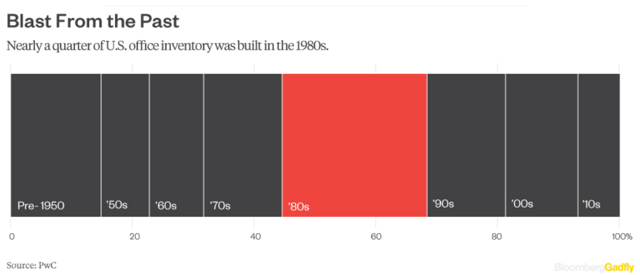 Sure enough, the chart below shows that square feet per employee is at its lowest levels in more than a decade. What is interesting about this is, given the data shown in the former sections, it would seem that as this space shrunk, remote work become preferable. I'm not saying that this is the only reason, but it may suggest some correlation. As we know from grade school experiences, or potentially parenting: distractions are harder to eliminate in crowded environments. When children are talking instead of working, teachers may have the ability to separate them. When your child needs to do homework, you may put them in a room where the TV sounds are inaudible. In an office, where a predominate amount of distractions come from your colleagues, their loud behavior, or their frequent conversations, less space is not ideal for productivity.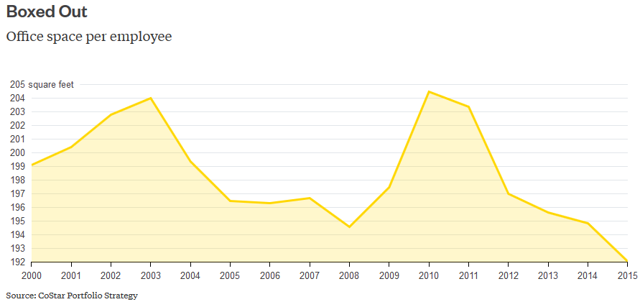 Despite the declining space, the chart below shows that office construction in the last year has been higher than that of all construction spending. This may be more related to the increased office employment and not necessarily the demand for space. I would dismiss the obvious pattern the chart below presents: that pre-recession, office construction outpaced total construction and therefore, we may be at that point again. Office employment has increased since the point pre-recession, which necessitates more construction.

The chart below shows the percentage-change in all retail sales and in e-commerce. This chart is meant to emphasize the increasing demand for the flexibility, efficiency, and accessibility that The Amazon Effect offers. Although it displays retail sales, it clearly shows consumer preferences, and the consumer attitudes here are being reflected in our work habits.

The chart below reiterates a potential cause for this increased demand for telecommuting. It shows the percent-change in commute times in four, large metro areas since this data began being collected. What is apparent is that in the last 4 years, commute times have only gotten longer, and at an increased rate.

Below are charts from Gallup that indicate the increased demand in telecommuting. When taken collectively, it seems to link the previous charts together. Telecommuting has increased with the expansion of increased office employment. White-collar professions, most likely in offices, have telecomuted more often than their peers. It would also seem that more people are telecommuting more often.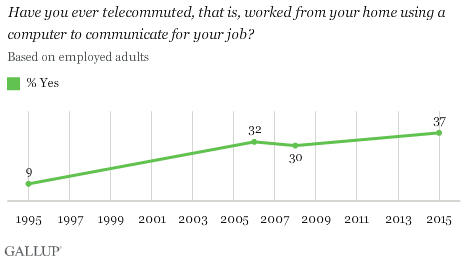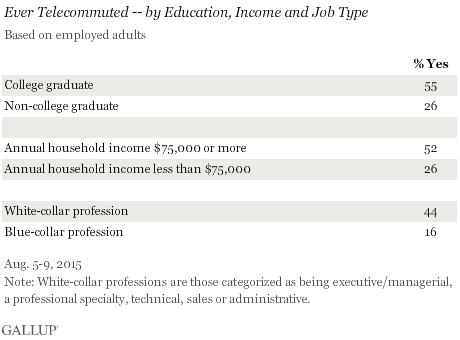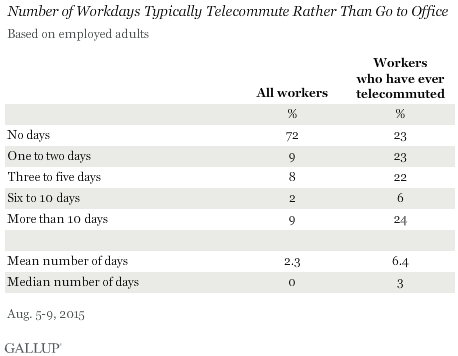 To bring it all together, I present you an interesting comparison of stock price performance over the last five years. Below I have particular stocks to serve as proxies for their market in order to keep the chart neat. To demonstrate The Amazon Effect, I naturally included Amazon. With similar performance to Amazon is CoreSite Realty (COR) and CyrusOne (CONE), data center REITs that I used as a proxy for demand in the cloud and internet-based functionality. Included in the four lines at the bottom of the chart are Realty Income (O), a popular net-lease REIT, presented to demonstrate the result of The Amazon Effect on retail REITs. Also included in those four lines at the bottom are popular office REITs Vornado Realty (VNO), Boston Properties (BXP), and Paramount Group (PGRE). Note their similar performance. To bring it all home, I included LogMeIn (LOGM), a company that helps connect telecommuters to their suite of employer-specific applications remotely. This company exceeded even Amazon in stock price growth underlining the massive effect that these changes will have on office REITs. We think about The Amazon Effect when considering our Retail REITs, who may be insulated due to having tenants in industries that may not be touched by Amazon. How can we ignore the effect that The Amazon Effect (or remote work) will have on office REITs, especially when telecommuting is popular among all industries that have offices?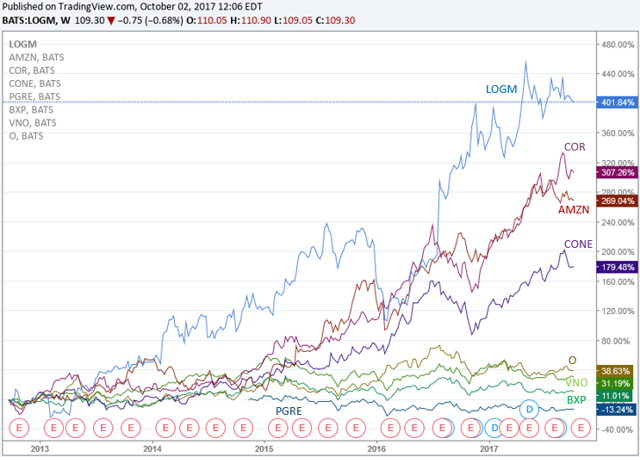 I must clarify that my research indicated that some office REITs have not performed as the three above have. I am also aware that data center REITs are more growth-oriented and future-focused; therefore, they are different than office and retail REITs. I also know that Amazon has a large cloud business, making its stock price performance not all about retail disruption.
Conclusion
Going forward, look for attitudes toward traditional office REITs to mimic attitudes currently surrounding traditional retail REITs. Consumer preferences are changing, and with it, companies are changing. The effects of remote work benefit employer and employee alike. The growing population of remote workers and the growing desire to work remotely is evidence that this gradual change will continue. Given the ever-increasing amount of time we're putting toward work, and the greater emphasis on availability outside of the office, encourages a blended lifestyle as opposed to the traditional work/life split. Even technology such as autonomous cars will further this trend as people can work while they travel will heighten the demand for remote work. Given the incorporation of all that is possible outside of the office, I would discourage long-term investment in Office REITs, that will be most likely his from these changes in trends.
In concession, I do not identify risks associated with remote work. It is likely that IT professionals will be in greater demand for the sheer amount of digital infrastructure necessary to support this conversion. Cyber security will also require increased attention.
The perspective in this article is that Office REITs are more than a method of just income, but have potential to grow as demand for urban living increases and suburbia expands. I am not an income investor. I do not actively follow office REITs. I own a single healthcare REIT due to what I believe are positive, long-term trends for the company. My exploration of REITs comes from the attraction of income in a potentially growing market - hence my healthcare REIT. Furthermore, since I do not watch office REITs, stocks listed as material were taken from a list of office REITs.
Disclosure: I am/we are long AMZN.
I wrote this article myself, and it expresses my own opinions. I am not receiving compensation for it (other than from Seeking Alpha). I have no business relationship with any company whose stock is mentioned in this article.