Article authored by Cristiano Bellavitis, Ph.D., Integer Investments portfolio manager.
A while ago, we summarized our current understanding of trading strategies and signals based on insider transactions. This is the fifth article of a regular newsletter where we will review insider transactions and select the most interesting companies to invest in.
Today we review our recommendations so far and provide an update. Overall, we are invested in Omega Healthcare Investors (OHI) and General Motors (GM). We still recommend both stocks, in particular the former. Across three articles in April, June and August we reviewed insider transactions in 13 companies (two are not included in the table below due to non-market purchases).
The table below summarizes all transactions, the publication date, the price at publication, dividends received (data from Google Finance). It also compares the performance with that of an S&P500 index.
Overall, 10 companies out of 13 exhibit a positive stock performance. However, if an investor was to buy all stocks we reviewed, his/her performance would be 2.1%, below the S&P 500 average of 3.5%. This performance is significantly lowered by Axon that lost 70% of its value (we did not recommend Axon).
Yet, it is important to note that in most cases we did not recommend investing in these stocks (see table below for details). In particular, we only issued BUY recommendations in GM and OHI. These two stocks outperformed the index, offering an average performance (including dividends) of 9.9%, 3X the index. If we include all stocks that we considered hold (including "Hold/Pass"), the performance would have been a juicy 13%, almost 4X the index. These results confirm "the importance of carefully selecting which insider transactions to look at rather than just follow what insiders do." At the same time, they show the value of our newsletter and motivate us to continue with it.

General Motors (NYSE:GM)
We recommended buying GM back in August when the stock price was $35. From that point, the stock climbed to $40 and paid a dividend of $0.38, offering a return of 15.2% in two months. We wrote:
Overall, we like General Motors. The company trades at very good multiples. Investors are cautious on the stock due to declining car sales. However, although this is a source of concern, we think that the management is doing a terrific job by streamlining the operations and cutting off underperforming assets. The company is also trading just above book value, including $25B in cash and equivalents (as of June earnings). In our opinion GM is a BUY.
We still like the company and the strategic moves the management is implementing (see this article for more details). However, the stock has climbed quite a bit and we are selling CALL options at $42 January 2018 for 1/3 of our positions to de-risk, so we would not recommend buying at this level. GM is a HOLD.
Del Frisco restaurant (NASDAQ:DFRG)
We reviewed insider transactions in this restaurant company in August. The stock is basically unchanged with a mere 1% gain. We did not provide a recommendation. We wrote:
Considering the low ROE (8%), limited growth, and uncertain competitive advantage, we are not sure this is a great investment. Interested investors should take a deeper look.
We haven't looked at the company in greater details, so we are still unable to recommend any position.
Stifel (NYSE:SF)
We wrote about Stifel in August. During this period, the stock outperformed the index with a gain of 6.5% compared to 1.8% for the index. However, truth being told, we recommended passing on the stock. We wrote:
The company could be interesting, but further due diligence is needed.
In particular, we were not convinced due to instability of the company's revenues and profits.
Raytheon (NYSE:RTN)
We recently covered Raytheon, among other military stocks. In our various articles, we mentioned that:
Raytheon is in a good position to capitalize on growing demand for military equipment, both in the US and abroad. The recent Saudi Arabian arms deal is a signal that US based defense contractors are going to face fewer obstacles when exporting overseas. Increasing European instability and the continued fight against terrorism will bolster this growth in a range of markets. With these strong positive indicators, we recommend holding Raytheon.
The stock price has climbed 7.5% from our original article. We still consider RTN as a HOLD, considering the ongoing political risks.
Axovant (NASDAQ:AXON)
Axovant has seen a dramatic decline in its share price. The stock lost 70% in 4 months. We could see that three insiders (including the CEO) had purchased a significant number of shares in the company for a total of $12M. These insiders did not own shares prior to this purchase. This transaction was definitely significant and deserved deeper screening.
The company also had positive evaluations by analysts. At the time of publication, the analysts' expectations were as follows: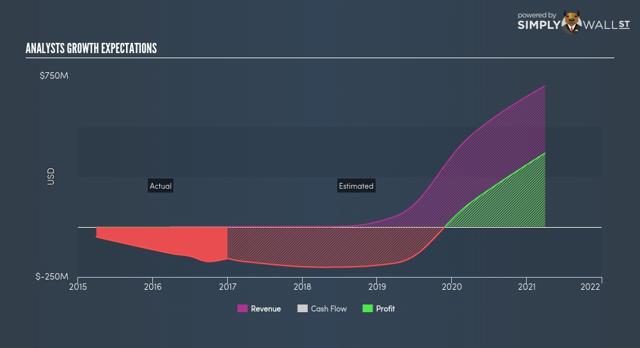 Then, on the 26th of September, the company announced negative topline results of its Intepirdine Phase 3 MINDSET trial in Alzheimer's disease. After this news, the stock plummeted 75% and analysts have updated their estimates. This is how they look today: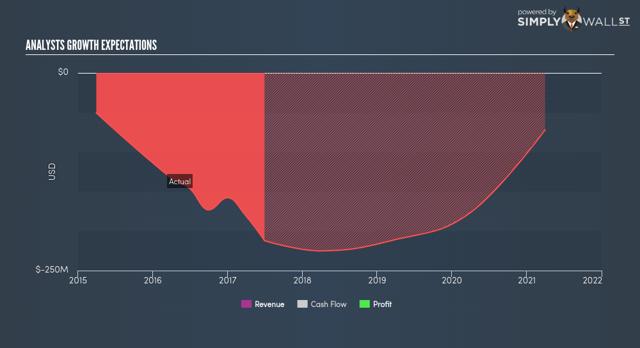 That's quite a change, with a lot of red!
Truth being said, despite the significant insider activity, we did not recommend the stock. We wrote:
Overall, the transaction is very large, the company small and the drugs' potential significant. Yet, considering that the stock has gained 50% in a few weeks, the reward potential seems to be limited. We will pass on this one but for those that have an interest in the field, this could be an interesting company.
This case is emblematic. Insiders were supposed to have knowledge about the trial progress. Supposedly they bought shares with the expectation of positive results. However, this did not happen and they lost 63% of their investment in a few months. The CEO alone has lost $6.3M on this transaction.
CSX Corp (NYSE:CSX)
We wrote about CXS in April. CSX slightly outperformed the market with a 7.2% gain compared with 5.5% for the index. We did not recommend the stock at the running price. We wrote:
At this stage, we feel that a lot of optimism is backed in the share price. Stone Fox Capital seems to share our opinion. We pass on this one as well, but would re-evaluate the stock around the $40 level. The share price moved from the initial $51 to $48 and now climbed to $54.2.
Hence, our buy signal was not triggered. The stock still looks slightly overpriced.
Opko Health (NYSEMKT:OPK)
In April, we reviewed transactions in Opko Health. We wrote:
Overall, the company has low debt and the share price declined significantly over the last 12 months. It trades at less than half its peak in 2015. We have not done a detailed analysis of the company, but based on the insider activity, Opko does not look like a buy. Insiders have skin in the game and this could be both a good and bad signal. On one hand, their fortunes are linked with those of shareholders. Yet, this also means that they could be buying shares to sustain the share price where so much of their wealth resides. For now we will pass. However, other authors argued that OPK has shown potential of becoming profitable and a great investment.
Our call proved to be right with the stock losing 8.2% in a few months.
Fitbit (NYSE:FIT)
Although we were open to the stock, Fitbit is probably our biggest BUY miss. Since our article, the stock has climbed more than 30%. However, we wrote that:
Overall, the transaction is reasonably large and is coming from an insider that usually sells. However, despite plummeting stock prices, we do not see a catalyst for increasing revenues and profits. Does the insider know more than us? We will keep an eye.
Since then, Fitbit has released its new Ionic watch. I am an avid sport person and have owned various sport wristbands and I can't say that I am impressed by the watch. Fitbit is operating in a highly competitive space where giants like Apple are concentrating. So far, the company does not seem to have a sustainable competitive advantage. Therefore, we continue to watch the stock without pulling the trigger.
CSRA Inc. (NYSE:CSRA)
We reviewed CSRA in June. The stock performed in line with the index (5% vs 3.7%). At that time, we wrote that corporate actions made:
The company difficult to analyze and a deep investigation is outside of the scope of this article. We encourage interested investors to dig deeper.
Overall, we do not have enough information to make an informed guess and therefore we cannot issue any recommendation on the stock.
The situation has not changed.
Mattersight Corp (NASDAQ:MATR)
Since we wrote about Mattersight in June, the stock has increased 12%. Not a bad performance in 3 months. However, we had actually recommended passing on the stock:
Based on pure transaction data, MATR seems to be on a roll with insider activity. Overall, it looks like the company's path to profitability is rather uncertain. We do not know whether the company's products and analytics are revolutionary, but the revenues are not increasing very rapidly (3% from 2015 to 2016, and 23% from 2013 to 2016). Based on the current analysis, we are not attracted to MATR.
Bioverativ (NASDAQ: BIVV)
Bioverative has been another biotech disappointment (-1.3% from June). It is curious that, in theory, biotech insiders should have a better understanding than the market in relation to their clinical trials. However, 2/3 of our wrong signals arose in the biotech space (these two are also the only biotech companies we reviewed). It would be interesting to understand whether this happened by chance or whether there is a pattern.
However, also in this case, we recommended passing on the stock:
Insiders might have information about valuable drug discoveries or developments. Yet, the previous lack of success of these insider transactions makes us a little skeptical. Not the company for us.
GNC Holdings (NYSE:GNC)
GNC has been through a roller coaster and we have written a couple of articles in recent months. We even traded the stock for a reasonable profit across the latest earnings' releases. In recent months, nearly every executive has been buying shares (see below, source GuruFocus).

The former CEO (Robert Moran) had invested a total of $7M in two occasions. Director Hines invested $1M (although he also invested $1M when the stock price $35, now it is $8.8). Insider purchases continues at a rapid pace until June. However, insider activity recently reverted. The new CEO (Martindale Kenneth) has recently sold $600k worth of shares. Hence, we are now receiving contradicting signals.
Overall, the company is in serious troubles: Declining revenues and comparables, high levels of debt, just stopped paying a dividend, negative retail trends. As we wrote in March,
Management has a clear plan to address many of the issues the company has faced over the past year. Many strategies have already been implemented by the business, and early signs show a positive turnaround thus far. The big question is whether management can continue to drive this improvement and restore the business to where it once was. Turnarounds pose significant risks, and GNC is no different. Plenty of faith must be placed in management to turn this business around - a task that is not very easy, particularly in the dynamic retail industry we live in today.
The situation has not changed. The company is facing severe challenges and bankruptcy is not to be excluded at this stage. The management is aware of the problems and is implementing intelligent policies (such as the dividend cut and debt repayments) and is putting its own money behind its actions. We see some potential, but the level of risk is above our investment philosophy (Integer means that the capital needs to stay intact). We still see GNC as too risky and working with a business model endangered by changing consumer behaviour.
Omega Healthcare Investors (NYSE:OHI)
OHI is our top pick and is actually already in our portfolio so we are happy to see that insiders are buying shares. Since we recommended the stock in June, the stock (including dividends) returned 4.5%, just above the 3.7% returned by the S&P500. We still recommend investing in the stock.
Recently, OHI has experienced significant insider transactions. The corporation is a U.S. real estate investment firm. It invests in healthcare facilities, primarily in long-term healthcare facilities in order to create its portfolio. Omega Healthcare Investors was founded in 1992 and is based in Maryland, United States.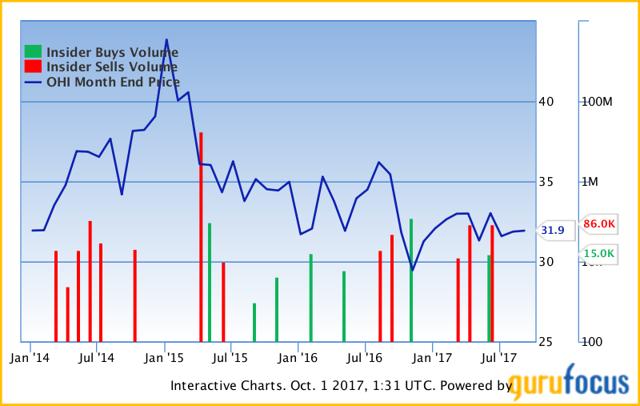 Our research shows that in June, director Callen bought 15,000 shares for $471,000. Before this transaction, the director owned only 3,000 shares. Further, at the end of 2016, the CEO and another director bought shares worth $637,000 and $3M respectively. In between, there has been some selling activity but the purchases are significant. In particular, from our article in June, the COO and the CFO have been selling approximately $1.5M worth of shares each. The insiders that had bought shares back in June have not sold any so far.
The stock has lost approximately a third of its value from the peak of $44.5 achieved at the beginning of 2015. The stock is now trading in the range $30-34.We like this company for a variety of reasons. First, it is a stable player run by competent managers. Second, despite some political turmoil surrounding the healthcare system, it is undeniable that the population is aging and there will be an increasing necessity for healthcare facilities such as those managed by OHI. As the slide below shows (source: here), aging demographics would drive skilled nursing facility (or SNF) occupancy beyond capacity in less than 10 years without efforts to reduce the lengths of stay and increased utilization of alternative care sites.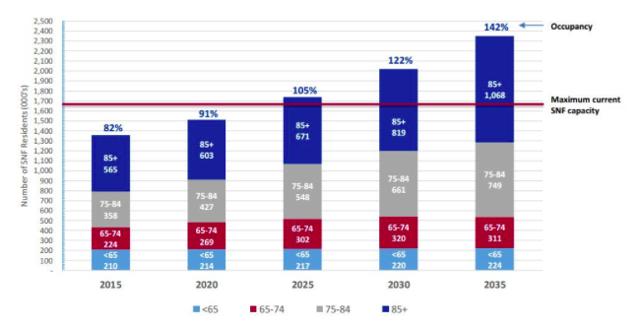 Third, OHI pays a significant dividend that currently yields above 8%. The dividend yield is high, and it is important to note that in recent years the dividend has been steadily increased. The current dividend of $0.64 is considerably higher than $0.42 paid in 2012. Finally, despite being a high quality player, OHI trades at a low valuation, even compared to its peers. OHI only trades at around 9X free funds from operations (FFO) and, based on this metric, it is the third cheapest REIT in this sector. Historically, OHI has traded at 13X FFO (source: here). The stock has gained 2.4% from our recommendation back in June, underperforming the S&P500 gain of 3.7%. Yet, when we include the dividend of $0.64, our total return is 4.5%, slightly better than the index. Overall, we like OHI and the insider activity strengthens our conviction. We continue to recommend buying this stock.
PCSB financials (PCSB) and Tocagen (TOCA)
In our articles, we discussed PCSB and TOCA. Based on pure transaction data, both companies seemed to be on a roll with insider activity. However, these transactions were part of a mutual-to-stock conversion or IPO. Therefore, these transactions did not offer signaling value to us. Hence, we won't include them in our calculations.
Macro-trends
In our first article, we also showed how cumulative insider activity can act as a strong market signal. Looking at data taken from openinsider.com, we showed that insiders generally sell (red) many more shares than they buy ((blue)). The last period is no different. The graph below shows that, over the last 12 months, there is significant insider selling activity. Further, insider buying activity is at the lowest point in 12 months, issuing an alarming signal. We will continue to keep an eye on this indicator as this can signal a trend reversal and offer a very precise buy signal.

As always, thank you for reading. If you wish to follow our future articles about insider trading, just click the "Follow" button next to our name at the top or below. If you would like us to cover a company, please let us know in the comments. For information about Integer Investments, visit our profile or website (integerinvestments.com). Thank you for reading.
Disclosure: I am/we are long GM, OHI.
I wrote this article myself, and it expresses my own opinions. I am not receiving compensation for it (other than from Seeking Alpha). I have no business relationship with any company whose stock is mentioned in this article.
Editor's Note: This article covers one or more stocks trading at less than $1 per share and/or with less than a $100 million market cap. Please be aware of the risks associated with these stocks.