Author's note: This article was released to members of the Cambridge Income Laboratory one week ago with more actionable and detailed recommendations.
The Weekly CEF Roundup will be put out at the start of each week to summarize recent price movements in CEF sectors in the last week, as well as to highlight recently concluded or upcoming corporate actions, such as tender offers. Most of the information has been sourced from CEFInsight or the Closed-End Fund Center. I will also link to some articles from Seeking Alpha that I have found for useful reading over the past week. The searchable tag for this feature is "cildoc".
Weekly performance roundup
CEFs showed signs of recovery this week, with 21 out of 37 sectors positive (up from only 11 positive sectors last week). The average sector price return was +0.30% (versus -0.32% last week). The leader was energy with +2.23% return, followed by emerging markets equities (+1.47%), Latin American equities (+1.44%), high-yield munis (+1.28%) and Asia-Pacific equities (+1.22%). The top 5 losers were real estate (-0.90%), BAB munis (-0.75%), health & biotech equities (-0.58%), "other state" munis (-0.41%) and natural resources equities (-0.37%).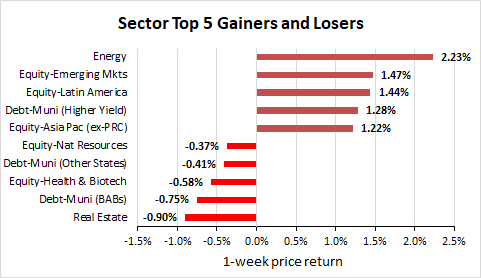 (Source: Stanford Chemist, CEFInsight)
The top 5 yielding CEF sectors this week were again energy MLPs (10.02%), equity-enhanced (i.e. covered call) (8.45%), convertible securities (8.39%), asset allocation (8.37%), and real estate (8.23%). The discounts* for the 5 top-yielding sectors range from -9.51% (real estate) to -1.87% (energy MLPs). The average sector yield is 6.10% (last week: 6.13%).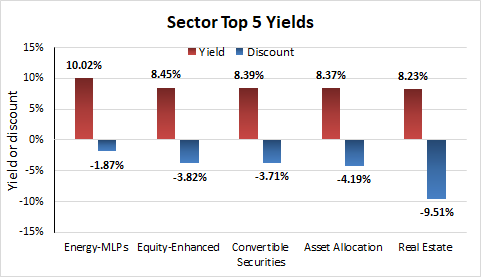 (Source: Stanford Chemist, CEFInsight)
The top 5 sector discounts* are: equity-Latin America (-12.05%), debt-specialty (-11.54%), equity-China (-10.06%), real estate (-9.51%) and equity-emerging markets (-9.50%). The top 5 sector premia are debt-mortgage (+4.48%), debt-mortgage (+1.12%), debt-muni (CA) (+0.39%), debt-preferred (-0.04%) and debt-muni (-0.89%). The average sector discount is -4.91%, down from -4.78% last week.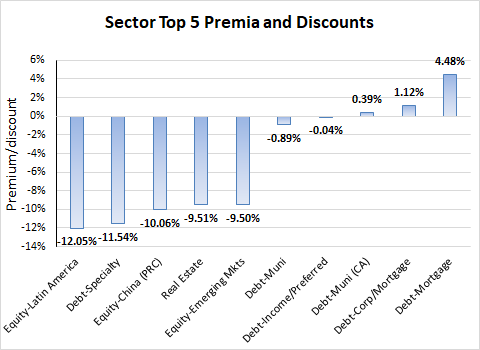 (Source: Stanford Chemist, CEFInsight)
*Note about discounts: I'm aware that some funds do not provide daily NAV updates (whereas price is always updated daily), meaning that some of the discount values of the underlying funds will not be accurately computed, and which will necessarily impact the numbers for the entire sector. Therefore sector discount values should be used for indication only and the discounts of each fund should be manually checked should an investment decision be made.
Recent corporate actions
These are from the last month; any new news in the past week has a bolded date:

Upcoming corporate actions
Any new news in the past week has a bolded date:
Recent activist or other CEF news
These are from the last month; any new news in the past week has a bolded date:
Distribution changes this month and next
These are sorted in ascending order of distribution change percentage. Funds with ex-dates in the current and in the next month are included. Note that changes of less than 5% are not listed as those are considered to be minor. Any distribution declarations made this week are in bold. In this week's edition I've also added monthly/quarterly information as well as yield and discount information for newly added funds. However, note the yield and discount information will not be updated every week. I've separated the funds into two sub-categories, cutters and boosters, arranged in descending order of distribution change magnitude.

Cutters
Boosters
*I know -4.3% is under the -5% threshold, but I wanted to highlight DMO because it is a very popular CEF, and also because CEFConnect is currently incorrectly reporting the November distribution as $0.3734 but this should be $0.2250 (same as October) as per their press release.
CEF analysis from around Seeking Alpha...
ADS Analytics discusses recession risk and CEF sector performance in Weekly Fund Wrap: The R Word (Sep. 16)

Left Banker presents further thoughts on UTG's rights offering in Further Thoughts On UTG's Rights Offering (Sep. 11) and Reaves Utility Income Fund: What Do The 2012 And 2015 Rights Offerings Tell Us? (Sep. 15)

Maks F.S. looks at JRI-DRA Merger Complete (Sep. 13), DTF: Too Cheap To Ignore? (Sep. 14) and CXH: MFS Redeemed? (Sep. 17)
Michael Foster Financial Services looks at What CEF Prices Tell Us About Volatility: CEF Weekly Update (Sep. 11) and Dividend Coverage And Closed-End Funds (Sep. 11)

Cambridge Income Laboratory members only
Here we provide exclusive commentary and actionable takeaways on specific funds. In this issue, we looked at the implication of the policy changes for FDEU and BSL, the distribution cut for PGZ and whether this could affect other mortgage bond funds such as DMO, PCI and PDI. Please subscribe here to view.
Cambridge Income Laboratory
If you have enjoyed my article, please click the "Follow" button next to my name to be alerted to my new free content! The Cambridge Income Laboratory is Marketplace service on Seeking Alpha focused on income and arbitrage strategies for closed-end fund [CEF] and exchange-traded fund [ETF] portfolios. Members receive exclusive subscriber articles and an early look at public content with more actionable recommendations and ideas.
To find out why one subscriber calls us a "one-stop shop for CEF research," join us by clicking on the following link: Cambridge Income Laboratory.


Disclosure: I/we have no positions in any stocks mentioned, and no plans to initiate any positions within the next 72 hours.
I wrote this article myself, and it expresses my own opinions. I am not receiving compensation for it (other than from Seeking Alpha). I have no business relationship with any company whose stock is mentioned in this article.
Additional disclosure: I am long the portfolio securities.