High-Income, Sustainable-Capital: The Portfolio at Two Years
This report is my quarterly update for the high-income with sustainable-capital portfolio. The model portfolio began at the close of 2015's third quarter (A CEF Portfolio For High Current Income With Capital Preservation), so it is now two years old. I put the model out at a difficult time in the market, the third quarter of 2015 saw some gut-wrenching downdraws and much uncertainty about what might lie ahead.
At that time, I felt strongly that there were bargains across the board in the closed-end fund universe. As is typical for CEFs (closed-end funds), valuations exaggerated the broader market's fears and its downturn. Discounts were strikingly deep. There were funds that had been running double-digit premiums that fell into discount territory. For a CEF investor, it was a massive buying opportunity. Times have changed and we are now in a very different CEF market. Discounts have been shrinking and bargains are scarce.
It's not difficult to generate high income from closed-end funds. The funds that comprise the category are overwhelmingly designed for high income. The trick is to get that income without massive capital erosion. When one looks at charts of high yielding CEFs it is clear that many lose capital over time. For some, this is the price of their high income, but I felt this was not inevitable so I proposed a portfolio of CEFs that would, I believed, deliver high income without suffering untoward capital losses. To be clear, any portfolio will have losses at times, my goal was to deliver sufficient capital gains to offset losses over time.
The income objective was to provide current, spendable income. Distributions were not to be reinvested. I set a high-yield target at 8% (5% for tax-exempt funds) which is twice the generally accepted standard of 4% draws from an income portfolio. I'll add that my own income portfolio, described in detail here, has the same targets and the same goals. As a retiree, my investment income is my paycheck; my goal is to generate that income sustainably.
I've reviewed my thinking on the High-Income, Sustainable-Capital portfolio several times. If you're new to the project, the best place to review its history of this project is the end of 2016 report (Retirement Income: The High-Yield Sustainable-Capital CEF Portfolio 2016 Report), so I'll not rehash that information here in detail.
Portfolio Objectives
High yield for current income. The model is designed to be an aggressively positioned, retirement income portfolio where income is withdrawn on a quarterly basis. Instead of the more-or-less standard 4% rule, I set my income objective at 8%. Excess income beyond that level is reinvested in the funds that are most out of balance from an equal-weight target. When I began the project, I had tax efficiency as a priority and included tax-exempt municipal bond fund. For those I set the target at 5%. Here at the two-year mark, I'll be removing that as a priority.
Sustainable principal value. Capital growth is not an explicit objective, but I felt that maintaining a sustainable principal would require periods of capital growth to offset inevitable periods of capital erosion. Thus, some selections were added for their potential for modest capital growth even if their income falls short of the portfolio's target.
Asset class diversification. I've attempted to structure a reasonable mix of equity, both common and preferred, fixed-income, and real estate.
I review the portfolio and make changes at the beginning of every quarter. This quarter I made a couple of changes early to take advantage of an opportunity I saw that I felt had a limited window that could add a few extra points relative to waiting for the quarter's end.
With this quarter, I'm also removing tax-efficiency as a priority. Ideally, the portfolio could be held in a tax-advantaged account. There are a few reasons I've done this. First, it's more aligned with my goals and interests at this time. Two years ago, my income was coming from a taxable account while I managed my tax-advantaged accounts for capital growth. Since that time, I've reached the age where I have to start drawing down my IRA, so I have been transitioning my taxable account to a growth priority, minimizing taxable income there, and my IRA to an income-generating account. As I explain in 'My 7.5% Income Portfolio,' I hold about half of my IRA in income positions, which I look to generate the income to cover the required distributions.
HI-SC Portfolio Holdings
The portfolio comprises 15 equal-weighted funds and is based on an initial $100,000 investment.
Holdings through today (30 Sept 2017) are:
Equity-Common
Equity-Preferred
Fixed Income – Taxable
Real Estate
Asset allocation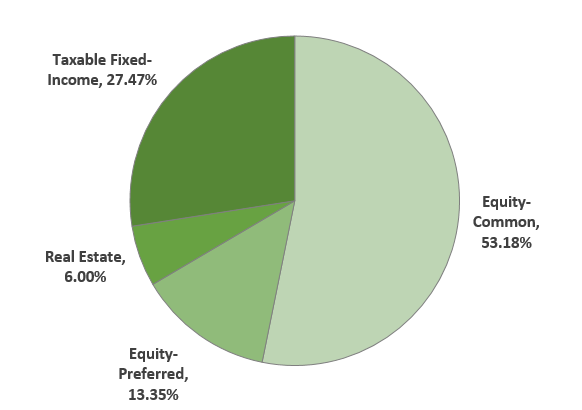 Note that the portfolio includes one ETF. At the close of 2016 I added an ETF, the InfraCap MLP ETF (AMZA) to get exposure to the energy sector (as midstream MLPs) and for the income yield. I've expressed some concern about that choice and it turns out that AMZA has had a difficult two quarters along with the MLP sector, but it continues to generate huge income. The distribution appears to be stable but at 22.4%, it's hard to be fully confident that a distribution cut is not on the horizon. The fund has been losing value well in excess of it contribution to income.
The current yields and current discount or premium status are: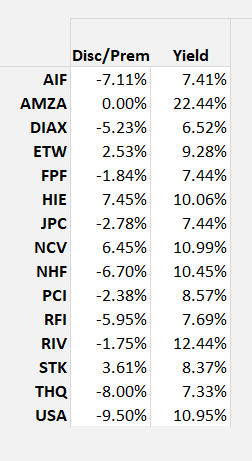 Portfolio Performance 3Q2017
Earlier this month I noted that I was selling the two municipal bond fund, the Nuveen Quality Municipal Income Fund (NAD) and PIMCO Municipal Income Fund II (PML), and adding NHF and USA to the portfolio. With that change the third quarter's performance summary follows.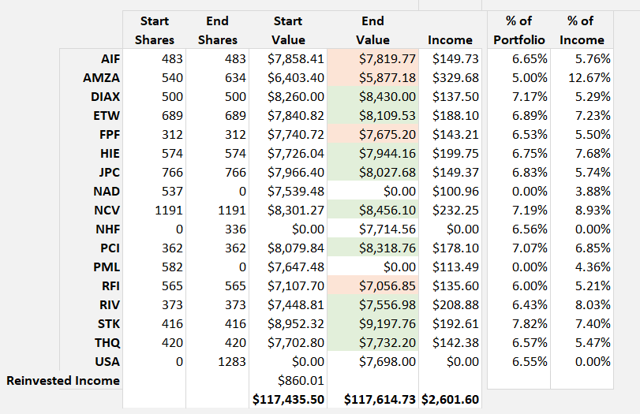 Start shares is the size of each position before current quarter changes. End shares is the size each position at the end of the quarter, Sept 29. NAD and PML were closed before the quarter's end and NHF and USA were added. Those changes were made after the ex-dates for each fund. Reinvested income is the excess from last quarter's targeted amount that was reinvested in the fund with the lowest allocation, AMZA.
Portfolio value grew 0.83% over the quarter ($977.62). The shading in the End Value column indicates funds that gained (green) or lost (red). AMZA was the big loser, losing -7.6%. It was the only fund to lose more than it contributed in income despite its massive yield. Last quarter it was the only loser, so AMZA hasn't been doing the bottom line any favors since I brought it on board.

The portfolio continues to generate the targeted level of income. $2,234.81, so there is an excess of $252.89 to reinvest.
The next chart shows overall portfolio performance at the two-year mark.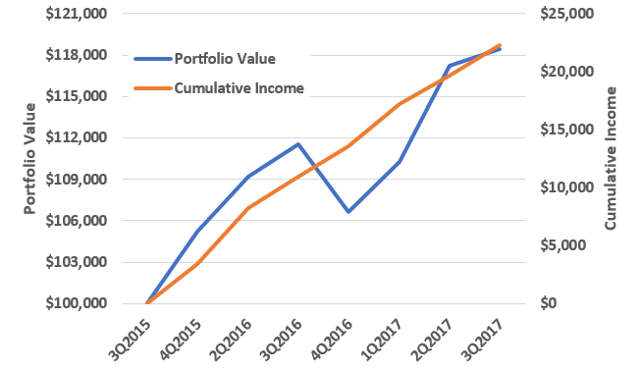 Cumulative income for the two years is $22,287 and portfolio value has grown by 18.4%.
Discounts and Premiums
The next chart shows the discount/premiums for the CEFs in the current portfolio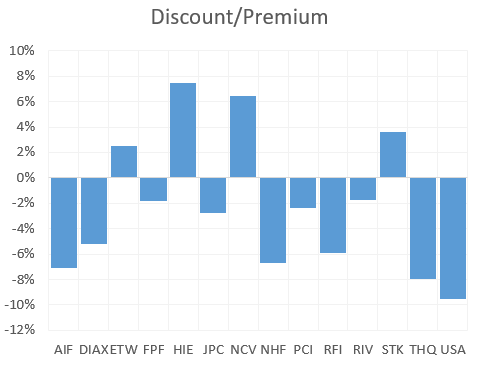 I tend to add CEFs when they are a discount, preferably an exceptionally deep discount. You will note that two new additions, NHF and USA fit that criterion. One of the things I look for in replacing funds is the premium. Funds that have grown to premium valuations can often be ripe for capital gains harvesting and replacement with a discounted fund. I've discuss this frequently. Some readers prefer a buy and hold strategy; I consider this approach gives up one of the advantages of investing in CEFs.
So at each review I consider closely the funds with high premiums. HIE is now at 7.45%. I last discussed HIE in July (Dividend Growth Drives A 10% Yield From Lowell Miller's Closed-End Fund) at which time the fund had moved into premium status at 4.0%. In the ensuing six weeks it has grown another 3.5 percentage points. I've been following HIE since July 2016 (Retirement Income: Own This 11.3% Yielding CEF For 8 Years) when the discount was -7.22% and it has been in this model portfolio for a year.
Here is the discount/premium chart from cefconnet.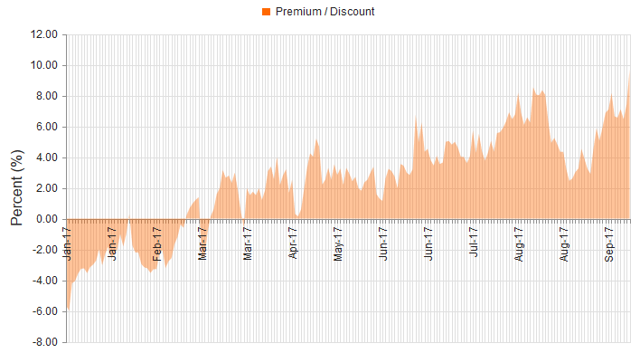 The valuation has been moving up all year with a brief dip here and there, most recently this summer when I reiterated my interest in the fund. I was willing to buy the fund then, when the premium was 4%, so I'm not in any hurry to sell it now at 7.5%. I consider this an excellent equity fund and one ripe for further gains. It's paying almost 10%. I'll keep paying attention to the premium but I'll not be making any moves at this time.
The other fund with a premium high enough to consider as a candidate for gains is NCV. NCV is a fund that has run a perennial premium, with occasional dips in to discount territory as we see in this five-year chart.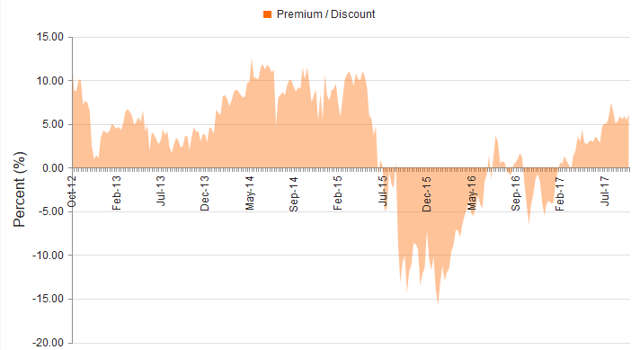 The drop in mid-2015 corresponded with a sharp reduction in the fund's distribution. I noted at the time (How Much Longer Will This 12.2% Yield Be On Sale?) that the massive move from a double-digit premium to a double-digit discount offered a huge buying opportunity. Consider that the discount was driven by the distribution cut, but at a -12% discount, the yield was as high as it was prior to the cut and much more sustainable. I added it to my own holdings at that time and added it to this model at the end of 2016. It's taken a while, but the premium has now moved to over 5%. With the fund paying 11% and with no serious risk to its distribution, I will continue to hold it for at least another quarter. You can review my thoughts on the fund here.
The other two premium funds are not priced so high as to offset their advantages. ETW adds some global exposure, which is a shortcoming for this portfolio so I don't want to drop it now. STK has been such a consistently strong performer that I'm reluctant to part with it at any time. STK's fortunes blow with the winds of information technology, among the most volatile sectors, but one that has and will continue to outperform.
Portfolio Changes
The portfolio has grown heavy in allocations to equity, especially domestic equity. The changes I made in September exchanged one bond fund for another equity fund, exacerbating the imbalance. On this basis I feel I should be looking to replace an equity fund with something from the fixed-income asset classes. The question is, which one?
I've been writing about RIV since I added it here. It has recently made two moves, neither wholly positive in my view. It raised its distribution by 50% but I've questioned the wisdom of that move and the sustainability of the new distribution (RiverNorth's Bold CEF Move: A 50% Distribution Increase For Its Fund Of Funds). Soon after, they announced a 33.3% expansion of the fund via a rights offering (RiverNorth Opportunities Fund: How To Play The Rights Offering?), which may help explain the distribution raise a month earlier.
As I noted, I decided to sell out of RIV. I liked the fund a lot but I've become skeptical that management has shareholders' interests as a high priority. Also, my take from studying other CEF rights offerings is that moving out of the fund prior to the ex-rights date with the intention of possibly moving back in after the rights offering has expired (possibly buying rights on the market to enter at a discount) can be the best strategy. This is all laid out in the article cited, so I'll not go over the rationale here. I'll only add that I took the same path (described here) with NHF when it had a rights offering. The strategy played out quite well at that time and I have since added back the fund at a much lower basis.
I have, therefore, sold RIV in this model portfolio. This would have been a better move in mid-September when the premium was still there from the afterglow of the distribution raise. I will review that decision at the end of the quarter. Depending on how the rights offering plays out, I may want to add RIV back into the portfolio.
I'll replace RIV with Eagle Point Credit Company LLC (ECC). ECC has a huge premium (23.23%!). I know that goes against my stated strategies of avoiding premiums and shopping for unusually deep discounts, but, in my view (and that of several, more knowledgeable observers whose opinions I respect) ECC is an exception. ECC is paying 11.6%. It deals primarily in complex credit instruments, notably CLOs (collateralized loan obligations). I have held in in my own portfolio since July 2016 and have been adding to it regularly (most recently this past August). It is now one of my highest allocations in my income portfolio).
The swap of RIV for ECC adds 383 shares of ECC (with the usual allowances for slippage). So the portfolio for the final quarter of 2017 is: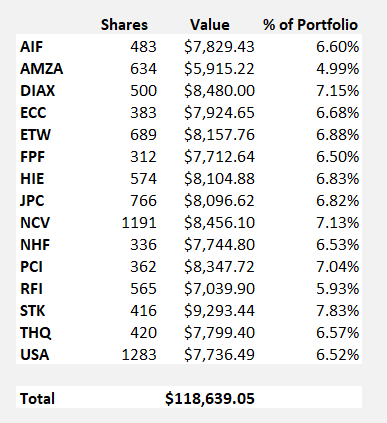 This moves the asset mix to reduce equity component and increase fixed-income allocations of the portfolio.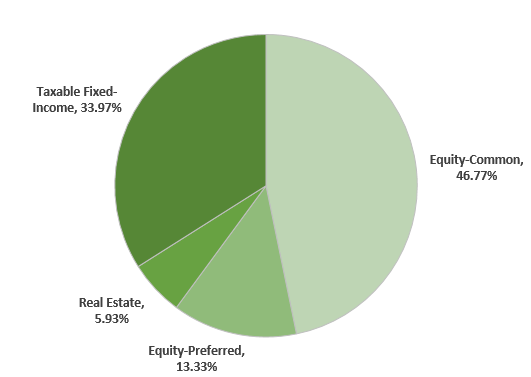 I'll continue to update this model quarterly, so I'll come back to the project at the end of this year.
Finally, readers should be aware that the holdings in this portfolio were added as I felt their valuations were attractive. This is a key element in maintaining the sustainable capital objective. I emphasize this here to point out that I would not necessarily be a buyer of these funds today.
Disclosure: I am/we are long AMZA, DIAX, FPF, HIE, NHF, PCI, RIV, STK, USA.
I wrote this article myself, and it expresses my own opinions. I am not receiving compensation for it (other than from Seeking Alpha). I have no business relationship with any company whose stock is mentioned in this article.
Additional disclosure: I am not an investment professional and nothing I write here should be taken as professional advice. Readers should realize that my writings and thoughts here are my research notebook. Everyone's personal situation is unique. It is the role of finance professionals to provide advice in the contexts of an individual's personal situation. What may be right for my investment goals and risk tolerances may well be quite wrong for someone else. Do your own due diligence or consult with professionals on your own needs, objectives and tax circumstances before you invest.