When I write about VEREIT Inc. (VER) and their legal issues, one of the most common questions is how large the settlements might be and how it will impact the company. The problem is that it is extraordinarily difficult to come up with numbers that are anything other than wild guesses.
Reader grok42 provided a link to a study performed by Cornerstone research. Using this study as a starting point, we might be able to get at least a rough estimate of VER's potential liability.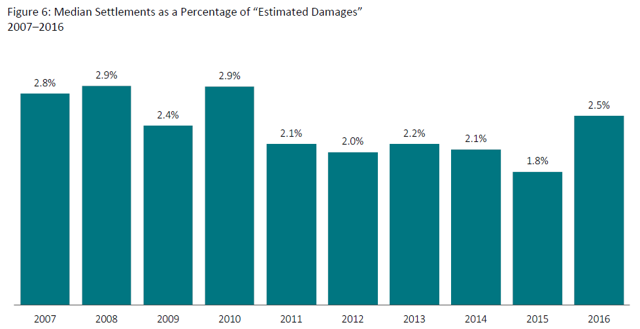 At first look, median settlements have pretty consistently fallen from 2% to 3% of estimated damages. That range would amount to $80-$120 million for VER.
However, the VER lawsuit has several features that tend to elevate the settlement amounts.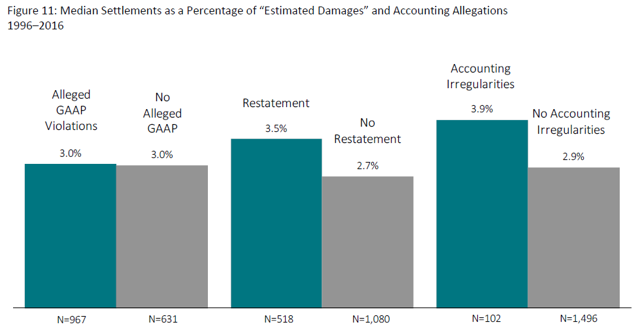 Taking a deeper look, when there are accounting irregularities, the median settlement jumps up to 3.9% of estimated damages.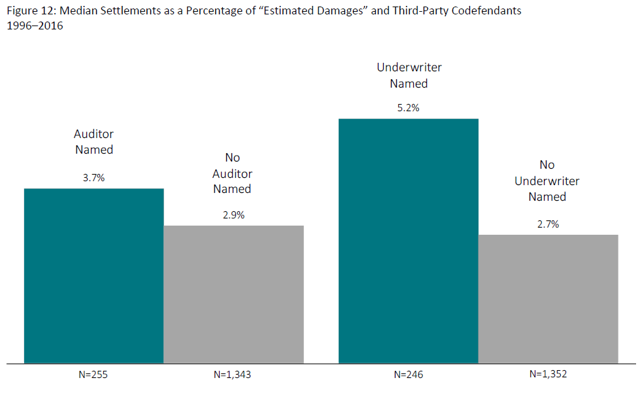 Furthermore, when third-parties are named as codefendants, the median settlement rises to 5.2%. These two factors would suggest a median settlement range of $150-$210 million.
Also within the study is a list of risk factors leading to a higher predicted settlement.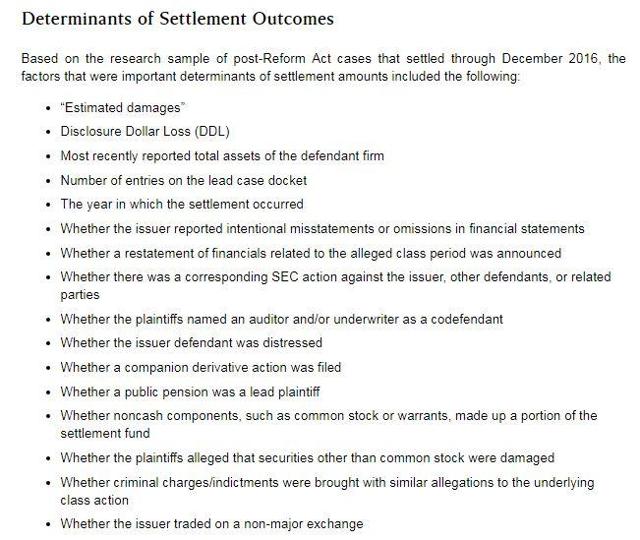 Going down the list:
Number of entries on the lead case docket: Currently 519.
The year in which the settlement occurred: The longer it takes to settle, the higher the settlement tends to be. It has been 3-years.
Whether the issuer reported intentional misstatements or omissions in financial statements: Yes.
Whether a restatement of financials related to the alleged class period was announced: Yes
Whether there was a corresponding SEC action against the issuer, other defendants, or related parties: Yes
Whether the plaintiffs named an auditor and/or underwriter as a codefendant: Yes.
Whether the issuer defendant was distressed: Not distressed. Settlements of distressed companies or companies listed on non-major exchanges tend to be lower.
Whether a companion derivative action was filed: Yes.
Whether a public pension was a lead plaintiff: Yes, the TIAA.
Whether noncash components, such as common stock or warrants, made up a portion of the settlement fund: TBD, but likely.
Whether the plaintiffs alleged that securities other than common stock were damaged: Yes.
Whether criminal charges/indictments were brought with similar allegations to the underlying class action: Yes, with one guilty plea and one conviction.
Whether the issuer traded on a non-major exchange: No
As you can see, every single determinant of settlement outcomes goes against VER's favor. We already know that it is a special case, because it is very rare for a CFO to be convicted and face real jail time. This study was conducted looking at all cases that settle, and no doubt, many of them settled because the company and their insurance company determined it was cheaper to settle even if they believed they could successfully defend at trial. VER appears to have a very weak defense, and this leads me to conclude that VER is likely to face a much higher settlement than the median.
The Impact
VER has an EV over $21 billion and has a solid balance sheet. The current management team has done an excellent job reducing leverage, and I fully expect them to remain conservative as they pick up new acquisitions. There is no doubt that the company can absorb whatever hit it takes. This is not a situation where the continued existence of VER is in question.
For purposes of estimating the impact, I will assume that $500 million is the best case scenario. I will assume $1 billion in the worst case, representing almost a quarter of the estimated damages. I do not believe it will be that bad, but I cannot rule it out. And I will take the midpoint of $750 million.
The positive news for VER shareholders is that VER could afford to pay the lump sum immediately using their revolver, which currently has $2.3 billion available.
The question is not whether or not VER can afford to pay any settlement; the question is how it will impact long-term cash flows.
Part of the negotiations will be the structure of how and when the settlement will be paid. VER's lawyers will no doubt seek to pay a large chunk of it in equity and whatever portion has to be cash will be structured in a way that allows VER sufficient time to coordinate their debt.
Valuation
In order to estimate the impact of the legal situation on VER, we first have to determine what VER would be worth without the sideshow.
| | |
| --- | --- |
| Ticker | P/AFFO |
| SRC | 10 |
| VER | 12 |
| WPC | 13 |
| STOR | 15 |
| NNN | 17 |
| O | 19 |
When calculating current valuations, I used recent share prices and the most recent annual AFFO guidance for each company.
I do not believe that VER is comparable to NNN or O. While one could find a lot of similarities, both NNN and O trade at premiums earned from decades of rewarding shareholders. Even after the legal issues are resolved, VER will have a long road to fully put the ARCP legacy behind them.
Similarly, STOR has recently received a significant boost thanks to publicity from Warren Buffett. While I am not one to attempt to chase Buffett, I believe his influence does have a positive impact on valuation.
On the other end, SRC has plenty of issues that a litigation-free VER does not share. Even with litigation VER is trading at a better multiple, and I believe that will continue.
Therefore, I conclude that an appropriate multiplier for VER without the impact of litigation is 12-14x. That makes it comparable to WPC, perhaps slightly better.
To test my valuation, I looked at the last year of price action for VER.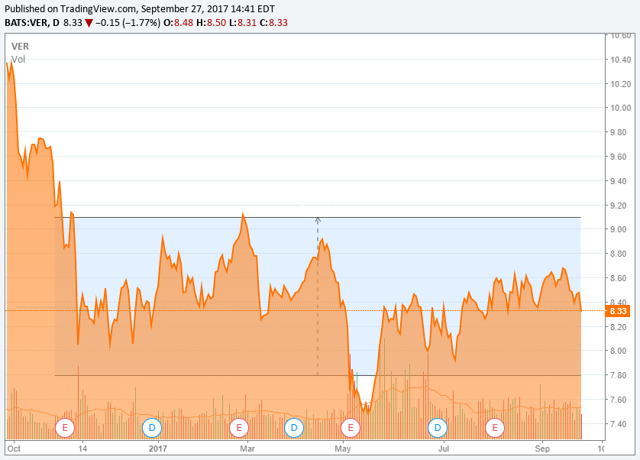 To calculate the range, $7.80 to $9.10, I took VER's guidance for AFFO and took out the litigation costs. While management adds those costs back into AFFO as "one time" expenses, I believe the market is pricing them in. Since those costs will continue for the foreseeable future, I theorize that they are having a similar impact on valuation as a recurring expense. Using that adjusted AFFO, the trading range is 12x to 14x.
This implies that without the current legal expenses, VER would have traded in the $8.64 to $10.08 range over the last year.
2018
Going into 2018, it is hard to see anything significant changing. While VER's acquisition program is expected to pick up at the end of this year, management has been guiding for dispositions and acquisitions to be roughly equal for 2017.
The acquisition pace should continue to speed up and the disposition pace should continue to slow. Therefore, I expect early 2018 acquisitions to outpace dispositions. That should lead to AFFO growth, but most of it will not be fully realized until 2019. My assumption is that VER's AFFO will be around $0.73 for 2018, which is in-line with consensus estimates.
Additionally, I expect that legal expenses next year will be slightly lower than they are this year. This is due to the discovery process being substantially completed by the end of this year. If any significant settlements occur in 2018, I believe it will be late in the year as the legal system continues at a snail's pace. For purposes of this exercise, I estimated that litigation will have a $0.05 impact.
Assuming an adjusted AFFO of $0.68, the value range would be $8.16 to $9.52.
2019
This is where things get much more complicated and far more uncertain. First, my assumptions. I believe that VER is going to pick up their acquisition pace in 2018. I assume a slight increase in shares to 1,025 million and AFFO of $780 million. AFFO per share would be $0.76, which is slightly higher than the current consensus. This would suggest a fair value range of $9.12 to $10.64 before factoring in any litigation.

Looking at the potential settlements, I assumed each settlement would be 50% cash and 50% equity. I estimated that VER could finance the cash portion at 4% and applied the adjustments to AFFO and shares outstanding. I then calculated the value using 12x to 14x AFFO.
Conclusion
Attempting to estimate value two years out necessarily involves making a number of assumptions that could be wrong. Additionally, there is the additional risk that macro trends could influence value positively or negatively.
However, I do think the exercise is useful in that it provides some perspective on the relative impact a settlement might have on value. If the settlement is materially under $500 million, I think it is safe to say that VER will shake off the impact quickly. Alternatively, if it is materially over $1 billion, I think it will have a very significant impact on the share price.
While I do believe that VER's value will increase over the next two years, as indicated by all of the 2019 range estimates being higher than the recent trading range, I am still not a buyer.
I have always thought that VER will be able to afford whatever settlement occurs. The company has a solid balance sheet. The reason I am sitting on the sidelines is that I expect the stock to remain relatively flat until the litigation is resolved. There is no guarantee that it will be resolved next year or even in 2019.
Additionally, I think there is a strong chance that the market will overreact as the settlement date gets closer. This remains a situation on my watchlist, and I will consider starting a position if the price pulls back below my valuation.
Disclosure: I/we have no positions in any stocks mentioned, and no plans to initiate any positions within the next 72 hours.
I wrote this article myself, and it expresses my own opinions. I am not receiving compensation for it (other than from Seeking Alpha). I have no business relationship with any company whose stock is mentioned in this article.