Updated statistics from Moody's Investors Service1 confirm two benefits muni bonds continue to provide. First, municipal credits remain highly rated with, in 2016, upgrades narrowly outpacing downgrades.2 Second, municipal bankruptcies and defaults remain rare.
On June 27, 2017, Moody's released its updated annual default research report using 2016 figures. The study encompasses data on all Moody's rated U.S. municipal bonds for the 46-year period from 1970 through the end of 2016.
The latest report features two changes from prior years. Most notably Moody's framework shifted from being security-based to being sector-focused, to better capture "inherent credit distinctions and ratings volatility in the municipal sector." The upshot of this is that the Moody's universe is now split into three broad sectors: 1) General Governments, 2) Municipal Utilities, and 3) Competitive Enterprises.
To save you the trouble of diving into the 101-page document, we have identified three key takeaways.
Muni Bond Ratings Drifted More Positively in 2016
Overall, Moody's bond ratings for the municipal sector skewed slightly more towards notch-weighted3 "upgrades" than "downgrades" in 2016, in an environment that continued to see elevated downgrade levels. Although the change is slight, this marks a turning point for muni bond rating drift, as "notch-weighted downgrades have outpaced upgrades for every monthly cohort since mid-2008," with the trend only reversing quite recently. For Moody's, this trend lends credence to the idea that "most credits are recovering or are stable in the aftermath of the recession." However, there are still some that "face steep credit challenges."
Muni Defaults and Bankruptcies Remain Quite Rare
Defaults in the muni space are still rarities when viewed in the context of the larger bond market, and global corporates in particular.
Municipal Default Rates Lower Than Global Corporates for All Broad Categories
Average Cumulative Default Rates, 1970-2016, Municipals vs. Global Corporates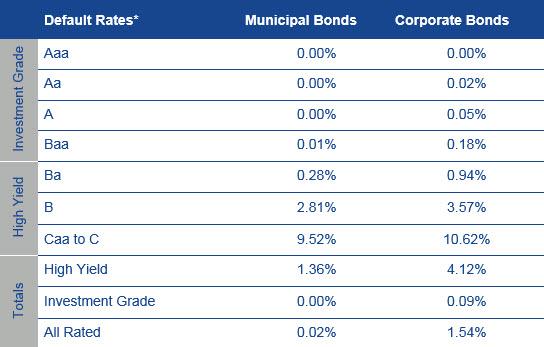 *Average cumulative rates from 1970-2016 (annualized). Most recent annual study published July 2016, based on data from 1970-2016.
Source: Moody's Investors Service: "U.S. Municipal Bond Defaults and Recoveries, 1970-2016"
Historical information is not indicative of future results; current data may differ from data quoted.
The Moody's rating scale is as follows, from excellent (high grade) to poor (including default): Aaa to C, with intermediate ratings offered at each level between Aa and Caa. Anything lower than a Baa rating is considered a non-investment-grade or high-yield bond.
Out of the many thousands of rated muni bonds issued since 1970, there have been just 103 defaults. Of these, 72.8% were accounted for by competitive enterprises (revenue-supported healthcare, housing, and higher education), 20.4% by general governments, and just 6.8% by municipal utilities. Perhaps not surprisingly, most of the competitive enterprise defaults occurred during the period 2004-2008 as the housing sector became stressed.
Although the report observes that "the U.S. public finance sector is notable for infrequent defaults and extraordinary stability," it does see changes on the horizon for the sector. The report goes on to state that "rating volatility, rating transition rates, cumulative default rates have all increased since 2007." Because their revenues and expenditures are "delinked," municipal governments have some flexibility when budgets become stressed. However, when push comes to shove, their first priority may not be re-paying bondholders. "A municipal government," Moody's observes, "will very likely choose to maintain basic services, pay teachers and policemen before bondholders."
Puerto Rico Responsible for the Four Muni Defaults in 2016
Debt troubles continued to plague the island commonwealth of Puerto Rico in 2016. The report notes that while these defaults were very small in number, when compared to the overall municipal bond universe, the sums involved were "extremely large in terms of debt affected."
Taken together, the defaults by the four Puerto Rican entities - the Puerto Rico Infrastructure Finance Authority (PRIFA), the Government Development Bank (GDB), the Highways and Transportation Authority, and Puerto Rico's General Obligation debt - affected $22.6 billion in rated debt through the end of 2016. The report noted that this made it "the largest annual default by a single U.S. municipal credit family in Moody's history." Moody's sees Puerto Rico's number of individual defaults rising in 2017, and that these could total as high as $64.3 billion by the end of the year.
Conclusion: Muni Bond Investments Are Attractive
We believe that the findings in the Moody's report underline the attractiveness of the muni bond asset class for investors. Just the two benefits we have noted, that muni credits remain highly rated and that muni bankruptcies and defaults remain rare overall, should lead investors seriously to consider munis as a portfolio investment. And these benefits are in addition to the tax advantages an investment in muni bonds also offers.
Post Disclosure
1Moody's Investors Service: US Municipal Bond Defaults and Recoveries, 1970-2016, June 27, 2017.
2Moody's Investors Service: Rating drift measures the net average number of notches a credit will change over the study period. It is defined as the average upgraded notches per issuer minus the average downgraded notches per issuer.
3Notch-weighted is the average upgraded or downgraded notches per issuer, notch refers to a single unit of measure from one rating to the next from higher to lower quality or lower to higher quality.
IMPORTANT MUNI NATION® DISCLOSURE
This content is published in the United States for residents of specified countries. Investors are subject to securities and tax regulations within their applicable jurisdictions that are not addressed in this content. Nothing in this content should be considered a solicitation to buy or an offer to sell shares of any investment in any jurisdiction where the offer or solicitation would be unlawful under the securities laws of such jurisdiction, nor is it intended as investment, tax, financial, or legal advice. Investors should seek such professional advice for their particular situation and jurisdiction.
VanEck does not provide tax, legal or accounting advice. Investors should discuss their individual circumstances with appropriate professionals before making any decisions. This information should not be construed as sales or marketing material or an offer or solicitation for the purchase or sale of any financial instrument, product or service.
Please note that MUNI NATION® represents the opinions of the author and these opinions may change at any time and from time to time. Not intended to be a forecast of future events, a guarantee of future results or investment advice. Current market conditions may not continue. Non-VanEck proprietary information contained herein has been obtained from sources believed to be reliable, but not guaranteed. No part of this material may be reproduced in any form, or referred to in any other publication, without express written permission of VanEck. MUNI NATION is a trademark of Van Eck Associates Corporation.
All indices listed are unmanaged indices and do not reflect the payment of transaction costs, advisory fees or expenses that are associated with an investment in a fund. An index's performance is not illustrative of a fund's performance. Indices are not securities in which investments can be made.
Municipal bonds are subject to risks related to litigation, legislation, political change, conditions in underlying sectors or in local business communities and economies, bankruptcy or other changes in the issuer's financial condition, and/or the discontinuance of taxes supporting the project or assets or the inability to collect revenues for the project or from the assets. Additional risks include credit, interest rate, call, reinvestment, tax, market and lease obligation risk. High-yield municipal bonds are subject to greater risk of loss of income and principal than higher-rated securities, and are likely to be more sensitive to adverse economic changes or individual municipal developments than those of higher-rated securities. Municipal bonds may be less liquid than taxable bonds.
The income generated from some types of municipal bonds may be subject to state and local taxes as well as to federal taxes on capital gains and may also be subject to alternative minimum tax.
Diversification does not assure a profit or protect against loss.
Investing involves substantial risk and high volatility, including possible loss of principal. Bonds and bond funds will decrease in value as interest rates rise. An investor should consider the investment objective, risks, charges and expenses of a fund carefully before investing. To obtain a prospectus and summary prospectus which contain this and other information, call 800.826.2333 or visit vaneck.com. Please read the prospectus and summary prospectus carefully before investing.