Sberbank (OTCPK:SBRCY) is the largest bank in Russia. The government owns a majority share of the company. In terms of the volume of open deposits and loans issued, Sberbank takes the first place in the Russian market. The company trades at a P/E multiple of 6.5 while at the moment the quotes of Sberbank are close to historical highs. In this article, I would like to tell you why Sberbank is so good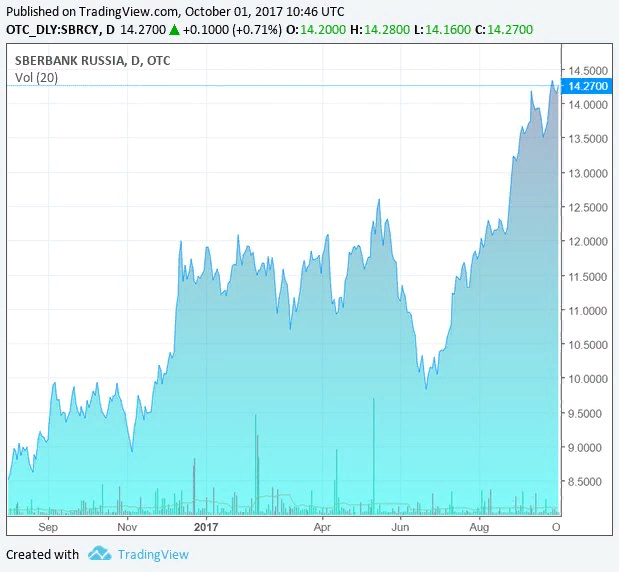 Financial statements
In the summer, the company released its report on the first half of 2017. The report was very good and even surpassed analysts' forecasts.
Net interest income increased from 664 billion rubles for the first half of 2016 to 694 billion rubles for the first half of 2017. Operating income increased by 16% to 747 billion rubles in comparison with the first half of 2016.
The report turned out to be very good, and the quotes grew by 3-5%. At the same time, the company's quotes grew by more than 40% compared to the first half of 2016, which indicates that Sberbank has invested for future growth.

Loan portfolio and deposit structure
Loans account for 68% of all assets, of which 28% are held by retail and 72% by corporate. Loan portfolio structure: 31% consumer loans, 12% credit cards, 2% auto loans, and 55% mortgage loans. More than 70% of loans are issued for a period of more than a year.
Corporate deposits account for 32% of all deposits while retail deposits 68%. 60% of customer deposits are made in rubles, another 35% in dollars and euro. More than half of the deposits are made for a period of less than six months.
Net loan/deposit coefficient equals to 0.932.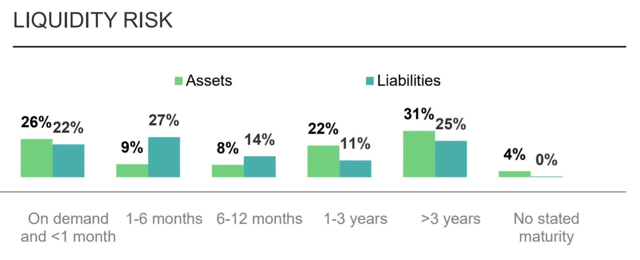 Source: Sberbank report
The bottom line is that the company's prospects are much greater than the price of its shares at the moment. At this point, probably every private investor in Russia has this stock in the portfolio. But now more about the prospects of Sberbank.
Why Sberbank?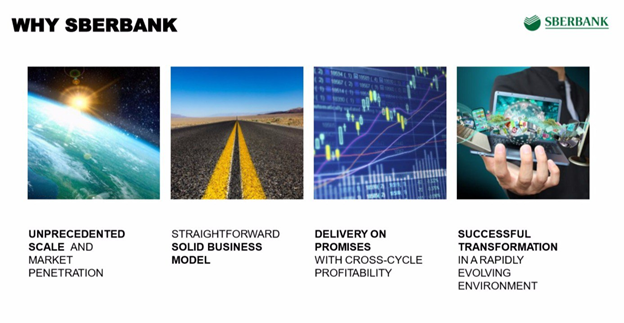 Source: Sberbank report
The fact is that the Russian economy has been very state-owned since the times of the Soviet Union. For any other company, this would be a negative, but not for Sberbank. The state in every possible way helps Sberbank to raise its capitalization, and hence its stake in it. Not long ago, the Central Bank of Russia introduced an interim administration to one of the five largest banks in the country. Quotations and credit ratings of this bank quickly collapsed, and the money of residents gradually flowed into state banks, including Sberbank. And Sberbank is very satisfied with this state of affairs, as it can seriously set rates on deposits below its competitors without losing customers. Sberbank accounts for more than 50% of all bank deposits in the country.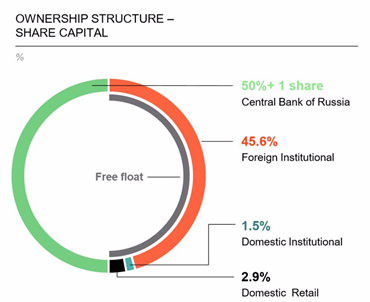 Source: Sberbank report
But everything stands not just for state assistance. Sberbank is a very technological company. It was a pioneer in technological innovations in the country. Therefore, in the event of a crisis in the banking sector due to the imminent threat of blockchain technologies, Sberbank will look the most prepared one. Also, a couple of weeks ago, the bank announced the creation of a clone of Amazon (NASDAQ:AMZN) in partnership with Yandex (NASDAQ:YNDX). And since Amazon is not very well represented in Russia and the CIS countries, the potential market size is very large. In 2016, Internet commerce in Russia grew by more than 20%; nowadays it shows a positive trend.
Also, Sberbank looks very attractive from the position of return on equity and return on assets. ROA of Sberbank is 2.5% (TTM), which is almost double the average of large global banks. As for ROE, it is also in the top. It can be seen from the picture below that Sberbank improved its ROE from 10% in mid-2015 to 20% this year.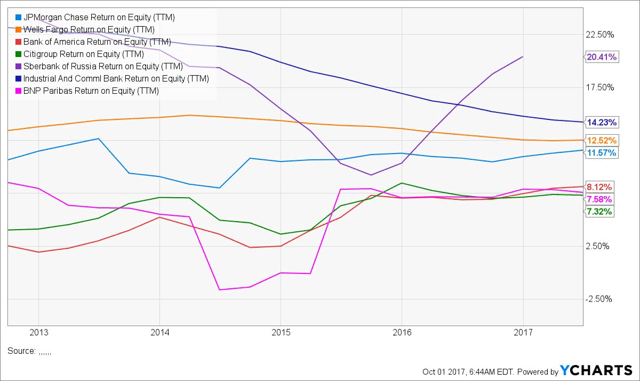 Conclusion
Now the company's shares are at the 52-week highs. Always the likelihood of an adjustment takes place in such a case. Therefore, I think that it is worth to wait and bid for the company when it's cheaper. But even at such levels, the company looks very cheap compared to the banking sector of Russia as a whole. The P/Es of Sberbank's closest competitors in the Russian stock market range from 10 to 15.
Disclosure: I/we have no positions in any stocks mentioned, and no plans to initiate any positions within the next 72 hours.
I wrote this article myself, and it expresses my own opinions. I am not receiving compensation for it (other than from Seeking Alpha). I have no business relationship with any company whose stock is mentioned in this article.