In recent years, the importance of dividends as a percentage of total return has once again come to the fore. I've personally read a number of different articles on the subject, each with varying and disparate figures on the actual percentage of total return that can be attributed to dividends. I have read research from the investment firm Blackrock that claimed 90% of total returns are attributed to dividends, while a report published by Brandes claims 60%, while still others state with certainty a 30% contribution
Regardless of the actual number, which is probably irrelevant to everyone except academics, a lot of investors seem to be rediscovering the importance of dividends as a powerful contributor to their long-term total returns.
For many this was a discovery born of necessity, as yields in traditional sources of fixed income such as government bonds, corporate bonds, money markets and the like, have remained at historically low levels for almost a decade (yes it's been almost ten years) since the financial crisis of 2008/9. This has forced many income focused investors find some other source of funds in their investment portfolio to replace income lost as their higher yielding bonds were redeemed or called.
The problem, from the perspective of the traditional fixed income investor is that, unlike bond interest payments, common stock dividends can be cut or even eliminated at the whim of the board of directors whereas an interest payment cannot - at least not without placing the company in default. So how do you, as an investor looking for steady dividend income, determine which companies are less likely reduce their dividend and will continue to provide that predictable income stream you need?
I think it's only common sense to start with those firms that have a history of stable dividend payments. After all, if a company has a established history of paying a dividend it is more likely to continue to do so in the future. In fact, in many cases that dividend becomes a sort of identity - part of corporate DNA where the dividend is considered a given and the only question for the board is if and by how much they will raise the amount of the dividend.
Further, a disciplined management team that uses their resources efficiently is fundamental to building a well run and profitable company that is able to continue to grow and succeed in the future. Steady and constantly growing dividends can give us a good indication that these elements are in place.
So a strong history of consistent and growing dividends is the first filter. Next, if stable and steady is what I am looking for, I prefer to focus on companies with a market cap over $1 billion in order to eliminate microcap and illiquid or closely held stocks while still leaving room for a myriad of options by well run smaller companies that might otherwise be overlooked. Many dividend hunters overlook this requirement due to an attractive dividend, and generally when everything is going well, there is usually a ready market for those shares...but if the dividend ever gets cut, or the company runs into some financial issues, it could get dicey trying to sell.
Finally, it's important to know that management isn't emptying the coffers to pay the current dividend, leaving little or no resources to help weather a downturn and increase the risk of future dividend cuts. Therefore, I like to see a dividend payout ratio of 80% or less.
So the criteria is as follows:
1.) The company must have a history of at least 5 years of stable dividend payments with no dividend cuts.
2.) The company must have a market cap of at least $1 billion to eliminate microcap and illiquid stocks.
3. The dividend payout ratio must be 80% or better to reduce the risk of future dividend cuts
The following is a short list of five stocks that meet this criteria and a short summary of each.
Verizon (VZ)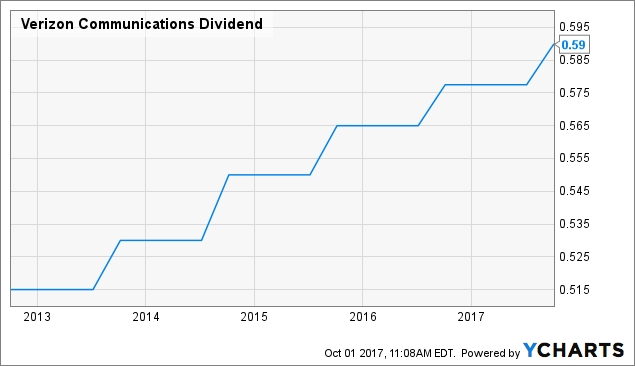 VZ Dividend data by YCharts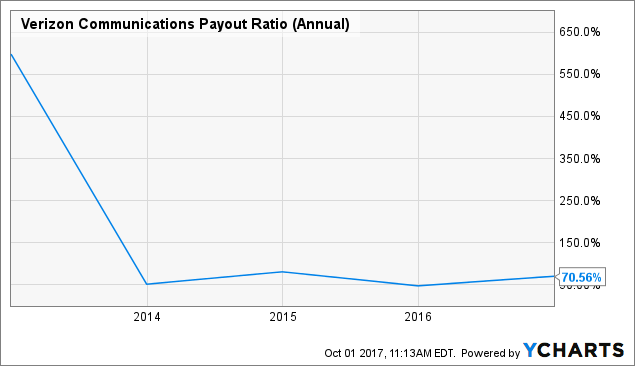 VZ Payout Ratio (Annual) data by YCharts
Hardly a diamond in the rough, Verizon is already on a lot of income investor's radar due to its attractive and stable (as evidenced by the classic "stairstep" dividend chart above) 5%+ yield . However, what differentiates Verizon from, for example, it's telecom competitor AT&T (T) is a dividend payout ratio for VZ is just over 70% while AT&T's payout ratio is north of 90%.
Ford (F)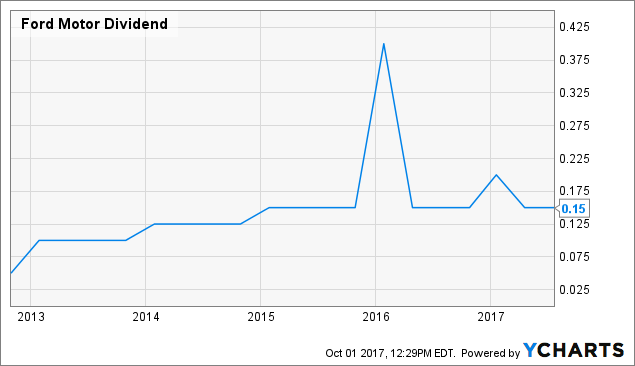 F Dividend data by YCharts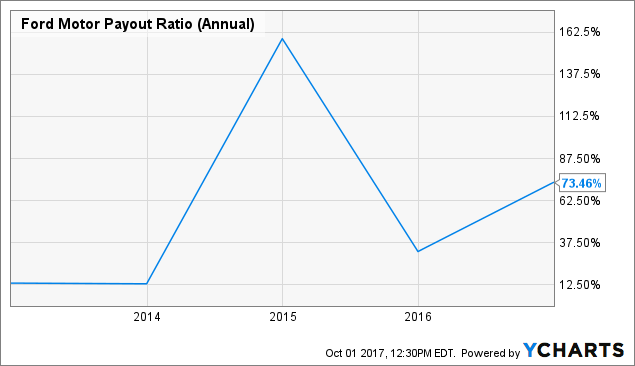 F Payout Ratio (Annual) data by YCharts
Investors continue to be bearish on Ford. The stock is basically flat YTD, while the S&P 500 Index is up almost 12% in that time. And yet, Ford's fundamentals continue to improve. While not quite the classic "stair step", Ford's 5 year dividend chart demonstrates consistent solid and improving dividend payout. Indeed, where we can see some spikes in early 2015 and 2016, these were as the result of special extra dividends declared by the company which should be taken as a sign of the conservative nature of the board to reward and return shareholder equity while not committing to further higher for longer dividends. At the same time, as illustrated by the second chart above, the payout ratio remains will under the 80% threshold established for this filter.
Kohl's (KSS)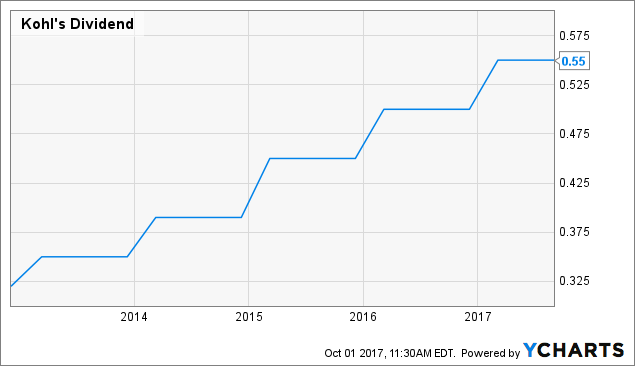 KSS Dividend data by YCharts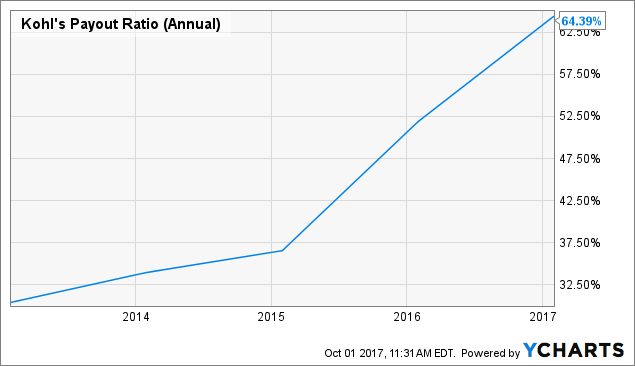 KSS Payout Ratio (Annual) data by YCharts
While Kohl's dividend chart does have that "stair step" feature of increasing dividends over time that all dividend investors love to see, the second chart shows the payout ratio climbing at an even faster rate, albeit still well within the 80% threshold and a very healthy 64.4%. As with most brick and mortar retail operators these days, detractors point to margin compression from e-commerce competition, and increasing wages as significant headwinds. However, with a yield of 4.8%, and trading at under 12x earnings, dividend investors can be confident they are not paying too much and will get paid to hold this national brand.
PacWest Bancorp (PACW)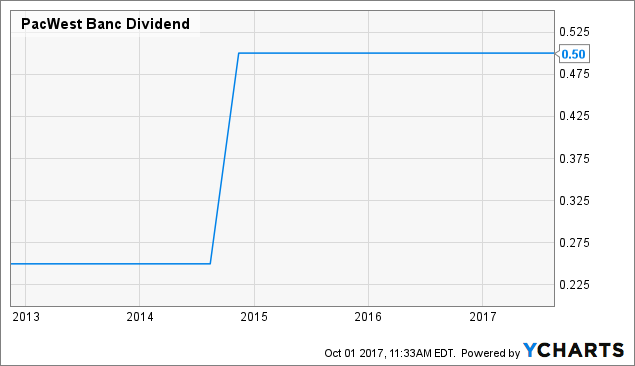 PACW Dividend data by YCharts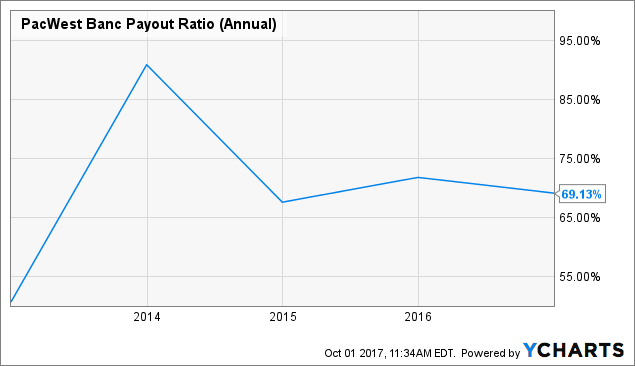 PACW Payout Ratio (Annual) data by YCharts
This bank holding company for Pacific Western Bank focuses on small to middle market and venture capital backed businesses. The company has raised its dividend once in the past five years but when it did, it did so in a big way, doubling the payout from $.25/share to $.50/share. And with the exception of early 2014 when it briefly climbed over the 80% payout threshold, management has managed to do so while keeping the payout ratio - currently at 69% - well under that threshold for the past several years. The shares trade at 17.4x earnings and carry a yield of almost 4%.
AirCastle Limited (AYR)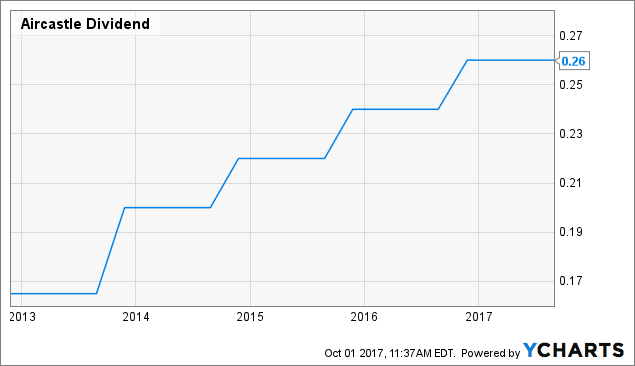 AYR Dividend data by YCharts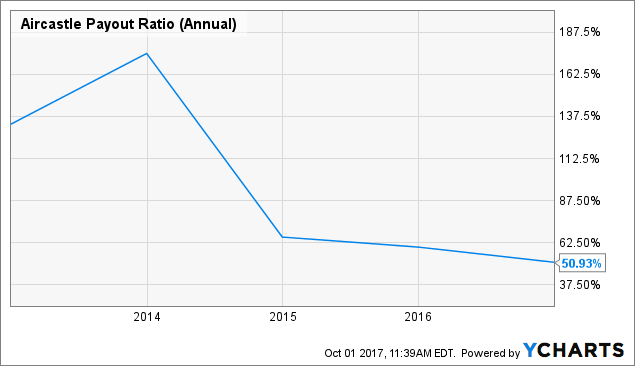 AYR Payout Ratio (Annual) data by YCharts
As the charts above clearly illustrate Aircastle has a history of sustained and increasing payouts over time, while also decreasing the payout ratio to just over 50%. However, with a market cap of just over $1.6 billion this one that flirts with being too small. However, with a yield of 4.7% and trading at only 13.43x earnings, this niche play in the commercial aircraft leasing company has been solidly over the $1 billion market cap filter for several years now. No pun intended but this is one that's been flying under the radar and should be part of every dividend investors portfolio if not for the healthy yield then for the regularly increasing dividend and well contained payout ratio
So there you have it, a short list of five well managed, well paying, consistently delivering dividend stocks. Remember, while profits can be manufactured by creative accounting, dividends by their very nature, have to be real. They are paid in hard dollars and cannot be manipulated or sustained for very long. A dollar in "revenue" may or may not be real, but a dollar paid out in dividends surely is.
Disclosure: I/we have no positions in any stocks mentioned, and no plans to initiate any positions within the next 72 hours.
I wrote this article myself, and it expresses my own opinions. I am not receiving compensation for it (other than from Seeking Alpha). I have no business relationship with any company whose stock is mentioned in this article.