I felt like I should briefly go over my portfolio and explain my different positions, why I chose these companies and why I keep them. I will also name a few positions I've closed this year and my reasons for doing so. Worth noting is that my projected yearly dividends has risen from $828 to $1,098 since my first article. Most of it is due to new money being put to use. The portfolio value has simultaneously risen from $18,524 to $23,429, half of which is new money.
My current portfolio looks like this: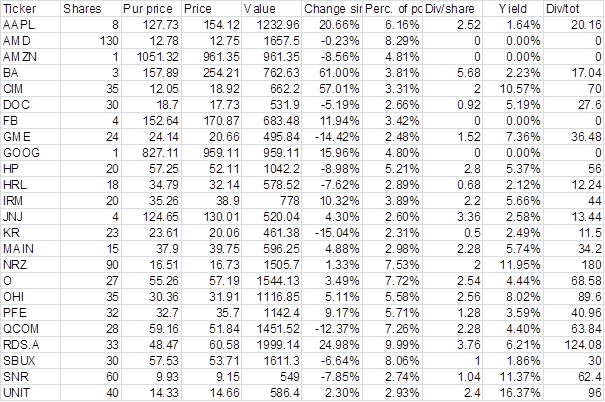 Total Value: $23,429.80
Projected yearly dividends: $1,098.12
Portfolio yield: 4.69%
Apple (AAPL)
I did not want to own Apple for a long time because I myself didn't like or use the products. I have since come to term with the fact that other people seem to like Apple products and I expect a continued dividend growth in the company for many years. It feels a bit pricey at this time but one have to remember that this has been the case with Apple for a long time. I myself bought at all-time high at $127,73.
Advanced Micro Devices (AMD)
I bought AMD because I think there's a potential for the stock price to double or triple within a few years. I know that I should have bought the stock at $2-3 but I hadn't noticed it by then. I was too busy chasing yield at the point in time and wasn't looking at any stocks not paying a hefty dividend.
Boeing (BA)
Boeing was caught on my radar due to the dividend growth. I was also in search of an industrial stock to further diversify my portfolio and this made Boeing the perfect match. In hind sight I regret not buy a lot more.
Chimera Investment (CIM)
CIM is one of the few companies remaining from my yield chasing phase. I stumbled on an analysis here on SA which argued that CIM was extremely undervalued and that the dividend was absolutely safe. The author seemed to have a valid point and so I bought some shares and it has really paid off so far.
Physicians Realty Trust (DOC)
I owned DOC a bit over a year ago but sold it when I sold all my other REITs when there was concern over rising interest rates. I recently rebought a small position since I think the company will continue to grow and a clear sign of this is their first dividend hike earlier this year.
Facebook (FB)
At last I joined the Facebook train. I simply couldn't find arguments for not owning the stock anymore. I simultaneously bought Facebook, Alphabet and AMD as a non-dividend part of my portfolio, expanding the tech sector.
Gamestop (GME)
I was enticed by the very large dividend and relatively low payout ratio. I'm continuously going back and forth if I should sell or buy more.
Alphabet (GOOG)
I think owning Alphabet will turn out to be a good investment in a few years. It has been an extraordinary investment historically but I will settle with good.
Helmerich and Payne (HP)
I wanted more exposure to the energy market and since I already owned stocks in Shell I wanted something different than a producer.
Hormel Foods (HRL)
People need to eat. I like the dividend growth and I think it's trading at a cheap level at the moment.
Iron Mountain (IRM)
I bought Iron Mountain after reading an analysis by Brad Thomas. Seems like a stable company, nice dividend and cheap valuation.
Johnson & Johnson (JNJ)
It doesn't get any more blue-chip than JNJ. Although I would have liked to buy it at a much lower level (obviously) I'm still happy with my purchase.
Kroger (KR)
I bought a small position as a gamble. The stock took a massive beating after cutting earnings estimates and then took another one when Amazon bought Whole Foods. It has dropped further since I bought it and I feel that the low price isn't warranted. I might expand my position a bit during the coming months.
Main Street Capital (MAIN)
I have been keeping an eye on this one for about a year and the price have only gone up. So when it fell a few percentage points a couple of months ago I seized the moment and bought a few.
New Residential Investment (NRZ)
I was hesitant to buy this one due to previous experience with high yielding stocks but after reading as much as I could find about the company I decided to buy some shares anyway as an addition to CIM.
Realty Income (O)
I love this stock. I sold my entire position at $70 and rebought a larger position at $55 and now I'm getting paid every month again.
Omega Healthcare (OHI)
Again, I think an article by Brad Thomas got me in to OHI. It has a very nice track record of raising the dividend and I'll gladly ride along.
Pfizer (PFE)
This was my second pharmaceutical company to buy and I chose between PFE and JNJ. I bought PFE due to the higher yield and was seemed like a low price. I now have both companies.
Qualcomm (QCOM)
This is a very big company which pays a nice, increasing dividend. My position is well in the red due to all the legal hazards the company is currently in but I think it will pull through. If they do, my position won't be in the red for long.
Royal Dutch Shell (RDS.A)
When oil dipped below $30 I scanned the largest oil companies and in the end decided to buy stocks in Shell. I felt it was a safer bet than BP and a much better dividend than Exxon or Chevron.
Starbucks (SBUX)
To be completely honest, I didn't do any research before buying Starbucks. I just picked it off the top of my head as one of the giants in the industry. My first entry point at $62 isn't great but with time and increasing dividends I think I'll make up for the initial losses.
New Senior Investment Group (SNR)
Stock promoted as a viable M&A target by Brad Thomas. I made a small bet in the company and receive a 10% yield on my money while I wait.
Uniti Group (UNIT)
This is my most recent buy. I first looked at the company after reading an article by Brad Thomas. Brad is often right about quality stock but even he cannot time the market. So I put it on my watch list as a possible future position and when it recently dropped in price due to concern about WIN I bought some shares with what money I had. They might cut the dividend but I feel comfortable taking the risk with such a small position.
Closed positions
International Paper (IP)
I took home some profit in IP mainly because I wanted the money to invest in other stock. I bought IP at 5% yield and sold it at 3%. I felt there were a lot of safer investments to be made with a 3% yield.
Orchids Paper Products (TIS)
I bought it because of the yield. I sold it because I didn't know much of the company and didn't feel comfortable with the investment. In hindsight I was really lucky since the stock price plummeted not long after I sold my position.
GlaxoSmithKline (GSK)
Not much to say, bought cause of high yield in a familiar brand and then I sold because I got spooked by Brexit.
BHP Billiton (BBL)
Bought this one because I thought it was really cheap and being one of the world's largest producer of iron and copper. Sold because I had a nice profit and the company still hadn't raised its dividend after the cut. They then quickly raised the dividend after I'd sold.
Care Capital Properties (CCP)
I bought it because of an article by Brad Thomas, my REIT guru. I then sold when they announced the merger with SBRA because I didn't feel comfortable owning SBRA.
Cummins (CMI)
Bought because of the DGR and I wanted more industrials. I closed the position because I wanted to take home profit and invest elsewhere. One of my not-so-great decisions.
AT&T (T)
Bought because of the dividend yield and sold it when I started being more focused on dividend growth because 2% average growth doesn't cut it for me.
Summary
To conclude this article: I've been lucky with some trades and too trigger-happy with others. I try to look at it all as gaining experience. I'm starting to feel comfortable about managing my own portfolio and I'm having fun doing so.
My portfolio is still a bit light with industrials so that's where I'm looking to add right now. I also have MasterCard (MA) and VISA (V) on my watch list to possible add to the portfolio.
In my next article I will also talk about the downside about being a non-U.S. investor on the U.S. market, the dollar and the effect it's had on my portfolio performance in Swedish Crowns (SEK).
Disclosure: I am/we are long AAPL, AMD, AMZN, BA, CIM, DOC, FB, GME, GOOG, HP, HRL, IRM, JNJ, KR, MAIN, NRZ, O, OHI, PFE, QCOM, RDS.A, SBUX, SNR, UNIT.
I wrote this article myself, and it expresses my own opinions. I am not receiving compensation for it (other than from Seeking Alpha). I have no business relationship with any company whose stock is mentioned in this article.