Summary
I filtered all CEFs for those that have been beating SPY for three time frames.
The list of 34 funds offers a range of interesting choices for further research.
Although distribution yield was not a criterion in the search, the median yield for the 34 funds is over 8%, ranging from 3.6% to 11.3%.
Discount/premium ranges from a -16.9% discount to a 15.0% premium, with a median of -3.1%.
Closed-end funds are most commonly seen as income investments. This was not always the case. Before ETFs took over the investment world, even before open-end mutual funds dominated in an earlier era, closed-end funds were the primary investment vehicle for access to a managed portfolio. Many of those portfolios were managed for total return. Several of these old-school CEFs remain and many more CEFs with a total-return, growth-oriented objective have joined their ranks.
I have been looking through the CEF universe for funds that have been delivering market-beating performance independent of income. CEFs offer opportunities for niche-market managers and skillful stock pickers that differ from those afforded by ETFs and OEFs. One important distinction is the ways CEFs respond to market trends. ETFs are designed to track their indexes and remain tightly tied to their net asset values. OEFs are subject to inflows and outflows according to investor whims which often come at inopportune times for fund managers who are forced to buy or sell assets to meet the demands of those inflows and outflows. CEFs are, of course, closed. The trade at the market just like a stock. The manager is not forced to track the market and can make choices independent of investor shifts in interest. This means, of course, that the funds do not necessarily trade at their net asset values; rather, they trade at discounts and premiums to their value.
My first effort at filtering CEFs for returns independent of their distribution yields was to screen for outperformance over recent time frames. My filters were set to identify funds that had outperformed the S&P 500 ETF (SPY) for three years, one year and year to date (nine months). Obviously, SPY is not a legitimate benchmark for the range of fund categories among all CEFs. I've used it to have a rough target that moves over time to give an indication of performance relative to market trends instead of a static target such as a fixed percentage rate. The downside is that it can miss opportunities in uncorrelated asset classes.
This screen turned up 34 funds, about 6% of the total number of CEFs. In a previous article (Looking Beyond Income: CEFs For Total Return), I discussed ten funds from that list that had the deepest discounts to their NAVs. In this article, I will dig more deeply into that list.
The 34 funds, ordered by ticker symbol, are in the next list.
Adams Diversified Equity (ADX), Alpine Total Dynamic Dividend (AOD), Blackrock Enhanced Cap & Inc (CII), Blackrock Enhanced Equity Div (BDJ), Blackrock Multi-Sector Income (BIT), Boulder Growth & Income (BIF), Calamos Global Dynamic Income (CHW), Calamos Strategic Total Return (CSQ), Central Securities Corporation (CET), Cohen & Steers Closed-End Opp (FOF), Columbia Seligman Premium Tech (STK), DNP Select Income (DNP), Doubleline Income Solutions (DSL), Ev Tax Adv Global Div Opps (ETO), Gabelli Equity Trust (GAB), Guggenheim Enhanced Equity Inc (GPM), Guggenheim Strategic Opp Fund (GOF), Japan Smaller Capitalization (JOF), Liberty All-Star Equity (USA), MS China A Share (CAF), MS India Investment (IIF), Nuveen Dow 30 Dynamic Overwrite (DIAX), Nuveen Nasdaq 100 Dynamic Over (QQQX), PIMCO Corporate & Income Opps (PTY), PIMCO Corporate & Income Strgy (PCN), PIMCO Dynamic Credit Income (PCI), PIMCO Dynamic Income Fund (PDI), PIMCO Income Opportunity (PKO), PIMCO Income Strategy Fund (PFL), PIMCO Income Strategy Fund Ii (PFN), Royce Value Trust (RVT), Templeton Dragon Fund (TDF), Tri-Continental Corporation (TY), Virtus Global Div & Inc Fund (ZTR)
Seven of the 34 funds—more than one in five—are PIMCO funds. There are only eleven PIMCO taxable CEFs so that is a remarkable record. Blackrock, which offers 21 taxable CEFs, has three among the 34. Colombia Management, which sponsors two funds (STK and TY), has both on the list. Calamos (offers six funds) and Guggenheim (eight) also have two each. And, four, single-fund shops have their one CEF represented: Adams Express (ADX), Central Securities Corp. (CET), Nomura Asset Management (JOF), and Rocky Mountain Advisers Corp. (BIF).
The Funds and Their Records
This table summarizes the results of the screen. It includes the market returns that were used to generate the list of 34 funds, NAV returns for the same periods, distribution yields, discount/premium, and Z-Scores for 3 and 12 months. Highlighting indicates the top ten funds in each category.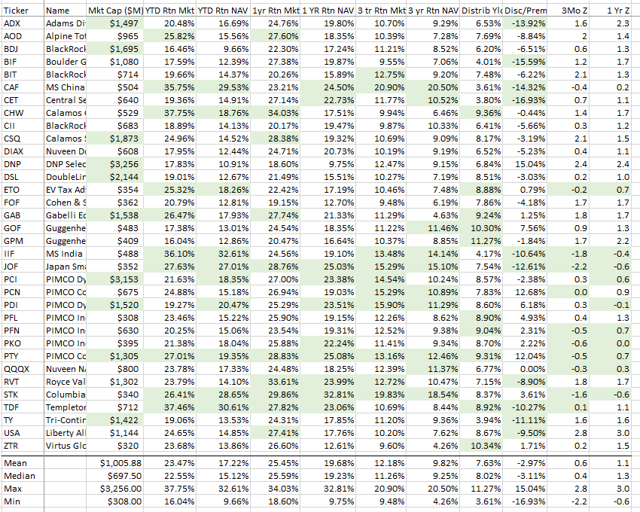 In this next table I show the ratio between each fund's returns and those for SPY for the same period. All the funds will be above 1 for market returns, of course. I was more interested in knowing which were outperforming the large-cap, US equity market at NAV, which does not reflect moves in the discounts and premiums which makes it a better marker for management performance.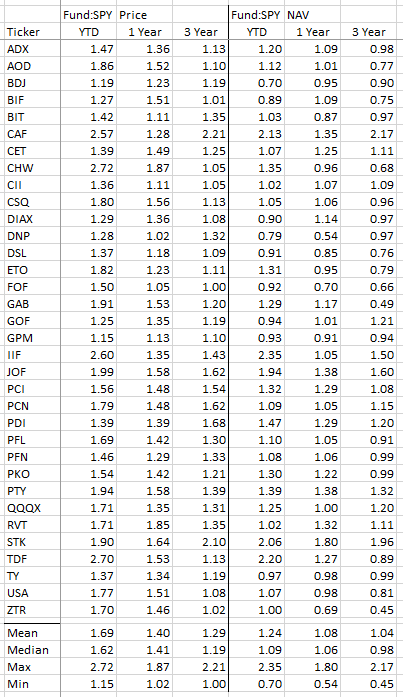 To find which funds rise to the top, let's look at the top ten funds for these metrics.
Market Returns



NAV Returns
Potentially more interesting are the metrics not screened for. Let's start with looking at the top ten funds for NAV returns.



Although not every fund beats the index ETF with NAV returns, these are generally competitive with SPY. The median ratios of Fund:SPY NAV returns is over 1.0 for 1 and 3 years, and 0.98 for the year to date.
Discounts and Distributions
Notice that in most of these return leaders, the distribution yields are quite high with funds set of ten having at least one fund yielding over 9%. Another interesting point is seen in the discounts and premiums. One might expect that these top performers would tend to have grown into high premium ranges, but those that have are the exception rather than the commonplace. Multiple double-digit discounted funds are found in each of the top-ten sets.
Discounts are an important factor in choosing among CEFs, which is why my first selections from this list were those with the deepest discounts.
So, let's look at those discounts and yields. First the top ten discounted funds (these were discussed in a previous article that used this metric as its secondary screen after the SPY-beating market return screen).

I find it interesting that this list includes three funds I have been writing about recently (BIF, RVT and USA).
And, for the top ten yielding funds, we have this next table.

Distribution yields range as high as 11.3%. I had not expected the higher yielding funds to be well represented in this screen but three are yielding over 10% and seven are over 9%.
Leaders Across Categories
As a way to summarize all these data, I've calculated how many times each fund appears in a top ten list for ten metrics: The six return metrics, yield, discount/premium and the two Z-scores.

Two quite different funds lead the list. JOF, which invests in Japanese Small Cap equity, is a prime example of the niche-investing focus one finds among CEFs. JOF hits the top ten in every category except distribution yield, which at 7.5% ranks 23rd of the 34 funds. PTY is one of PIMCO's high income funds. It holds a portfolio of multi-sector debt assets. It, too, fails to crack the top ten in only one category. Its 12% premium ranks 32nd in that category trailing all but two funds, DNP and PCN. The premium has been sliding however as indicated by the fact the PTY's Z-scores both make the top ten. If PTY piques your interest, I'd suggest you look at my recent review of PIMCO CEFs (PIMCO CEFs: What May Be Ahead?) to understand why the premium is falling.
The other thing I find of interest in this list is that four of the top six are Asian market CEFs, three focused on emerging market countries (CAF, IIF and TDF) and one on small-cap opportunities. I hope to take a closer look at this set as time allows.
Obviously, there is a lot more to be done on this, but I find this an interesting list of funds for further research. For one thing, funds that I have become interested in recently, and have been widely panned by readers, show up here. That doesn't mean the list is any good, merely that it seems to be validating my own methodologies for seeking out new opportunities. Nor does it mean anything about alternatives to CEFs for meeting the same objectives. Removing income from the mix opens the door to a much larger set of investment options, so anything that may come of this will have to be compared widely to the alternatives beyond CEFs. I'm planning to spend some time digging through this list and seeing what may look interesting. As things turn up, I'll try to bring it up to date.
Disclosure: I am/we are long BIF, PCI, PDI, STK, USA. I wrote this article myself, and it expresses my own opinions. I am not receiving compensation for it (other than from Seeking Alpha). I have no business relationship with any company whose stock is mentioned in this article.
Additional disclosure: I am not an investment professional and nothing I write here should be taken as professional advice. Readers should realize that my writings and thoughts here are my research notebook. Everyone's personal situation is unique. It is the role of finance professionals to provide advice in the contexts of an individual's personal situation. What may be right for my investment goals and risk tolerances may well be quite wrong for someone else. Do your own due diligence. Consult with professionals on your own needs, objectives and tax circumstances before you invest. i do not give advice and ask that readers refrain from asking for it.