The 2017 Blockchain Enterprise Survey of Juniper Research revealed that IT (Information Technology) experts and corporate leaders only rank Microsoft (MSFT) as a far second to International Business Machines (IBM). I am not an IT expert but my fearless forecast is that Intel's (INTC) backing of Microsoft's Coco Framework will eventually help Microsoft take the current pole position of IBM Blockchain.
Intel, Microsoft, and IBM are now at the forefront of Blockchain-as-a-Service [BaaS] for enterprise applications. Blockchain-as-a-Service is a new cloud computing growth opportunity for Microsoft and IBM. BaaS is, therefore, a new tailwind for Intel's lucrative ($4.4 billion/quarter) Datacenter Group business segment.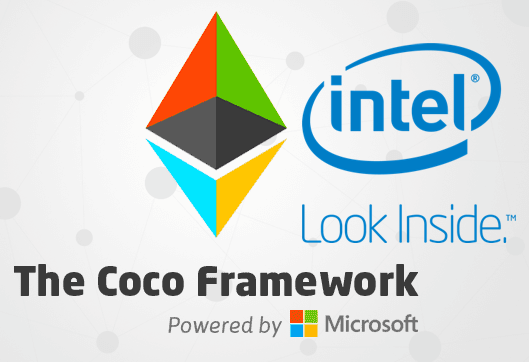 (Source: Microsoft/Intel)
What's In It For Intel
The Intel-powered Coco (Confidential Consortium) framework will be compatible with any ledger protocol. It can operate on premises or in the cloud, it can run on any operating system or hypervisor. Intel's SGX ( Software Guard Extensions) technology makes Coco a highly-secure, confidential, and scalable ledger for blockchain enterprise transactions.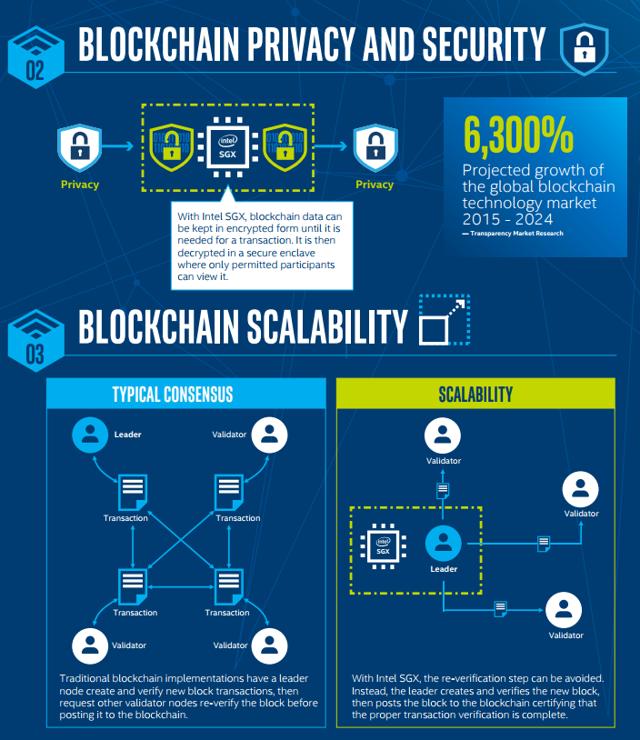 (Source: Intel)
Like IBM Blockchain, the Intel SGX-based Coco can become a subscription-based service for Microsoft Azure. Consequently, the rapid growth of BaaS should help Intel sell more Xeon processors and FPGA accelerators for future subscribers of the Coco Framework.
Intel did not provide its SGX CPU technology without Microsoft agreeing to use Xeon server processors for cloud-based Coco blockchain enterprise application services. Intel has full control of what software you can run on SGX. Intel already filed the patent for SGX in 2015.
Popularized by cryptocurrency, blockchain is a software platform for distributed (not centralized) data verification technology where financial (and other digital transactions) are validated and recorded across a network.
Tractica's chart below illustrates the expected robust growth of enterprise blockchain applications. Enterprise customers will either subscribe to Azure's Intel-based Coco Framework services or they can build their own private blockchain platform/network using Intel server processors.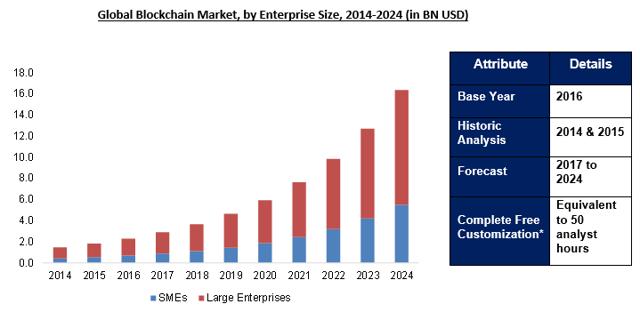 Why Microsoft Coco Framework Could Outpace IBM Blockchain
Azure is now the fastest growing cloud infrastructure service provider. IBM Cloud is stagnating because Azure and Amazon (AMZN) AWS are using low-ball pricing to the detriment of other cloud computing infrastructure players. Consequently, IBM Blockchain could fall to Azure's aggressive pricing strategy.
IBM is stagnating on cloud infrastructure services precisely because AWS, Google (GOOG) (NASDAQ:GOOGL) Cloud, and Azure are engaged in a race-to-the-bottom pricing. Blockchain-as-a-Service is just another cloud computing instance that requires renting hardware/bandwidth from Azure or AWS. The perceived leadership of IBM in BaaS is therefore still subject to competition.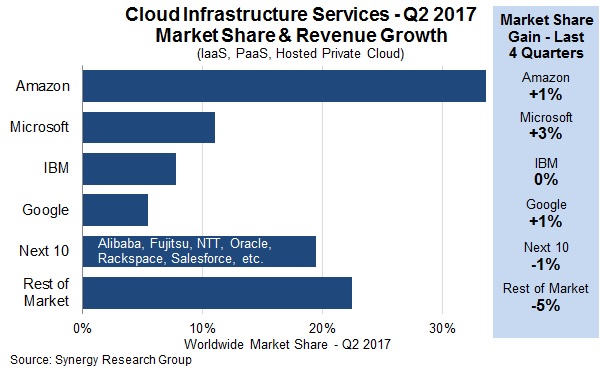 The pricing war in cloud computing is good for Intel. Intel will still sell its Xeon processors at the normal wholesale price in spite of the pricing war on cloud computing infrastructure and services. Cheaper cloud computing subscription rates
Cheaper cloud computing subscription rates can attract more customers. Consequently, Microsoft, AWS, and Google will have to buy more Intel Xeon server processors to accommodate future surges in their subscribers.
Conclusion
Microsoft's adoption of Intel SGX for its enterprise blockchain framework/service is a home run hit for Intel. Blockchain-as-a-Service is a small but rapidly growing niche market that can stimulate better sales for Intel Xeon processors and perhaps Altera FPGA datacenter accelerators.
I am not an expert but I think Microsoft's FPGA-based Catapult 2.0 might also improve the transaction speed of Coco Framework-based blockchain enterprise applications. The comparative chart below illustrates that the Intel-enabled Coco Framework network touts faster transaction processing than the Ethereum cryptocurrency network.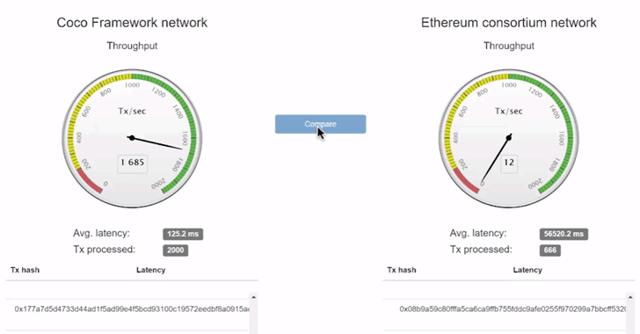 (Source: Microsoft)
Intel's rival, Advanced Micro Devices (AMD) has no answer yet for SGX. I therefore conclude that other cloud computing companies will have to heed Microsoft's example of using Intel SGX for their future BaaS services. Intel SGX is CPU-related so there's no chance that Microsoft's Coco Framework will depend on GPU accelerators from Nvidia (NVDA) or AMD.
INTC is a buy. MSFT is a buy.
INTC data by YCharts
Disclosure: I am/we are long INTC,MSFT, AMD, NVDA, GOOG.
I wrote this article myself, and it expresses my own opinions. I am not receiving compensation for it (other than from Seeking Alpha). I have no business relationship with any company whose stock is mentioned in this article.