Since its spin-off from Celanese in 1986, Celgene (CELG) has built an active pipeline of drugs that focus on treatments for cancer and inflammatory diseases. Additionally, its acquisitions of Receptos in 2015 and Delinia in 2017 have created huge prospects for the company. Celgene is expected to submit new drug application for Ozanimod in 2017.
Blockbuster products with strong sales and earnings growth
Celgene has four blockbuster products that have global presence - Revlimid, Pomalyst, Otezla and Abraxane. Collectively, these products have shown a double digit year-over-year growth in past four years.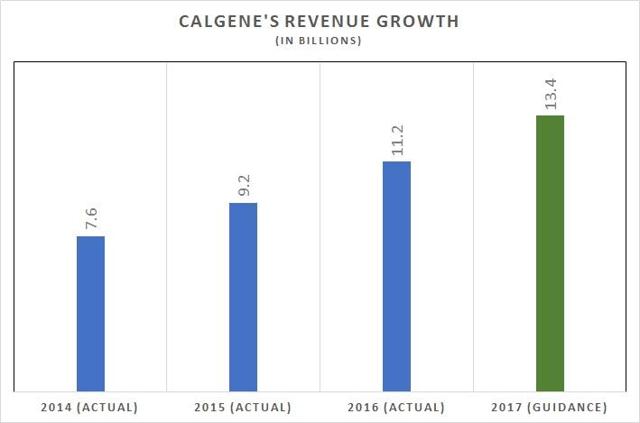 In its Q2 2017 earnings call, Celgene provided a strong 2017 guidance, with estimated revenues to reach up to $13.4 B.
Earlier in its Q4 full year 2016 earnings call, the company had reported a 36% year-over-year increase in the adjusted diluted EPS, from $1.18 in 2015 to $1.61.

Based on the guidance provided by the company and the upcoming events related to its pipeline, I expect the EPS to climb to $1.78-$1.82 and revenues to reach $15.5 B in 2018.
Growth beyond 2020
Celgene is positioned to continue double digit growth beyond 2020, because of three main reasons.
Good statistics across the board: The company has been reporting year-over-year increases in duration of treatment, increased market share gains and increased prescriber adoption in all of its drugs except for Abraxane - these are the most important driving factors for growth in a pharmaceutical company.
Ozanimod: The market for Multiple Sclerosis (referred to MS henceforth) is expected reach a addressable market or TAM of $20 B by 2024 according to research firm GlobalData. This disease affects 400,000 people in the US and about 2.5 million people worldwide. According to Technavio's research analysts, the global Ulcerative Colitis (referred to as UC hencehforth) market is set to grow steadily at 7% due to increase in patient assistant programs as well as prevalence of the disease itself. The TAM is expected to grow to 6.6 B by 2022. Celgene's Receptor acquisition in 2015 was therefore one of the most pivotal strategic decisions in the company's history - Celgene inherited Ozanimod from this acquisition.

Ozanimod is expected to be used for the treatment of both MS and UC. In May 2017, Celgene had announced positive results from its Phase III trials of Ozanimod, which enrolled over a thousand relapsis Multiple Sclerosis patients from 21 countries. The company's CFO Peter Kellogg recently reported that the positive results from this trial and the safety profile compared to Novartis' Gilenya gives him confidence about its prospects for FDA approval.

The company is expected to submit new drug application for Ozanimod by year end 2017. If approved, this drug has tremendous revenue prospects for the company. Analysts are already predicting $2 B in sales from the MS market alone, with additional upside (upto $3 B from the UC market). In addition to targeting the MS and UC market, the company is testing application of Ozanimod for Crohn's disease as well, which is expected to grow to $4.2 B by 2022.
Active and diverse pipeline: Celgene has an active and diverse pipeline with six drugs in Phase III and twenty seven drugs in Phase II clinical trials. Expected events through 2018 include Phase III data readouts, product advancement to pivotal trials and programs advancing to Proof of Concept. Here are some key expected events expected by the investors.
Ozanimod's Phase III trial data for Crohn's disease is expected in 2017, and in 2018, the Phase III data is expected for UC.
The Phase III trail for Otezla application of UC is expected to initiate in 2018.
8 products - Inflinzi, JCAR017, bb2121, CC-122, ACY-241, RPC-4046, Marizomib and CC-220 - are expected to advance into pivotal trials throughout 2018.
13 new programs are expected to advance to Proof of Concept.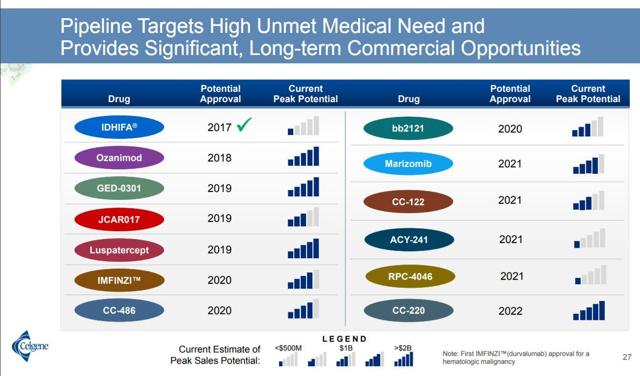 On September 26 2017, Celgene announced timeline and peak potential data for its pipeline, dating through 2020.
These are significant, long-term opportunities for the company as these drugs target unmet medical need worldwide.
Risks
One may argue that the biggest risk for investors in Celgene stock is delay in NDA submission for Ozanimod or worse, an FDA rejection. I don't think that matters much in the long term, because valuation wise, the growth from existing drug sales are the main EPS drivers for the company. The biggest risk in my opinion is lesser than expected sales growth in Revlimid, which comprises of 60% of the company's revenues. The company must continue to push for getting approvals for new uses for these blockbuster drugs to sustain the growth worldwide. Prospective investors must do due diligence and factor in such risks before buying Celgene.
Conclusion
Celgene has positioned itself as a market leader in the the multiple myeloma market, and has fifty six different projects in development in Phase I, II and III trial stages. The pipeline addresses diverse therapeutic applications including inflammation and gastro intestinal, central nervous system, tumors and hematology. Most importantly, the patents of all its blockbuster products are not expiring for the next four years. Considering these factors, the EPS growth discussed above and the upcoming catalysts through 2020, Celgene could be $200 stock in a couple of years. For the 12 month horizon, based on the H2 2017 and 2018 EPS estimates, I believe there is a 20% upside and the stock price could reach $174.
I plan to stay invested in Celgene for the long term, or even add to my position in case of unexplained or unjustified market sell-offs.
Disclosure: I am/we are long CELG.
I wrote this article myself, and it expresses my own opinions. I am not receiving compensation for it (other than from Seeking Alpha). I have no business relationship with any company whose stock is mentioned in this article.