By Oisin Breen, Research
Envestnet (NYSE:ENV) is a financial services company that provides financial and wealth management technology to investors, advisors, and service providers. The company, through its fairly recently, acquired Yodlee platform also provides data aggregation and data analytics services. As an investment opportunity itself, the Chicago-based company has had a strong year. Its share price is up 41.7% in the year to date and 37.04% over the past twelve months, and currently trades at $49.95. ENV has a market capitalisation of $2.199 billion, and interestingly, it has just agreed to buy its close rival, FolioDynamix, for what seems like a cut-price $195 million from Actua Corporation (NASDAQ:ACTA).
With this purchase, Envestnet, as Ed Swenson of Dynasty Financial Partners notes, becomes "a true leader in the [fintech, analytics, and advice] space." Indeed, not only does the deal seem somewhat of a steal, the 3.2 million extra accounts coming on board for Envestnet is excellent news and will certainly help to address fears that Envestnet is failing to market itself as much as it could to its addressable market. Furthermore, given that the company has yet to see its share price return to previous highs after the plunge that followed the Yodlee deal, there would seem to be growth potential left in the Chicagoan company. Indeed, analysts from Stifel Nicolaus and JMP Securities seem to agree, setting price targets of $52 (+4%) and $56 (+11%), respectively. Additionally, should markets react well to the FolioDynamix deal, these price targets may need to be revised upwards.
Envestnet 1-Year Share Price

(Source: Bloomberg)
In terms of finances, the company has seen its expenditure occasionally rise, in part based on its M&A activity, which has been consistent and targeted. Since ENV's IPO in 2010, when it was priced at $9, it has acquired companies such as Tamarac, the aforementioned Yodlee, online investment platform Upside, Finance Logix, Wheelhouse Analytics, and most recently, has set up the deal for FolioDynamix. Envestnet's most recent earnings report was broadly positive, with second-quarter earnings up 38.10% year over year, whilst the company's average growth over the past four years is an excellent 34.85%.
Envestnet Earnings History + Forecasts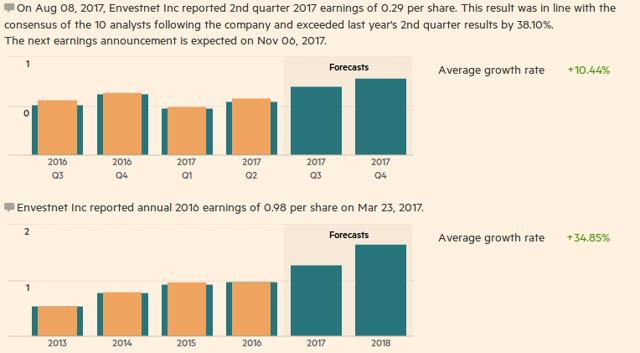 (Source: FT)
Forward guidance for the company, taken from the latest earnings transcript, suggests that revenues ought to come in somewhere between the $667 million and $673 million mark, which is growth of upwards of 15% year over year, whilst EBITA guidance expects growth of up to 29% compared to 2016, in the range of $125-128 million. EPS guidance is also positive and expected to pull Envestnet out of the brief, albeit strong, drop it has suffered in EPS terms, with the figure analysts are suggesting being around the $0.35 mark. Further positive forecasts come from analysts polled by Nasdaq, who suggest that the company will grow earnings at annual rate of 15% over the next 5 years, with earnings expected to increase by up to 89.36% this year and 29.21% in 2018. It also looks clear that longer-term investors, in the form of institutions, are also banking on ENV's steady share price rise, with institutions owning 96% of the company's stock.
Forecast Earnings Growth for ENV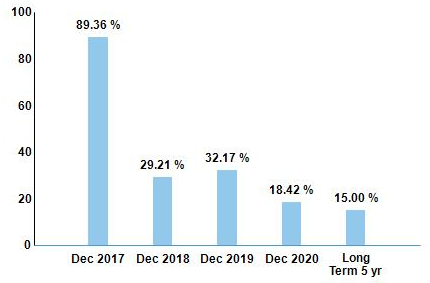 (Source: Nasdaq)
The company's financial data is, however, not all positive. It has found it difficult, over the past few years, to fully integrate Yodlee, and suffered significant share price dilution as a result of the deal. That said, these bumps seem to be coming to an end, and synergies, most especially cross-selling, as the most recent earnings call makes clear, are now driving up earnings. Profit margins have suffered, it is true, yet it should be borne in mind that growth is always costly - and Envestnet is growing. Average three-year profit margins slumped to -1.5% owing to the last year's difficulties, although these figures are also showing signs of recovery.
Gross, Operating, and Net Margins for ENV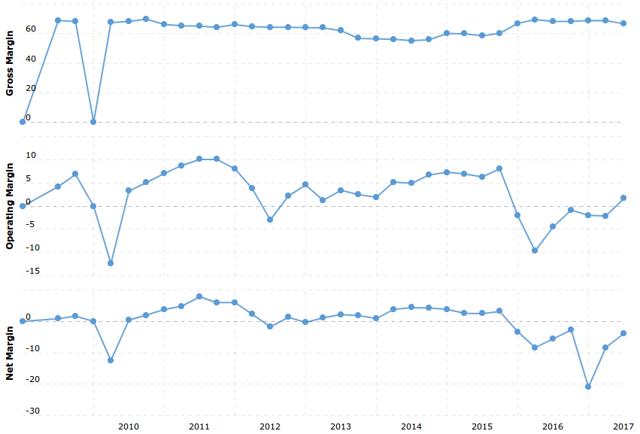 (Source: Macrotrends)
The company's debt-to-equity levels, in the mid 50s, whilst high are not entirely unusual, and as long as Envestnet continues to pay down its debts, which it appears intent on, given its agreements with the Bank of Canada, as mentioned in the earnings report, its debt levels do not cause immediate alarm. Nevertheless, ENV will need to consolidate its acquisitions before embarking on much more spending.
That said, the company is bullish about such considerations, inclusive of the new FolioDynamix deal. Indeed, as CEO Jud Bergman notes, Envestnet has been moving towards an open-architecture strategy called Open ENV, which Bergman believes gives his company a uniquely solid method for integrating companies like FolioDynamix into its own - meaning that, if Bergman is correct, short-term negatives owing to integrating the two companies ought to be minimized, whilst synergies ought to become evident quite quickly. With the FolioDynamix deal expected to close in Q1 2018, a net boost, which the company believes will impact EPS immediately, would certainly prove to be share price-positive. Furthermore, up to $20 million in cost synergies is expected within the first 36 months. So far, so good, though the Yodlee difficulties faced previously by Envestnet should not be forgotten.
Envestnet CEO on the FolioDynamix acquisition

(Source: Business Wire)
The fact that earnings have been on the up, much like the company's share price, that they rose by $0.15 in the last quarter and are expected to rise by a further $0.45 this quarter, does suggest that Envestnet is back on the right track, as long as the FolioDynamix deal goes as planned. Indeed, as Jefferies Group analysts note, ENV's "fundamentals more-or-less look intact longer-term, [and] [a]ny potential stock weakness [can be seen] as a buying opportunity." Furthermore, should Envestnet break levels of resistance, which it has been testing, of around $50.05, the stock can be expected to post steady gains in the short-to-medium term. In the longer term, with the company growing its portfolio, establishing itself as a market leader, increasing its client base, and seemingly well into the process of addressing the difficulties it has faced for the past two years, ENV may well be a stock that is worth considering for your portfolio.
Envestnet Revenues and Forecasts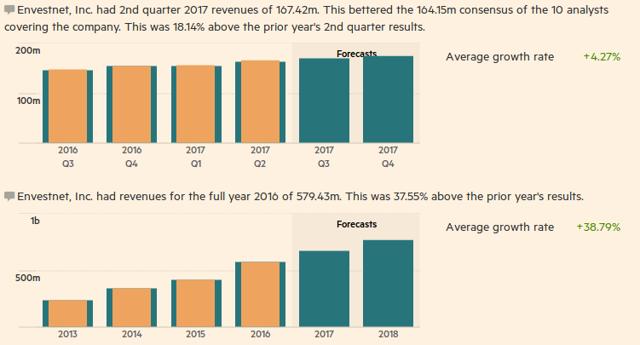 (Source: FT)
Income Statement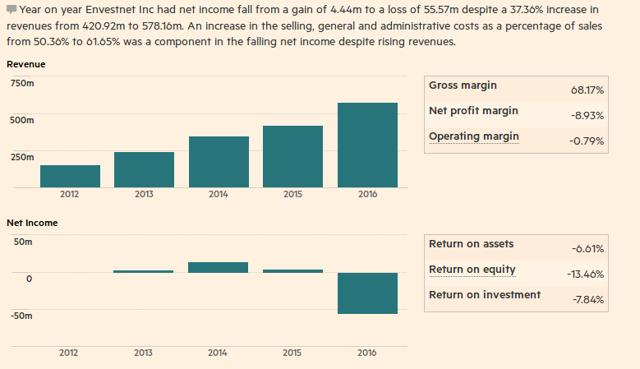 (Source: FT)
Lastly, although it is true that the company has faced difficulties, it is certainly arguable that the large drop in the share price that occurred in 2016 was an overreaction to the dilutive purchase of Yodlee. Ultimately, with this acquisition, Envestnet increased its business, gained access to noteworthy clients, including Citigroup, HSBC, and JPMorgan Chase, and it also provided the company with a strong analytics platform that in the long run will serve it, its shareholders, and its customers well. As per the earnings call, the company's subscription and licensing revenue is set to continue to grow. It increased 27% year over year to record highs, and is expected to climb a further 20%. ENV's technology sales beat $33 billion, and with 6.5 million investor accounts on board and plenty of new clients in 2017, from Quantas to India's Kotak Bank and Axis Bank, to American Century Investments and lender Sierra Pacific, and increasing demand for services from banks, including Synovus, Hancock, and First Citizens, it's easy to see the positives in a long-term investment in ENV.
Envestnet Income Statement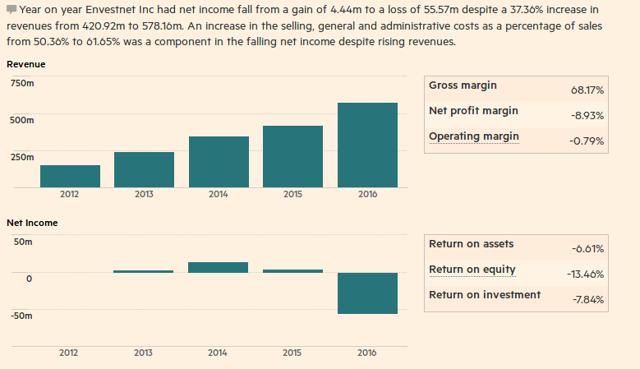 (Source: FT)
Disclosure: I/we have no positions in any stocks mentioned, and no plans to initiate any positions within the next 72 hours.
I wrote this article myself, and it expresses my own opinions. I am not receiving compensation for it (other than from Seeking Alpha). I have no business relationship with any company whose stock is mentioned in this article.
Additional disclosure: CFDs, spread-betting and FX can result in losses exceeding your initial deposit. They are not suitable for everyone, so please ensure you understand the risks. Seek independent financial advice if necessary. Nothing in this article should be considered a personal recommendation. It does not account for your personal circumstances or appetite for risk.