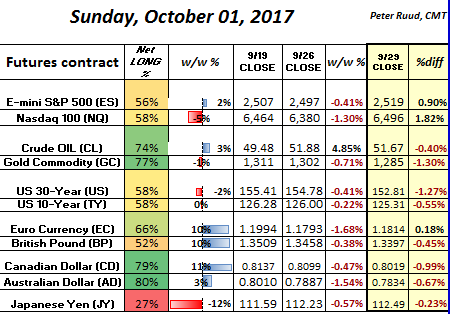 Futures speculators do not seem to believe in the latest US dollar recovery, as positioning increased against the greenback with exception of the Japanese yen. Despite this negative sentiment towards the USD, the Dollar Index managed to climb higher for the 3rd straight week. The latest Commitment of Traders (COT) report also highlighted another record net long euro position, and the continued short-squeeze within the British pound that has now flipped to an overall net long position. Lastly, US equity futures speculators remained cautiously optimistic while US equity indices remain at or near all-time highs heading into the last quarter of the year.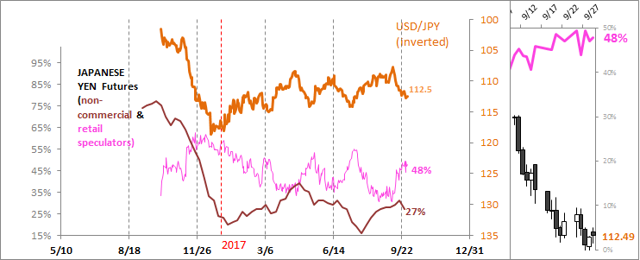 Futures speculators increased their bearish bets against the US dollar, except for the Japanese yen. The reduction of the yen carry trade had been a dominant theme as of late, but that finally came to an abrupt halt according to the latest COT (Commitment of Traders) report. Non-commercial speculators finally increased their bearish bets (gross and net shorts) vs. the Japanese currency for the first time in nearly two months. The trade-weighted yen, however, was mostly unchanged for the week, but remained close to its year-to-date low. According to recent retail FX positioning data, the retail population has remained flat (in terms of net percentage of contracts) since battling recent JPY weakness. This may partly explain why the USD/JPY has struggled to sustain a push through the 113.00 level (USD/JPY). Meanwhile, daily (chart) divergences could trigger further (USD/JPY) downside, but only a sustained loss of the 111.00 region would divert momentum away from key resistance at 114.38 and re-open the 109.33/110.00 area to the downside.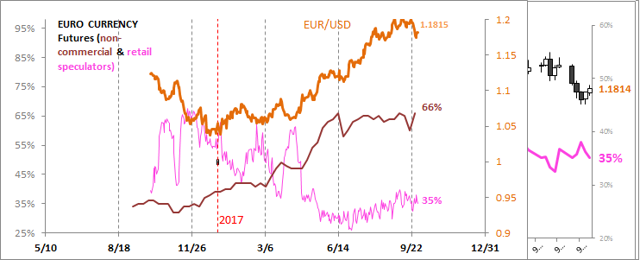 Speculative euro positioning improved markedly, according to the latest CFTC data. This marks another fresh record high in terms bullish sentiment, highlighting the largest net long position by (non-commercial) speculators on record. The EUR/USD, however, dropped quite significantly during that same period (Sept. 19th-26th), but managed to stabilize late last week after reaching a fresh 6-week low. This may be partly due to the retail population, which according to recent retail positioning data, began selling euros again late last week. While this development alone could provide further support for the single currency going forward, the euro remains a bit vulnerable from a technical standpoint. Not only have interest rate differentials (vs. the USD) continued to decrease, but weekly (chart) momentum has turned lower for the EUR/USD. If key support in the 1.1700 region is broken, the next (downside) objective is near the 1.1500 area.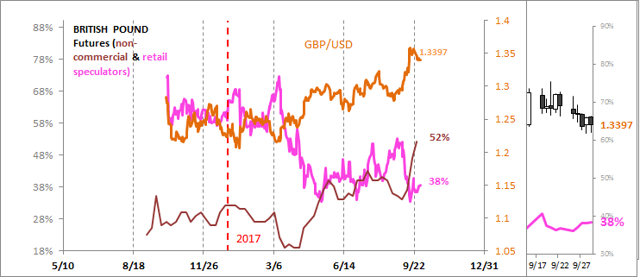 British pound speculative sentiment has continued to soar ever since the BOE (Bank of England) stunned market participants two weeks ago by signaling a rate hike at the next MPC meeting. According to most recent COT report, large speculators substantially increased their long exposure once again, flipping to an overall bullish net position (52%). This is occurring while retail FX optimism towards Sterling bottomed-out and is following the pattern seen the two previous times (in May & June), in which retail sentiment recovered off the lows while the pound had begun to top-out. Moreover, last week's price-action highlights GBP's downward shift in daily & weekly (chart) momentum status and could hint of extended weakness if a move below 1.33 (GBP/USD) is sustained.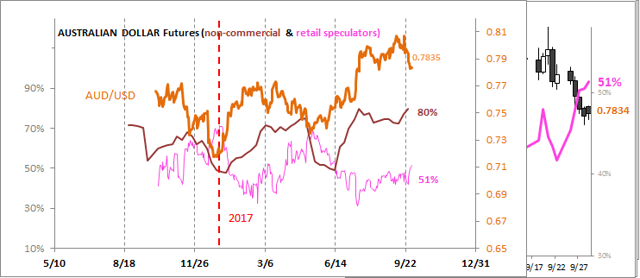 Bullish sentiment by Australian dollar (large) speculators increased once again, reaching another new record net long position. This is clearly diverging with price-action as the Aussie has fallen nearly 3.5% off the recent highs. According to the latest retail FX positioning data, the retail population has started to buy into the AUD quite substantially once again. Typically, retail traders are either too early or too late to the overall "big move" and in this case it's the latter. That said, this latest move down (AUD/USD) has held up at key support at .7835 thus far, and would need a sustained (daily) close below it to suggest bullish sentiment by non-commercial speculators has started to top out. If this were to materialize, it would quickly trigger a move (down) to the key .7700 region.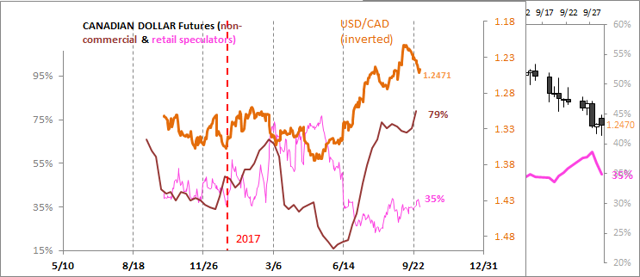 Canadian dollar bullish sentiment by large speculators increased quite significantly in the latest COT report after having steadied over the past few weeks off August's peak. Meanwhile, after reaching a fresh 2-year low three weeks ago, the USD/CAD has managed to recover quite nicely. The divergence between sentiment and price-action continues to grow as the loonie fell another percent into the month & quarter-end. The latest retail positioning data, however, indicates that retail FX traders sold CAD at the end of last week, which may partly explain why the Canadian dollar stabilized somewhat late in the week. While this alone could be CAD positive if this continues, the overbought net long position by futures speculators and weekly (bearish) shift in technical momentum, together suggest that the loonie could unwind a bit more in the very short-term. That said, the recovery in the USD/CAD still looks to be a mere (upward) correction within the latest downtrend, especially while price-action remains substantially below the 1.27 threshold. Also, the dramatic drop in commercial trader's open interest will have to carefully watch in upcoming reports to determine whether it's a one-off or not.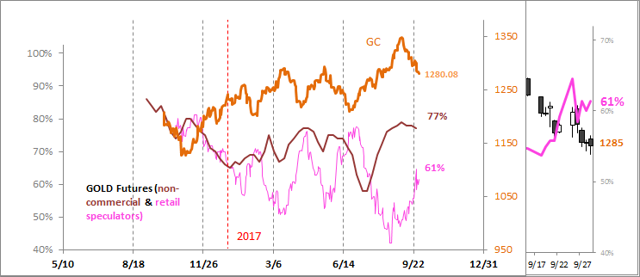 Gold futures sentiment has continued to wane, but at a relatively high level, as net long positions by percentage ticked down for the 3rd straight week. More importantly, Gold futures since breaking a key trendline in August, have managed to erase all of September's gains and half of the latest up-move from July. According to recent retail FX positioning data, the retail population continues to anticipate a return to strength for the yellow metal. While, this development alone could temporarily guide gold futures lower, both daily & weekly charts have also shifted lower in terms of technical momentum. That said, if gold futures maintain support near 1280, the exact midpoint of the latest range (since July), this would further stabilize daily momentum indicators and re-focus 1315 to the upside.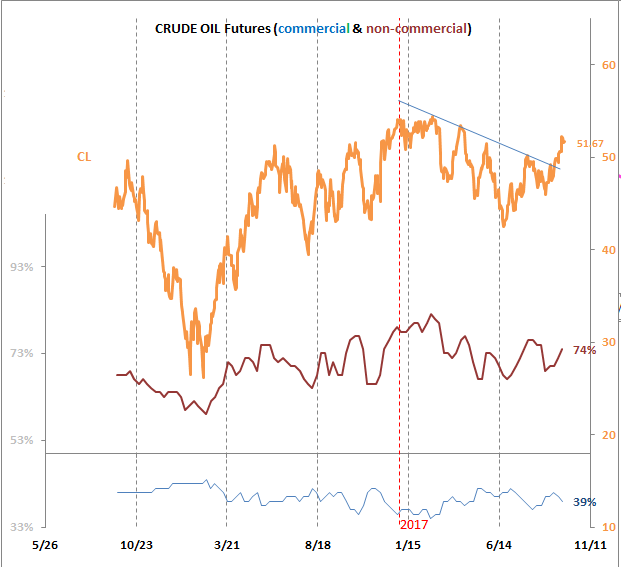 Crude oil futures sentiment and price-action have both surged since recently breaking above 7-month trendline resistance. Positioning by futures traders (Sept. 19th - 26th) increased in terms of net long positions and percentage. While, the technical outlook has improved, a sustained push beyond the 52 would shift expectations (higher) towards 53.74 then possibly the 54.90/55.24 region. That said, daily (chart) momentum has turned (lower) and could hint of a re-test of 50.46, below which would signify a loss of bullish momentum and could usher-in further ranging and expose the 49 handle to the downside once again.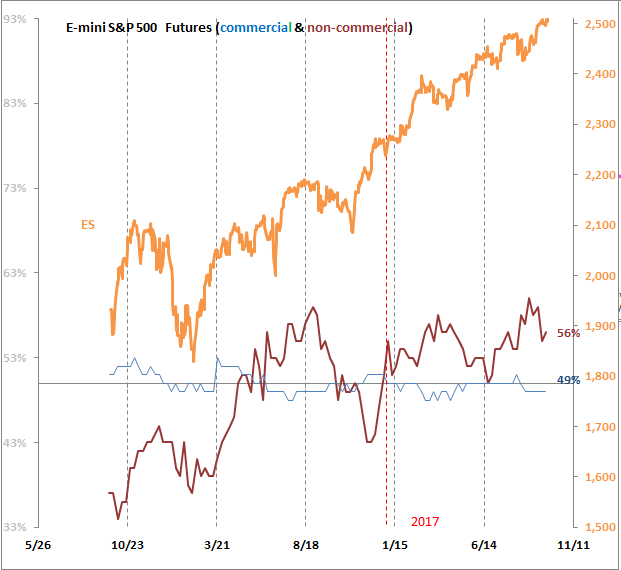 E-mini S&P 500 futures manage to finish the month and the quarter at a another all-time high, and more importantly last week's price-action negated a possible bearish weekly technical pattern (evening star doji). Speculators pared back some of recent bearish positioning by nudging the net long position up to 56% from 55%. While this is somewhat in the middle of the recent range in terms of sentiment, last week's improvement is a good sign that speculator's still feel relatively optimistic even at all-time record highs. Also, the fact that the market has cleared a key psychological (2500) threshold and managed to negate the prior week's (potential) bearish reversal pattern are both good enough reason for the uptrend to continue into the start of the 4th quarter.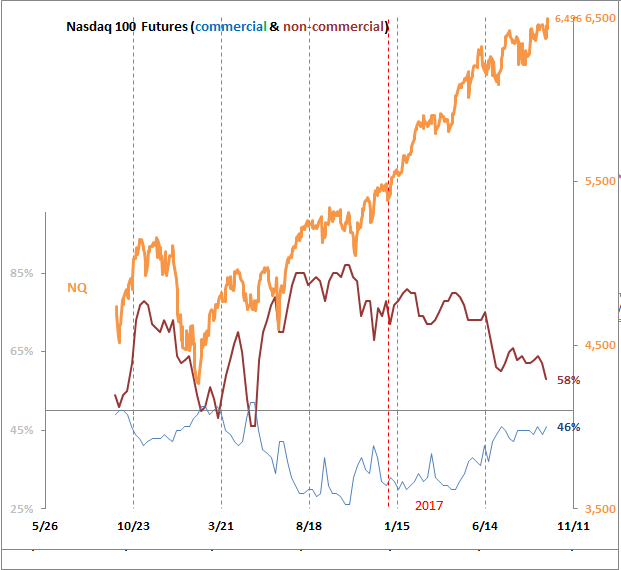 Nasdaq 100 futures speculators pared back gross & net longs in the latest COT report. This allowed for the net long percentage to inch down from 62% to 58% heading into the close of last Tuesday's trade. The lethargic mood exhibited by non-commercial traders continues to highlight a divergence with Nasdaq 100 futures price-action, which has trended upwards for most of the year. A failure to extend through the August and September highs (6020), however, could set the stage for a more meaningful correction. That said, it would still take a sustained loss (by Nasdaq 100 futures) of support in the 5840 region to shift the overall trend lower.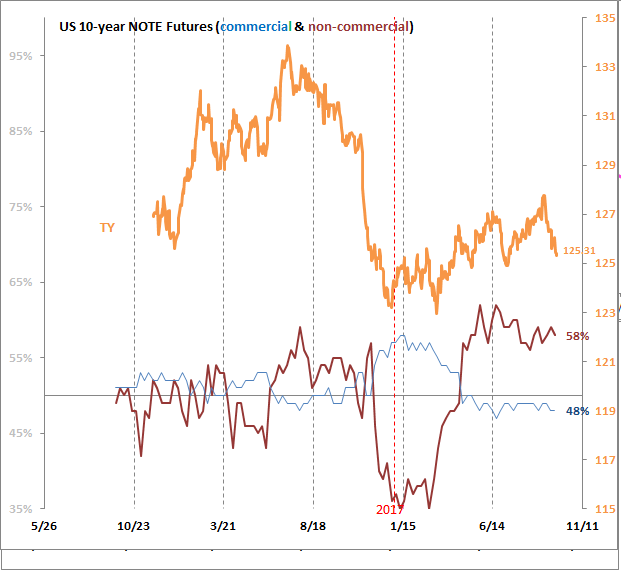 US 10-Year futures bullish sentiment ticked down slightly as non-commercial traders pared back both gross longs and shorts. While the move in sentiment finally correlated with this latest move (down) in US 10-year futures price action, it still underscores the non-participation of large speculators. This suggests that since early-September, bond market moves continue to catch participants off-guard, and with daily (chart) momentum clearly to the downside, the lows seen back in May & July (near 125) should be re-tested.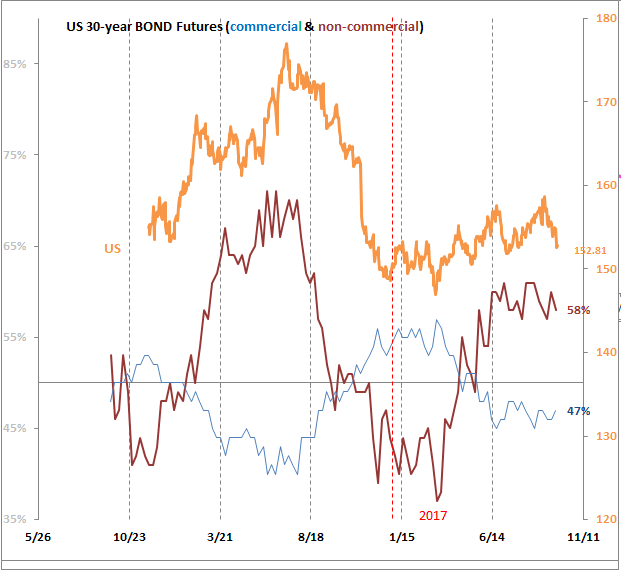 US 30-year futures speculators actually grew more cautious, according to the latest COT report, as the net long percentage ticked down from 60% to 58%. Gross longs, however, inched up closer back towards the highest levels seen since 2008. The increase in gross shorts, however, is what drove sentiment lower, which perhaps is just starting to positively correlate with the recent (down) trend in price-action. Moreover, with daily (chart) momentum indicators skewed to the downside, next week there should be (at least) a re-test of the July low at 151.50, with the possibility of extending towards the May low at 150.24.
Disclosure: I/we have no positions in any stocks mentioned, and no plans to initiate any positions within the next 72 hours.
I wrote this article myself, and it expresses my own opinions. I am not receiving compensation for it (other than from Seeking Alpha). I have no business relationship with any company whose stock is mentioned in this article.