One important thing to keep in mind when considering the big gain in OMNOVA Solutions (OMN) shares after Q3 earnings last week is that the stock hit an all-time high on the news. An all-time high barely above $11, some 17 years after the company was spun off from GenCorp (now known as Aerojet Rocketdyne Holdings (AJRD)):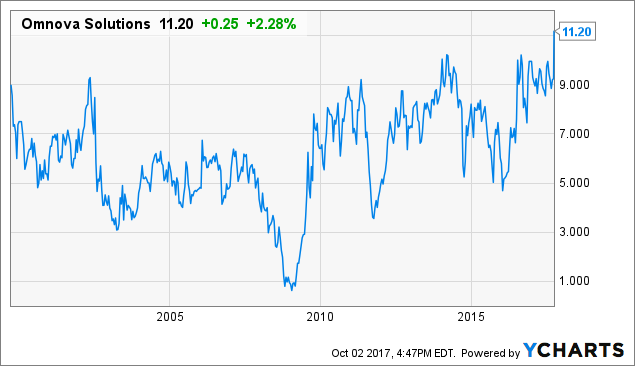 OMN data by YCharts
OMN is the epitome of "this time is different" bull case. And, with shares gaining 21% combined in the three sessions after Thursday morning's release, some investors clearly are seeing an inflection point in the quarter.
There are some reasons for optimism. I wrote back in July that the second half was key for OMNOVA - and Q3 looks like a major step in the right direction, at least from the headline numbers. The problem is those headline numbers look like they benefited a lot more from pricing than from actual improvements in the business. I'm not interested in shorting OMN, necessarily, and path to long-term upside remains intact. But OMNOVA still has a lot longer to go on that path than Q3 margins, in particular, might suggest.
Was Q3 Really A Good Quarter?
The numbers for Q3 look solid. Revenue increased 2.7%, and 5.2%, excluding the mid-quarter divestiture of an unprofitable business in China. In the key Specialty Solutions segment, revenue rose 7.5%. EBIT margins expanded 60 bps as well. That business is the driver here going forward, with the Performance Materials segment in secular decline due to weakness in paper and carpet, among other areas. And, the performance in the quarter looks like good news going forward.
Meanwhile, the Performance Materials segment had an extremely strong quarter. Revenue rose 2.3%, excluding the China divestiture. More notably, adjusted EBIT margins hit 9.7% - up 440 bps year over year. SG&A actually came down in the quarter, and pricing helped as well.
The initial reaction, then, is that the quarter is good news across the board. The Specialty Solutions segment, which is going to drive whatever growth OMNOVA can muster long term, had a solid quarter, with 7%+ top-line growth and margin expansion. Performance Materials, meanwhile, probably takes a leg up from a margin standpoint by dumping the money-losing China operation - and showed signs of life itself. Notably, volumes increased in carpet, a category that has been declining for years.
But the quarter has to be understood in the context of pricing. Prices of key input butadiene spiked in Q2 - and OMNOVA couldn't pass along all of the cost spike, leading to what it termed on the Q2 conference call a "profit gap" of about $5 million. The company was able to get in front of pricing in Q3, however, and it appears from commentary on the Q3 conference call and in the 10-Q that recapturing some of that gap helped pricing, and thus margins, in the quarter.
The impact appears most notable in the Performance Materials segment. In the 10 previous quarters for which that segment's margins were broken out (they were reclassified, in part to separate the growing Specialty Solutions segment from the melting ice cube that is the PM business), EBIT margins peaked at 7.1% in Q4 2016. They were, as noted, 9.7% in Q3.
That figure, in particular, looks somewhat unsustainable. CEO Anne Noonan pointed out on the Q3 call that YTD margins have increased 160 bps, to 5.7%. So, there is progress being made. But the combined segment-level EBIT margin of 13.3% looks like a notable step toward the company's target of 15%. I'm skeptical the step is quite as big as it appears.
Looking Forward
OMNOVA unquestionably is improving margins both in the growing (and higher-margin) Specialty Solutions and in Performance Materials. Trailing 12-month Adjusted EBITDA margins, for instance, are 11.1% coming out of Q3 - 30 bps higher than they were a year ago. EBIT margins have similarly moved up 30 bps, to 7.5%.
But I'm not sure just how much of that improvement can be expected to continue, particularly when accounting for what looks like a somewhat abnormal Q3. Lower corporate expense - an EBIT loss of $5.9 million this quarter versus $6.6 million a year ago - has been a help. But TTM Specialty Solutions margins - again, the key driver here - actually are down Y/Y, after some weakness in Q4 and Q1. Q3 is an improvement sequentially, but how much of that is coming from pricing is unclear.
On the margin front, I'm simply not quite ready to declare victory for OMNOVA. And, on the revenue side, the news in the quarter actually was not good. Volume overall declined almost 5% year over year. OMNOVA attributed the weakness to a tough comparison in oil & gas markets - but volume company-wide is down over 3 points YTD, per the 10-Q.
Specialty Solutions volumes were up 1%, including that tough O&G comp. But Performance Materials saw a 12% decline. While OMNOVA also is targeting a 15% margin before corporate costs, it's also targeting growth at twice the underlying rate of its markets. And, the company simply doesn't look close on that front, tough Q3 comps or not. Specialty Solutions volume YTD is up less than 3%; PM volumes are down double digits.
Noonan somewhat talked around the problem when asked on the Q3 call about the outlook on the volume front. "I would describe it as bumpy right now - we are not on that smooth glide that we need to grow at two times across all segments, but you can expect us to get there over the next few years," she told analyst David Huang.
But I'm not entirely sure why investors are supposed to expect OMNOVA to "get there". This remains a "show me" story, even after the margin expansion in Q3, and the fact remains that OMNOVA has struggled to grow its top line. The company has said in the past that it would target niche opportunities in end markets that were too small for its much larger rivals like BASF (OTCQX:BASFY) and Trinseo SA (TSE). Noonan said in her prepared remarks after Q3 that, "Fortunately, our market shares are low in our target markets, leaving us plenty of room for growth for our initiatives..."
The flip side of both arguments, however, is that OMNOVA simply might not big enough to really compete, particularly on the specialty side. Low market share is an opportunity going forward - it's also a concern right now. I still don't have faith in the double-the-market-rate growth target, because a) OMNOVA has never proven that ability and b) I haven't heard a strong reason to expect that outperformance. It still boils down to "trust us, we'll grow faster". And, with all due respect to Noonan, who's done an excellent job in less than a year as CEO, I'm just not ready to trust OMNOVA. Not yet, anyway.
Valuation
Admittedly, OMN is up about 50% in the 11 months I've been waiting for it to prove itself. And, again, there is good news on the margin front.
But at this valuation, margin expansion isn't enough. OMN now trades at 9x on an EV/EBITDA basis - which isn't much of a discount to peers. A. Schulman (SHLM) is in the mid-9x range based on its updated FY17 guidance. H.B. Fuller (FUL) is at 11x (similarly based on guidance), but with much stronger organic volume growth (6% in Q3). OM Group went private at 9.4x.
At this point, volume growth needs to accelerate to push OMN higher, because I'm not sure margin expansion is going to be what it looks like Q3, and I'm skeptical of multiple expansion as well. And, I'm just not willing to bet on that volume growth - at least, not just yet. I've been too cautious so far, admittedly, and OMNOVA deserves credit for its performance in FY17. I'm just not sure it deserves this much credit.
Disclosure: I/we have no positions in any stocks mentioned, and no plans to initiate any positions within the next 72 hours.
I wrote this article myself, and it expresses my own opinions. I am not receiving compensation for it (other than from Seeking Alpha). I have no business relationship with any company whose stock is mentioned in this article.