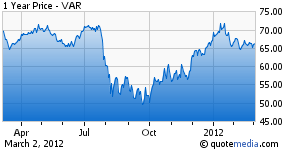 Varian Medical Systems (NYSE:VAR) is the leading supplier of radiation therapy systems used to treat cancer. The company's shares currently trade well below intrinsic value, which we estimate at just under $100. We see an opportunity for the shares to move higher based on a number of important secular drivers.
Radiotherapy is a Critical Technology
Cancer is a disease involving the malfunction of genes that control cell growth. Uncontrolled growth of cancerous cells can result in death. However, abnormal cell growth can be controlled or eliminated through several types of treatments. Radiation therapy, commonly referred to as radiotherapy (RT), uses focused energy beams (primarily x-ray) directed at cancer cells to damage or destroy them. RT, which is used in just over 50% of cancer cases, may be used alone or in combination with other treatments that include surgery and chemotherapy. Given that radiation exposure is harmful to healthy tissue, the objective is to deliver a radiation dose as precisely as possible to cancerous cells while minimizing exposure to healthy tissue surrounding the tumor.
According to the American Cancer Society, U.S. men have slightly less than a 50% lifetime risk of developing cancer while women have just over a 33% chance, both of which are alarmingly high. However, advancements in cancer treatments, including RT technology, have dramatically improved cancer survival rates. According to the National Cancer Institute, over the past three decades the relative survival rate has increased to 67% from 49%.
RT systems represent expensive capital purchases for hospitals and clinics, but the technology is very cost effective when measured on a per patient basis. According to the World Health Organization (WHO), "radiotherapy is one of the least expensive cancer treatments per patient and one of the most effective in terms of cure and overall survival."
VAR is the Market Leader
Consolidation among RT companies has resulted in three main suppliers. VAR's installed base of RT systems approached 6,900 units as of FY11, which compares to an industry-wide installed base of approximately 12,700 units. The company's market share is particularly high in key developed markets where it has 70% share in the U.S. and Japan. The other two leading suppliers include Elekta (OTCPK:EKTAF) and Siemens (SI); Accuray (NASDAQ:ARAY) is a third but smaller competitor. In November 2011, Siemens announced that it would "selectively exit" the RT market, a decision that should ultimately result in further share concentration among VAR and Elekta.
Significant Long-term Growth Opportunities
Worldwide, there is an estimated shortage of 10,000 RT systems, creating a significant opportunity for suppliers. Demand for RT technology has grown at a robust pace over the past decade, a period that includes two recessions. Over this period, VAR's Oncology Systems segment revenue (78% of total company revenue) grew at a 13% annual rate, while overall services revenue increased 20% per year.
Over the next decade, we estimate RT system sales growth of 10% per year driven by 6%-7% unit and 3%-4% pricing growth. VAR's services revenue will likely grow at an even higher rate (low double-digits) driven by the sale of more sophisticated RT systems and growth in the installed base. There are three key drivers fueling secular growth: 1) replacement unit sales in developed markets, 2) new unit sales in international markets, and 3) an overall increase in cancer incidence.
First, advancements in RT technology are driving replacement demand in developed markets. In general, developed markets have sufficiently large installed bases of RT systems per capita (this is generally measured as the number of RT units per one-million people). Thus, RT unit purchases in developed markets are dominated by replacement sales, or purchases of new systems to replace outdated legacy ones. These sales comprise 85% or more of North American demand.
In FY2Q10, VAR introduced its latest system, TrueBeam. This product significantly enhances the accuracy, productivity and flexibility of RT treatments. Improved accuracy enables hospitals and cancer clinics to better treat patients, while greater productivity enables faster treatment times. For example, simple treatments that once took 10 to 30 minutes can now be completed in less than two minutes. Further, TrueBeam is a more flexible system meaning that it is capable of treating several different types of tumors, as opposed to RT systems that specialize in specific treatments.
Through last quarter, cumulative TrueBeam orders totaled 425 units, of which 175 are installed. Despite the challenging domestic economic and regulatory environment (e.g., reductions in government reimbursement rates for RT treatments and a looming excise tax on medical device sales beginning in 2013), VAR has seen strong demand in North America, which represents the large majority of TrueBeam orders to date. The company estimates a total available market for TrueBeam of over 2,200 units worldwide, which implies that VAR is less than 20% of the way into its potential sales cycle for this product.
Second, there is a shortage of RT systems overseas. According to WHO, the global installed base of RT systems averages only 1.8 units per million people. We estimate that this equates to approximately 12,700 units worldwide. Many developing countries lack sufficient access to RT technology given high equipment costs and technical expertise necessary to operate the systems. As shown in Figure 1, the secular growth opportunity for RT shipments is enormous given underinvestment in healthcare infrastructure in developing countries. VAR estimates that the global installed base would increase by 10,000 units assuming the worldwide average number of installed systems per million people were to approximate that of Western Europe.
Figure 1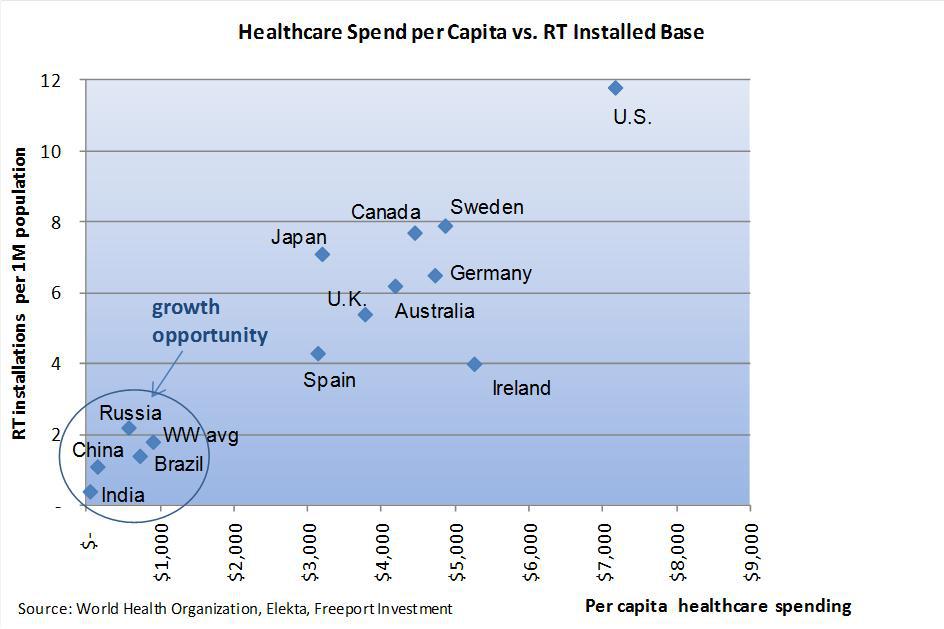 Certain developing regions with large populations are experiencing rapid economic growth and higher standards of living. As incomes per capita increase, demand will rise significantly for more effective cancer treatments such as RT. To better understand this opportunity, we point to key healthcare initiatives in Brazil, China and India, which in aggregate are home to almost 40% of the world's population.
Brazil: In 2010, the Brazilian Ministry of Public Health significantly increased reimbursement rates for RT treatments and highlighted the need to increase the country's installed base of RT systems. Elekta estimates this could result in demand for 200 new units, which compares to Brazil's existing installed base of ~250 units.
China: In 2009, the Chinese government adopted a comprehensive healthcare reform that includes doubling the number of RT systems over the next five years. This represents a significant opportunity given the country's installed base of ~1,400 units.
India: The large majority of India's population lacks access to healthcare insurance. As a result, the country has underinvested in healthcare infrastructure. For example, India has roughly 300-400 RT systems for a population of 1.2 billion people. Given this underinvestment, Elekta estimates that India will face a shortfall of 1,100 RT units over the next five years.
Third, cancer incidence rates (number of new cancer cases occurring each year) are increasing. Cancer is the second-leading cause of deaths after cardiovascular diseases. WHO estimates the number of new cancer cases diagnosed annually will grow from 12.7 million in 2008 to 21.3 million in 2030, a 2.4% annual increase (note that these are new cancer cases each year, not the number of people living with cancer which is a much higher total). This trend is driven by two underlying factors, aging populations and unhealthy lifestyles.
The global population is aging as life expectancies have increased dramatically over the past half-century driven by advancements in medicine and sanitation. Cancer is largely an age-based disease as the risk of being diagnosed increases as one grows older, particularly at age 55 and over. As of 2010, this older population segment totaled almost 1.2 billion people (roughly the size of China's entire population), representing 17% of the world's population (up from under 12% in 1950). By 2030, this percentage will increase to 23%, or about 2.0 billion people.
The pace of population aging varies widely. While every major geographic region is impacted by a growing number of older residents, growth rates for this population segment are dramatically higher in developing compared to developed regions (3.3% annual growth rate versus 1.5%). As this trend continues, cancer incidence rates will grow more rapidly in the emerging markets.
Figure 2
The other driver of higher cancer incidence is unhealthy lifestyles, which include tobacco use and poor diets. Tobacco-related cancer cases, the leading cause of lung cancer, represent 25-30% of all cancers in developed countries. While tobacco use has decreased in some developed regions, it is increasing in developing countries where 85% of the world's population resides. Further, poor nutrition and obesity contribute to 33% of cancer deaths in the U.S. Obesity has more than doubled over the past thirty years, with over 33% of U.S. adults currently obese.
Intrinsic Value Approaches $100 per Share
The above secular trends will drive higher revenues for VAR. The company is also increasing profit per revenue dollar, so earnings should grow at an even higher rate than revenue. In FY01, VAR's operating margin was only 14%, but this improved to almost 23% as of last year. Going forward, management has set a 25% goal. We see four factors that will contribute to higher sustainable margins.
First, product innovations such as TrueBeam lead to higher selling prices and margins. TrueBeam represented 40% of VAR's FY11 global orders, and margins will improve as this product ramps. Second, as the revenue mix shifts towards services, margins will increase (services gross margin is in the low 50% range compared to a mid-40% range for RT systems). VAR estimates services can grow from just over $600 million in FY11 to $1 billion by FY15, representing a 12.4% CAGR. Third, the software content of RT systems is increasing. Software, which includes radiation treatment planning, real-time tumor tracking, image processing, equipment diagnosis and maintenance software tools, carries high margins. Finally, we expect VAR to gain market share given Siemens' decision to reduce its presence in RT. This will result in positive operating leverage as VAR spreads fixed costs over more unit sales.
Higher profitability combined with significant revenue growth opportunities will translate into meaningfully higher cash flows. This is consistent with VAR's historical cash flow trend and indicative of the company's rock-solid balance sheet. VAR has largely reinvested cash flow back into its business, an excellent use of cash given its high ROIC, which has exceeded 30% in each of the past 7 years. If VAR can achieve 10% annual revenue growth in its Oncology Systems segment and drive operating margins towards 25%, then we estimate an intrinsic value per share of almost $100. If this estimate is remotely accurate, then VAR shares will provide above-average annual returns to long-term investors.
Disclosure: I am long VAR.