In August, I wrote an article about buying Veon (NASDAQ: VEON) from the level of 3.94. During this time, the company presented its main product to the market - the Veon messenger and its shares increased, reaching a peak at 4.40. But about a week ago the news came out that the Norwegian operator Telenor (OTCPK: OTCPK:TELNF) had started selling shares of the company. After that, the company's shares dropped to the level of 4.10. And I consider these circumstances very suitable for increasing positions and now I will explain why.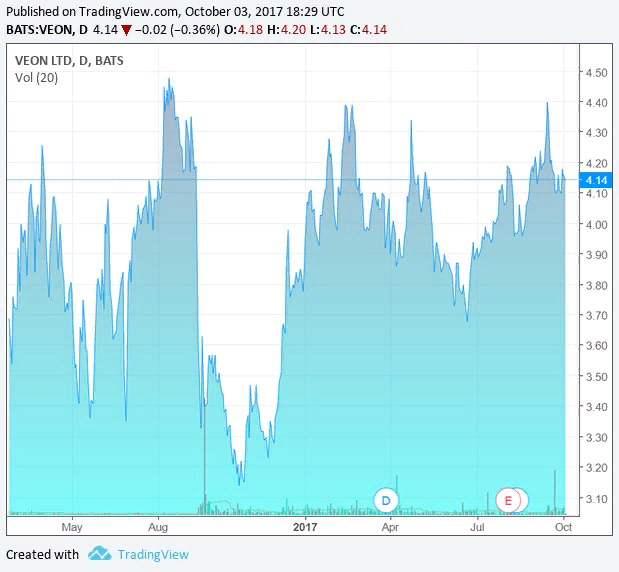 In 2015, Telenor owned a 33% stake in Veon. Then things went badly for the company, it faced high competition in the domestic market and just started the transition to the digital sphere. A year has passed, and in September 2016 Telenor sold 9.3% of ADS Vimpelcom Ltd. for $3.5 per share. In April 2017, Telenor announced the sale of 70 million shares of Veon at a price of $3.75 per share, receiving $259.2 million.
Also in early 2016, Veon faced legal litigation due to bribery in Uzbekistan in the early 2000s. This served as the final impetus for the decision to sell the company's shares.
And now, in September 2017, the company's shares reached annual highs and Telenor decided to get rid of another 5% of the package. Considering that Telenor left a 14% stake, I believe that the management hopes to sell the remaining shares even high.

source: Veon
Meanwhile, the main product of the company - Veon messenger - starts to seize the Russian market. A powerful advertising company was organized and partnership agreements were concluded with content-makers. Also on the 20th of September, Veon applied for the 5G radio frequencies usage and plans to organize 5G coverage in all major cities of Russia in the run-up to the 2018 Football World Cup.
From a fundamental point of view, VEON still looks very good. The forward P/E ratio is 9.46, which is slightly lower than the nearest competitor of the company - MBT (NYSE: MBT). ROE is 31.5%, and ROA is 7%, which is higher than that of any operator in Russia. A forward dividend yield is approximately 10%. And for example, the key telecoms in the US, such as Verizon (NYSE: VZ) and AT&T(NYSE: T) have 4.7% and 5% dividend yields respectively.
The company looks cheaper than its competitors while paying 10% dividend yield and developing both telecom business and business in digital space. Thus, I think that you should not be afraid of Telenor's actions and continue to hold these shares or even increase the size of your position.
Disclosure: I/we have no positions in any stocks mentioned, and no plans to initiate any positions within the next 72 hours.
I wrote this article myself, and it expresses my own opinions. I am not receiving compensation for it (other than from Seeking Alpha). I have no business relationship with any company whose stock is mentioned in this article.
Editor's Note: This article discusses one or more securities that do not trade on a major U.S. exchange. Please be aware of the risks associated with these stocks.