New Home Sales
New home sales fell 3.4% in August to a 560,000 seasonally adjusted annual rate, while the prior two months of sales were revised lower by a net 7,000. The current slowdown in sales can't be blamed on hurricane-related events, as sales declined in all regions of the country, including a 2.7% drop in the West. A significant increase in the number of new homes for sale, combined with a slower sales rate, has brought inventories up to 6.1 months of supply. This is consistent with what is considered a balanced market. I surmise that new home sales will continue to slow this year and builders focus their efforts on higher priced homes, whereas the demand is for starter homes. New homes sales are detracting from the rate of economic growth in the third quarter.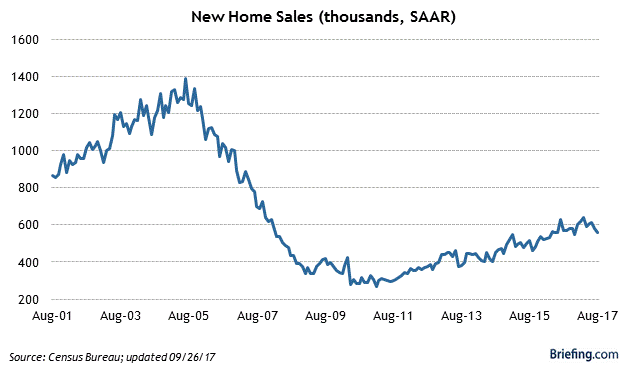 Pending Home Sales
Contracts signed to purchase existing homes have now declined in four of the past five months, falling 2.6% on a year-over-year basis in August. Again, this cannot be blamed on Hurricane Harvey, which hit towards the end of the month, because contract signings fell in all regions of the country. This slowdown continues to be blamed on a lack of inventory, but it is far more likely to be a result of weak income growth and rising prices. What has concerned me all year long is that auto sales are slowing at the same time.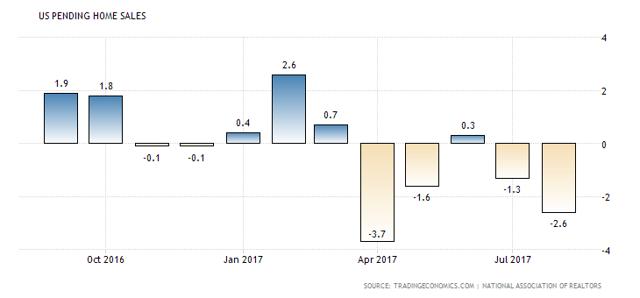 Durable Goods
Orders for durable goods rose 1.7% in August in what was a solid report for a second month in a row. When we exclude the volatile transportation sector (aircraft), orders rose only 0.2%. Yet orders for non-defense capital goods, excluding aircraft, otherwise known as capital expenditures or business investment, rose 0.9%. The shipment of these goods, which is used to calculate GDP, rose an impressive 0.7% after rising 1.1% in the prior month. This report lifted expectations for the rate of economic growth in the third quarter.
Businesses are clearly ramping up spending and investment, but what we need to see is a commensurate increase in end demand from the consumer. Such an increase in demand is dependent on rising incomes.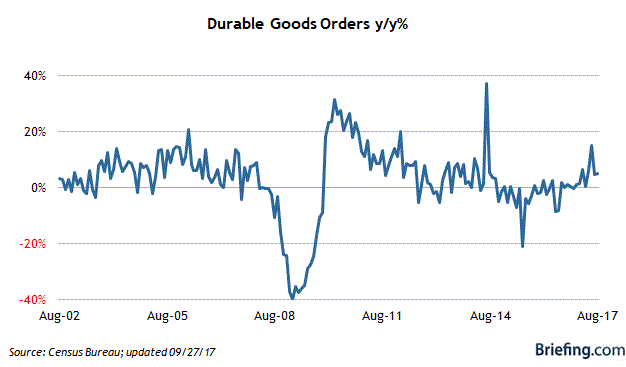 Personal Income and Spending
Personal income rose 0.2% in August, but there was no increase in the wages and salaries component, which is a big disappointment. Personal spending (personal consumption expenditures or PCE) rose a measly 0.1%, which was undoubtedly impacted by Hurricane Harvey, considering the big decline in spending on durable goods. Still, it is hard to expect strength in spending when income growth remains so weak. This is one important reason why inflation refuses to rise to the Fed's target of 2%.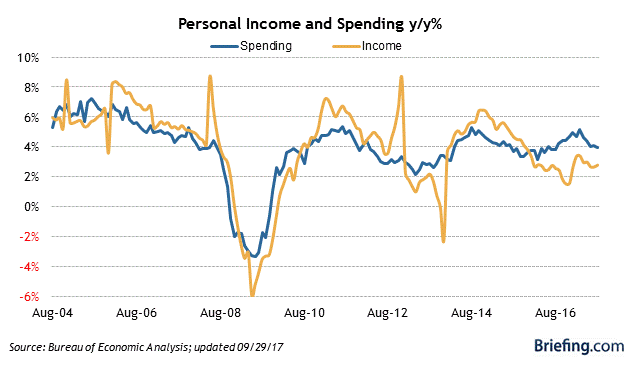 The Personal Consumption Expenditures price index, which is the Fed's preferred measure of inflation, inched up by just 0.1%. The annual rate of increase held steady at 1.4%, but the core rate, which excludes food and energy, declined to 1.3%.
Conclusion
As I have mentioned many times before, the reason this expansion continues is that it remains so weak. We have had no major excesses build up in the real economy. The excesses are all contained within our financial markets, which is a direct result of the Fed's monetary policy. Near zero-interest rates, combined with trillions of dollars of liquidity, has done very little other than pump up the prices of stocks and bonds. It has played a major role in increasing wealth and income disparity, but that only serves to further slow the rate of growth. The second quarter growth rate of 3.1% was an anomaly, as we will continue to struggle to grow just 2%.
Disclosure: I/we have no positions in any stocks mentioned, and no plans to initiate any positions within the next 72 hours.
I wrote this article myself, and it expresses my own opinions. I am not receiving compensation for it (other than from Seeking Alpha). I have no business relationship with any company whose stock is mentioned in this article.