It's been a pretty rough last five years if you've been long the big fertilizer stocks. Back in about 2012, it started to become increasingly obvious that the "commodities supercycle" was over. The economic growth and massive urbanization trend that started in the late '90s resulted in a bonanza of profits for hard commodities and miners of all kinds, but also led to an equally impressive buildout of capacity for many hard commodities. When the Chinese economy, and to a lesser extent the Indian economy, cooled off, many commodity producers suddenly found themselves in an oversupply situation.
In the potash fertilizer market, the problem was exacerbated by the breakup of a Russo-Belarusian "marketing company" (some would call cartel) made up of Belaruskali and Uralkali. The end result was that potash spot prices crested at a high of $700 per ton, dropped below $400 at the announcement of the breakup in Russia, and today sits at just $200 per ton.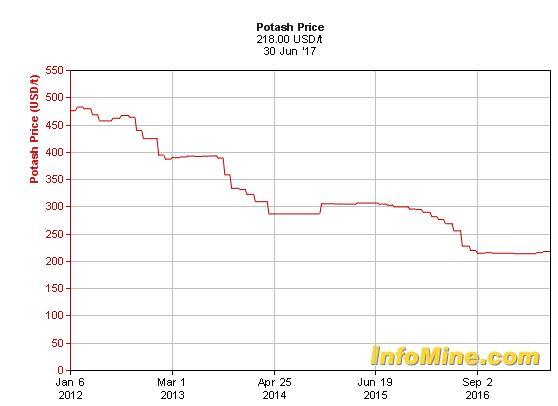 This, predictably, has been tough for producers of potash and other fertilizer producers. It has been especially tough on Potash Corporation (NYSE:POT), which had to slash its dividend from 38 cents per quarter to just 10 cents. For dividend investors, such action is a cardinal sin, even though the cut did need to happen.
Recently on CNBC's Mad Money, a show that I watch regularly, Jim Cramer recommended fertilizer producer CF Industries (NYSE:CF), which Cramer believes has some upside because the agricultural cycle may be returning. Is that the case? If so, I believe the miners of potash will be the first to recover, and nitrogen and phosphate will be last. Therefore, in this article I take a look at Potash Corporation, its latest quarter, its cost controls and also the company's big acquisition of Agrium Inc. (NYSE:AGU).
On a solid foundation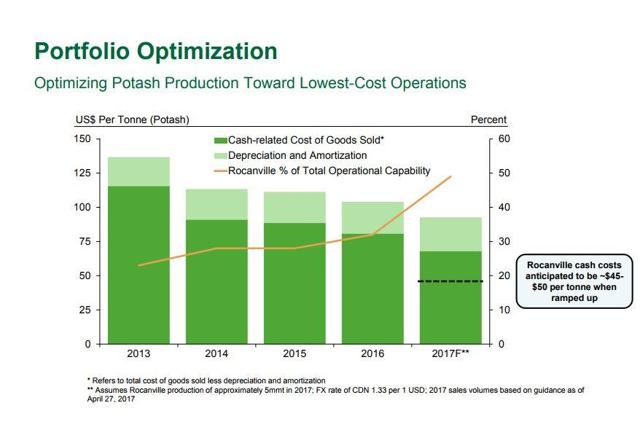 Courtesy of Potash Corporation Investor Relations
As you can see above, Potash Corp. has done a rather good job at reducing its overall operating costs, mostly through reducing the variable, cash-related cost of goods sold. Much of this improvement is through cost reduction, but it is also due to a ramp-up of production in what is arguable the lowest-cost potash mine in the world, Rocanville. We can see that as Rocanville takes a larger and larger share of company production, the average cost continues to fall. Rocanville cash costs are currently down to $50 per tonne now that production has been ramped up. Remember, even today's "depressed" potash prices are over $200 per tonne, so Potash Corp. is doing quite well even now.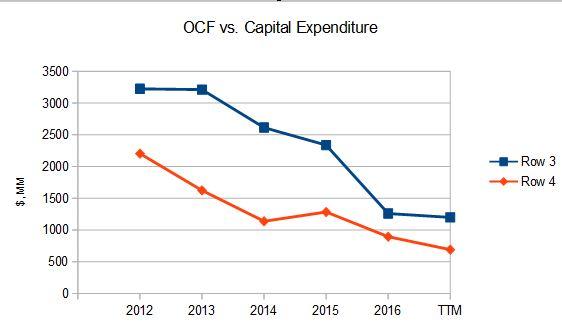 Data by Morningstar
Capital expenditure has also steadily declined, to the point where the dividend that Potash pays out, which yields just 2% at the moment, is sustainable from operating cash flow. Over the last twelve months, free cash flow was $508 million and the dividend was $454 million.
Things are probably going to get better, especially if the Agrium acquisition goes forward. I expect further cost savings, although I think the bulk of cost reductions has already been achieved. Management also says there will be $500 million in cost synergies from the combined organization of Agrium and Potash after year one, and that will add significantly to the bottom line as well.
Return of the agricultural cycle?
Long story short, I am not optimistic that the "agricultural cycle" is coming back. In fact, with potash at $200 a ton and total cost of production at $80 or $90, Potash Corp. is doing just fine either way. Why should we consider $500 per ton potash "normal" when that means the company makes a profit margin that is 400% of average cost?
For this reason in particular, I don't really see any upward catalyst behind potash prices or the other major fertilizers. I found this article by Brandon Dempster to be particularly useful: in it, he cites Potash Corp.'s own expectation for 6 million additional tons of capacity from non-Canpotex (the "marketing association" for Canadian potash exporters) sources. The 6 million additional tons just about match the 6 million tons of global potash demand growth.
We also have to factor in the "ramp up" at Rocanville and the possibility that BHP Billiton (NYSE:BHP) will ultimately go ahead with its gigantic Jansen mine, which has been delayed and deferred repeatedly. BHP has already sunk substantial capital into the Jansen mine, and there is still a chance that the company will go ahead with this project when it makes a decision in 2018. If the Jansen mine ultimately goes forward, it should be the biggest single producer of potash in Canada. In that case, I do not see much chance of potash prices making headway at all. Even if the Jansen project gets canceled, I still don't see an upward catalyst for potash or other fertilizers, given the current market dynamics.
Conclusion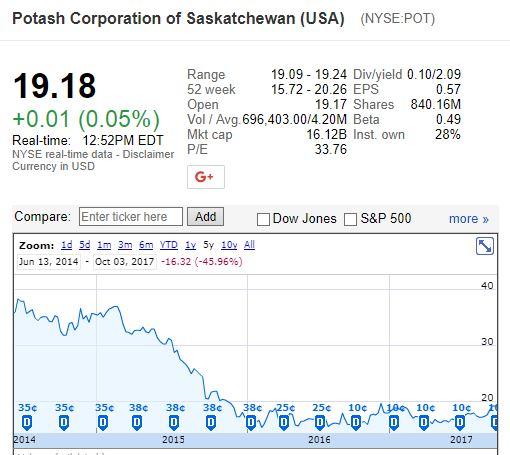 Courtesy of Google Finance
In his article, Brandon is optimistic about the long-term opportunity with potash prices at $200 per ton. I am less so. I do not see fertilizer prices recovering anytime soon, and it is therefore difficult to recommend Potash Corp., even though the company is treading water just fine. The 2% dividend yield isn't enough to entice me to wait for a recovery, and I don't recommend income investors bite.
If you're interested in Potash Corp., feel free to follow me here on Seeking Alpha. I intend on continuing to write about this interesting company, and I will provide update articles when doing so is both material and relevant. In addition, I have a Marketplace service tailored specifically to dividend investors, which allows me to write newsletters and big list articles which would not otherwise fit as "free" articles. I encourage you to take a risk-free look at that as well.
Disclosure: I/we have no positions in any stocks mentioned, and no plans to initiate any positions within the next 72 hours.
I wrote this article myself, and it expresses my own opinions. I am not receiving compensation for it (other than from Seeking Alpha). I have no business relationship with any company whose stock is mentioned in this article.