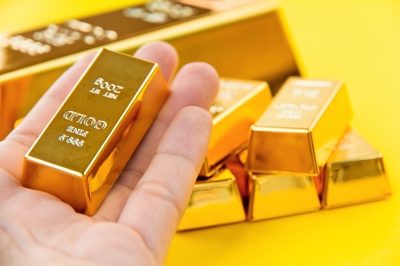 (From: Free Digital Photos )
Introduction
When investors ask me whether to invest in gold or not, my usual answer is, "Maybe." Why? Gold over the years has not proven to be a reliable investment, and I will illustrate with a story.
When I was in my junior year of high school, gold was worth $850/ounce (1/21/1980). It priced out many of my fellow classmates and me from ordering the fancier class rings we wanted. They were simply too expensive. Consequently, I still have the stainless-steel ring that I had to settle for, and I still use it as an anecdote of how crazy things were. If one had bought gold at that price, they would have waited until January 3, 2008 to recover their entire investment. Meanwhile the S&P 500's total return was an annual 13.0% over the same period.
Continuing this analogy, gold hit a historical low on July 20, 1999 when it was selling for $252.80/ounce. If one had bought it then, they would have realized an annual 9.54% since then. The stock market grew a paltry 5.22% during the same period. Despite this, one should keep in mind that gold has averaged 4.87% annually since the end of January 1975.
The Main Problem with Gold
The main problem with physical gold is that while one is holding it, it does not produce earnings, and consequently does not pay a dividend. It is subjugated to the supply and demand of the market at any given time. It just sits there. That doesn't mean there are not any uses for gold; 950 metric tons were bought during the most recent quarter. There are commercial demands for gold, and there are three main ones:
Jewelry (50.4%)

Financial (41.1%)

Electronics and Computers (8.5%)
Where does this gold come from? Given that recycled gold only makes up 26% of the supply the rest must come from other sources. Where? The answer is mining.
Before We Start
It is important to avoid indexing, I always ask why would anyone buy a basket of trash just to find a few decent nuggets? That is the conundrum with indexing where one buys 52 companies to find four or five decent ones. It never made sense to me why someone would give up, and use an index that has only returned 2.45% per year. I use a nifty screen that has performed well over the years, and helps slough for some real winners. It looks something like this: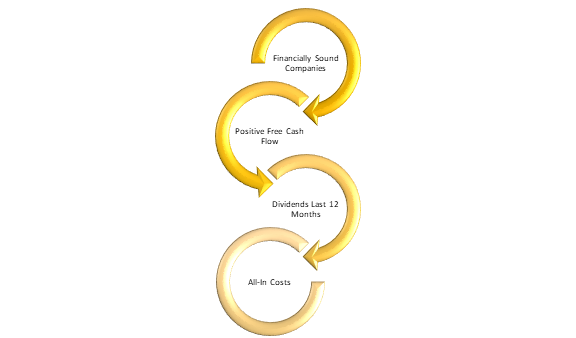 Figure 1
I wish this process was more in depth, but it doesn't have to be. All one needs to do is find companies that keep clean balance sheets, have positive free cash flow, and pay a dividend.
To find financially sound companies, I suggest limiting your universe to companies with an Altman-Z score greater than 3. While this may not necessarily help you companies that will outperform the benchmarks, it will help you sleep at night. This is so important. Mark Bristow, CEO of Randgold Resources (NASDAQ: GOLD), thinks so too, and has condemned miners who have high extraordinarily high debt loads. As he said last year, many of these companies, "…should really be out of business." Even with gold selling at $1,200/ounce, Bristow thinks, "…it's an unsustainable picture at these sort of gold prices." I agree.
The next two criteria are vital for finding companies that are set up for future success. Free cash flow is the money left over after a company pays for its expenses and expands its business. It represents whether a company can continue to expand its business. For a gold miner, that means it has cash on hand to investigate potential mineral deposits for future exploration.
Finding companies that pay a dividend gives the investor an indication that the company can continue to be profitable, because it is rare for a company to end its dividend payouts. Though as an appropriate disclosure, dividends can be reduced or terminated at any time.
Just a quick note, if you cannot find a screen that will let you use Altman-Z ratios, I suggest reading Harry Domash's "Bullet Proof" screen. It also does a nice job finding financially stable companies.
One More Thing
I will apologize now that this is not a more complicated algorithm to find profitable gold mining companies. Usually, I use complex calculus to find undervalued stocks, but this does not have to be a difficult process. This system by itself generates companies that pass muster 94.8% of the time, and those portfolios average 16.79% (±45.23%) since 1999 for one year when they are found. Compared to the S&P 500's average of 5.50% during same periods, this is a good way to find some winners.
I will caution, though, that this approach only beats the market 47.32% of the time. Where is the disconnect? During up markets, this approach averages 13.49%, but during down markets it averages 36.44%. When the S&P 500 gets scary, and it averages 16.97% in losses, these miners will shine.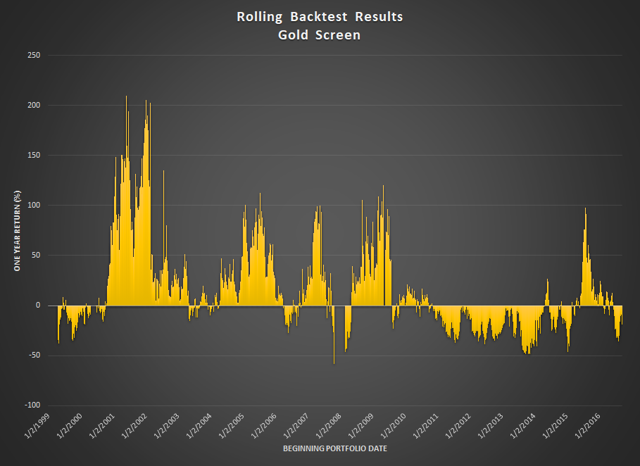 Figure 2
What is the one more thing? I will tell you that there is no screen for this criterion; you will have to perform some due diligence. Here it is. It is the all-in costs per ounce for the miners. Think about it. If it costs a miner more than what they can get at market for their minerals, then it is a certain money loser.
Here are the passing gold miners and their respective all-in costs based on their most recent quarterly reports:
| | | | | | | | |
| --- | --- | --- | --- | --- | --- | --- | --- |
| Ticker | Name | Last ($USD) | Market Cap ($Million) | Altman-Z Score | Free Cash Flow ($Million) | Yield (%) | All-In Costs Per Ounce |
| | Franco-Nevada Corp | 78.19 | 14,500.96 | 106.00 | 23.90 | 1.18 | 800 |
| GOLD | Randgold Resources Ltd | 97.87 | 9,205.55 | 19.79 | 327.62 | 1.02 | 630 |
| | Royal Gold Inc | 86.47 | 5,636.11 | 4.77 | 0.76 | 1.11 | 435 |
| | Gold Resource Corp | 3.81 | 216.56 | 8.35 | 2.99 | 0.52 | 881 |
Table 1
Franco-Nevada operates as a gold focused royalty and stream company, but they also have activities in other precious metals. Royal Gold is also a streaming rights company with interests in Latin America and Africa. Goro Resource, though based in Colorado, operates mining concessions in the state of Oaxaca in Mexico.
I will say, that I personally own Randgold Resources, and probably will for the foreseeable future. It is a well-run company, and I believe CEO Mark Bristow has proven to be a good steward of the company. It is a pretty good bet the company will continue to be profitable as long as they can keep their all-in costs at their current levels, and continue to keep maintaining debt at their current low levels ($0.03/share). I originally bought shares in the company in the mid-$50 range. I've seen it go has high as $120, but I understand that its volatility will always be pegged to the price of gold, and I am willing to accept that.
But Wait, There's More
This approach works for the entire precious metal industry. If one includes silver, copper, and other precious metals in the screen, the rolling average for one-year portfolios jumps to 17.76%. Gold is just my preferred play. If you add these industries to the screen, you will be able to add:
Southern Copper Corp (NYSE: SCCO)
Pan American Silver Corp (NASDAQ: PAAS)
Silvercorp Metals Inc (NYSE: SVM)
I hope this helps you with some good ideas. This is an industry I follow regularly, and I will continue to share some insights when I feel they are beneficial.
Disclosures
Thanks to Michelle Waymire for her ideas for disclosures, because it is always a good idea to remind readers there are risks to investing, and most of us are sharing ideas for the fun of it.
Past performance is not an indicator of future performance.

This post is illustrative and educational and is not a specific offer of products or services.

Information on this blog is not an offer to buy or sell, or a solicitation of any offer to buy or sell the securities mentioned herein.

Information presented is believed to be factual and up-to-date, but we do not guarantee its accuracy and it should not be regarded as a complete analysis of the subjects discussed.

All expressions of opinion reflect the judgment of the authors as of the date of publication and are subject to change.

Investments in individual sectors may be more volatile than investments that diversify across many industry sectors and companies. Certain sectors of the market may expose an investor to more risk than others.
Thrive and Prosper
Disclosure: I am/we are long GOLD.
I wrote this article myself, and it expresses my own opinions. I am not receiving compensation for it (other than from Seeking Alpha). I have no business relationship with any company whose stock is mentioned in this article.