W. W. Grainger Inc. (NYSE:GWW) frankly has been the worst performer of all 51 stocks that compose the so-called Dividend Aristocrats and it seems doubtful the stock can mount a rebound anytime soon.
The company's stock price fell off a proverbial cliff and landed with a thud after reporting disappointing year-end financial results on Jan. 25. Its share price has taken a further beating each time the company has reported quarterly results this year.
The Fortune 500 industrial supply company based in the Chicago suburb of Lake Forest, Illinois, began paying a rising dividend in 1971 but that increasing income for investors has been more than offset during the past five years with its total return falling. According to DividendInvestor.com, W.W. Grainger's total return has been negative 16.73% in the past 12 months, negative 22.27% in the past 36 months and negative 4.13% in the past 60 months.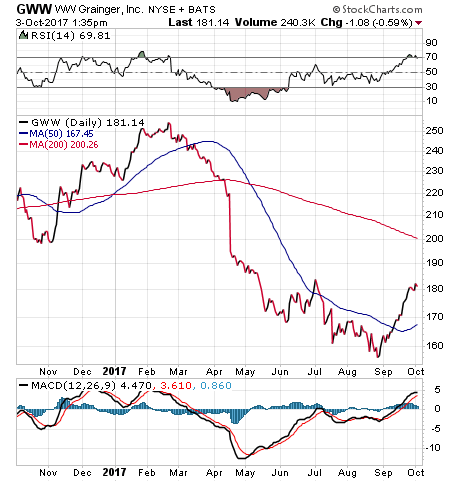 Sluggish Sales
The one-year performance chart above shows how investors punished the stock during Jan. 26-Aug. 25. W.W. Grainger reported sluggish sales growth of 2% to $10.1 billion for 2016 compared to $10 billion in 2015. The company announced earnings of $606 million in 2016 that plunged 21% from $769 million in 2015. Its earnings per share of $606 million in $9.87 in 2016 slid 15% from $11.58 the year before.
Not only did a massive sell-off start to take place after the company announced on Jan. 25 that it fell short of 2016 performance expectations, another leg lower came on April 18 when the company reported a 6% drop in first-quarter 2017 earnings of $175 million, compared to $187 million in the year-ago quarter. Earnings per share in Q1 2017 slipped 2% to $2.93 versus $2.98 for the same quarter of 2016.
First-quarter 2017 sales faced challenges, too, barely rising 1% to $2.5 billion compared to $2.5 billion for the same quarter the year before.
"Overall, the first quarter clearly fell short of our expectations," slowed by stronger-than-anticipated customer response to its U.S. strategic pricing actions, with a greater volume of products sold at more competitive prices," said Chief Executive Officer DG Macpherson.
For second-quarter 2016, W.W. Grainger reported earnings on July 19 of $98 million, down 43% from $173 million for the same quarter of 2016. Earnings per share of $1.67 for the second-quarter of 2017 marked a 40% drop from $2.79 for second-quarter 2016. Sales of $2.6 billion for second-quarter 2017 rose just 2% from the comparable quarter of 2016. Management reported the results were in line with expectations but the stock fell further anyway.
When the company reported its second-quarter financial results, Macpherson announced it took "aggressive action" outside of the United States to streamline its business portfolio and focus on profitability by announcing the wind-down of its business in Colombia and by pursuing a previously announced closing of 59 branches in Canada.
"Based on our confidence from what we are seeing, we are reiterating our guidance for the year," Macpherson said.
The company's 2017 guidance calls for sales growth of 1-4% and adjusted earnings per share of $10.00 to $11.30. The guidance remained unchanged from its previous update on April 18, 2017.
The company announced plans to introduce web pricing on Aug. 1 for its U.S. operations, so investors will want to watch whether third-quarter financial results and management's related earnings call in October will indicate any improvement in sales due to that initiative.
A big concern is that the stock's valuation appears too rich for its sliding share price. W.W. Grainger is trading at a price-to-earnings (P/E) ratio of 21, while the projected S&P 500 ratio is 18.1 and the index's trailing P/E ratio is 23.6. W.W. Grainger's P/E ratio comparatively seems a bit high for a business showing little to no growth. Indeed, a ratio further below the S&P 500 average could be warranted for the company and lead to a erosion in its per-share performance going forward.
It could be that W.W. Grainger's history of paying a rising dividend since 1971 is propping up its share price but may not be able to stave off further falls. The company paid its first dividend in 1965 and each year since then to become a steady source of income for its shareholders.
Since total return factors in change in the company's share price and its dividend payouts, W.W. Grainger not only has been costing its shareholders money but failing to keep up with the market averages. Even though W.W. Grainger has been in operation since 1927 and serves more than 3 million customers worldwide with its motors, lighting and other materials, it is not worth owning if it delivers diminishing shareholder value each year.
Its current dividend yield of 3.0% is well above the anemic interest commercial banks are offering their customers in savings accounts but not nearly enough to overcome the erosion of its earnings growth partly due to increased expenses.
Is This Dividend Aristocrat Worthy?
In addition, W.W. Grainger's current yield is 24% higher than the average yield of the 51 stocks that compose the Dividend Aristocrats. To qualify in the ranks of Dividend Aristocrats, not only must a company have increased its dividend for 25 consecutive years, it also needs to be part of the S&P 500 and have a minimum market capitalization of $3 billion.
There is no way to sugarcoat that since the start of 2017, W.W. Grainger's stock has fallen 20.8% through Oct. 2, sinking from a closing price on Jan. 3 of $229.98, based on adjusted dividends and stock splits, to $182.22. For dividend-loving investors, the 3.0% dividend yield is a pittance compared to the huge drop in the company's share-price this year.
Its dividend yield is roughly 55% higher than W.W. Grainger's five-year average yield, according to DividendInvestor.com. However, dividend yield rises as a company's stock price falls, so W.W. Grainger is testing the patience of shareholders who have been enduring the stock's five-year downturn.
W.W. Grainger became a Dividend Aristocrat in 1996 after it completed 25 years of paying rising dividends. To stay on the list, a public company needs to sustain its practice of paying an increased dividend each year.
A key question is whether W.W. Grainger can afford to continue paying a rising dividend. Since DividendInvestor.com is reporting the company's dividend ratio is 56%, the company's cash flow currently is sufficient to cover the annual rise in its payout. The website Dividend.com regards payout ratios of under 55% as healthy. W.W. Grainger falls just short of meeting that mark.
Trending in the Wrong Direction
A big concern comes with companies that have dividend payout ratios of above 100% that are returning more money to shareholders than they are earning. Ultimately, such companies may need to scale back their payouts or cut them completely. W.W. Grainger is nowhere near that danger zone right now but it is trending in the wrong direction.
An important measure of companies that pay dividends is dividend payout ratio. It is determined by total dividends paid out to shareholders relative to a company's net income. The amount that is not paid out to shareholders is called retained earnings, and it is available for the company to pay off debt or to reinvest in core operations.
W. W. Grainger's use of its operating cash flow in the second quarter of 2017 shows more money flowing out of the company than it is retaining. In second-quarter 2017, Grainger returned $234 million to its shareholders through $80 million in dividends and $154 million to buy back 780,000 shares of stock on the open market. Those outflows are $63 million more than its operating cash flow during the period.
Shareholders also will become increasingly dependent on the turnaround efforts of MacPherson after the company announced on Aug. 2 that he would assume the additional role of chairman on Oct. 1, when Jim Ryan retires from that post. The financial leadership of the company also is in transition, as current Senior Vice President and Chief Financial Officer Ron Jadin plans to retire at the end of the year. An external search is underway to find Jadin's successor.
The decision about whether to buy, sell or short W.W. Grainger shares should weigh whether the company truly has weathered the worst of its share-price drop and if its management has a compelling plan in place to reverse its faltering financial performance. Investors who own the shares but have soured on the company's performance should sell after its recent uptick, take a tax write-off and use the proceeds to buy a stock with superior prospects. Aggressive investors who think W.W. Grainger is likely to fall further also may want to short the shares.
Analysts Lack Confidence in a Quick Turnaround for W.W. Grainger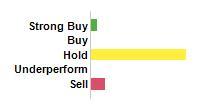 Source: NASDAQ
Wall Street analysts who follow the company predominantly rate it as a hold, according to NASDAQ. Since Wall Street analysts typically track stocks that show promise, such a blasé analysis of its outlook does not inspire confidence of a turnaround anytime soon.
Disclosure: I/we have no positions in any stocks mentioned, and no plans to initiate any positions within the next 72 hours.
I wrote this article myself, and it expresses my own opinions. I am not receiving compensation for it (other than from Seeking Alpha). I have no business relationship with any company whose stock is mentioned in this article.