The Golden Triangle in British Columbia hosts some of the richest gold ore bodies in the world. The most prominent miner in the area right now is Pretium Resources (PVG), which started mining in 2017 in their 100% owned Valley of the Kings project (for more specifics about Pretium, here is my buy recommendation).
In this two-article series, we will cover a total of 24 junior explorers that are active in the Golden Triangle. This article will not provide the reader with specific trading recommendations. It is however what I believe to be a useful list for all those who are interested in what is happening in the British Columbia Golden Triangle.
The golden triangle (mining.com).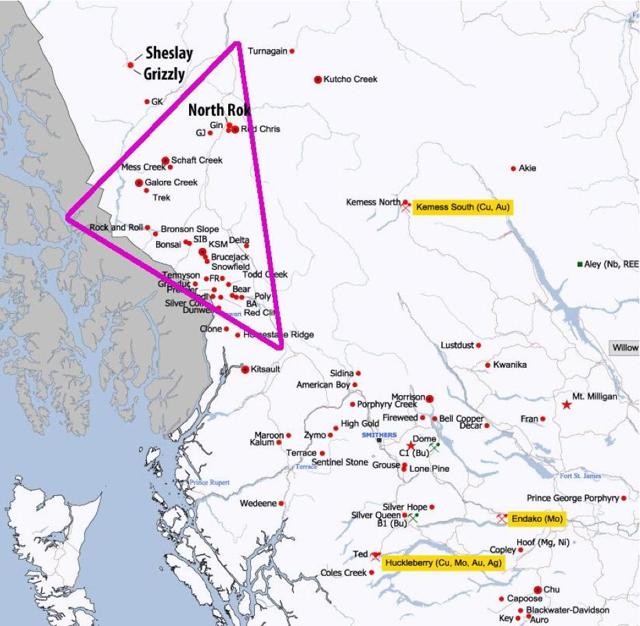 Companies are listed alphabetically. All figures in US dollars if not mentioned otherwise.
The Golden Triangle: An introduction
The Golden Triangle became a mining camp even before Canada was officially a country. The first gold rush started when Alexander "Buck" Choquette struck gold at the confluence of the Stikine and Anuk rivers, kick-starting the Stikine gold rush in 1861.
Below you will find, courtesy of Visual Capitalist, a summary of some of the most important success stories that the Golden Triangle has seen.
Major discoveries in the golden triangle in BC (Visual Capitalist)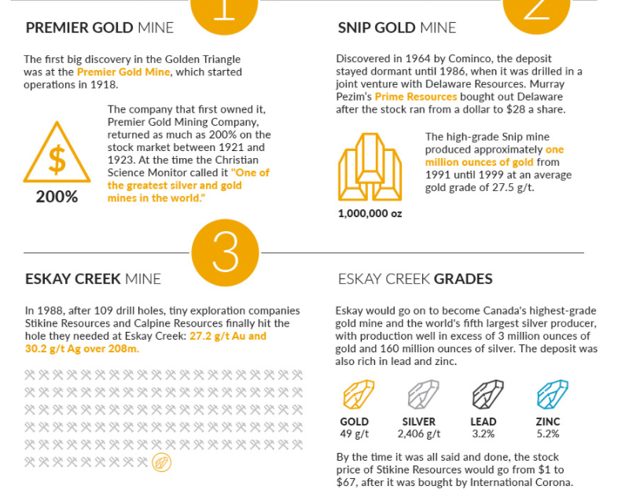 Despite its obvious potential, the vast majority of land in this prospective region has been left untouched by humans in the 20th century. This is due to a combination of factors, including low gold prices and a lack of infrastructure.
Today, things are going in a new direction however. The Golden Triangle has witnessed multiple mineral discoveries and over 130m oz Au, 800m oz Ag, and 40B lbs of Cu have been found. More importantly, we are just at the beginning.
The main factors attributing to this newly found success are:
1. An improved gold price compared to the 1990s.
2. Three massively important infrastructure upgrades: the paving of the Stewart-Cassiar Highway, the opening of ocean port facilities for export of concentrate at Stewart and the completion of a $700m high-voltage transmission line to bring power into the Golden Triangle.
3. A declining snow cover. In recent years, glacial ice and snow has been retreating in many parts of the region, revealing rocks that were not accessible before.
4. A new geological explanation. Geologist Jeff Kyba has put forth a new explanatory theory that implies that the key marker for copper-gold mineralization is the geologic contact between Triassic age Stuhini rocks and Jurassic age Hazelton rocks. The majority of the triangle's copper-gold deposits, whether they are large-scale porphyry or intrusion-related, are found within 2 km of this contact. According to Gwen Preston, this is called "The Red Line," and this new interpretation of the region's geology could contribute to BC's next mega deposit.
After this short introduction, we will now move on to the first 10 juniors that aim to strike big in the Golden Triangle. In the next part of the article - scheduled for publication later this week - we will look at 14 more.
Aben Resources (OTCPK:ABNAF), $17.5m. A project generator in Canada. The CEO has had success before, selling his last two companies. The focus is now on the 100% owned Forrest Kerr Project. Historical drilling on the Forrest Kerr Project encountered several high grade intercepts including 9.87 g/t Au over 29m in the Carcass Zone and 33.4 g/t Au over 11m in the Boundary Zone.
Aben also holds a 100% interest in the 7,400 hectares Justin Gold Project located in Southeast Yukon. The Justin Project is located on the Tintina Gold Belt, immediate southeast of Golden Predator's (OTCQX:NTGSF) 3 Aces Gold Project. Previous drilling by Aben on the Justin Project intercepted 60 meters of 1.19 g/t Gold including 21 meters of 2.47 g/t Gold in the POW Zone.
American Creek Resources (OTCPK:ACKRF), $12.7m. A project generator in Canada. They have three properties in the Golden Triangle: Treaty Creek, Electrum, and Dunwell. They have 2 JVs, with a 20% ownership for Treaty Creek with Tudor Gold (OTC:TDRRF), and a 40% ownership for Electrum. Both are located near the Seabridge Gold (SA) and Pretium Brucejack projects (more below).
Neither property has been explored, but on September 15, the company published a news release with interesting intercepts. The in-house exploration team is currently working on identifying drill targets for Dunwell. They have a small portfolio of other properties in BC, including Gold Hill and Big Chief.
Ascot Resources (OTC:ASOLF), $173.3m. The company owns a large Au project in the Golden Triangle. Their Dilworth/Premier project is a gold and silver surface mine. It is a 4m oz gold resource at 0.7 g/t, plus 38m oz of silver at 4 g/t. It has a lot of exploration potential on 100 square km and 5 target areas. They plan to drill 140,000m in 2017. This could be a big mine.
The last results released in August and September were 124.50 g/t Au over 2m in the Ben high-grade subzone at Northern Lite and another 321.00 g/t Au Over 2.50. The property has a past producing mine with a mill, and management believes that it will be easy to permit.
The company also owns the Mt Margaret project in the US state of Washington. It is primarily a copper project, with more than 1.5m oz of Au. They are also drilling this property. Anyone who bought at the 4 cents low in 2008 should be very happy as it touched $2 in 2016 and is now worth $1.17.
Brixton Metals (OTC:BXTMD), $11m. This company has done two early exploration silver projects in Canada. The Thorn project is mostly a silver project, but it also has significant gold, copper, lead, and zinc offsets. They have drilled 20,000m and released a maiden 43-101 resource estimate at 8m oz of silver at 35 g/t. They own a Cobalt project in Ontario that has 10m oz of high grade silver (700 gpt) with significant exploration potential and a past silver-gold producer in Montana with an historical inferred estimated resource of 47.3 Moz Ag and 0.23 Moz Au.
Thorn Summary (September 2017 Corporate Presentation).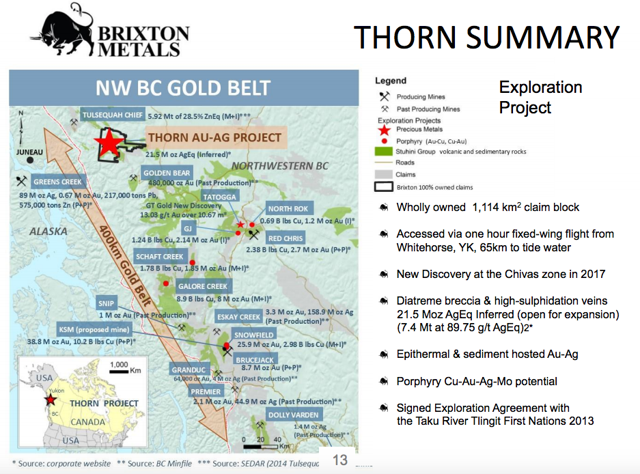 Insider ownership is very high in this company. Management owns 10%, legendary mining investor Rob McEwen owns 8%, Pan American Silver (PAAS) owns 6%, Hecla Mining (HL) owns 5% and famed mining investor Eric Sprott owning another 4%.
Colorado Resources (OTCPK:CLASF), $30.3m. The company recently completed the acquisition of the KSP Property from Seabridge Gold. The property is now 100% owned although there is a 2% NSR on the property (half of which can be repurchased at any time for $2,000,000). KSP adjoins Seabridge's 100%-owned Iskut Project where they are also currently conducting a drill program exploring for high grade gold deposits.
The company has multiple other early-stage projects with a NI43-101 resource on one of the properties that they own, the North Rok. As it is low grade and inferred, it is difficult to assess the value of the property. However, the orebody contains an Inferred resource of 142.3m tonnes averaging 0.22% Cu and 0.26 g/t Au, (0.37% Cu equivalent grade at an unrealistic low cut-off grade of 0.20% copper equivalent).
Dolly Varden Silver (OTCPK:DOLLF), $20.9m. A recent darling of the market. Their 22,000 acre, 100% owned (subject to 2% NSR) Dolly Varden property has 4 past producing mines. These mines produced 20m oz at 300 to 1000 g/t of silver between the 1920s and 1950s.
They have well-known drill targets underneath the historical mines. Their initial 43-101 resource estimate was released in 2015 for 40m oz at 300 gpt. The deposit is known to contain some zinc and lead. Those were not included in the mineral resource estimate due to the sparseness of lead and zinc in the assay data, which were not purposely assayed for those metals in pre-2011 drill holes.
They have been drilling two of the mines and have had success. Hecla Mining owns 12% of the company and Sprott Asset Management 8%.
Eskay Mining (OTC:ESKYF), $23.4m. The company has 130,000 acres surrounding Barrick Gold's (ABX) prolific Eskay Creek Mine. Seabridge Gold, with its large and world class copper-gold Deep Kerr deposit border the property on the east. The company recently made a JV deal on a portion of the property (SIB, with 12,000 acres) with SSR Mining (SSRM), which has to spend $12m on exploration over 3 years to get a 60% interest.
Great Bear Resources (OTCPK:GTBDF), $3.6m. They optioned out the Surprise Creek project in the Golden Triangle to Mountain Boy Minerals (OTC:MBYMF) on a 50/50 basis. Under the terms of the agreement, Great Bear will receive $1.3m in cash payments and 10m shares of Mountain Boy Minerals over three years, starting June 2017. The company has two other properties: the Dixie Lake (23,000 acres) and Madsen (7,000 acres), which are both located in the Red Lake district in Ontario and which they plan to drill soon. They recently released a nice discovery hole at Dixie Lake of 10m at 16 g/t.
Garibaldi Resource (OTC:GGIFF), $128.8m. This is a company that I wish I discovered earlier as the price for one share went from $0.15 in July 2017 to $2.00 in October 2017 (CAD).
1-year stock chart (Google Finance)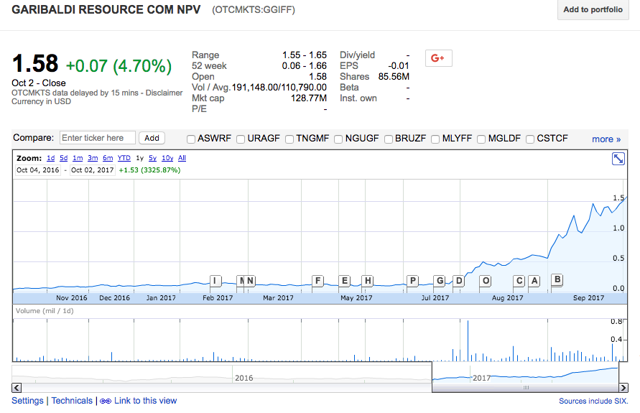 The company owns five early exploration gold projects: the E&L, Grizzly, King, Princeton, and Black Gold. The company uses modern sensors lodged in helicopters to find metals. They have used hyper spectral aerial surveys to identify targets, instead of the slower method of collecting soil samples.
Their E&L property (42,000 acres) in the Golden Triangle looks promising, as it is the first nickel-copper sulphide system in the Eskay region. The project has a historical drill hole assay, the 1966 DDH-4 with 37.8m at 1.3% Ni and 0.79% Cu including 5.95% Ni and 1.7% Cu over 2.4m near the bottom of the hole at around 70 m deep. They think it could be a large base metals discovery.
Garibaldi Resources also owns a large land package (800,000 acres) in Sierra Madre, Mexico. They have nine projects on three properties: La Patilla, Iris and Tonichi. In 2014, they made a silver discovery at the La Patilla project, also using hyper spectral aerial surveys.
GT Gold (OTC:GTGDF), $49.5m. The company's flagship asset is the 100% owned Tatogga property, located just off the paved highway 37 and with grid power to the property limits, upon which the company has made a new high-grade gold discovery at the Saddle prospect. This project was developed by GT Gold and started with grass-roots exploration in 2011. It is quite big with a total ~31,309 hectares (refer to the map at the beginning of the article).
The company is currently conducting an exploration program at Saddle, which is expected to wrap up for the season in October this year. The program consists predominantly of RC drilling (now complete) and HQ-diametre core drilling (ongoing).
1-year chart GT Gold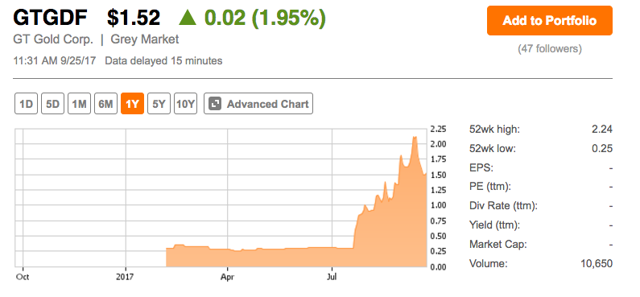 The company has 79,330,188 shares outstanding implying a market cap of around $120m. Quite pricey for a company that has no NI43-101 deposit. The market is clearly very optimistic about the prospect of GT Gold.
A notable manager of GT Gold is Charles J. Grey. He is the Vice President and Exploration manager and seems to be the right man at the right place. With more than 35 years in the sector, he has worked on projects in British Columbia such as the Brucejack Lake owned by Pretium, Red Mountain owned by Lac Minerals and IDM (OTCQB:IDMMF), Silbak-Premier owned by Westimin and then Ascot (as we have seen in this article), IKE (HDI-Amarc).
He also has experience abroad on projects such as La India in Mexico owned by Agnico Eagle (AEM) and at the Bisha mine in Eritrea owned by Nevsun (NSU). Quite impressive to have such a talent for a junior explorer.
I hope you find this article a useful tool for your research and trading. In the next part of the article (due in some days), we will have the opportunity to discover 14 more of these small and big companies that are trying to find or have already found gold in the Golden triangle in British Columbia, Canada.
Disclosure: I/we have no positions in any stocks mentioned, and no plans to initiate any positions within the next 72 hours. I wrote this article myself, and it expresses my own opinions. I am not receiving compensation for it (other than from Seeking Alpha). I have no business relationship with any company whose stock is mentioned in this article.
Editor's Note: This article covers one or more microcap stocks. Please be aware of the risks associated with these stocks.