The average U.S. savings account yields about 0.06% APY. Instead of waiting for savings account interest to pay for one latte a year, here is an opportunity to beat that return in 10 days.
Scorpio Tankers, 7.50% Senior Notes due 10/15/2017 (NYSE:SBNB) matures in 8 business days and is currently trading below par. These bonds are exchange-traded and can be easily bought and sold by investors.
Buyers of SBNB will be paid $25.00 on October 15, 2017 when the note matures.

At the time of writing, the bid price is $24.96 and the ask is $24.99. Under the most pessimistic scenario, readers who purchase SBNB stand to pocket a return of 0.04% (1.8% annualized), equivalent to 8 months of interest in an average savings account.
Common stock cushion
The borrower, Scorpio Tankers trades on the NYSE under ticker STNG and has a $1 billion market cap. Shipping is an extremely volatile industry, as evident by the common stock price history below. The common stock has lost over 70% of its value over the last 5 years but has stabilized recently.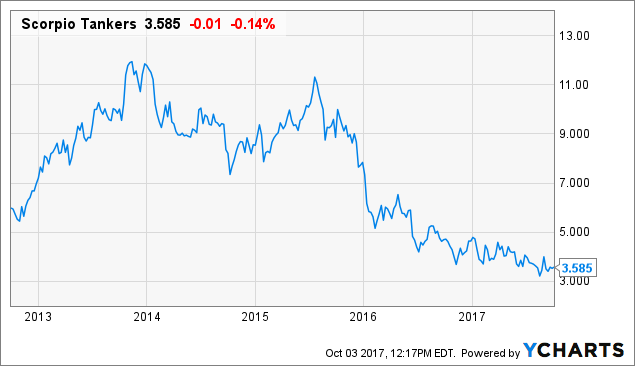 Ability to comfortably repay
Scorpio Tankers just recently released earnings for 2Q 2017 in September. The company reported $161.2 million of unrestricted cash as of September 15, 2017. The cash balance is enough to comfortably repay the $45.5 million SBNB notes due in two weeks. Furthermore, the company has shown willingness to pay off SBNB earlier this year, having repurchased $6.3 million in a tender offer.
Conclusion
I believe SBNB baby bonds is a great short-term alternative to money market funds. Investors with idle cash in their portfolio can juice up returns with a purchase below par. Please be mindful of your respective brokerage's commission rates as commissions could wipe out the entire profit for small positions.
Disclosure: I am/we are long SBNB.
I wrote this article myself, and it expresses my own opinions. I am not receiving compensation for it (other than from Seeking Alpha). I have no business relationship with any company whose stock is mentioned in this article.