Part II: Risks Rise and Economic Data Remains Weak
There are a myriad of risks in the world right now, and investors are failing to understand that we live in unprecedented times. From the advent of this experiment in monetary policy to increasing risks of nuclear war and the elections in Germany, the United States and the U.K. that have seen a rise in nationalist parties. It remains to be seen what effect their collective protectionist policies will have on the economies of these respective nations, and what overflow will be seen in the condition of the world economy. If history is any guide, nationalism, protectionism, and anti-free market and free trade rhetoric will only exacerbate the negative economic situation for the world economy.
Investors seem to want to ignore the readings on velocity, core inflation, and even stock market values, convinced that this time is different and markets will continue to run higher. The economic data clearly states, this time is not different, and the economy remains weak here as central banks around the world try to avoid deflation. In a recent article in Marketwatch titled "The World is Getting Desperate About Deflation," the author summarizes the state of the world economy as follows:
The key takeaway: Negative and near-zero interest rates show central banks' desperation to avoid deflation. More important, they highlight the bleak state of the global economy.
The data simply proves the point that the world economy is in rough shape. Let's explore some of the most important data points in the U.S.
Employment
The employment situation is generally misreported on the nightly news, and thus misunderstood by the general public. The u-3 unemployment rate we hear so much about is currently at 4.4%, a measure that would generally indicate that we are at full employment and the Fed's mandate has been met. However a more accurate measure of unemployment, the u-6, indicates that maybe the u-3 is not telling us the whole story; the u-6 sits around 9% which is higher than we were in 2007 prior to the great recession.
An additional issue with the unemployment figure is the notion that the participation rate remains subdued. This is often dismissed by bulls as simply the result of the retiring baby boomers, but the Center For Economic & Policy Research rejects that claim and with good reason. The rate of participation among prime age workers continues to come in below trend.
Here is the CEPR's response to a Washington Post article asserting this baby boomer theory (emphasis added by me):
Actually, the main reason the labor force participation rate (LFPR) has fallen has been a drop in the LFPR among prime age workers (ages 25-54). This peaked in 2000 at 82.8 percent in early 2000. In September of 2015 it bottomed out at 79.2 percent, 3.6 percentage points below its 2000 peak. The drop in LFPR in the recession and weak recovery has been primarily a story of workers in their prime working years leaving the labor force, not baby boomers retiring or young people staying in school longer.

The piece also cites reports by Wells Fargo and the Kansas City Federal Reserve Bank indicating that those with more education are doing much better in finding work in the recovery. This is not clear from the data. In the last year the employment rate of people with college degrees has not changed, while it fell by 0.6 percentage points for those with some college.

By contrast, the employment rate for people with just high school degrees fell by just 0.1 percentage point. It rose by 1.7 percentage points for workers without high school degrees. This gap is even more striking since the retiring baby boomers are less-educated on average than younger workers, so their retirement should be having a disproportionate effect in reducing the employment rate of less-educated workers.
Pre-recession labor force participation rates would mean a sharply higher u-3 unemployment rate near where the u-6 is today. A nearly 9% unemployment rate would mean the Fed funds rate should be back at the zero bound at best, or even negative at worst. Employment is not recovering.
Velocity

Velocity on M2 remains at levels not seen since 1949. This is a fact I lay out in every single piece because it is an important metric for the health of the overall economy and it continues to fall. Since the peak in the third quarter of 1997, velocity has fallen from 2.21 in 1997 to 1.427 today, a reduction of 35%. The condition of inflation, velocity, and employment all have reason to continue lower, which means bad news ahead for the U.S. economy and the Fed's plans to exit the stimulus business.
With the election of Donald Trump we are told that business confidence is back, and that America's economy is sure to pick up steam. But we do not see this in the data. A recent article by Bloomberg demonstrated the lack of follow through in velocity, which doesn't match the optimism of many in the business world who believe in this administration's agenda:
'The post-election expectation was that the gain in confidence and financial market deregulation would spur credit creation,' according to minutes released by the Federal Reserve Board of its Sept. 8 meeting with Federal Advisory Council. 'While consumers and businesses remain optimistic, that has not translated into significant growth in loan demand.'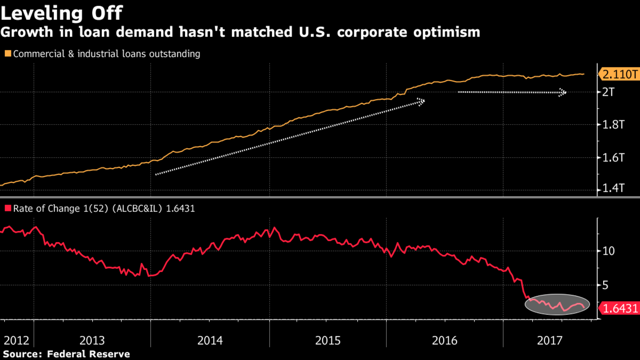 GDP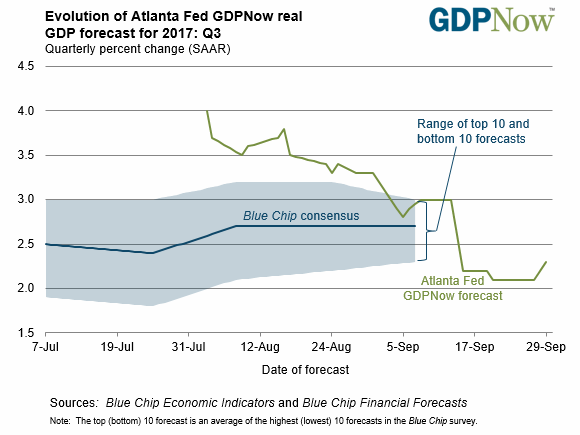 The U.S. has been running around a 2.2% GDP print and so far this year is no different. The U.S. is currently running at 1.2% for the first quarter and 3.0% for the second quarter, putting us on trend of 2.1% for the full year. Add in the Atlanta Federal Reserve's expectation for Q3 of 2.3% and we are at 2.2% for the year, the same percentage that we have been averaging in this long recovery. Any talk of 4% full year GDP is simply hope built on sand. There is no feasible way to get the U.S. economy to 4% GDP growth without increasing velocity and lowering debt. This is a fact with which policy makers should become acquainted. While I understand it is unpopular for politicians to say, it is time to tell the truth to the American people, with this level of debt and declining velocity, growth is going to be hard to come by for some time.
Current talk of tax reform will raise the national debt and thus be a negative element in the quest for more growth. While I agree that tax reform is needed, especially on the corporate side, the current proposals seem to do more harm than good. We simply can not grow ourselves out of the debt problems we have in this country.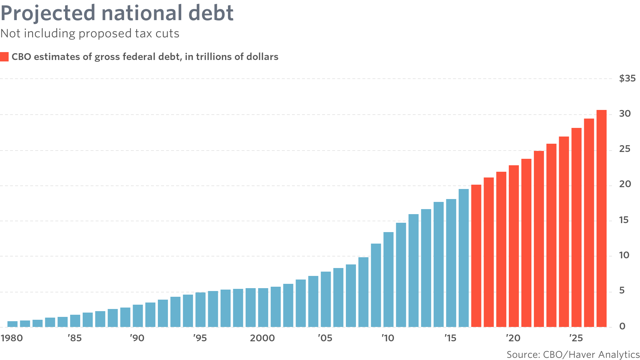 If debt continues to grow, it will continue to have an increasingly deleterious effect on GDP growth levels. Investors seem to be unwilling to consider the challenges with GDP that lie ahead, and what this could mean for corporate financial structures, and earnings levels. As Dr. John Hussman stated in his commentary from last week:
With the central tendency of real U.S. GDP likely to average a sustained growth rate hardly above 1% annually in the coming years, investors seem to underestimate how little will be required to push the U.S. into recession. Nor do they seem fazed by the fact that 75% of all corporate debt issuance is now 'covenant lite,' that corporate debt as a ratio of non-financial corporate gross value-added has expanded to the highest level in history, that financial assets represent nearly half of the total assets of even non-financial U.S. corporations (where less than 10% of this represents cash and equivalents, and nearly one-third is in stocks), and where those financial assets comprise literally 90% of the total corporate net worth of these companies. The cross-dependencies here are outrageous.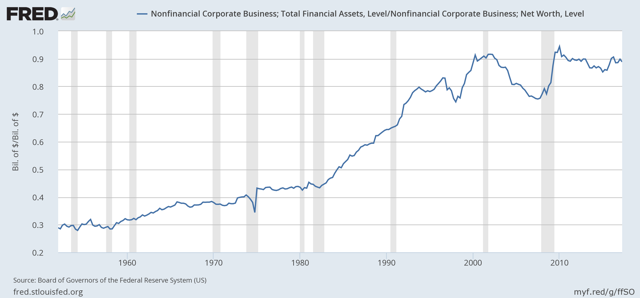 Other Variables Showing Weakness
In August we saw pending home sales come in below expectations, dropping 2.6%. This marks the fifth drop in the past six months below expectations. Many are now saying the housing market is certainly not turning up any longer, and may have stalled.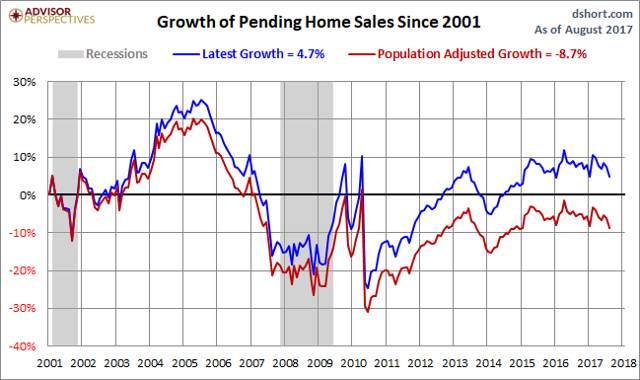 When we look at the data on the big four indicators, employment, industrial production, real sales, and real income, we see that in the most recent month, three out of four showed negative movement. The fourth indicator, employment I have dealt with above. This is clearly an economy that is not healthy and in need of continued accommodation.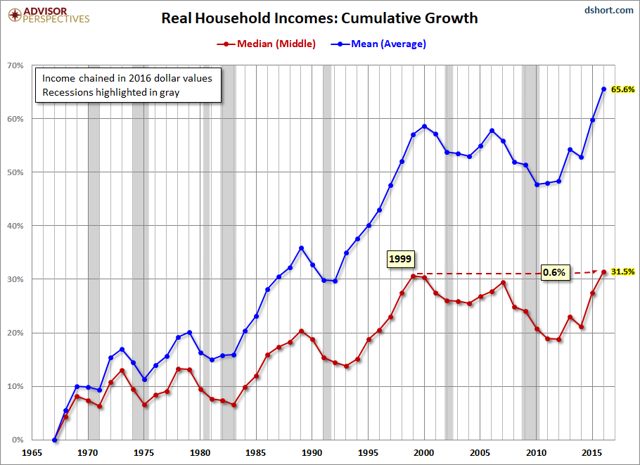 The U.S. middle class suffers from stagnant wages, and has not seen an increase in their standard of living in nearly 20 years. This is not sustainable in a consumer-based economy. At some point, debt availability will run out and consumers will have to drastically lower their level of consumption, triggering a drop off in economic activity.
Debt Is the Problem ... Deleveraging Is the Solution
The U.S. remains a heavily indebted nation. Our government and our households are at unprecedented levels of debt. In many of my pieces, I have described in detail the negative effects of debt burdens on economies. However, the debt, a topic that is largely ignored by voters and politicians alike, is about to be foisted upon the main stage as policy makers seek an answer to the question: "Why does U.S. GDP remain so low?"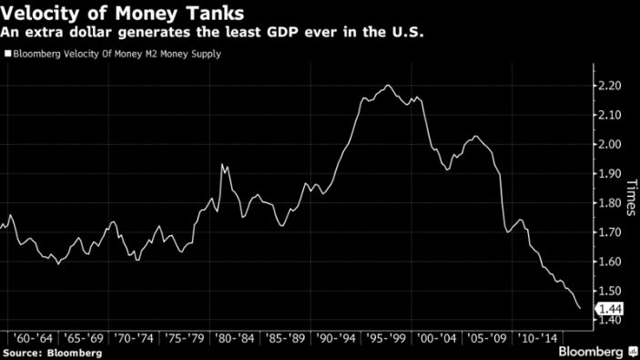 The answer to this question and the inevitable questions concerning inflation is that we have no demand in our economy for money. Velocity on M2 remains the central culprit behind our low levels of inflation, and subdued GDP. No matter what stimulus the Federal Reserve puts out, you are simply not going to generate an increase in demand for money until a sufficient period of deleveraging takes place. The Fed's reliance on the Philips Curve has proven to be a mistake, as the Philips Curve is largely unreliable. This explains the poor ability of the Fed to make forecasts about economic data. The Fed has been consistently wrong as the data is trending below their forecasts.
The current data for the U.S. economy appears to have peaked and may be heading on the long road towards recession. While we are at the beginning stages of this, it is possible to get a few head fakes in the data, and even see the market continue its advance into euphoria, but the trend continues to indicate that we remain in a period of market uncertainty, and caution is warranted.
In my third piece in this series, I will explore the market and where I see the most value today.
Disclaimer: This article is for informational purposes only and is not an offer to buy or sell any security. It is not intended to be financial advice, and it is not financial advice. Before acting on any information contained herein, be sure to consult your own financial advisor. This article does not constitute tax advice. Every investor should consult their tax advisor or CPA before acting on any information contained herein.
Disclosure: I/we have no positions in any stocks mentioned, and no plans to initiate any positions within the next 72 hours.
I wrote this article myself, and it expresses my own opinions. I am not receiving compensation for it (other than from Seeking Alpha). I have no business relationship with any company whose stock is mentioned in this article.