On a quarterly basis I like to step back and take a look at how the portfolio has done in each of its component parts: contributions, dividend income, option income, and capital gains and see what can be learned, what strategies worked and what actions could be taken in the quarter ahead.

As an investor still in the acquisition stage, I am pursuing some growth as well as building the dividend income stream that will replace employment income needs in the future.
Contributions happened substantially ahead of schedule this quarter. I target an aggressive fixed dollar amount for contributions monthly (now equal to 1.06% of the portfolio balance) and it was nearly doubled this quarter. Contributions equaled 1.95% of the portfolio this quarter. This summer, I spent 5 weeks volunteering away from home. The few ground travel costs were well covered by not having any variable living expenses or making any purchases during that time. I am sure I can make up for this in the fourth quarter when we spend more on travel to warm destinations!
Though the dividend amount was down quarter over quarter, that is only due to the special dividend Costco (NASDAQ:COST) paid out last quarter. With the special dividend taken out of the equation, dividends were identical to Q2 showing only the bonus of dividend raises. Dividends totaled 0.66% of the portfolio.
Option income was lower than usual this quarter at 0.24% of the portfolio. Option income is not something I push for. If I see opportunities and can take advantage of them, great, but I do not pursue them for their income alone. I target win-win situations and like to be fairly certain I will be happy with the outcome before writing the puts. The gradual decline of many of the names I have written puts on in the past had me mostly waiting this quarter. I currently have options on Enbridge (ENB), CIBC (CM), and Visa (V), all with different expiry dates. I try to keep one USD company and three Canadian companies on at any one time, so I have room for one more.
The balance of all our accounts dropped about $35,000 from May highs to early September lows, and has recovered fairly quickly to within $10,000 of those highs. The highs and lows do not follow the quarter end dates so the result is that the portfolio balance quarter to quarter looks stable, but in reality it was not. The capital gain of the portfolio was a capital loss of 1.24%, leaving the total return negative at 0.33%. One of the factors in this negative return has been the rise of the Canadian dollar and drop of the U.S. dollar. Though the U.S. stocks have outperformed the Canadian stocks this quarter, the results do not show as positively when translated back to my home Canadian currency. Meanwhile many of my Canadian holdings dipped or just moved sideways during this quarter and several specific stocks were more responsible for the portfolio balance drop.
Enbridge (ENB)
The chart shows the drop from around $55 in early May to $49 52-week lows. I have been a shareholder since August 2011 at $28.57, with a current ACB of $44.36. Though the drop was disappointing, it did not make me want to sell the long-term holding. However, having a full-sized holding, and not as enamoured with the industry these days I took no other action than writing a put. If I get put the shares in January, they will be at a cost of $50.98, so I will not be too disappointed if that happens, though I would prefer the share price to return to more recent highs.
Inter Pipeline TSX:IPL or (OTCPK:IPPLF)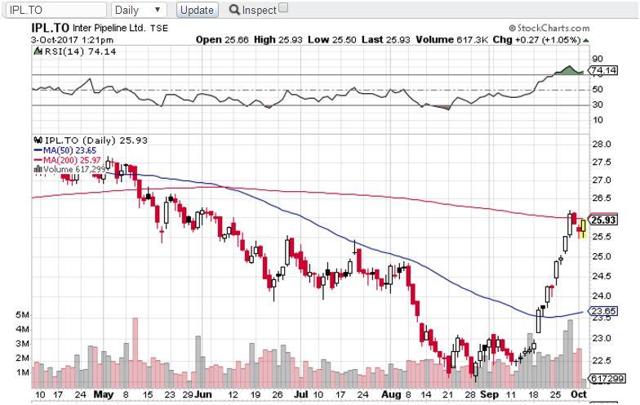 Compared to the 11% drop in the share price of ENB there was an 18% drop in IPL. I did not buy more shares, as I had added to the holding in March at much higher prices, but the DRIP program added a few more shares at attractive prices. Though IPL is a smaller holding, the growth prospects and the attractive dividend means it will remain in the portfolio. I am underwater on this holding.
The Cineplex TSX:CGX or (OTCPK:CPXGF) share price suffered with all of its industry peers after a second quarter of poor earnings. The market is definitely communicating to the company that it wants to be shown better results.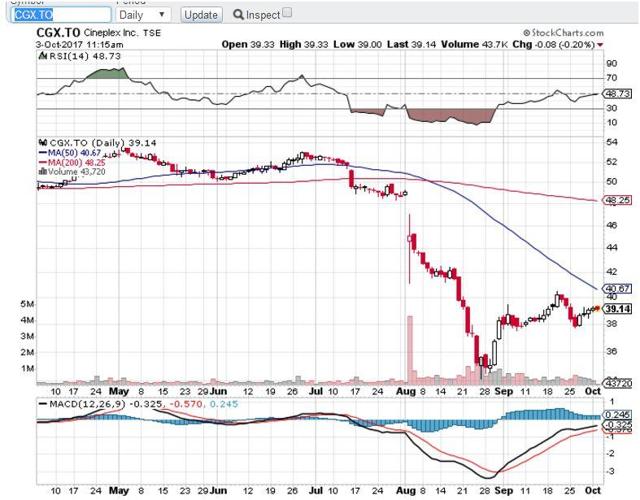 As a long-term holder of Cineplex, I am willing to be patient for a while, but unfortunately I doubled my holding in February, otherwise I would still have gains. I have been very impressed at the diversification of the company away from complete dependence on Hollywood's movie slate, but obviously the market is less so.

Tourmaline TSX:TOU or (OTCPK:TRMLF) has experienced more of a slow erosion than a precipitous drop. This is a higher quality name in a unloved industry, but as this is a very small holding, I was very tempted to 'double down'. Instead I decided to buy Precision Drilling TSX:PD or (PDS) September 11th. In order to use the Tax Free Savings Account (TFSA) to house the PD shares, I sold off some Manulife (MFC) shares which had appreciated over 40%. This will mean an income hit for next quarter, but hopefully the capital gain will make up for it. So far, the trajectory of the PD shares is looking better than TOU's, and the increase in the PD shares is encouraging, too. As with TOU, PD is not planned as a long term holding, just a trade, attempting to take advantage of a recovery in the energy space.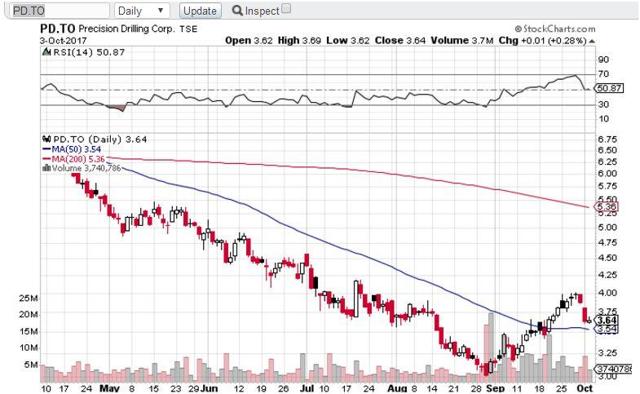 I was put shares of AltaGas TSX:ALA or (OTCPK:ATGFF). It was not terribly disappointing and certainly not a surprise. It is now my largest Canadian holding, which is not where I would like it to be. For now the hefty dividend is worth waiting to see how the WGL acquisition will proceed, but ideally I would like to see the holding one-third smaller. I would really like to see that sale happen at $31, but I am not sure I will be patient enough to wait for that.
Newell Brands (NWL) is a recent purchase for the portfolio. As the Canadian dollar has soared above 80c and started to pull back, I decided that it was time to exchange some dollars. I had originally planned that the portfolio would be 50/50 CAD/USD but that plan seemed far less attractive when the Canadian dollar dropped and continued to languish. The recent spike above 80c, seemed like a good opportunity to exchange some currency. That precipitated a temporary sale of Stella-Jones TSX:SJ or (STJLF) which I plan to repurchase soon, once various shares and money get homed in accounts with a more ideal location. With fresh USD, I looked at several stocks before deciding on NWL, including Home Depot (HD) and Facebook (FB). Although Home Depot looks like an excellent company with some nice tailwinds, today's share price looks a little daunting for a purchase. I looked at HD and Costco with my brother in the spring and he choose HD and I chose COST. He definitely won! Facebook is a more recent purchase for my son's account but I decided to go a little more conservative for mine.
Newell Brands share price took a nose dive on news of the shortage of rubber with the hurricanes. This is expected to hurt earnings for the quarter, but is considered a temporary condition, out of the company's control, and is an unusual buying opportunity. The FAST Graph shows a normally overvalued company, suddenly dipping below the earnings line.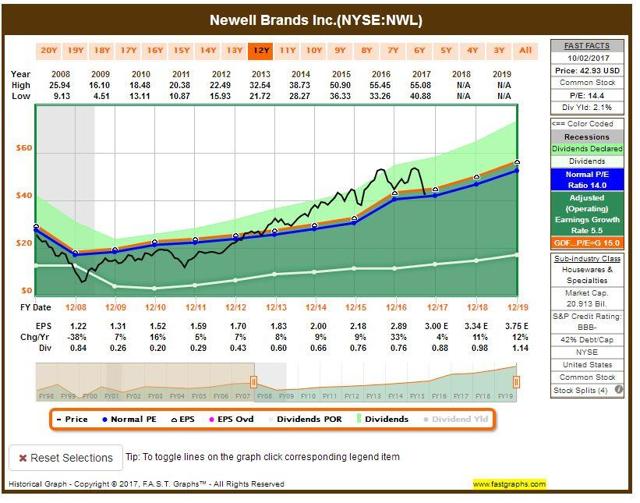 If the share price continues the dramatic rebound, I will have a hard time staying in and not taking quick profits, but this consumer products company certainly makes many of the items you use on a daily basis. You might not know the name Newell, but you definitely know the names Sharpie, Expo, Goody, and Rubbermaid. If not, look in any grocery, pharmacy or office store - their brand chart is impressive.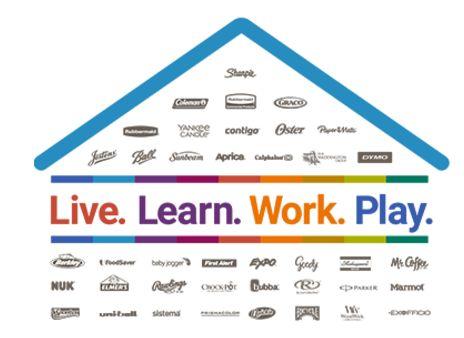 The portfolio on September 30th looks like this: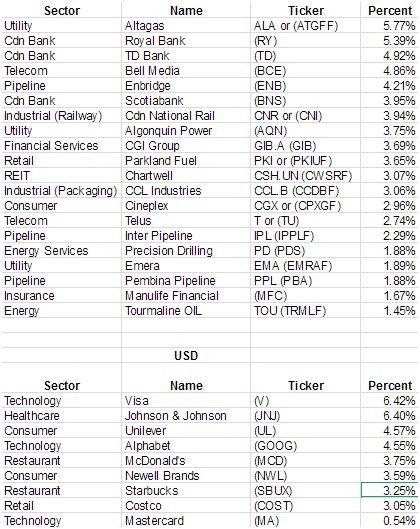 This portfolio is still a work in progress. I am very happy with most of the holdings, both for how they have performed and for how they are positioned for the future. As I mentioned I am waiting to divest one-third of my AltaGas holding, as well as the entirety of the Tourmaline Oil (OTCPK:TRMLF). I would like to see a larger holdings in quite a few of these stocks including CGI Group (GIB). I would also like to see greater exposure to U.S. Technology giants, likely using an ETF instead of individual names, another healthcare name, and maybe even more exposure to U.S. banks also possibly through an ETF, all using USD exchanged in the future.
There is always work to do in the portfolio and of course one would like to see fabulous returns every quarter, but I am generally pleased with the list of holdings and how they work together for diversification.
Disclosure: I am/we are long NWL, V, JNJ, UL, GOOG, MCD, SBUX, COST, MA, RY, TD, ATGFF, BCE, ENB, BNS, CNI, AQN, GIB, PKIUF, CWSRF, CCDBF, CPXGF, ANCUF, TU, IPPLF, PDS, EMRAF, PBA, MFC, TRMLF.
I wrote this article myself, and it expresses my own opinions. I am not receiving compensation for it (other than from Seeking Alpha). I have no business relationship with any company whose stock is mentioned in this article.
Editor's Note: This article discusses one or more securities that do not trade on a major U.S. exchange. Please be aware of the risks associated with these stocks.