A bit of background
Polar Power (POLA) designs and manufactures Direct Current (DC) systems. Its main focus is the telecommunication industry. However, they have other sources of revenue: electric vehicle charging stations, DC generators, DC alternators, military contracts, marine generators and Li-Ion Batteries.
It was established in 1979 as Polar Products. In the past they focused primarily on military contracts for the Navy, Army and Air Force. Among the top projects was the production of high reliability battery chargers for the security systems of nuclear arsenals. In 1995, the U.S. Department of Defense described their products as the most advanced generator in production. Now, 50% of their backlog is related to military expenditures. On Q2 of this year they expanded operations by setting up a customer service center in Romania and hiring five new sales executives.
One of the biggest risks the company had was that a significant portion of their telecom revenue depended on one customer, Verizon (VZ). In the Q2 earnings call the company announced that, after extensive testing, two new tier 1 carriers were starting to place orders. It was not mentioned in the call which carriers were added. However, AT&T (T), T- Mobile (NYSE:DTE) and Sprint (S) are listed as customers in their latest investor relations update, so it should be one of those. Telstra (TLS), Grameenphone and Airtel are also listed as customers, which could be a good sign of the recent expansion.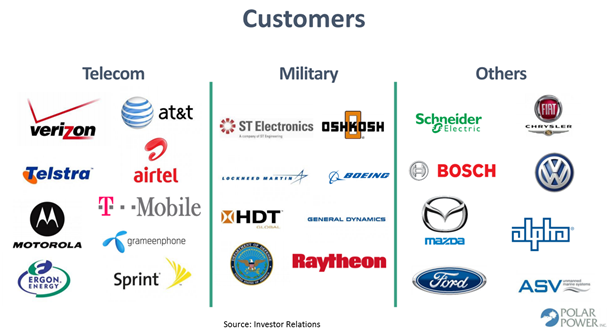 The military sector is well covered with customers like Lockheed Martin (LMT), Boeing (BA), General Dynamics (GD), Raytheon (RTN), and Oshkosh (OSK), among others. For their other products, their key customers are Schneider (OTCPK:SBGSF), Fiat (FCAU), Volkswagen (OTCPK:VLKAY), Mazda (OTCPK:MZDAY) and Ford (F).
What do they sell to the telecom industry? In case the main power supply fails, cell towers require energy backup systems. Polar Power sells both: DC generators, which work typically with diesel, and hybrid systems that use solar panels. High reliability for cell towers is not only a good business practice. Since hurricane Katrina and Sandy, the FCC regulates the amount of backup capacity all cell sites should have.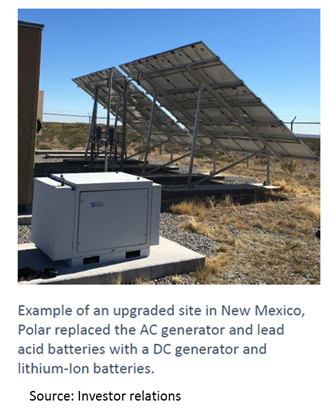 The Stock and Valuation
The price plunged shortly after the IPO last year and the stock is now trading in the $4.5 range. The company has $1.48 in cash per share and no long-term debt.
Since the IPO launch last year, the company has clearly stated that the first two quarters of 2017 would be of aggressive expansion, and on Q2 conference call it was reiterated.
"In conjunction with this progress and after completing comprehensive sales forecast discussions with our new U.S. Tier 1 carriers, we're confident that the second quarter was a low point in terms of financial performance, and the subsequent quarters will demonstrate sequential quarter-to-quarter growth improvement." - Rajesh Masina CEO, Q2 earnings call
Even forecasting the expansion as a flop, the signing of the other 2 Tier-1 carriers is reason enough to guarantee forward EPS will be at least the same as the ones achieved in 2016 ($0.58). This would represent a 41% increase from the current EPS of $0.41.
Peter Lynch's method for growth valuation uses the ratio between the expected earnings growth and the P/E of the stock to determine its fair value. A stock that has a 1:1 ratio is a fairly priced. The higher the number the more underpriced the stock is.
Growth

10%

20%

30%

41%

PE

11

0.91

1.82

2.73

3.74

7.37

1.36

2.72

4.07

5.57
The chart above shows the Lynch Ratio with different growth rates and considering two stock prices. The first row shows a P/E of 11, considering the stock price as $4.5. On the second row, the stock price is $3.02 which is the current price minus the $1.48 cash per share the company has. With either valuation it is clear the stock is undervalued. Even if the company returns to $0.58 EPS in three years it represents a growth rate of 10% annually, which is extremely conservative. I believe the stock is highly undervalued and has little chance of going below its 52 week-low.
In conclusion
While military contracts are difficult to predict, with geopolitical tensions rising and the military budget increase, it is reasonable to expect an increase in revenue from this sector. Military grade quality applied in the regular market ensures quality superiority. With a long history of technical success the company has a clear technical edge.
Arguably, as a consequence of the hurricanes suffered this year the FCC regulations might increase, but at least they should remain the same. The upcoming rollout of 5G networks and growth in the telecom industry internationally should keep the telecom industry revenue growing for the following years.
For the long run, electric vehicles will surely increase and so will the need for charging stations. Aside from Tesla (TSLA), most car manufacturers will probably outsource the manufacture of DC charging stations, and more likely than not they will use their current vendors to do so. While the electric car station is not significant in terms of revenue now, it has great potential.
There are other companies that manufacture generators, solar cells and have DC current systems (Like General Electric (GE), Caterpillar (CAT) and Cummins (CMI)) but their DC divisions represent a very small portion of their earnings. Even a big increase in sales of DC equipment will not move the stock price significantly for those companies.
Polar Power has the technology to compete against bigger companies when it comes to DC, and it has the means to grow and sustain itself through a rough patch (if it comes to that). Its revenue is diverse enough to ensure its success is not dependent on one customer or one industry, but at the same time its core business remains clear.
With very little downside and big potential it is a good time to consider this micro-cap company. Q3 earnings are expected to be released on November 6, and the street expectation is very low. Beating Q3 earnings could push the price up for good.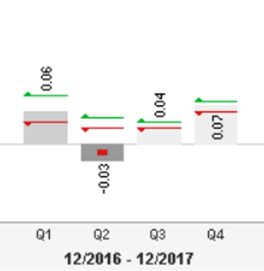 The Risks
If the company has not yet received enough orders or fulfilled its backlog in these three months, earnings could suffer for the remaining of the year and the stock price would suffer. The geographic expansion also increased its fixed costs, so the company needs more revenue to stay profitable than in the past. A decrease in revenue is highly unlikely in my opinion but there is certainly the possibility.
Disclosure: I am/we are long POLA.
I wrote this article myself, and it expresses my own opinions. I am not receiving compensation for it (other than from Seeking Alpha). I have no business relationship with any company whose stock is mentioned in this article.
Additional disclosure: If there is anything in this article you agree or disagree with or would like me to expand further I would sincerely appreciate leave a comment and I will address it as soon as possible. As I am long on this position I will continue to write about it. This article covers one or more stocks trading at less than $1 per share and/or with less than a $100 million market cap. Please be aware of the risks associated with these stocks. Please consider the high volatility of this stocks and the increased due diligence they require.
Editor's Note: This article covers one or more stocks trading at less than $1 per share and/or with less than a $100 million market cap. Please be aware of the risks associated with these stocks.