Last week, I deconstructed the red-hot, Lithium Index. In my article, I mentioned that the index consisted of 26 stocks. I focused on the larger players like FMC Corp. (FMC), Sociedad Quimica (SQM), and Albermarle (ALB). This index is up 52.6% over the last twelve months. It has also clobbered the market over the last three years. Now that is music to an alpha investor's ears! But, can it continue? See my last week's article for my opinion on that subject.
This week I want to take a look at several of the lower-priced stocks within this sector.
I run 5 portfolios at my money management firm. Two of them are growth-oriented. In those I strive to find the very best 25-30 growth stocks in each of those portfolios. One of the portfolios is mostly made up of large caps and mid caps, while the other one is mostly made up of small caps and mid caps.
I also run an income and growth portfolio. In this portfolio, I strive to find the very best income producers that also have potential capital appreciation potential. This completely rules out the bond market. I have written many articles about my dire warnings about the future of the bond market, my latest article was especially gloomy. Asset allocators take note, you have been fairly warned.
Just like an all-star team, I only have about 30 spots on each of my rosters, and I seek to fill those spots with the ones that I consider to be the very best. Why settle for mediocrity? I obviously need to make some changes to my roster along the way, as stories, charts, and valuations can change.
I also run a Best Funds Now portfolio for accounts that are not big enough to buy individual stocks in them. I usually draw the line at about $30,000. In this portfolio, I like to own anywhere from 5-10 positions in either the ETFs or Mutual Funds that I consider to be in the epicenter of the market. I have written about one of my ETF holdings IBUY. It focuses on the online retailers. It is up 32.9% since the beginning of the year.
My fifth portfolio is mostly for do-it-yourselfers. I call it my speculative portfolio. It is the one that the wife does not know about. It is my "fun" money, it is not my retirement money. I think that most investors and traders have such a portfolio. There is nothing wrong with this, as long as it isn't the rent money. Spouses don't like it when their husband or wife loses the rent money on a so-called "hot-tip."
Let's begin with a warning and disclaimer: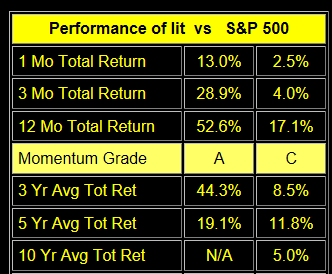 Data from www.BestStocksNowApp.com
The Lithium Index got off to a very slow start, but has been on fire over the last three years as the electric car begins to really take hold. Governments in Europe, India, and China now have very aggressive goals for decreasing the use of combustible engines, and some are even calling for an all-electric car future.
Here are the year-by-year returns of the Lithium Index (LIT):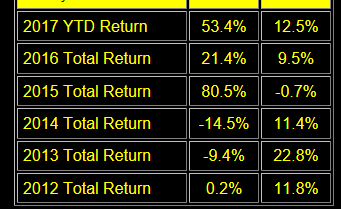 Data from www.BestStocksNowApp.com
In addition to the big stocks in the index, there are also quite a few sub-$5 stocks. One would think that there may be some good possibilities for low-priced stocks in this red-hot sector.
These lithium-related stocks would be found within the Basic Material Sector.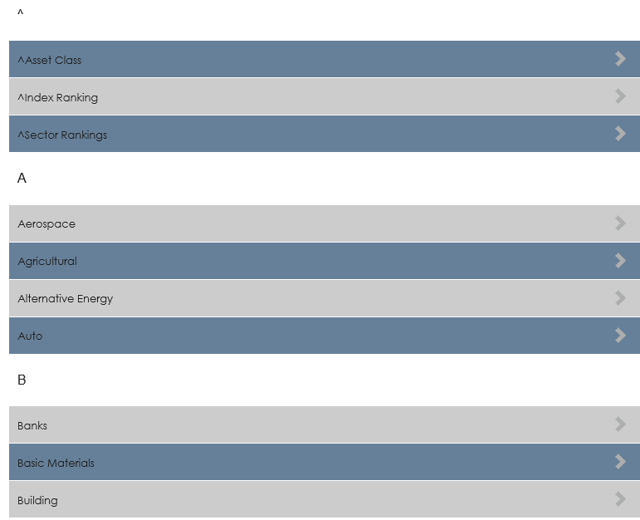 Data from www.BestStocksNowApp.com
When we examine the stocks within the sector, we can see that many of the current leaders in it are lithium-oriented.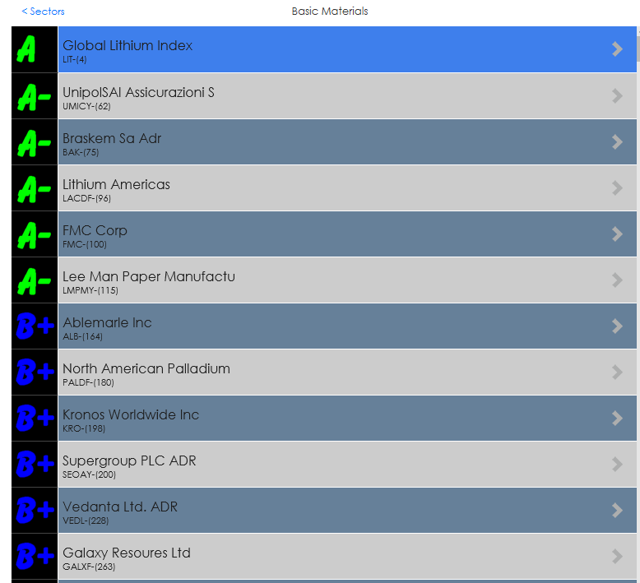 Data from www.BestStocksNowApp.com
My proprietary ranking system is based on short term, intermediate term, and long-term performance. It is also based on valuation, safety, and technical patterns. I currently have 5,433 domestic and international stocks, mutual funds, and exchange traded funds in my database. I mentioned in my article last week that the Lithium index is currently ranked at #4 overall. This is very unusual for an ETF. It is indicative of just how strong the stocks within the index are.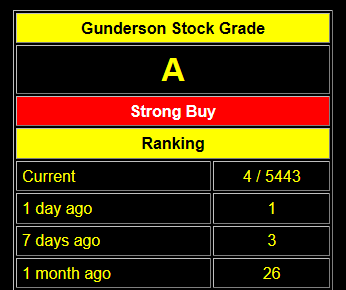 Data from www.BestStocksNowApp.com
Now let's take a look at some of smaller, lower priced stocks within the index. Galaxy Resources (OTCPK:GALXF) is an $826m market-cap company headquartered in Australia.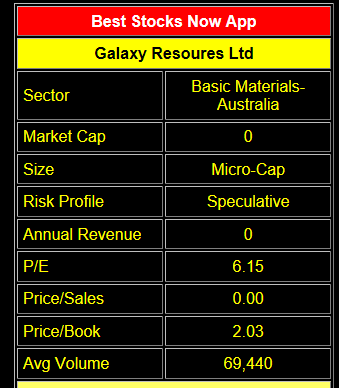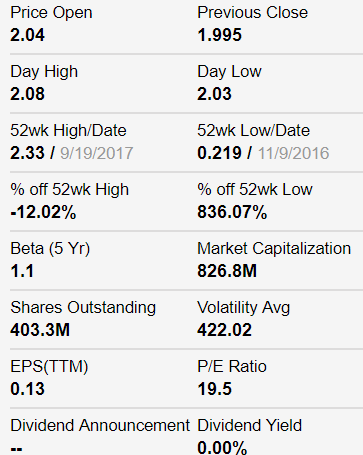 Data from www.BestStocksNowApp.com
Here is a description of what they do for a living via MarketWatch:
Galaxy Resources Ltd. is an Australian-based integrated lithium mining, chemicals and battery company. It explores for gold, iron ore, manganese, talc, uranium and tantalum. The company also produces chemical products. It projects include Mt Cattlin, Sal de Vida and James Bay. Galaxy Resources was founded on January 15, 1996 and is headquartered in West Perth, Australia.
From the description above, we can tell that the company is a real player in the lithium battery industry. The performance of the shares has been quite remarkable over the last one, three, and five years. These lithium stocks really started to take off during the beginning of 2016.
Data from www.BestStocksNowApp.com
Here is what a one-year chart of the stock looks like. It obviously had a major jump in May of this year. Around that time, Matt Bohlsen, a fellow Seeking Alpha writer and money manager wrote a very nice piece about the Lithium boom.

Here is what a five-year chart of the stock looks like.

Despite being a very speculative stock, it currently ranks at #263 overall in my proprietary grading system.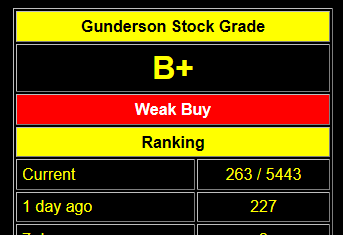 Data from www.BestStocksNowApp.com
The next one that I will mention is Orocobre Ltd. (OTCPK:OROCF). I discovered it when I deconstructed the Lithium Index.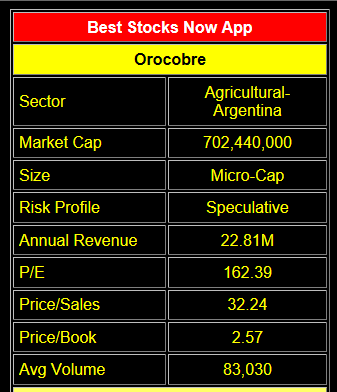 The company operates in the resurgent country of Argentina. Argentina is one of the leading indexes in the world this year, and it is getting ready to break out once again. It is up 37.9% year-to-date.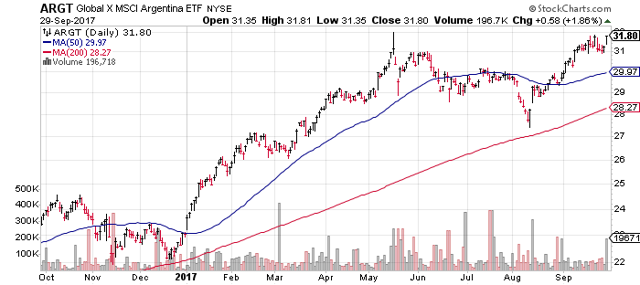 I can actually do a current valuation on the shares as the company is profitable.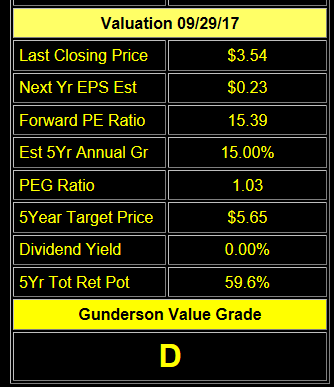 Data from www.BestStocksNowApp.com
It is not the cheapest stock around, but I can make a case for $5.65 down the road. This is based on $0.23 in EPS in 2018, a five-year EPS growth rate of 15% per year, and a reasonable multiple.
Much of the value has disappeared as the stock has gone on a very strong run since April of this year.

Here is what the performance of the shares look like.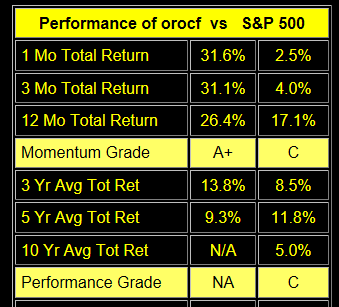 Data from www.BestStocksNowApp.com
As you can see from the screenshot above, this stock currently has a lot of short-term momentum.
Here is a description of the company's businesses via Orocobre:
Orocobre Limited operates primarily in Argentina in the mining industry. The Company engages in the production ramp up of its Olaroz Lithium Facility and the operation of Borax Argentina S.A. (Borax Argentina). Its segments include Corporate, the Olaroz project, South American Salars and Borax Argentina. Its primary focus is on exploration for and development of lithium, potash and salar mineral deposits. The Company's assets also include boron mines and processing facilities of Borax Argentina and a portfolio of brine exploration projects. Its Olaroz Lithium Facility is located in the Puna region of Jujuy Province in northern Argentina, over 230 kilometers northwest of the capital city of Jujuy. Borax Argentina operates over three open pit mines in Tincalayu, Sijes and Porvenir. Borax Argentina produces products, including minerals, such as ulexite, colemanite and hydroboracite; refined products, such as borax decahydrate, borax pentahydrate and borax anhydrous, and boric acid.
This stock currently ranks at 1,843 out of 5,443, but is definitely worth keeping an eye on it, especially if it pulls back a bit.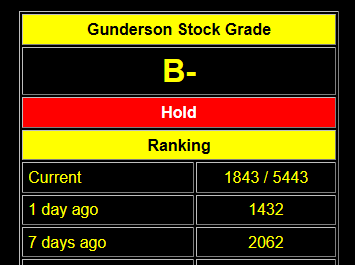 Data from www.BestStocksNowApp.com
Here is as five-year chart of the stock.

The last stock that I will mention is Lithium Americas (OTCQX:LACDF). It is currently the strongest of the three. It is also the largest at a market cap of $555m. It is still a micro-cap, and a very speculative stock, however.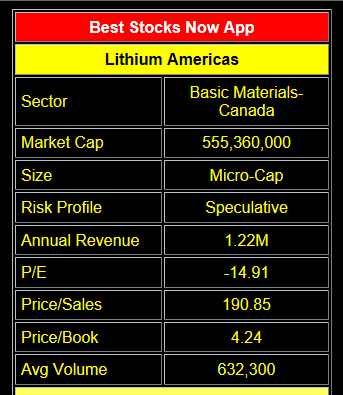 Data from www.BestStocksNowApp.com
Here is a description of the company via MarketWatch:
Lithium Americas Corp. operates as a Canadian-based mineral resource company. It engages in the acquisition, exploration, and development of lithium resource properties. The company focuses on the development of its Kings Valley lithium and hectorite clay deposit located in northwestern Nevada. It is a supplier of specialty drilling additives, Hectatone and other organoclay products for the oil and gas and other industries. Lithium Americas was founded by Raymond Edward Flood, Jr. on November 27, 2007 and is headquartered in Vancouver, Canada.
It is very difficult to put a valuation on this company, as they are not profitable yet.
The stock's performance has been very, very good, however. It has delivered a lot of alpha to happy shareholders recently.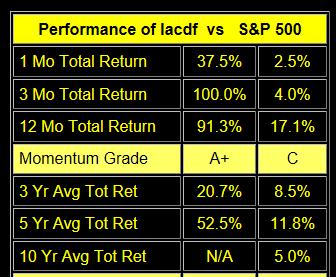 On a relative basis, it is currently one of the strongest stocks in the entire market. It is currently ranked at #96 overall out of 5,443.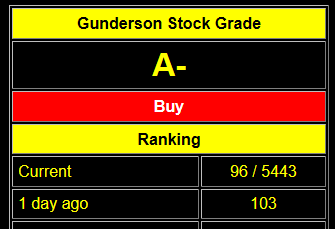 Its one-year chart is very strong.

Its five-year chart is also very strong, with a breaking occurring this year.

These are just a few of the under $5 stocks that look promising right now.
Disclosure: I am/we are long ALB, FMC, GALXF, LACDF, LIT, OROCF, SQM.
I wrote this article myself, and it expresses my own opinions. I am not receiving compensation for it (other than from Seeking Alpha). I have no business relationship with any company whose stock is mentioned in this article.
Editor's Note: This article discusses one or more securities that do not trade on a major U.S. exchange. Please be aware of the risks associated with these stocks.