It is useful to look back at old trades. We can learn from what went right or wrong, and with the passage of time, new opportunities can become apparent.
This is why I wanted to revisit my 'European Banks Have 40% Upside' from around a year ago. The trades worked well, but more than that, the way price has moved over the past year encourages confidence in further trades.
Then and now
When I first bought Deutsche Bank (DB) it was a risky bet. The very existence of the euro zone was under threat from Brexit, Frexit and Greece. QE was in full swing, the Euro was on its knees and euro zone banks looked like death.
This headline gives you an idea of the sentiment: 'Deutsche Bank bankruptcy would collapse world financial system - Jim Rogers'.
If you are a contrarian trader, it was the perfect time to buy fear. I figured the euro zone and the 'world financial system' would somehow struggle through.
And they did.
One look at the performance of the Euro (or EURUSD/FXE) shows how much the euro zone has changed in the last 12 months.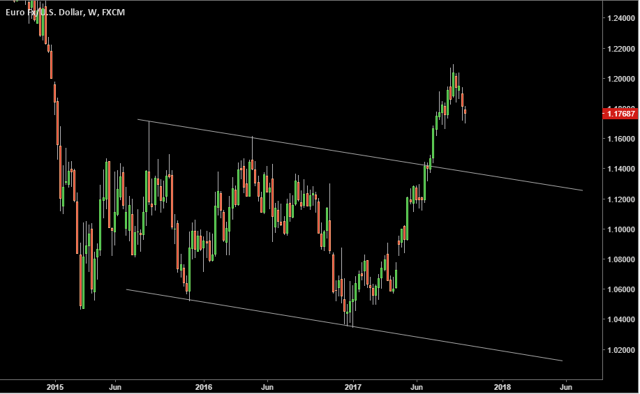 As you might expect, bond yields have gone up.
Source: Bloomberg
And nearly every economic indicator has been trending higher.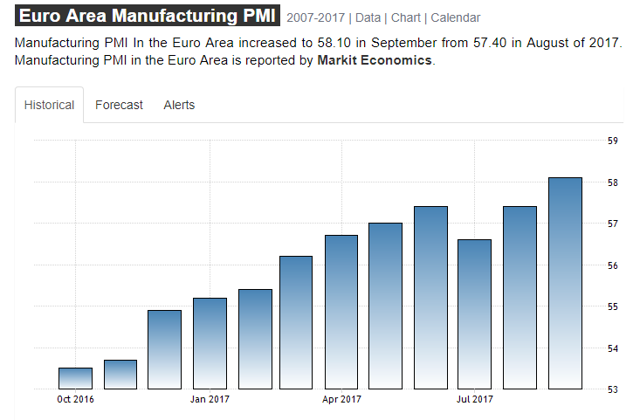 Source Tradingeconomics
To top it all off, the ECB is widely expected to announce the tapering of QE.
But if you had waited for these improvements before buying, you would have lost money on Deutsche Bank. The 100% rally topped out in late January and has moved sideways to down ever since.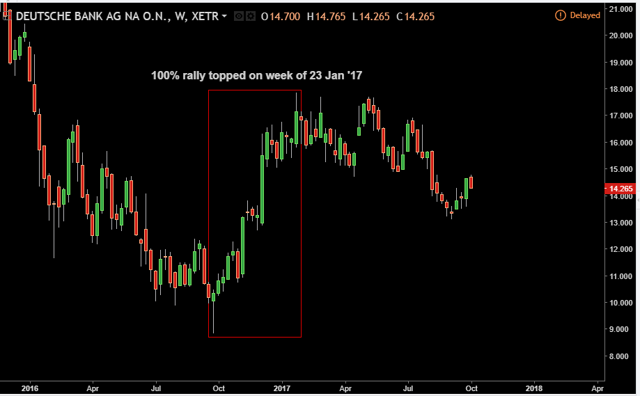 This highlights the importance of getting in early and anticipating. If you only look at today's data, you are usually too late to trade it profitably.
Looking forward
A recent IMF report highlighted the improvements in the banking environment, but made it clear there are still major problems.
European banking has made considerable progress in the past few years: Banks have built up capital, regulation is stronger and supervision has been enhanced. But profitability remains weak, posing risks for financial stability.
Under this backdrop, it will be hard for banking stocks to continue the rally. In fact, now the consensus view has shifted nearly 180 degrees, with many banking stocks now stretched, we could perhaps anticipate concerns like those highlighted by the IMF being used as an excuse for some profit-taking.
Interestingly, this is supported by the charts from my original article.
Here is the STOXX Banks EUR Price (SX7E), a STOXX sector index for the European banks.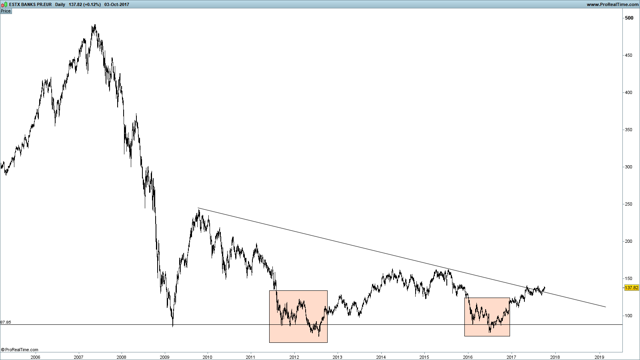 The test of the trend-line at 141 was my target for the rally and it topped at 140.9 in May. Any attempted break of 141 is likely to fail for a return to trade a range of 100-140.
UniCredit (UCG) was at the lows when I projected a rally based on the last time it recovered from a bear market.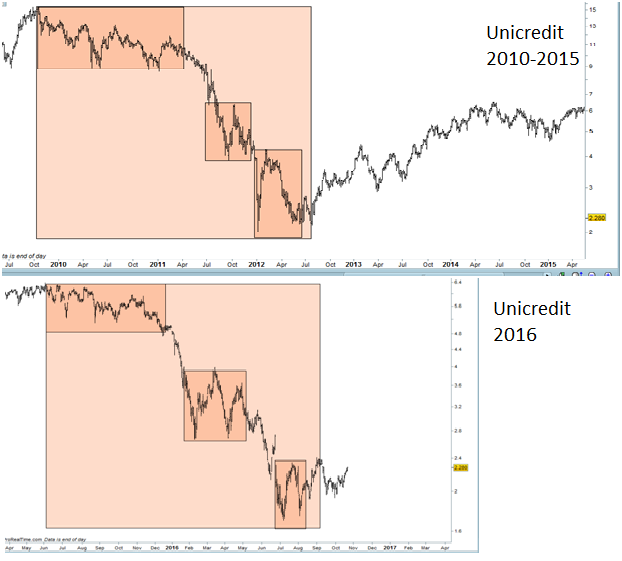 Here is an updated chart, and we can see how UCG continued higher in a similar manner.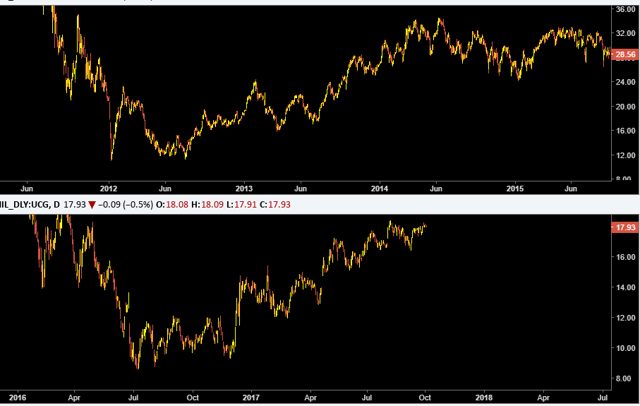 It is possible it can make one more high to 18.5, but this rally is nearing an end and could start to roll over. I'd expect a range of 12-18.
Deutsche Bank has already rolled over and could recover to 16.6 before more sideways trading.
If you are long euro zone banks, it could be a good time to take profits and sell into strength. Sure, things may look bullish, but the next crisis won't become clear until it is too late.
Conclusions
In this article, I demonstrated how important it is to anticipate a recovery and not wait till it is common knowledge. The opposite is also true.
Sentiment has gradually shifted in the euro zone and economic sentiment is now the highest since June 2007. While sentiment in the banking sector is less bullish, the recovery trade is now likely over. Technical targets have been hit and there is more downside than upside at this point. It will take time and some sideways trading to set up the next stage of the rally.
Disclosure: I/we have no positions in any stocks mentioned, and no plans to initiate any positions within the next 72 hours.
I wrote this article myself, and it expresses my own opinions. I am not receiving compensation for it (other than from Seeking Alpha). I have no business relationship with any company whose stock is mentioned in this article.