Welcome! If you're new here, it's probably because I bought something in your portfolio or on your watchlist. I should clear up the title for you: none of my holdings have to do with Brunch or Craft Beer (where's the Brunch ETF?). You see, I'm a Millennial and both are interests of mine. I hope that I can attract other Millennials and encourage them to invest. Now that I've debunked the title, let's get to investing.
You'll find that the portfolio as a whole does not subscribe to any single strategy. I aim to invest in long-term trends and diversify among strategies. I've got a variety of market caps, a REITs (it used to be plural), a group of value stocks, some speculative picks, a few dividend growth plays, and so on. If you want a detailed overview of myself and the portfolio, you can check out my first article.
My Holdings
Below I'll detail my current holdings, my concentration in each, and respective performance. I have a YTD gain of 23.07% and a one-year gain of 21.06%.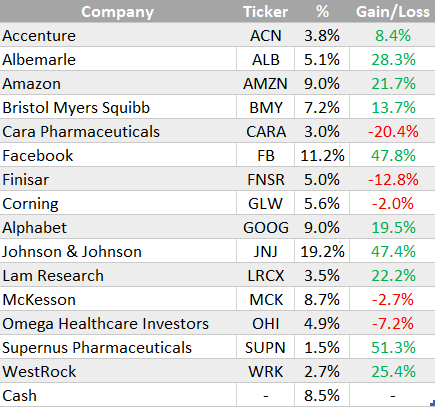 After my last article, I decided I wanted to put some of my large cash position to work. I subscribe to the BTFD strategy in most cases and followed the market in its rotation toward value - increasing my focus on fundamentals. With volatility remaining, I've decided I should look to re-gain some of that cash and have looked to take profits in some holdings. If you read on, you'll learn which stocks I bought and sold, and why.
The Buys
AXT, Inc. (AXTI): I doubled down on AXT after it fell some. AXT makes substrates necessary for semiconductor manufacturing. I'm not an expert in this space, so if you want more detail, I'd suggest Googling. Because I'm not an expert, I decided I would focus on the supply chain for semi exposure. The firm operates across the globe, so it provides nice geographic diversification, too. Another nice thing: no debt.
Bristol-Myers Squibb (BMY): The the market picked up volatility, I decided I'd look into some large-cap, value plays that provided a dividend. Keeping with my healthcare theme, I selected Bristol-Myers to provide growth from pharmaceutical development and diversity to some major players it works for. Not a totally accurate comparison, but I saw its P/E to be below Johnson & Johnson's (JNJ), my largest holding. Furthermore, it's got a comparable dividend yield. It's got a huge cash pile, a favorable leverage profile, and Operating margins >25%! At the time, it was below its 52-week high. BMY will be a long-term hold for me.
Corning, Inc. (GLW): I bought Corning pre-earnings and doubled down on its related sell-off. Corning is another value/dividend play. It's P/E is ~12, it's got a huge cash position, a favorable leverage position, and a nice yield at only a ~16% payout ratio! I believe Corning's diverse product line-up will only become more in-demand as autonomous cars and the Internet of Things grows. GLW will be another long-term hold for me.
McKesson Corp. (MCK): McKesson was purchases pre-earnings as a value play. Again, I doubled down on its related sell-off. McKesson's P/E is only 7, it's got a sizeable cash position, and its leverage isn't ugly. It was below its 52-week high at both purchase points. Pharmaceutical distribution should grow with the potential for digitization and online resources, and its exploration into care management services is an added bonus. I don't like its margins or its yield, but a 5% payout ratio gives it plenty of room to grows its dividend. I'd like this to be a long-term pick, but its margins make me nervous, so I won't hesitate to take gains.
Finisar (FNSR): A value play and semi-supply chain play, Finisar has a P/E below 10, triple-digit earnings growth, and tons of cash (certainly enough to remain cash-rich after covering its ugly leverage profile). The company manufactures fiberoptic systems and optoelectronics. Examples I can think of are 3D-touch and lasers for facial recognition and the like. While there are many competitors in this space, some with better margins, Finisar has some exposure to data-centers and should recover with the Chinese market, too. I doubled down on its recent sell-off, but soft 2Q guidance led to an amplified decline. Not to worry, it should recover as demand in this space grows and its large customer orders come to fruition. While it may turn into a long-term hold, I intend on taking my profits with this one.
Lam Research (LRCX): Lam is another play on the semi supply chain and was purchased after it sold off quite a bit. The purchase was somewhat impulsive, having run up quickly after getting on my watchlist, I took a BTFD approach and went for it. Lam's got great margins (>20%), a low dividend payout ratio (~18%), and a huge cash position. Its leverage ratio is about 1:1, too. This will be a long-term holding, too.
The Sales
AXT, Inc.: Now house money, AXT sits as a comfortably small position where I just want to see what happens. The original investment thesis is there and I expect some growth in the long-term. I might add on drop near my original position, but I don't see that happening without a major market sell-off.
Zynerba Pharmaceuticals (ZYNE): A developmental drug company brought down by poor trial results, I sold in a panic prior to the announcement. It seemed to tank all of a sudden, and whether it was algos or insiders, I didn't want to be part of such a volatile move. Everyone is always told not to panic-sell, but I wanted to preserve my capital here. I still made out with a gain.
Airgain, Inc. (AIRG): An Internet of Things play, the company makes embedded antennas. While growth prospects may be there, the reaction to earnings was unfavorable and the company refused to issue guidance. With such a speculative play, I didn't want to leave it to chance, and I opted to take a loss.
Daseke, Inc. (DSKE): This was bought during infrastructure-spending rhetoric. It had an impressive run and I believe it will continue to grow with its growth-by-acquisition strategy in such a fragmented field. I sold it to increase my capital position and to take gains as the market became more volatile. I may look to buy in again if the economy shows further signs of growth and the stock falls.
Realty Income Corp. (O): One of my REITs, it's a strong, stable company favored by income investors, of which I'm not. I bought it on the net lease REIT sell-off a few months ago with the intention of holding it until I could get a nice gain out of it. I set my sell price shortly after acquiring a position.
Store Capital Corp. (STOR): Another Net Lease REIT purchased after the sell-off, I had a similar perspective on Store as I did with Realty Income. A stable company with great growth prospects for its category, I BTFD and set a sell order shortly after purchasing. I may look to re-enter this one on any hit to the real estate market.
AXT, Inc. (AXTI) was exited to increase my cash position and solidify a nice gain. I expect the company will continue to grow, but also the stock price to come back down some. This could allow me to re-buy, likely in my Robinhood account. The amount I made between the house money play and the exit-price covered my commissions for a nice 33% gain.
The Outlook
I generally consider myself to be an optimist, and my perspective on the short-term performance of the market backs that up. I think companies are running business like there's going to be a tomorrow. As I mentioned in another article of mine, capex spending shows that company's are investing for continued demand. Despite optimism, it's always good to be wary of what may change market sentiment.
There's a lot of talk about the market being overvalued, which may or may not have its merits. I want to believe that we've made technology and the related efficiency, combined with having a more educated society, such a staple that traditional valuations aren't a reasonable threshold anymore. However, if the market is partially based on sentiment, then what I think doesn't matter. As I showed in my first article, linked above, only three times since WWII has a president not had a downturn in his first year.
I think the pivotal event will be tax reform. On a related note, I'm pinning a lot of the market sentiment on the faith in favorable outcomes from the government. While the administration's short tenure shows little proof of productivity, it has not failed on tax reform because it has not made a move to reform it yet. I think apathy toward geopolitical concerns and inconsistent rhetoric will cause further volatility.
Other concerns could include economic consequences of immigration reform and domestic trade preferences, which could impact the market and business for the long term. In any case, continuing the lack of progress in government will serve to unnerve the market faith in positive outcomes. Not to discount Fed action, the increasingly slow pace of contractionary policy might continue this slow-but-stable growth environment.
A few stocks I'm keeping an eye on for further diversification are Texas Instruments (TXN), Tencent Holdings (OTCPK:TCEHY), CyrusOne (CONE), Digital Realty (DLR), MercadoLibre (MELI), Altaba (AABA), Alibaba (BABA), and KLA-Tencor (KLAC).
Disclosure: I am/we are long ACN, ALB, AMZN, BMY, CARA, FB, FNSR, GLW, GOOG, JNJ, LRCX, MCK, OHI, SUPN.
I wrote this article myself, and it expresses my own opinions. I am not receiving compensation for it (other than from Seeking Alpha). I have no business relationship with any company whose stock is mentioned in this article.