Introduction
Having been interested in financial markets and investing since I was at school, I regrettably did not take the plunge to putting money where my mouth was until 2015. In this short time period I have made mistakes and had some winners but most of all I have enjoyed the process of preparing myself for future financial independence. Seeking Alpha and seeing the range of opinions and views it encapsulates is one of my daily habits at present. My favourite reading comes from authors outlining their portfolio's and updates on their performance. I want to add my two pence into the mix and cover my current portfolio.This may hopefully result in some people enjoying my updates and if nothing else keeps me accountable.
My background is that I am based in the United Kingdom, 24 years old and just this week have submitted my dissertation for my MSc. I start a new position next week and am hugely looking forward to starting working again after a year of studying. My focus both academically and career wise is on energy. At present I have been able to build a small portfolio and through work and the renting out of my flat I will be able to invest £750 a month. I also have a Cash Bond expiring in September which will give me another £10,000. I may however, just roll this over as the interest is 2.2% p/a. As I will have less spare time, I want to try and allocate the time I do have more effectively and try automate as much as possible of the investment process.
Goals
My goals for this portfolio will be a mix of short term tangible ones such as £750 of dividend payments in year and longer term intangible ones such as financial independence.
The short term goals give me something to aim towards and gives a measure of progress. These will most likely be dividends received in a year or total portfolio size. The first of which is £750 in a year and meduim term my goal is £356 a month, which would cover my mortgage payments.
The long term goal of financial independence, while much further away is ultimately why I am investing. The amounts at present are small and this is just a side project, with my main focus on my career, I want to start the slow and steady route towards independence.
In order to achieve these goals the main focus will be on value dividend paying stocks. This does not preclude investment in growth stocks if an opportunity arises. To my detriment (on occasion), I have a contrarian mindset. This results in me favouring stocks which have an unfavourable market sentiment but have strong underlying technicals. I also hope to learn more about the investing process will do this contributions on this site and books such as Benjamin Graham's the Intelligent investor.
Holdings
Currently I hold 12 stocks, which are supplemented by mutual funds held in a company pension. The stocks are listed below:
| Stock | Share | Dividend Yield |
| --- | --- | --- |
| AT&T (T) | 13.03% | 5.03% |
| Microsoft (MSFT) | 12.91% | 2.30% |
| BrookField Renewables (BEP) | 12.15% | 5.61% |
| Starbucks (SBUX) | 11.27% | 1.82% |
| Greene King (OTC:GRKGF) | 10.12% | 5.96% |
| Lloyds (LYG) | 9.81% | 4.10% |
| Shell B (RDS.B) | 9.74% | 5% |
| BT PLC (BT) | 7.07% | 5.37% |
| Cisco (CSCO) | 4.67% | 3.43% |
| HSBC (HSBC) | 3.27% | 5.25% |
| Cineworld (OTC:CNWGY) | 3.25% | 3.07% |
| Prudential (PRU) | 2.71% | 2.54% |
All of these have been opened in the past year and are in an ISA (Tax-free holding account) I was apprehensive about investing when pretty much every index is breaking new highs. But you have to be in it to win and I choose stocks either for their 'safe' yield or growth potential going forward. The 5%+ from AT&T, Shell and HSBC is sizeable and it will give more funds to re-invest in other opportunities.
My justifications for picking my first stock was not the most scientific and was rather scattergun in nature. It was HSBC after reporting a less than satisfactory quarter and their dividend remaining flat. This caused a 7% drop and I purchased my first stock. From this the decision making process has hopefully progressed somewhat. My first port of call for U.K. investments is the U.K. dividend champion website and reviewing the champion (25+ years) challenger (24-10 years) and contender (5-9 years) space. Like wise I use the great work by David Fish on the U.S. counterparts. From this I review which sectors are looking strong and narrow it down to firms in which to invest.
As I also mentioned above I like to buy stocks that are fundamentally solid but are facing challenges. I believe the overreactions are largely overblown for many of these stocks and are good opportunities. An example of this was AT&T leading up to it's last quarters results. On the back of a flood of articles and opinions on this site I started a position with a cost basis of $36.10. It is a cash generating machine and despite the large levels of debt that the Time Warner deal will bring, it looks poised to be well vertically integrated going forward.
I will cover why I have the holdings above individually in other articles but a few of note are:
Shell
I believe this company will be the future of energy due to it's strong diversification both within the new and old energy spaces. The most notable of which is the BG buyout which gives it an enviable position in the natural gas position. Owing to the perceived favourability of "clean" gas and it being deemed the electricity source of choice for many nations going forward this will favour shell. I fully believe that Shell will be one of the true energy powers in the coming decades due to diversification into many of the new energy arenas.
The yield of 6.06% is secure and is one of only three stocks in the U.K. to offer real dividend increases since 2000 (SSE and BAT are the others). In Q2 of this year with sustained oil prices under $50/bl, RDS was able to generate cash flow of over $11bn. This is being used to cover the dividend and has helped to bring down debt by $10bn between June 2016 - June 2017. As a nice bonus they also give an accounting cost of carbon of $40 for all projects, which shows anticipation any future policy shifts in that direction.
Starbucks
This one is more antidotal in nature, from my perceptions of being in Starbucks in a range of settings. In all circumstances I have observed it to be busy and there to be a queue. Whether the coffee is the best is debatable but the ease, standardisation and homogeneity of stores makes it a winner. The expansion in China will bring a brand new revenue driver to the firm. I think the value of people wanting to be seen holding the Starbucks cup is understated.
The negative reaction to last quarters results and subsequent 9% fall in price was largely a function of the growth story to some appearing slow. As noted it also had the positive note of full ownership of stores in China and closing of Teavana stores. Comparable sales in the U.S. were up 5% and up 4% globally. Revenues where up 8% across the company, which leads to the YTD revenues being up 8%. The dividend growth potential is what attracts me, with 5-year average growth being just under 25%. While not a predictor of future increases a payout ratio of under 0.5 leaves ample opportunity for growth with increasing revenues, even if EPS is at the lower end of estimates. The yield of 1.85% is in line with the retail-food sector and my longer term horizon means that in time this will grow to adequate levels.
BrookField Renewables
My most recent purchase and I a partnership that I admire greatly. They are one of the largest renewable asset holders in North America and have a global installed capacity of 10GW of wind and hydros. The management team of this company is strong and they are expanded their base in Europe to look for new opportunities. The large number of PPA's is perfect for hydro's which have large sunk costs and little to zero O&M, leading to strong cash flows. In particular their Brazilian and Columbian assets are linked to inflation (estimated 4.5%). In the next 5 years $700 will be spent on adding 1GW of new capacity with is already contracted, with almost half being in Brazil.
The partnership aims for annual total returns of 12-15%, which is under the CAGR from 2000-2016. The yield of 5.56%, 6 years of dividend growth (change of payment months in 2014 lead to technical decrease) and 5-9% target increase in distributions make BEP a good fit for my goals. This is coupled with a credit rating of BBB+ due to their position in the Brookfield group. The risks are growth into developing markets and new technologies which are outside their current remit such as battery storage.
Other Holdings
The mutual funds I hold are generally focused on growth: small cap focused (FP Crux European special situations) or in markets such as India (Franklin India) were retail investing is fairly difficult. While the focus is mainly on dividend growth, I believe it makes sense to invest in countries such as India which will be the drivers of global growth in my lifetime.
From these and the other assorted holdings, I have collected a grand total of £332 in dividend payments in 2017. These are shown in the chart below: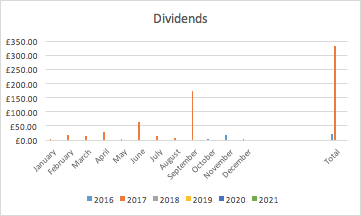 Going forward, the expected dividends for this financial year are £618. I will be updating dividend growth and amounts on a quarterly basis. Any dividends received will be invested and as noted there will be regular capital injected. I will cover my investing strategy as I go.
With the monthly capital additions and dividends I will look to make a new purchase every two months as broker fees are sizeable and would eat into any smaller investments. The new additions will be based on looking for value opportunities in the market and through both the U.S. and U.K. dividend champions lists.
Watchlist
There are a few of stocks that I currently have on my radar:
Munich RE (OTCPK:MURGY) - The re-insurer, has two reasons why I am interested: the first is the stock is Euro dominated. Due to certain political events in the U.K. the £ is nearing historical lows against the € and I want to hedge against this. The second is the dividend has grown from €2 in 2004 to €8.60 this year.
Ford (F) - This company seems to be unloved by many at the moment but a number of articles make a good case for investment. Sale of its higher margin cars are strong and I believe that the effect the hype surrounding Telsa has had on other car manufactures to be overdone. The U.S. car market does appear to being facing headwinds going to into 2018 however. The high dividend is the main attraction to this stock which until mid-late September was struggling.
Conclusion
The start I have made to my portfolio has been unspectacular but I'm not looking for instant success and hold to build this portfolio over time. Despite the market being at highs across the board, I recently saw that even those who invested at the peak of 2007 have now double their money (Bloomberg, 2017). This in conjunction with the fact that in real terms over a 20 year time horizon, an investor in the U.S. stock market as a whole has never lost money means that it's never to late to enter.
This month and next will see a flow of dividends come and the start of regular capital introduced. I hope to research the opportunities available and welcome any advice for readers to help me.
Disclosure: I am/we are long ALL POSITIONS LISTED IN TABLE.
I wrote this article myself, and it expresses my own opinions. I am not receiving compensation for it (other than from Seeking Alpha). I have no business relationship with any company whose stock is mentioned in this article.
Editor's Note: This article discusses one or more securities that do not trade on a major U.S. exchange. Please be aware of the risks associated with these stocks.