Thesis
Novavax (NVAX) is an inveterate tease. It is a biotech company that often seems to be on the cusp of something great, and then fails to accomplish anything.
It is given to bouts of enthusiasm only to fall back to the ground, such as occurred this last summer as described below. Those who are veterans of this name will recognize the pattern.
Nonetheless, this market has been favoring small biotechs with good prospects. Mightn't Novavax have another good run left in its tired story? Just as was true for Jim Carrey's character in "Dumb and Dumber", there is a chance. Novavax will probably survive for another good long period. Whether its current shareholders will prosper in the interim is a different question.
The thesis of this posting is that odds are stacked against Novavax's current shareholders. Near term catalysts are few. Novavax has some blisteringly positive long term prospects. It has no obvious cash runway to realize these prospects.
The Siren Song of Novavax is alluring.
In preparation for this article I listened to Novavax Q2, 2017 CC. What a positive spin the CEO and his Vice President of Clinical Development were able to put on the company's hoary efforts to secure FDA approval for its RSV vaccine candidates.
How marvelous to consider their latest, newest concoction dubbed Nanoflu vaccination, characterized by CEO Erck during the CC as a "major breakthrough". Against my better judgment, I started to think that maybe Novavax was finally on to something.
Wisely, I reconsidered. After reminding myself of what has gone before, I decided to keep looking. In its long history nothing good has come to those who jump in, with the possible exception of savvy traders. Their art is lost on me; I can practice it no more than I can juggle.
I own a few LEAPs in the name which I rather fear will expire worthless. I can't recommend anyone to involve themselves with this stock. Those who are still holding on should consider it as a prime candidate for harvesting tax losses.

Novavax recently wrote its latest sad chapter in its long history of futility.
There we were in the middle of one of the hottest summers on record in the US. Perhaps the heat got to me. Starting July 17, 2017, I noticed that Novavax jumped from $1.14 to $1.45. Novavax made new high lists for a couple of days. Pop! On July 24, 2017, just a slight week later, Novavax stock dropped its gains like a hot potato as shown by the chart below: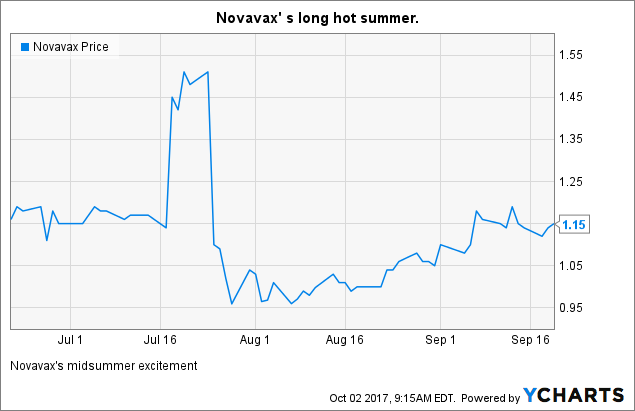 It was a classic case where the market was buying the rumors, then selling the news. Novavax had started the action with its 7/17/17 press release. It announced a 7/24/17 conference call to discuss topline data from Novavax's Phase 2 Older Adult Trial of the RSV F Vaccine along with reports on other aspects of its RSV F Vaccine development. The apparent cause for the deflation was actual issuance of this 7/24/17 data, per the following press release:
Novavax Announces Positive Topline Data from Phase 2 Older Adult Trial and Provides Path Forward for RSV F Vaccine Programs
Novavax's positive data was obviously not positive enough to keep the market interested.
I never outright sell any stock short...the risks of doing so have always seemed asymmetrically negative to me. Accordingly, I will make no suggestion as to whether Novavax is a good short sale candidate, although as shown by the chart below, the short sellers in Novavax have been plentiful and generally on the correct side of the trade in the past year+.
You can search high and low but it is difficult to find true consistency in this world. Chicagoans thought their Cubs might qualify after over a century World Series drought from 1908 forward. Then, 2016 came to spoil their record of consistent futility and in doing so cast doubt on the issue of truly lost causes.
Novavax is the biotech analog to the Cubs before 2016. Only difference is, expect no redemption of the 2016 variety for Novavax. It just keeps on plugging but it can't seem to break free from the gravitational pull of the ~$1.00 print. Sure, over its long life, it has managed to trade in brief spurts to the low teens. Such episodes never last.
Novavax's price charted against its short interest over the last five years tells a harsh tale. It appears that the short sellers have a significantly better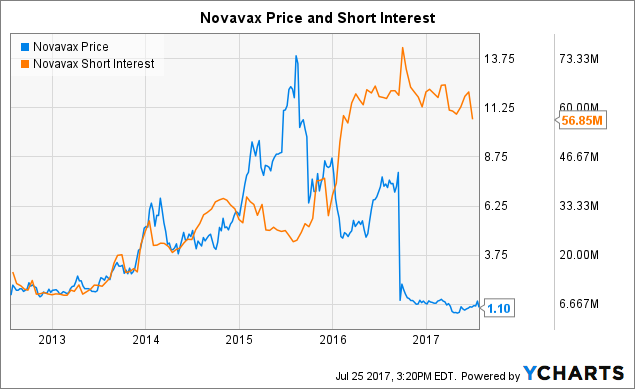 understanding of this stock than do those who have tried to play it on the long side.

When you buy Novavax, what do you get?
As is true for most development stage biotechs, with Novavax it is easier to figure what you don't get than what you do get. Most significantly, you do not get a stream of earned income, you do not get a dividend, you do not get product sales nor a record of FDA approvals.
You give up these more tangible items in return for a pipeline, a vision, a development team, and IP. In addition to these, you have to keep track of the company's cash: its cash on hand, its burn rate and the company's ability to raise more and at what cost to shareholders.
I will address the pipeline and the cash issue in more detail as they apply to Novavax in the following sections.
Novavax's pipeline.
Pharmaceutical companies are in the elixir business. This is particularly true of Novavax. If its pipeline were to succeed to its fullest ambition, countless lives would be saved, countless suffering would be avoided and countless millions of dollars would be earned.
I set out Novavax's pipeline from its website below: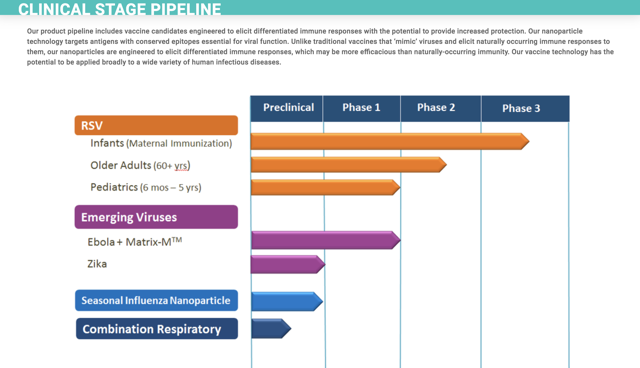 Ebola and Zika are high profile scourges which have the potential to impact Novavax's price when they are in the daily news. At the current time, they are not.
This likely explains why Novavax's recent 9/26/17 Ladenburg Thalmann presentation focused on just two of its other ongoing vaccination programs, RSV and Influenza. Novavax's RSV vaccination is its old standby on whose shoulders the stock has been lurching up and down for several years. Its nanoparticle flu vaccine is more of a recent addition.
RSV is an important target. Those who have experienced this personally or from watching discomfort of family members recognize a nasty upper respiratory affliction. After earlier identifying this vaccine as presenting a multi-billion dollar revenue opportunity, Novavax's presentation included the following slide setting out the scope of RSV: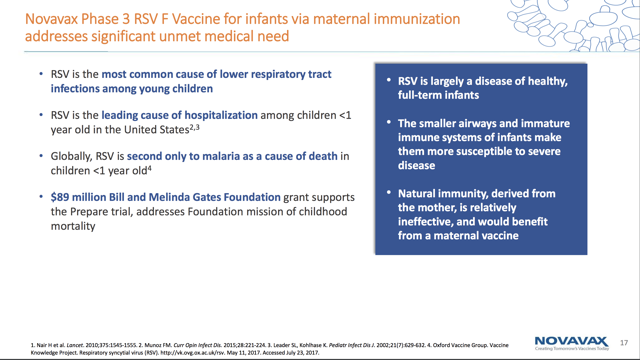 Novavax's cash situation.
Novavax had $187 million in cash and equivalents and marketable securities at the close of its most recent quarter, June 30, 2017. That sounds like a dandy cash cushion. And so it might be IF..., if Novavax had a cupboard full of FDA approved therapies along with a successful marketing function in place.
Novavax has neither. Instead it has a six month cash burn rate > ~$71 million with no prospect for an FDA approval before it will need to replenish its cash. It also borrowed a tidy >$325 million loan in a February 2016 financing.
Those who have held Novavax stock from last year recognize the power that potentially positive RSF vaccine trial results has on the stock price. When prospects are bright, as they were last summer, cash was easy to find.
Consider the chart below labeled "Optimism stokes dilution" which tracks Novavax's long term share price (blue line) against its outstanding share count (gold line).
Fall 2016 will live in infamy for Novax investors. The plunging share price shown above was the result of an unexpectedly negative FDA decision on its RSV vaccine.
Conclusion
Novavax is a company with a history. It has accumulated a net deficit approaching >$1 billion during its long life. So far it has been able to move ahead with a combination of grants, loans and share offerings.
The grants have been its savior to this point. But still Novavax has nearly 300 million shares outstanding with debt exceeding $300 million. The more straitened Novavax's circumstances: the less appeal it has in raising new loans; ditto with its negotiating leverage with JV or buy out prospects.
In sum, the Novavax story is looking tired. It recently tried to pare its expenses with layoffs. Unfortunately or fortunately, depending on how you look at it, it still has so much going on that its quarterly expenses remain significant.
I do not see Novavax as currently being an attractive investment for existing shareholders. Perhaps, if it would engineer a reverse stock split and then issue more shares, it would make sense for the new shareholders...not now.
Disclosure: I am/we are long nvax.
I wrote this article myself, and it expresses my own opinions. I am not receiving compensation for it (other than from Seeking Alpha). I have no business relationship with any company whose stock is mentioned in this article.