How Not To Be Fooled By Stock Buybacks
Summary
Stock buybacks typically generate much excitement.
Buybacks do not necessarily create any shareholder value.
Looking at reduction of common and fully diluted shares is a first step for finding buybacks, which did more than cover up dilution.
What does a stock buyback mean to you?
Management believes that their shares are grossly undervalued?
The company is creating shareholder value by reducing share count?
A better way to return value than dividends because income is heavily taxed?
All of the above could be true. But all too often there is a more sinister side to share buybacks. One example that I love to hate is Cisco (CSCO).
Cisco Buybacks And Cash Leakage
Below is a 10 year chart which highlights the amount of money used for share repurchases. The blue line represents the trailing 12 months of repurchases.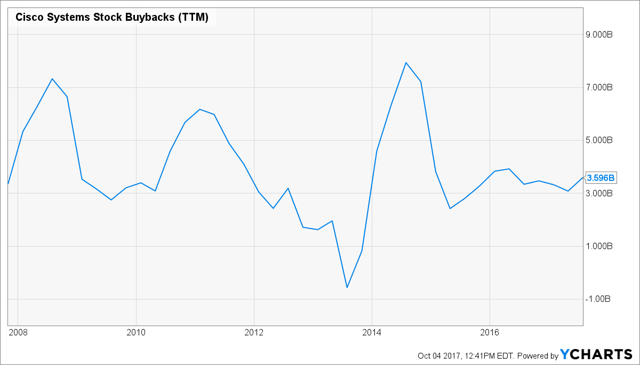 Over the past 5 years, Cisco has spent an average of more than $5.2 billion annually on share repurchases. Wow, the company must really care about shareholder value. Let's do some real quick math. Cisco had around 5.3 billion shares before entering this 5 year window. Assume an average buyback price of $25 per share. We should be seeing a reduction of at least 1 billion shares. But instead... we have one-third that amount. Where did the other two-thirds of shareholder value go?
This next chart will answer that question. It reveals how much buyback cash (trailing 12 months) went towards covering up dilution. You know…executive options, stock issuance and the like.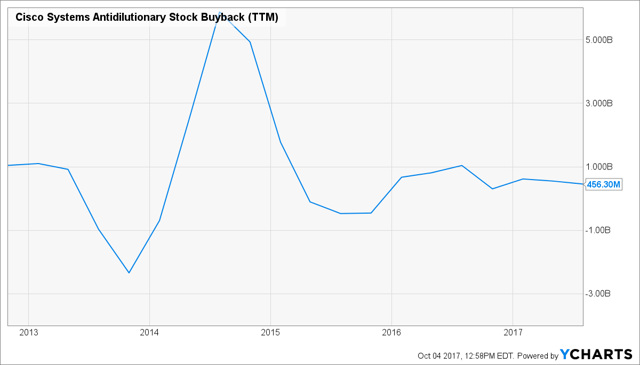 The net effect is that cash is disappearing from the company and shareholder value is being eroded. It sort of feels like a giant money laundering operation if you ask me - yet it is perfectly legal. Why not skip all the middle steps to save the shareholder a few bucks and simply award lump sums of cash instead of the costly steps of dilution and buyback? Just announce that Cisco would like to give out another $4 to $5 billion in prizes this year. Make it fun. Have a booth that people can step into where cash is blowing everywhere and let them walk out with as much as they can grab.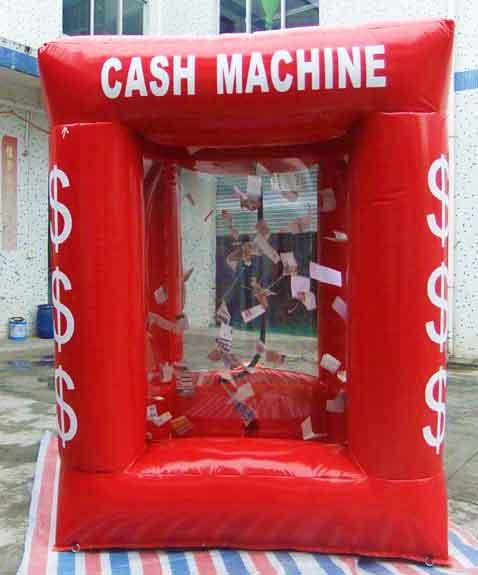 Even though dividends have higher taxes associated with it, I find them preferable due to total transparency. As well, you won't have the additional game of buybacks being coincidentally timed with the exercise and sale of executive options. Wouldn't it be nice to know in advance when a surge of buying will be taking place for you to sell into? But that would never happen - I am sure (cough, cough and wink).
Forget Buyback Dollars - Look To Share Count
An exceedingly simple test is to look at the share count. Just make sure you exclude any stocks which have reverse splits. Those should not be factored in.
I have developed a very basic ranking tool that looks at the common share count of today versus 10 quarters ago.
It also looks at the fully diluted share count of today versus 10 quarters ago.
That's it!
I simulate holding the 50 stocks which have most aggressively reduced their common and diluted share count in the S&P 500. Look at the results below compared to an equal-weight S&P 500 ETF (RSP).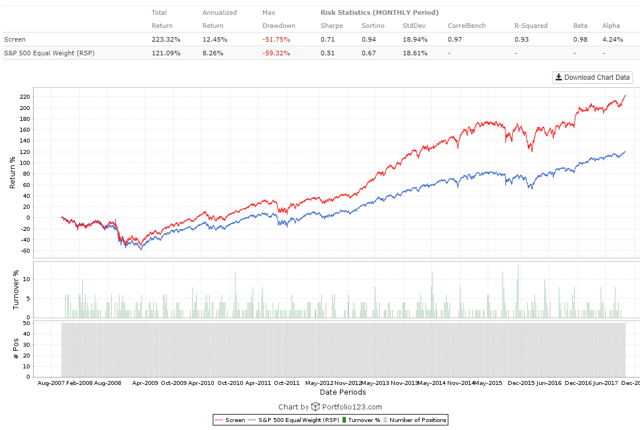 And look what happens when I create a market-neutral portfolio which is long 25 stocks with the most share reduction and short 25 stocks with the most share dilution.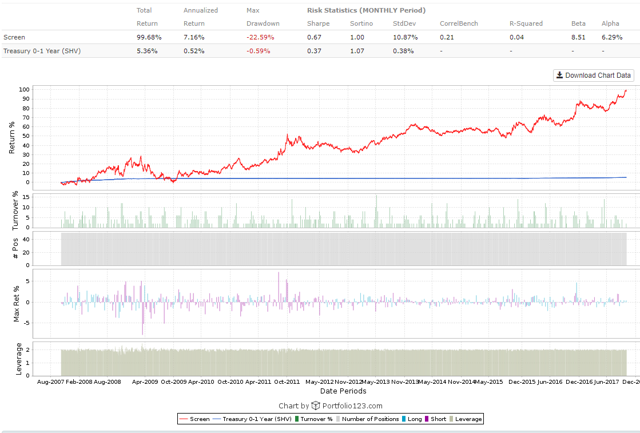 You have the beginnings of a highly liquid market-neutral S&P 500 system! Of course, don't run out and create your own hedged system based on these 2 factors - although you could. There are many other considerations you need look at. This is just one elementary tool to chisel past the hype.
The rules I outlined are ensuring that the share pool is in fact shrinking but it hasn't considered the amount of money spent to do so or how much additional cash is leaking out. It is, however, a starting point.
So what do I take from this lesson?
Dig Deeper
You need to dig a whole lot deeper into the financials than the amount of money being spent on share repurchases.
Dilution + repurchase = escaping cash
Shareholder value is being destroyed.
In fact, even if all the money was spent on non-dilutive repurchases, it is possible that you still won't increase your shareholder value. Shareholder value is increased only if shares are undervalued at time of repurchase. If valuations are too high, cash is not being spent wisely and you are still destroying value. And if someone is dipping into the pot of cash on top of a poor repurchase price -- poof! It is a disappearing act worthy of the next season on America's Got Talent.
Disclosure: I/we have no positions in any stocks mentioned, and no plans to initiate any positions within the next 72 hours. I wrote this article myself, and it expresses my own opinions. I am not receiving compensation for it (other than from Seeking Alpha). I have no business relationship with any company whose stock is mentioned in this article.