Healthcare REIT Intro
As global population aging continues, healthcare is one of the sectors experiencing an undeniable secular growth. Most income-seekers and buy-and-hold investors know to buy into healthcare REIT to gain exposure to the growth, but not all investors are aware of the different subsectors within healthcare and their distinct types of risks.
There are four major sectors within healthcare real estate and a couple niches:
Senior Housing – Net Lease: The landlord leases properties to an operating company such as Brookdale (NYSE:BKD) and Genesis and collects fixed rent payments. The operator then charges various rates to sublease the rooms to the elderly. Cash flow is fairly secured, because the owner is not directly exposed to occupancy or economic fluctuations. Counterparty/tenant credit is the main risk.
Senior Housing – Operating (sometimes referred to as RIDEA, referencing the 2007 act that allows REITs to participate in operating income of owned properties, instead of just leasing income): The landlord is also the operator of the properties, providing them with operational upside during good times but also adds cyclicality to earnings. Economic health and supply/demand are the key risks. The most well-known senior housing-focused REIT is Ventas (NYSE:VTR).
Skill Nursing Facilities (NYSE:SNF): These REITs have the highest yield and the highest percentage of government-paid tenants. Medicare reimbursement is the key risk. Omega Healthcare Investors (NYSE:OHI), a Seeking Alpha favorite, falls in this category.
Medical Office Buildings (MOB): Often joked as "doc-in-box", these buildings are typically rented to 10 to 200 physicians and pharmacists. Picture your chiropractors and dentists.
Life Science Buildings: Big, fancy buildings leased long term to biotech companies as headquarters and research facilities. Tenant credit is the main risk. There used to be two REITs in this space, but Alexandria (NYSE:ARE) is the only public player now as Biomed was acquired in 2015.
Hospitals
Since there is currently only one publicly-traded life science REIT and no pure-play hospital REIT, I consider those two as niches.
The Best Subsector for Buy-and-Hold
As an income investor with a long horizon, I believe the MOB sector offers the most attractive prospect as a buy-and-hold investment. MOBs offer exposure to the booming healthcare sector, decent yield, and dependable income while bearing very little regulatory and economic risk.
The rent coverage (defined as tenant's income divided by the rent) for most of the subsectors range from 1.1x to 2.0x, meaning that the average tenant could still cover the rent if they lose half of their income. The MOB subsector, however, has by far the most comfortable rent coverage ratio in the industry, usually above 8x. The reason is that doctors simply spend a smaller percentage of their income on rent compared to senior housing and skilled nursing operators.
Besides great rent coverage, tenant turnover is also low at MOBs - how often has your optometrist moved in the last decade?
Which MOB REIT is the Best Buy?
There are three major players in the medical office building space – Healthcare Trust (HTA), Healthcare Realty Trust (HR), and Physicians Realty Trust (DOC). I plan to determine which is the best buy by examining these three areas: Portfolio Metrics, Valuation, and Financing.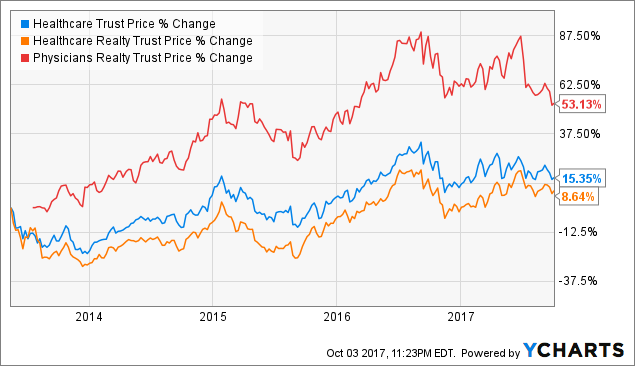 HTA data by YCharts
Portfolio Metrics

In terms of occupancy statistics, Physicians Realty Trust is the clear winner. DOC has the longest remaining lease term and highest occupancy rate in the peer group. Healthcare Realty Trust's low occupancy looks troublesome, but it could translate into near-term upside if the company is able to lease-up the properties. Lower occupancy may also be a result of lower portfolio quality or property location.
Valuation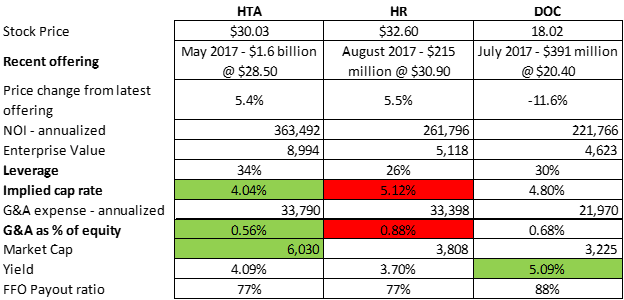 All three REITs have raised capital in 2017. HTA and HR are trading above their secondary offering price, while DOC is down 11.6% from its latest offering.
DOC also has the highest yield, but that is largely a product of its higher payout ratio (88% compared to 77% for peers).
Leverage is healthy for all three players. HTA has the highest leverage at 34%, which is still very conservative.
Implied cap rate is one of my favorite valuation metric to look at because it tells me if what a buyer of the stock is essentially paying for the properties at the current price. Looking at implied cap rate is similar to looking at NAV premium/discounts, and we will be able to tell whether a common stock offering is accretive or dilutive by comparing the implied cap rate to the properties purchased with the proceeds. For example, if HR issues stock at the current price (the market is valuing HR at 5.12% cap) to buy properties at 4.9% cap rates, they will be throwing good money after bad and destroying shareholder capital.
However, implied cap rate alone does not tell the entire story. Managements with strong capital allocation acumen are able to sell properties to fund buyback when their stocks are undervalued, and to issue equity to fund growth when their stock is overvalued. Over the long run, prudent capital allocation adds a significant capital appreciation component to total return, which is why companies with strong management often trade at a premium.
One last thing to consider in valuation is the cost of general and administrative expenses. REITs have simple business models. In a nutshell, shareholders are collectively paying SG&A expenses to a team of managers to acquire and asset manage buildings. Management's salary (G&A) is akin to property management fee paid to property managers of single-family properties.
All things equal, a property portfolio that costs more to manage should trade at a discount to peers since it returns less to the investors. In this regard, we can see that (at 0.88% SG&A expense to equity) HR is the least effectively-managed in the group, as it costs at least 0.20% more equity per year in G&A than peers. DOC is a lot more efficiently-run than HR, despite being smaller in size. HTA is the winner here as it has the lowest expense ratio and cost of capital.
Financing

Similar to G&A expense above, interest cost is another layer of "fees" eating away at rental receipts and potential dividends. Astute REIT managements are able to opportunistically reduce cost of debt to enable external growth (by buying properties).
Here, we see that HTA again leads the pack with the lowest cost of debt and overall cost of capital [leverage ratio*cost of debt + (1-leverage) * implied cap rate]. DOC's has the longest debt maturity at 6.6 years, and its 3.58% cost of debt is commendable, given its smaller size. HR's management drops the ball again here, leaving money on the table by not refinancing debt in this low-rate environment when the portfolio deserves a lower cost of capital.
Ultimately, the high cost of capital of ~5% means that HR will struggle to grow accretively through acquisitions without sacrificing quality. Not many quality properties are selling at 5%+ cap rates nowadays.
Conclusion
All three REITs have quality portfolios and safe dividends backed by healthy balance sheets, but HTA is the best buy at current prices with an attractive 4% yield. DOC is a good buy as well, given its higher yield of 5%. Do note that dividend increases at DOC will be slower than HTA due to the higher payout ratio and relatively difficult external growth prospects.
Taking both cost of capital and G&A expense into account, HTA is best positioned for external growth and has the highest dividend growth potential. HTA can submit the competitive bid while still making money if the three REITs were bidding for the same property. Unless HR management learns to run a tight ship and to allocate capital more prudently, its total return will continue to lag peers.
Marketplace Service For Those Seeking To Generate Income During Retirement
Launched in April 2016, marketplace service Yield Hunting: Alternative Income Investing is dedicated to yield/income investors who wish to avoid the froth associated with most of the equity market. We encourage investors to utilize the free two-week trial in order to benefit from our yield opportunities within closed-end funds, business development companies, REITs and other niche areas. Our goal is to construct a "low-maintenance portfolio" with a yield in excess of 8% on a tax-equivalent basis with capital gain optionality. The core portfolio is now up 21.3% over the trailing year through the end of August and generates a high-single-digit yield. For safe and reliable income streams, check out our unique marketplace service.
To subscribe to Yield Hunting: Alternative Income Investing, click the link below:
SUBSCRIBE - Seeking Alpha Author Research
Disclosure: I/we have no positions in any stocks mentioned, and no plans to initiate any positions within the next 72 hours.
I wrote this article myself, and it expresses my own opinions. I am not receiving compensation for it (other than from Seeking Alpha). I have no business relationship with any company whose stock is mentioned in this article.