Summary
Top North America seaport TEUs were up 8.8 percent through August, a 30-bps decline from July.
Collectively, August was up 5.8 percent versus last year, when considering top North America Seaports.
Laden imports remain the driver for improved traffic as laden exports continue to marginally decline; repositioning of empty equipment has also added to traffic growth.
Class I container traffic results have become marginally mixed; intermodal pricing remains a key focus.
Top North America Seaport TEU Review
During 2016, top North America seaport twenty-foot equivalent container units (TEUs) were on track to witness negative performance. This was the case through September for laden and empty imported/exported TEUs. It was not until October through December, that positive momentum was sustained to close the year out with an overall approximately 1.2 percent gain.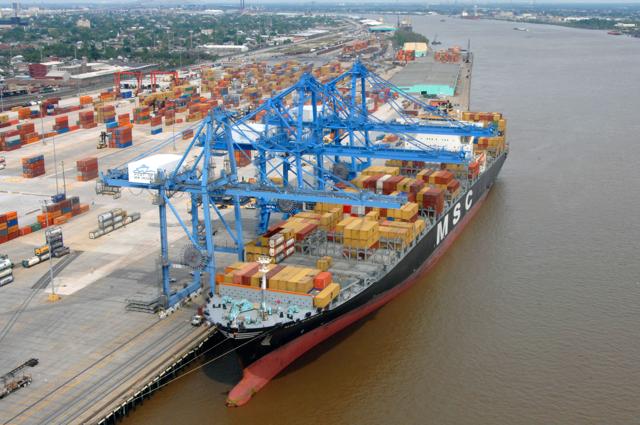 Port of New Orleans Source: Google Images
Through August 2017, performance has remained strong with top North America seaports witnessing 8.8 percent growth versus last year. This performance declined by 30 basis points (bps) from the 9.1 percent performance recorded through July. Results have remained robust across West, East and Gulf coasts for the year, non-U.S. and East Coast seaports are now leading performance.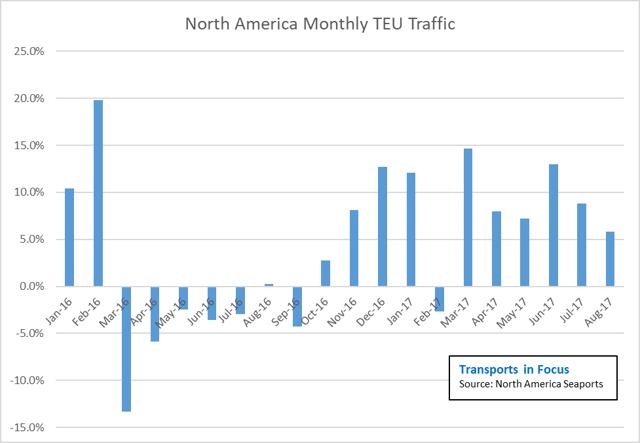 *Note: The seaports of Port Everglades, Jacksonville, Halifax, Wilmington DE and Mobile do not provide monthly TEU data. These mentioned seaports are excluded from the total calculation with the exception of Halifax, which is included quarterly.
August's performance declined sequentially for the second consecutive month. This pattern is somewhat similar to the March through May period. The performance trend has now been positive 11 out of the previous 13 consecutive months. Gross domestic product (GDP) came on strong for the second quarter, third quarter revisions have moved up to 2.8 percent of late. This bodes well for sustained demand.
Despite lower sequential performance, container TEU volumes continue to substantially outpace economic growth in the U.S. It will be interesting to see how container volumes perform during the final quarter of the year. Last year's surge will offer high baselines, which may result in declining performance, notably for November and December.
The list below provides an overview of Top North America seaports. Collectively, these seaports reflected greater than 90 percent of total TEU traffic during 2016.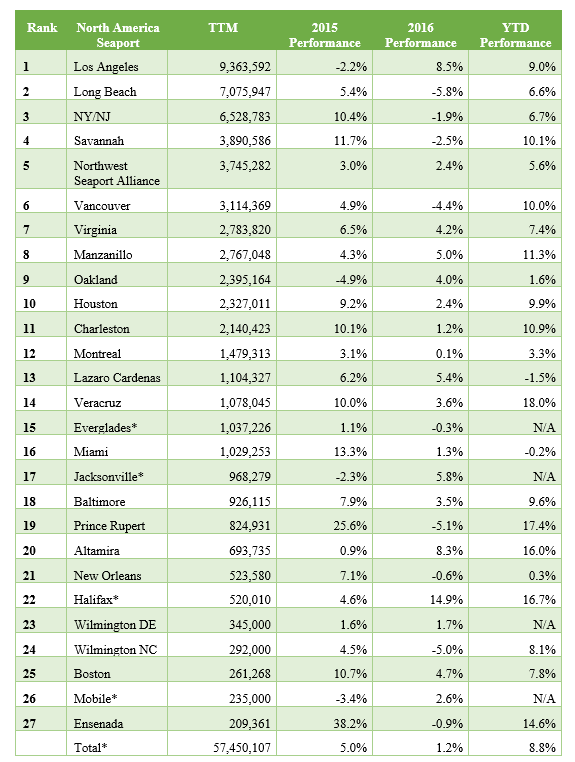 Source: Seaport websites, all numbers are subject to change based on revisions.
*Note: The seaports of Port Everglades, Jacksonville, Wilmington DE and Mobile do not provide monthly TEU data, and all TTM data is based upon the most recent fiscal year. Port Halifax provides quarterly TEU data so all information is as of the most recent quarter. These mentioned seaports are excluded from the total YTD calculation.
Performance in August remained solid across the board for many of the usual suspects, with the primary exception being Houston's performance, which was impacted by Hurricane Harvey. On the West Coast, top performers included Prince Rupert, Lazaro Cardenas and Manzanillo with results at 37, 14 and 10 percent from last year.
For the East Coast, top performers included Miami and Baltimore up with results at 18.5 and 12 percent. Gulf Coast performance was exceptionally strong aside from Houston. Top performers included New Orleans, Veracruz and Altamira with results at 48, 21 and 16 percent from last year.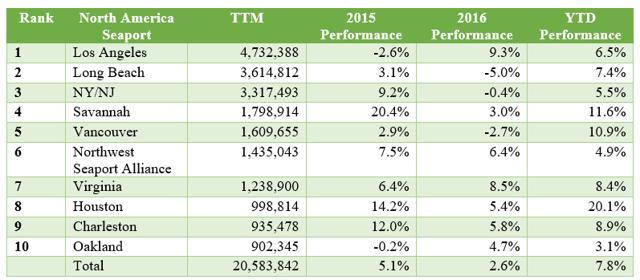 Source: Seaport websites, all numbers are subject to change based on revision.
Top laden import performers for West Coast seaports in August included Prince Rupert, Long Beach and Manzanillo (total imported TEUs) up 29, 11 and 10 percent year-over-year (YoY). Los Angeles, Vancouver and Lazaro Cardenas (total imported TEUs) were up from 3.5 to 5 percent. Oakland was marginally up, while the Northwest Seaport Alliance (NSA) was marginally down.
Top laden import performers for East Coast seaports in August included Miami, Baltimore and Savannah up 13.5, 13 and 8 percent YoY. New York/New Jersey and Virginia were both up around 5.5 percent. Charleston was marginally higher and Boston was marginally lower; Montreal (total imported TEUs) was down at -19 percent.
Houston's run of consecutive double-digit monthly YoY performance was broken after 14 straight months, results were down for the month at -4 percent. The majority of the shift went to New Orleans (total imported TEUs), which was up 36 percent, while Altamira (total imported TEUs) and Veracruz were up 16 and 13 percent.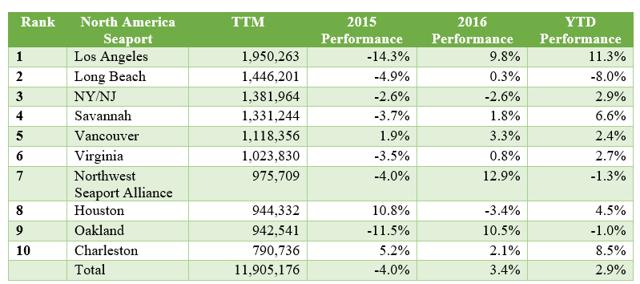 Source: Seaport websites, all numbers are subject to change based on revision.
West Coast seaport laden export traffic continued to be mixed YoY in August. Leading seaports included Lazaro Cardenas (total exported TEUs) and Manzanillo (total exported TEUs) up 24 and 11 percent. Seaports including Los Angeles and Prince Rupert were up 4 and 2.5 percent. Vancouver was down at -8.5 percent, and the NSA and Oakland were down by greater than -7 percent.
For East Coast seaports, leaders included Miami and New York/New Jersey up 24 and 6 percent. Montreal (total exported TEUs) and Baltimore were up marginally, while Savannah was flat. Charleston was down marginally and Boston was down at -8 percent.
For Houston, performance was similarly negatively impacted by Hurricane Harvey; results were down at -23 percent. Veracruz was once again dominant with 24 percent performance from last year (this marks the seventh consecutive month of greater than 24 percent performance and the 13th consecutive double-digit performing month). New Orleans (total exported TEUs) trumped all Gulf performance up 57 percent as cargo shifted from Houston; Altamira (total exported TEUs) was up 16 percent.
North America Class I Rail Container Review
Class I rail operators break down their container performance by international and domestic services. For international containers, traffic moved proportions were as follows: BNSF and Union Pacific near 50 percent, Norfolk Southern near 60 percent and CSX near 40 percent. Most container moves for both Canadian rail operators are international.
In addition to direct haulage of international containers, a substantial number of international containers are transloaded to domestic containers with proximity to seaports, for BNSF, Union Pacific, Norfolk Southern and CSX. From this perspective, a substantial majority of container traffic for Class I rail operators is driven by seaport TEU traffic.
Additional companies directly benefiting from these trends include J.B. Hunt Transport (JBHT) and Hub Group (HUBG). Many others in the freight sector also benefit including ocean freight forwarders like Expeditors International (EXPD), major truck brokers like C.H. Robinson Worldwide (CHRW), XPO Logistics (XPO), among others.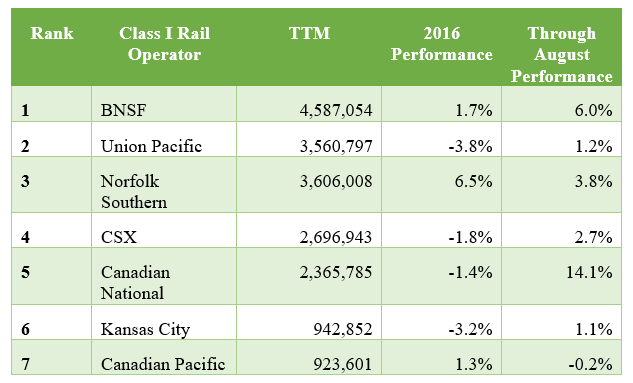 Source: Class I weekly container units carried
Performance in August was mixed for Class I rail operators from July. The top performers for the month were Canadian National (CNI), CSX (CSX), Kansas City Southern (KSU) and BNSF (BRK.B) with 100, 60, 50 and 40-bps gains. Union Pacific (UNP) and Norfolk Southern (NSC) both witnessed 10 bps declines, while Canadian Pacific (CP) witnessed a 40 bps decline.
Canadian National continues to stand out as the closest correlating Class I rail operator to TEU performance and remains the outlier, with the next closest being BNSF. The substantial outperformance of all peers, and most notably, Canadian Pacific is an indication of stronger market share growth. After temporarily being positive for the year, Canadian Pacific dipped back into negative territory.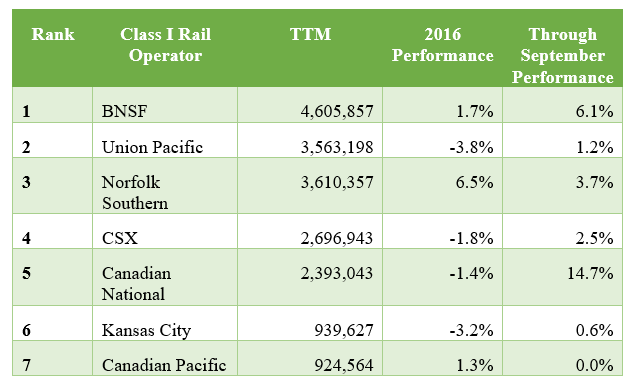 Source: Class I weekly container units carried
Looking to September, performance remains mixed, with Canadian National remaining as an outlier, and Canadian Pacific and BNSF showing modest improvement. Kansas City Southern, CSX and Norfolk Southern have all witnessed declines of 50, 20 and 10 bps, while Union Pacific has remained flat.
The stable performance for Class I's serves as a good indication that TEU volumes likely will remain in positive territory next month.
Summary
Clearly, Hurricane Harvey wreaked havoc on the Port of Houston. Cargo diverted to New Orleans, as well as other Gulf seaports in Mexico. Some cargo may have also diverted to the East Coast with Miami benefitting the most.
Overall, TEU demand looks to remain solid in the short term. Laden imports continue to be the core driver as laden exports have tailed off of late. Container repositioning has also contributed to sustaining solid volume growth.
The debate is ongoing as to how much more growth the current economic expansion can muster. Expectations for 2017 seem to suggest an acceleration towards 3 percent over the latter three quarters. Any sustained growth near this level bodes well for sustained TEU and Class I container traffic.
Disclosure: I am/we are long CNI, HUBG, JBHT, KSU, XPO. I wrote this article myself, and it expresses my own opinions. I am not receiving compensation for it (other than from Seeking Alpha). I have no business relationship with any company whose stock is mentioned in this article.