Zynerba Pharmaceuticals (ZYNE) shares skyrocketed last week as the company announced positive top-line data from a Phase 2 exploratory study. The top-line data was for Zynerba's ZYN002, a transdermal cannabidiol gel, for the treatment of fragile X syndrome in pediatric patients. This is Zynerba's 3rd press release regarding ZYN002 clinical trial results in the past two months. The previous two press releases (August 7th and 14th) regarding results were largely negative and sent the stock spiraling. This article will focus on the ZYN002 results made public in the last few months, and why I believe this stock is currently a pass.
Drug Pipeline
ZYN002 is a transdermal synthetic cannabidiol treatment which was originally going through clinical trials for 3 indications - refractory epileptic focal seizures, osteoarthritis, and pediatric patients with fragile X syndrome (NYSEARCA:FXS). Phase 2 clinical trial data was reported for the refractory epileptic focal seizures and osteoarthritis indications in early August with statistically insignificant primary endpoint results for both. Both trials were double-blind trials conducted at multiple centers, a point to keep in mind.
The two above studies reported very positive safety profiles which management made a point to emphasize in the press releases. Management stated in the release regarding osteoarthritis that they will continue development of ZYN002 for this indication despite top-line results not reaching the primary endpoint.
Zynerba's other drug candidate ZYN001, a THC pro-drug delivered via patch, is currently in Phase 1 trials for two indications, fibromyalgia and peripheral neuropathic pain. The goal of ZYN001 is to deliver a controlled amount of THC to the bloodstream to mitigate psychoactive side effects.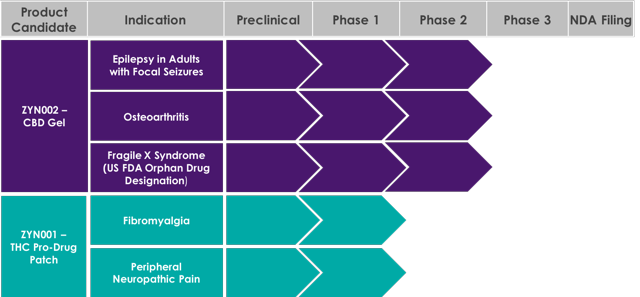 Figure 1. Zynerba Drug Pipeline
FAB-C Study in Children with Fragile X Syndrome
The recent 50% spike in stock price was due to well-received top-line Phase 2 data from the ZYN002 FAB-C clinical trial. Zynerba reported the participants in the FAB-C study showed a 46% improvement over the baseline at 12-weeks. The ADAMS scale (anxiety, depression, and mood scale), a qualitative instrument used to assess anxiety and depression in persons with mental retardation, was the method used to collect data on the participants. The top-line results were from an open-label 20 participant study.
Below are 3 key problems with the FAB-C study which lead me to suggest passing on this stock:
1) Open Label Study
An open-label study is a study in which the treatment is not disguised from patients or physicians during the trial. This means there is no control group to compare with the group getting medication. These types of studies are terrible choice, especially when a placebo effect could be in play. Open label studies are already inherently biased, but the two following factors in ZYN002 open-label study makes it even worse.
2) Low Sample Size
The top-line results of the FAB-C study are based on an incredibly low patient population for a phase 2 study. The study began with only 20 participants. Two patients dropped out of the study early due to worsening of pre-existing eczema during the study. The two patients who dropped out represent 10% of the initial participants number, a factor which much also be considered in commercialization thoughts. While the positive results of the FAB-C study were technically significant, phase 2 study results based on 18 participants should not be encouraging.
3) Children Participants in a Qualitative Study
This is not an intrinsically bad factor, but combined with the above points continues to remove credibility from the study. The mean participant age in the study was 10.7 years. Personally, I have a very hard time taking the results of a non-placebo controlled, qualitative study seriously. A placebo effect could certainly be play when imagining how the study was conducted:

Doctor: "Hey kid, you have a genetic predisposition to be more likely to suffer from mood problems and depression. Do you feel sad?"
Child: "Sure."
Doctor: "Alright, we're going to add this gel to your medications which might make you feel better."
Child: "Ok"
12 Weeks Later…
Doctor: "Hey kid, did that gel which was supposed to make you feel better help?"
Child: "Sure"
While this may not be exactly how the trial went, I'm having a hard time seeing the merit in a clinical trial with a mean age of 10.7 years. The combination of low sample size, open-label, and children participants makes the results of this study mostly insignificant in my opinion.

Deep Pockets Will Keep Zynerba Going
Now, here's the positive for Zynerba shareholders. The company has a very large amount of cash currently on hand considering current burn rates. Zynerba recently raised $58 million in a stock offering earlier this year with plans to put the money toward five phase 3 studies of ZYN001 and ZYN002. The company has nearly $77 million in cash and cash equivalents on the books as of the end of 2Q17.
They have been burning under $8 million a quarter in recent quarters, though this may increase if phase 3 studies begin to happen. Zynerba had in mind five phase 3 clinical trials when raising the money, but given it may pull the brakes on at least one, they should have enough runway until at least mid-2019.
Zynerba is trading at less than 2x cash reserves making it tempting to potential buyers. The question one must answer is whether they believe the company's products will ever be commercialized and if the commercialization will be successful.
Pass on Zynerba's High
Let me ask the question you should ask yourself before buying this stock:
Do the top-line results of an open-label phase 2 exploratory study for ZYN002's 3rd proposed indication merit such a large increase in stock price?
As with all micro-cap biotechs, there will inherently be some luck/speculation/mis-valuations, but I believe the circumstances are not in your favor on this one.
While the cash reserves may make Zynerba look tempting to buy, one must also consider all information given in the last few months regarding ZYN002 clinical trial updates. The point of this article is to identify why the stock spiked and why the news may not be as good as it appears on the surface.
Again, I'm not necessarily commenting on the technology and any potential applications. ZYN002 may in fact have potential therapeutic applications, but keep in mind the reality of the results heading into the future. If I was in a management position, I would certainly be reaching to put a good spin on any news at this point. To me, the problems outlined with the recently released FAB-C top-line data make this a very easy pass on buying. If you were an owner of the stock before, I would suggest holding but seriously considering the results of the last few months and the road ahead.
Disclosure: I/we have no positions in any stocks mentioned, and no plans to initiate any positions within the next 72 hours.
I wrote this article myself, and it expresses my own opinions. I am not receiving compensation for it (other than from Seeking Alpha). I have no business relationship with any company whose stock is mentioned in this article.