Based on Newzoo's global ranking, NetEase (NTES) is still far behind Tencent (OTCPK:TCEHY) when it comes to video games revenue. So much is at stake because the Chinese video games industry is the biggest in the world. Newzoo estimated that video games revenue in China will reach $27.5 billion this year. It will grow to $33.7 billion by 2020.
NetEase needs to compete better against Tencent's games if it wants a bigger piece of the lucrative Chinese video games market.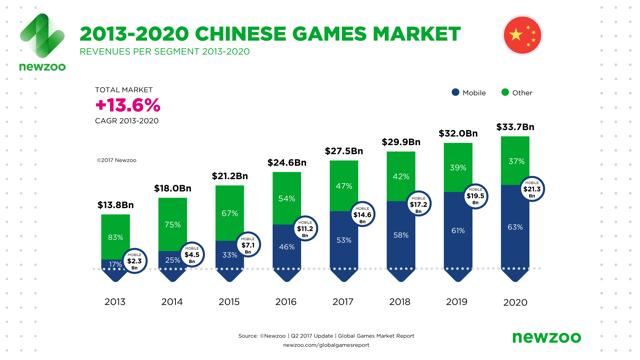 Tencent's Chinese MOBA (Multiplayer Online Battle Arena) game Honor of Kings remains the world's top-grossing mobile game. Since early 2016, Honor of Kings consistently beat NetEase's Android/iOS RPG (Role Playing Game) titles, Fantasy Westward Journey and Onmyoji. Tencent also owns the top-grossing PC MOBA game League of Legends, and the FPS (First Person Shooter) CrossFire.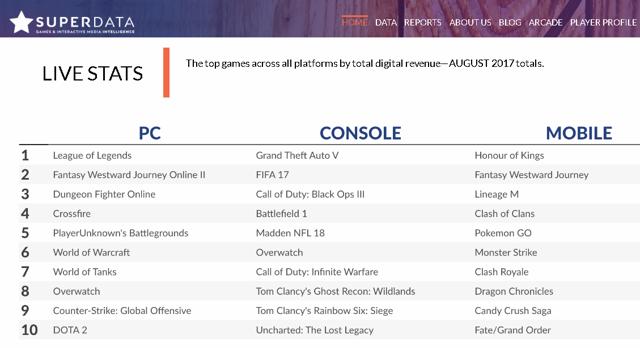 (Source: SuperData)
Catering To Former Heavy Players Of Honor of Kings
Honor of Kings reportedly grossed more than 5.5 billion Yuan ($810 million) in Q1 2017. The MOBA genre is successful on the PC and mobile platforms. It is understandable why NetEase recently unveiled its mobile MOBA game based on Onmyoji. NetEase needs a Chinese game that can directly challenge Tencent's League of Legends and Honor of Kings.
The RPG/CCG (Card Collectible Game) Onmyoji is the second top-grossing Android mobile game in China. Millions of players are already familiar with Onmyoji's different heroes. By using the same heroes, NetEase's MOBA game will find it easier to attract Chinese players. In any MOBA game, familiarity with the best combination of heroes and their skills is a requirement to win in match plays.
After a government newspaper criticized the addictive nature of Honor of Kings, Tencent was forced to limit the daily game time of players 18 years old and younger. The kids that cannot play Honor of Kings for more than one or two hours every day are ideal customers for NetEase's Onmyoji MOBA mobile game.
In other words, NetEase is taking advantage of the current situation. NetEase is releasing a MOBA game to satiate the daily need of young Chinese players to spend more than two hours on MOBA games. Chinese teens can only play two hours of Tencent's MOBA game, they will still have enough energy and idle time to play NetEase's Onmyoji MOBA game.
What's In It For NetEase
My takeaway is that players of Honor of Kings that used to play 3 to 6 hours every day will be tempted to spend more time on another mobile MOBA game. NetEase will reap long-term benefits if it can get a hefty number of players to spend 2 to 3 hours on its Onmyoji MOBA. The freemium design of games requires publishers to have a sizable number of daily active players.
The more daily active players there are, the more chances that a game can monetize through in-app purchases. Some of those future players of NetEase's first mobile MOBA game will probably spend $5 to $10 every month. Getting 10 million Chinese players to spend $5 every month on its upcoming Onmyoji MOBA is $50 million of potential new monthly revenue for NetEase.
NetEase's revenue last year was only $5.79 billion. Taking advantage of Honor of Kings' China dilemma (limited daily playing time) by releasing an Onmyoji MOBA game can theoretically add $600 million to NetEase's annual top line. Any product that could add more than 5% to a company's annual sales is already an important headwind.
I only guesstimated revenue from the Chinese version. Going forward, NetEase will also have to roll out an international version of its upcoming Onmyoji MOBA game. Tencent is busy rolling out international versions of Honor of Kings to maximize the said game's monetization potential.
My Takeaway
Jefferies downgraded NetEase two days ago from buy to a hold. However, I am still long NTES and I rate this stock as a buy. Onmyoji is already a popular mobile franchise in China. NetEase making a MOBA version of it to serve game time-limited players of Tencent's Honor of Kings MOBA title is opportune and cunning.
NTES currently trades well below its 52-week high of $337.55. It is now even more reasonably priced than TCEHY. The big decline in NTES's price since July resulted in it having only a P/E ratio of 17.95, forward P/E of 15.92, and P/S of 4.92. Tencent's P/E is 53.59 and its P/S is 15.12. NTES is clearly an affordable long-term investment if you like the video games industry.
It is also good to see NetEase taking the risk dipping into a new mobile game genre where Tencent currently dominates. Going forward, NetEase cannot rely solely on its core RPG genre expertise to grow its business. Boldness to try new things is necessary towards improving NetEase's competitiveness.
Further, NetEase has a new hit game to reduce its reliance on Fantasy Westward Journey and Onmyoji. Alibaba's (BABA) new video games unit is now headed by NetEase's former COO and co-founder Zhan Zhongui. The original lead developer of Fantasy Westward Journey Wun Yunyang now also works for Alibaba's new video games subsidiary.
NetEase has no choice but to expand its total addressable market in video games. Catering to MOBA gamers (who keep enriching Tencent) should improve NetEase's long-term prosperity.
Disclosure: I am/we are long NTES, TCEHY, BABA.
I wrote this article myself, and it expresses my own opinions. I am not receiving compensation for it (other than from Seeking Alpha). I have no business relationship with any company whose stock is mentioned in this article.
Editor's Note: This article discusses one or more securities that do not trade on a major U.S. exchange. Please be aware of the risks associated with these stocks.