While Qatar's isolation has not yet been completely lifted, the country has recently taken delivery of jumbo jet freighters. This is one of the most recent occasions of Qatar's muscle flexing, but the acquisition of a pair of jumbo jet freighters does make sense. In this article, I will have a look at the acquisition of the freighter jumbos as well as some other events of Qatar's muscle flexing.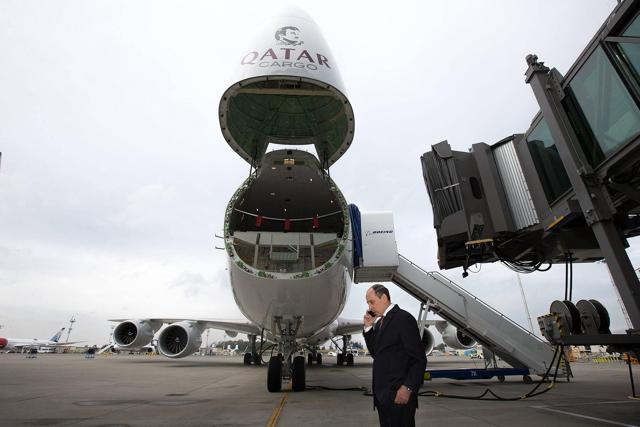 I expected a rather quick normalization in the political ties between Qatar and its neighboring countries. This, however, did not happen which makes it interesting to place some recent events regarding Qatar Airways into context.
Since the Qatar crisis started, there has been a whole lot of muscle flexing from Qatar's CEO Al Baker, where he even expressed his disappointment in President Trump and that shows how high the tension really is.
Airbus A350 cancellation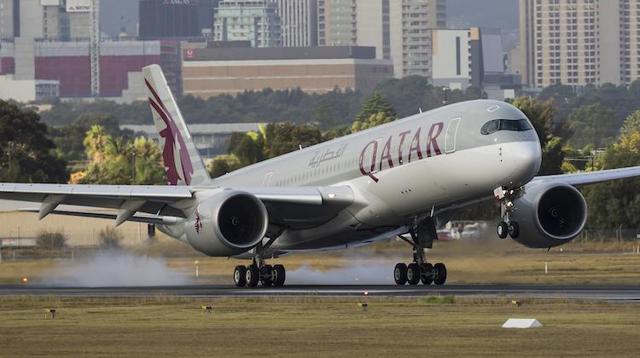 In July, Qatar Airways cancelled four out of tens of Airbus (OTCPK:EADSF) A350 aircraft it had on order with the European jet maker. Al Baker initially denied that Qatar Airways canceled orders for the Airbus A350-900, but June's order tally for Airbus took away any doubt and showed that four cancellations for the Airbus A350 were added, which can be attributed to Qatar Airways.
Airbus also confirmed the cancellation citing "known supply chain issues" as the reason for the cancellations and mentioned that the four aircraft will be reallocated. The four aircraft have a combined catalog value of $1.2B and represent less than 1% of the A350 order book. In March, Qatar Airways had leased four aircraft from LATAM, an airline in which the Qatar airline is invested in.
In the newest chapter to Qatar's Airbus A350 book, the airline seems to have decided to take delivery of the four aircraft later this year. This leaves many question marks as to why the airline decided to cancel the orders in the first place. My best guess would be that due to the electronics ban in combination with the regional isolation, the growth profile for Qatar Airways became shallow and for the airline it did not make sense to add capacity and pay for the aircraft, while it still was recovering from the temporary electronics bans on flights to the US. Additionally, the cancellation could have been a way to pressure the European Union and particular Germany and France to support Qatar in the crisis. So for Qatar it was a double win.
Airbus has yet to publish its September figures for commercial orders and deliveries and we could possibly see these orders being added back.
American Airlines investment
In June, Qatar Airways said that it wanted to take a stake in its international competitor American Airlines (AAL), but plans were dropped in August. While Qatar Airways does have a global investment strategy, I think that given the timing of the announcement with an electronics ban for flights to the US in place and the isolation of Qatar this was nothing more than a way for Qatar to show that it can buy what it wants and also and probably more importantly decide what it does not want to buy.
Looking for growth elsewhere
To show how strong Qatar and Qatar Airways is, Al Baker stated that it would deploy its fleet that was used on flights to its neighboring countries on other routes. This gave the impression that Qatar Airways would be able to deploy the 80,000 weekly seat capacity on other and new routes on a relatively short term. I already doubted this "plan," since it is not that easy to increase frequency on routes or open new routes altogether. How difficult it is for Qatar Airways to generate revenues became clear when British Airways leased nine aircraft from Qatar Airways to counter disruptions of a strike and more recently when up to 10 aircraft were available for carrying British passengers to the UK in the aftermath of the Monarch Airlines collapse. So while Al Baker simply stated that they will look for growth elsewhere, reality is different and demonstrated by Qatar Airways aircraft being leased out.
Qatar embraces the jumbo jet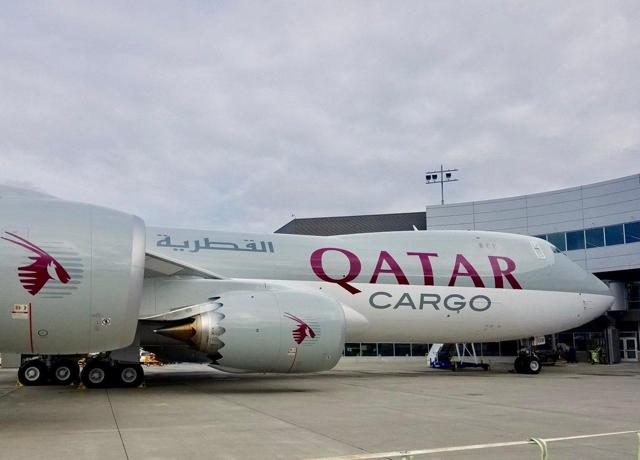 So, as we are quite used to from Akbar Al Baker, there have been a whole lot of big words but not a lot happened. There was no investment in a major US airline, seemingly no impact on the Airbus A350 and no easy deployment of idle aircraft in other parts of the Qatar Airways network.
The only big positive was for Boeing's (NYSE:BA) jumbo jet freighter. A few years ago, an investment in such a big freighter aircraft was considered risky by Qatar Airways. But the airline did state that it committed to purchasing the aircraft in July 2017 after all.
Qatar Airways has never been revealed as a customer for the jets, but in July's order report I pointed out that an order for two Boeing 747-8Fs and four Boeing 777-300ERs could possibly be an order from Qatar Airways.
If there was any doubt about this indeed being the order placed by Qatar Airways, Boeing took it away on the 25th of September via a press release:
Boeing and Qatar Airways announced an order today for two 747-8 Freighters and four 777-300ERs (Extended Range), valued at $2.16 billion at list prices.
The orders were previously unidentified on Boeing's Orders & Deliveries website.
While Boeing has revealed Qatar Airways as the customer, the September order book shows that these orders are still unassigned and one delivery to an unidentified customer also occurred in September. While unidentified deliveries are not common practice, it does happen from time to time.
What you could ask yourself is whether this is nothing more than another instance of Qatar Airways flexing its muscles. You could say it is. During the delivery of the first Boeing 747-8F, the Al Baker could not resist to comment on the blockade:
It would be remiss of me not to mention the recent illegal blockade on my country and the potential impact this could have had on our cargo operations. However, I'm pleased to tell you that today, in fact, the blockade has had quite the opposite impact on our business to the one intended.
So Al Baker said that the blockade had a positive impact on its cargo. The CEO mentioned a 160% increase in cargo business. That is not something that is indicative of growth for Qatar Airways Cargo, reason being that due to the blockade the air routes are one of the few ways, maybe even the only way to supply Qatar. Does this mean that the order for the jumbo freighter is built on a weak foundation? I don't think so. The order does fit in Qatar's cargo aspirations and its experience with the jumbo jet.
Qatar Airways is not unfamiliar with the Boeing 747-8. On behalf of the Qatar Amiri Flight, Qatar Airways operates two Boeing 747-8 business jets. So, the airline is not new to the aircraft. With another jumbo business jet being ordered in March, I wouldn't be surprised if Qatar Airways has considered the Boeing 747-8F for their regular operations.
The airline also is familiar with the cargo capabilities of the Boeing 747 having operated two Boeing 747 Freighters in the past.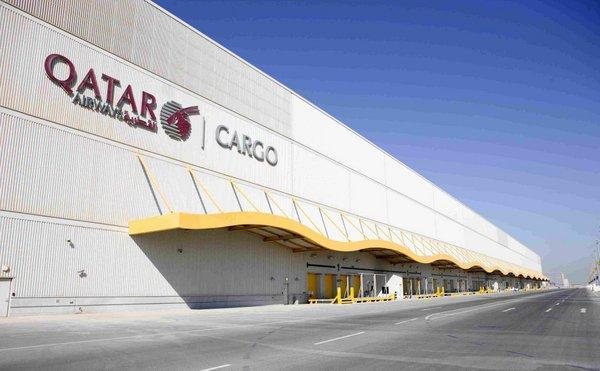 Qatar Airways is expected to open a cargo terminal in Doha in 2018, which adds 3 million tonnes to its capacity and has plans to stretch the total capacity to 7 million tonnes in the future.
The cargo terminal in Doha already seems to be exceeding or close to exceeding its maximum capacity, so to facilitate further growth the second terminal is indeed required.
With a fleet of slightly over 20 dedicated freighters and belly capacity of passenger aircraft, Qatar Airways carried slightly over 50% of the annual capacity of the Doha cargo terminal. In order to grow with the cargo capacity of the Doha Airport that is set to triple, Qatar Airways would need to double or better said more than double its cargo activities. Looking at growth rates in recent years, within five years the Doha capacity limit could be reached again.
Currently Qatar Airways has 8 A330Fs in service with orders for another eight, one Boeing 747-8F with orders for another one and 12 Boeing 777Fs with orders for another four. So, there is a fleet of 21 aircraft and 13 dedicated freighters on order, which means that currently Qatar Airways Cargo is aligned pretty well for the future. With the current rise in cargo activity worldwide, most 747-8F operators operating at least five aircraft and the majority of the cargo being carried by dedicated freighters for Qatar Airways, the airline could decide to order more freighters to expand market share and facilitate further growth and this would of course be good news for the Boeing 747 program as it would extend the production of the aircraft.
Conclusion
A lot of what Al Baker has to say should be taken with a grain of salt. But if we look at the cargo market and the aspirations Qatar Airways Cargo the order for the Boeing 747-8F is realistic and there are certainly opportunities for Boeing to sell additional freighters to Qatar Airways.
If you would like to receive updates for my upcoming articles, please click the "Follow" text at the top of this page next to my profile.
Editor's Note: This article discusses one or more securities that do not trade on a major U.S. exchange. Please be aware of the risks associated with these stocks.