In my view, it makes a great deal of sense to buy shares of Hibbett Sports Inc. (HIBB) for a variety of reasons. First, this company has demonstrated significant growth over the past few years. In spite of the growth, the shares trade at a significant discount to the overall market and to most of their own history. Also, both insiders and talented institutional investors are signalling their support by putting their own money to work here. In my opinion, it's good to be on the side of more well-informed investors. When I perform a forecast based on the relationship between book value and price, I estimate a share price return in the neighborhood of 6%. I consider this to be a very reasonable (and safe) return in light of all of the relatively low risks here.
Before getting into the analysis proper, I'll make some observations about the financial history and the business in general. At the moment, the company has 1,080 stores in 35 States, and with the advent of an online solution, expect that reach will expand in future.
Revenue has grown nicely over the past five years, up at a compounded rate of 3.5%. Although net income has lagged, the fact that the firm has finally launched a robust online solution suggests that the bottom line will improve in future. All signs are that the recently launched online store is going better than planned. According to their most recent conference call, the company claims that they have added 11,000 people to their MVP loyalty program after only a week. I should point out yet again that the online store obviously gives the company access to net new customers. The company need not have a physical store near these marginal customers. For that reason, I am quite hopeful about this side of the business.
This year is obviously more challenging for the company than last, with net income at just about half of what it was this time last year. That said, the online store offers a great deal of hope for a turnaround in my view. At the same time, management has reacted positively to the slowdown in business by reducing the share count by another 1.5 million shares. Reduced share count plus historically low multiples make this a compelling investment for me.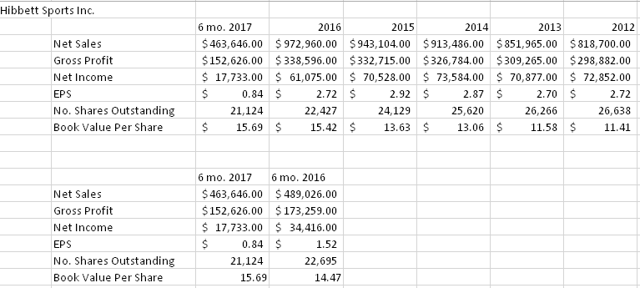 Source: Company Filings, 10-K, 10-Q
Modeling Future Price
The financial past is interesting, but investors care more about the future for understandable reasons. It's with that in mind that I'd like to forecast what I consider to be a reasonable growth rate for the shares. When I make a forecast, I use a methodology employed by fellow Seeking Alpha contributor John Dicecco. He makes far less complicated forecasts by holding every variable constant but the one under consideration. This strikes me as an elegant, nearly scientific approach to forecasting. I'll review book value per share and compare it to price.
Over the past five and a half years, the book value per share at Hibbett Sports has grown at a compound rate of about 6%. I consider this to be a reasonable assumption for continued growth. At the moment, the book value to price is about 110%, which means that the shares are trading below book value. If I assume that the growth in book value continues (not unreasonable) and that the relationship between share price and book value persists (quite a conservative assumption), the shares should return about 6% a year for a long while. I consider this to be an excellent rate of return.

Insider & Institutional Buying
I've said it before and I'll say it again. Investing is good for the soul. Specifically, it forces one to be humble. We must acknowledge that there are others out there who know much more about a given company than we ever will. Two groups that I acknowledge know more than me are insiders and institutional investors. My level of comfort here is increased when I review the actions of investors who know more than me. In terms of the insiders, in August and September of this year, four insiders (Michael Newsome, Jeffrey Rosenthal, Justin Bowman, and Ralph Parks) among them bought $315 k of the stock. Institutional support came from both Joel Greenblatt, and Barrow, Hanley, Mewhinney & Strauss. Greenblatt initiated a position in the company, buying 43,647 shares. Barrow, Hanley, Mewhinney & Strauss added 15% to their position and now hold 187,890 shares.
The fact that people out there who know more about this business than me are willing to put their own capital to work increases my confidence in a long position here.
The Shares
Even the most wonderful company can be a terrible investment if the price isn't right. It's for that reason that I want to make sure that any stock I buy is at least inexpensive. I do this because if I buy at an inexpensive price, the downside is mostly limited. I judge cheapness of a stock by the standard P/E and by a review of the market's assumptions about future growth. If the market is too pessimistic about future growth, in my opinion, that is a very good sign. Although the reverse engineering of market assumptions about growth is beyond the scope of this article, for those interested, please read Stephen Penman's "Accounting For Value."
On a P/E basis, the shares trade at a significant discount to the overall market (71%), and to their own history. On August 5 of this year, the shares hit an all-time P/E low of 5.92, and they are skirting near that level now. At the same time, the market is calculating a long-term growth rate of negative 18% from here. All of this is way too pessimistic in my view.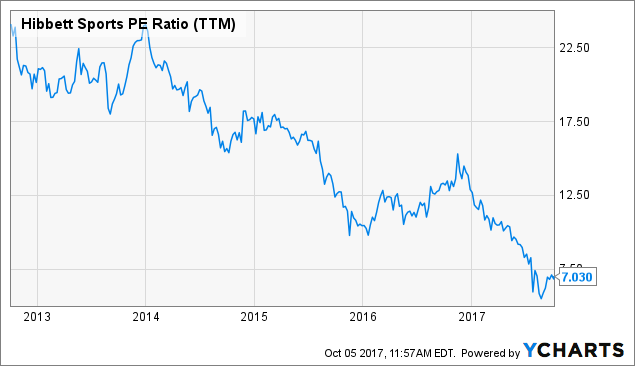 HIBB PE Ratio (TTM) data by YCharts
Source: YCharts
Conclusion
I strongly feel that Hibbett Sports s an excellent investment at these levels. The shares trade at a ridiculous discount relative to the overall market, and to their own history. In addition, the long-term growth rate implied by the current share price is also unrealistically pessimistic. In addition, people who know the business best have bought aggressively recently. For investors who are looking for an inexpensive stock that has some positive catalysts and is supported by insider buying, I believe it makes a great of sense to consider Hibbett Sports Inc.
Disclosure: I/we have no positions in any stocks mentioned, but may initiate a long position in HIBB over the next 72 hours.
I wrote this article myself, and it expresses my own opinions. I am not receiving compensation for it (other than from Seeking Alpha). I have no business relationship with any company whose stock is mentioned in this article.