Infosys (INFY) is down 9% for the last 12 months and now offers a dividend yield of 3.17%. Our analysis suggests this is due to an overreaction to recent headwinds, which has resulted in a good buying opportunity. The average annual sales and EPS growth over the last five years were phenomenal, coming in at 150.1% and 142.4%, respectively. While it is obvious that this type of growth cannot continue, the company should easily be able to achieve a growth rate that supports substantial appreciation from the current level.
Recent Company Background & Products
In recent years Infosys has faced challenges associated with lower differentiation and slower growth than some peers. As a result, the company started focusing on a new strategy and is making an effort to transition into higher-value work that leverages automation. In its 2017 annual report, the company says it is starting to see the benefits of this strategy play out. Infosys highlighted rapid momentum among clients with its new services such as mainframe modernization, cloud applications, IoT, cyber-security, digital experiences, and complex analytics.
A key example of their software offerings is their AI platform, Infosys Nia. Infosys Nia uses big data analytics, machine learning, optical character recognition, natural language processing capabilities and several other tools developed or acquired by Infosys:
AssistEdge: Robotic process automation to automate high touch, repetitive processes
Skytree: Machine learning platform for big data. Skytree has been operating as a subsidiary of Infosys since April of this year.
Several other software offerings that should be mentioned are Skava, EdgeVerve, and Panaya, which the company said are seeing good traction in the Q1 2018 earnings call. Skava is an e-commerce platform which has an impressive list of customers including Kohl's, Adidas, Kraft Heinz and Macy's to name a few. EdgeVerve offers enterprise software products such as a banking suite, process automation, and mobile payment solutions. Other EdgeVerve software products are focused on distributive trade, credit servicing, customer service, and enterprise buying. Through Panaya, the company offers solutions for end-to-end testing, application lifecycle management, and impact analysis and risk mitigation. The intent of these solutions is to allow clients to make changes to their applications at a much faster rate while reducing the risk of something going wrong. Panaya's solutions are used by some well known companies including Eaton (NYSE:ETN), Coca-Cola (NYSE:KO), Johnson & Johnson (NYSE:JNJ), and Verizon (NYSE:VZ).
Acquisitions Aligned with the New Focus on Innovation
The company also continues to fuel growth via acquisitions in startup companies. Six new investments were made in 2017 in startups working in AI, autonomous unmanned vehicles, data insights, cloud, and other high potential areas. These investments show the ambitions of Infosys to move from simply taking orders to innovating themselves.
We like that the company is focusing more on providing their own solutions. We agree with the view presented in the annual report that to not move in this direction would leave Infosys as a previous-generation company and much less attractive from an investment standpoint. The goal of the company is to become the next-generation software and services provider and partner to its clients. In fiscal 2017, the company crossed $10 billion in revenue and grew revenue by 8.3% which was in-line with industry peers. The company won $3.5 billion in large deals and added five more $100 million clients bringing the total to 19.
Mitigating Risks through Diversification
One competitive concern or risk is wage increases. Wages did increase in 2017 and despite this the company posted impressive operating margins of around 24%. The strategic shift into higher valued areas, as mentioned previously, should help fight the impacts associated with higher wages. Revenue per full time employee actually increased by 1.2% in the fiscal year. The company attributed this to automation, utilization, and productivity improvements. One recent change or initiative mentioned in the 2018 Q1 call is that Infosys has started hiring locally. For example, in May of this year the company announced plans to hire 10,000 American technology professionals. This is part of a plan to get closer to clients and leverage global talent.
Infosys is one company where customer concentration is not an issue. The company already had 798 clients in 2013 and has grown the list at an impressive rate since then. The company had 1,162 clients in fiscal 2017. The company operates in basically every industry and allocates revenue to the following different segments in their reporting. We view the diversity and the fact that no single sector plays an outsized role as a big positive for Infosys.

Source: 2017 Annual Report (Numbers in INR)
The company is also diversified from a geography standpoint with revenues for reporting split between North America, Europe, India, and the rest of the world for reporting purposes

. Source: 2017 Annual Report (Numbers in INR)
Recent Headwinds
Current headwinds for the company include the June 2017 forecast by the National Association of Software and Services companies which suggested growth for the company would slow down. This is expected, partially, as a result of tightening immigration rules in the U.S and Britain's exit from the Euro.
Additionally, the share price was impacted and has not recovered since August when the former CEO, Vishal Sikka, resigned after a prolonged period of disagreement between the board directors and the company's founders. One of the founders and former CEO, Nandan Nilekani, was named as the non-executive chairman of the company after Sikka resigned. Chairman Nilekani said the next CEO would be selected from internal and external candidates.
The stock is more than 13% below its 52-week high which we feel is an overreaction to these recent headwinds. Goldman recently upgraded the stock indicating that they felt the risks were already priced in.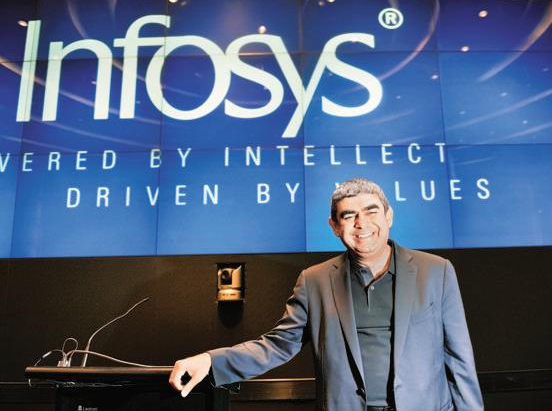 Source: Former Infosys chief executive officer and managing director Vishal Sikka
Financials & Valuation
Infosys has done a good job controlling costs, which is what has kept ROE at a nice level despite the lack of debt. In fiscal 2017 selling and marketing expenses were 5.2% of total revenues compared to 5.5% the previous year. The company splits this from general and administration expenses which amounted to 6.9% of total revenue which is unchanged from fiscal 2016.
One question an investor may have for this Indian company is the impact of currency movements. The impact on operating margins is 0.50% for every point depreciation/appreciation in the exchange rate between the Indian rupee and US dollar. We do not think the currency concern should play much of a factor in making a longer term investment decision so the graph below is provided more out of curiosity to show the fluctuations over the years.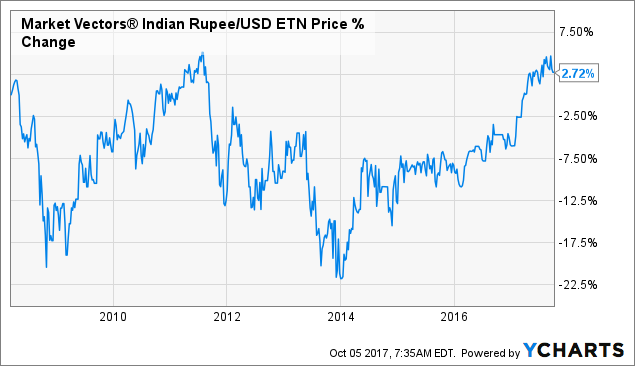 INR data by YCharts
Cash flow has been quite impressive for Infosys for years now. The table below shows that there has been plenty of cash to support the dividend, fund acquisitions, and grow retained earnings at a steady rate. The balance sheet is solid. No long term debt and a current ratio of 3.40 mean the company has the financial stability that should make investors feel safe. The 3+% dividend yield comes with a fairly comfortable payout ratio currently standing at about 41.

Source: barchart
Now let's discuss our discounted cash flow model. Reuters provides long term EPS growth estimates from three analysts with the mean coming in at a fairly optimistic 10.67. We say "fairly optimistic" because we are talking about a company with a market cap of $31 billion and sales that exceeded $10 billion. Keep in mind that historical growth rates are phenomenal. Average annual EPS growth was over 140% over the last five years. Of course, that cannot happen again. EPS growth on a quarter over quarter basis was a much more muted 1.30% which may explain why the stock movement has stalled recently. The DCF model inputs are summarized below. We adjusted the growth until the current price was equal to our target buy price. This allows us to see the growth that would be required for investors to receive an acceptable return on their investment.
Discounted Cash Flow Model Inputs:
Quote: $14.51
EPS (TTM): $0.96
Dividend: $0.46
Future PE: 15
Discount rate (desired annual return): 10%
Long term annual EPS growth rate: 7%
The model above looked at a five year time frame. It assumes that the dividend will increase at the same rate as earnings. We did not assume any share buybacks, which seems reasonable for now given that the total common shares outstanding has remained almost unchanged for at least the last four years. However, the company did approve its first buyback in August of up to $2 billion, so the model may be somewhat conservative, which we prefer anyway. Notice that the required growth rate to consider the company a buy at current levels is much lower than the analyst estimates and the historical growth rates. If we were to consider a 10 year time period in which the growth rate slows down by one percent a year after year five, the growth rate for the first five years would need to average slightly more than 8%. Overall, we believe the DCF model aligns with our view that shares are currently trading at an attractive valuation.
To add to the valuation model, the table below provides some comparisons of various valuation and performance metrics compared to the sector averages.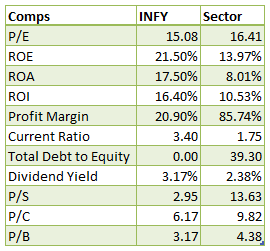 Source: Reuters for Sector Numbers & finviz for INFY numbers
The key highlights from the table above include the high return on equity number combined with no debt. Of course, if a company has a lot of debt, the return on equity number will be inflated which is why these numbers need to be looked at together. Finally, Infosys also looks cheap based on the price to sales and price to cash flow numbers compared to the sector averages.
Final Thoughts
We like the strategic shift the company is making in which it is moving from mainly just completing contracts for clients to becoming a true innovator in cutting edge fields and technologies. This shift to higher profit margin work is expanding the company's horizons and allows Infosys to rebrand itself as a real technology innovator. If the company can leverage its diverse client list to market its new solutions and services, further growth is not only possible but could really surprise the market considering the current valuation. The growth estimates required by our DCF model are achievable and conservative compared to even the lowest reported analyst estimate. Of course, there is also the three plus percent dividend yield which can easily be supported by this cash cow.
Options also provide another means to enhance investor returns in Infosys. We recommend selling a covered call option. The option expiring on January 19 with a strike price of $16 pays $0.20 or $20 per contract sold. This equates to an annualized yield boost of about 2.8%. The seller of this call would only need to sell his or her shares if the price increases by over 10% in the next three and a half months.
Whether or not options are used, we think the 9% drop over the last 12 months provides investors with a good opportunity to initiate a position in the company. We rate this software powerhouse a buy at current levels.
Disclosure: I/we have no positions in any stocks mentioned, and no plans to initiate any positions within the next 72 hours.
I wrote this article myself, and it expresses my own opinions. I am not receiving compensation for it (other than from Seeking Alpha). I have no business relationship with any company whose stock is mentioned in this article.