Crude oil prices have jumped 20% from this year's bottom in June on the back of improved economic conditions leading to rising demand and declining inventories. Bullish OPEC comments and weather events have also added to the tailwinds pushing crude from the depths of its lows from the summer.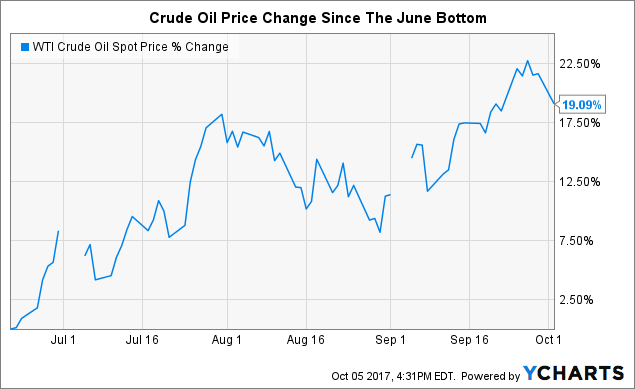 WTI Crude Oil Spot Price data by YCharts
If you follow my articles on SeekingAlpha.com, you know we've been monitoring how crude oil demand has been picking up over the last few months. Of course, the recent trend has not been without setbacks, but I believe we're seeing higher oil prices as a result of rising demand shown by booming exports, falling inventories, and solid economic growth.
In this article, I'll outline why crude oil prices should continue to push higher. Of course, there'll be pullbacks too, but we've likely seen the bottom for oil this year. The June floor in prices bodes well for crude since it'll likely attract additional bullish investors looking to enter positions once they're convinced they've seen the bottom and evidence that the bull run is here to stay.
The roller coaster ride in crude oil prices has impacted investors who are long crude via The United States Oil ETF, LP (USO), the Vanguard Energy ETF (VDE) and stocks like Exxon Mobil Corporation (XOM), Devon Energy Corporation (DVN), Chevron Corporation (CVX), and ConocoPhillips (COP) to name a few.
Key Drivers for Crude Prices
Production cut extension talks:
Russian and Saudi leaders met this week at the Russian Energy Week conference to discuss extending the production cut deal. The meeting ended with President Putin open to the idea.
Verbal intervention isn't limited to only central bank Presidents, OPEC Secretary-General Mohammad Barkindo, looking to give a lift to oil prices, said today that Putin's comments were a "very strong endorsement" of the deal.
Any suggestions of extending cuts will likely put a floor in place for crude oil above $45, in my opinion. However, OPEC discussions are only a part of the reason for rising crude prices. The turnaround also has been bolstered by improving economic fundamentals over the last few months.
Bullish economic data:
The services sector recorded its highest optimism in 12 years. The ISM Non-Manufacturing Business Survey posted a 59.8% reading, its highest level since August 2005.
Since 70% of the U.S. economy is comprised of the service sector, the report is important since it gives us an insight of how business owners view the economy. If CEOs are optimistic about the economic outlook, it should typically lead to increases in capital investment and production expansion. More expansion leads to higher growth and ultimately higher crude oil prices. At the very least, the report should add to the improved economic growth story and provide a floor for crude oil prices in the coming months.
U.S. Crude exports are at record levels with a 57% increase in the 1st half of this year versus the 1st half of 2016. Although this year's 1st half growth rate wasn't as large as 2014 and 2015, it supports our ongoing narrative from the last few months that demand is picking up and crude prices are beginning to finally see the benefits.
U.S. economic growth was revised higher to 3% for Q2 by the BEA. Also, Q3 growth should come in at 2.8% according to The Federal Reserve Bank of Atlanta's GDPNow model. The number was revised down from 3.4%. However, I believe that a 2.8% number is solid and should support the view along with Q2's GDP number that growth will provide a lift to crude demand for the remainder of the year.
With surging exports, increased business optimism leading to capital investments, and rising economic growth, the economic backdrop supports the higher-demand-for-crude narrative. However, if we want to see corroborating evidence aside from rising prices, we only have look at crude's inventory levels.
Crude inventories back down again:
According to the EIA weekly petroleum report, inventories were down by 6mm barrels for the week ending September 29th.
Aside from three weeks in September, crude oil inventories have been down 12 out of the last 16 weeks. Or to put it another way, weekly crude inventories have fallen 75% of the time since June.
If you follow my articles, you know we've been tracking inventories since June to show how inventory levels have improved on a consistent basis. This makes sense since the global economy has improved markedly since Q1.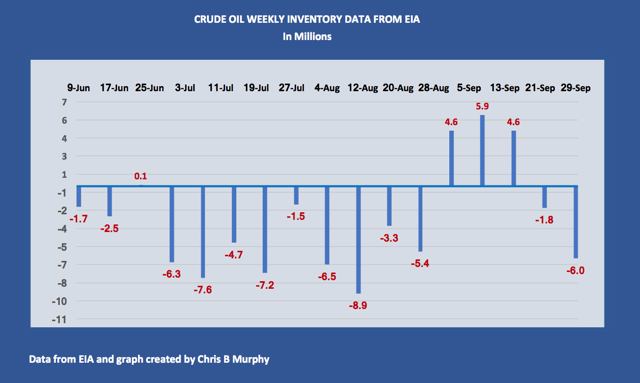 Of course, inventory reports alone don't give us a complete picture for crude oil demand, but using the EIA reports in tandem with the economic factors outlined earlier, we can get a good sense of how the market is faring.
Tropical storms and hurricanes:
Although short-term events, storms in the Gulf of Mexico are likely to continue to be front-page news and impact crude prices through mid-November.
The latest is tropical storm Nate which formed off Nicaragua and is expected to travel through the Gulf this weekend as a Category 1 storm. Although it's currently a tropical storm, watch for any signs of the storm strengthening particularly since the warm gulf waters provide the strength to hurricanes. The result may be shutdowns in rigs and production.
Of course, I'm not suggesting trading crude based on hurricanes. I only mention Gulf coast storms from a risk management standpoint, since they can add to price volatility in the short-term making trade entries difficult and can often trigger stop-loss orders for long positions.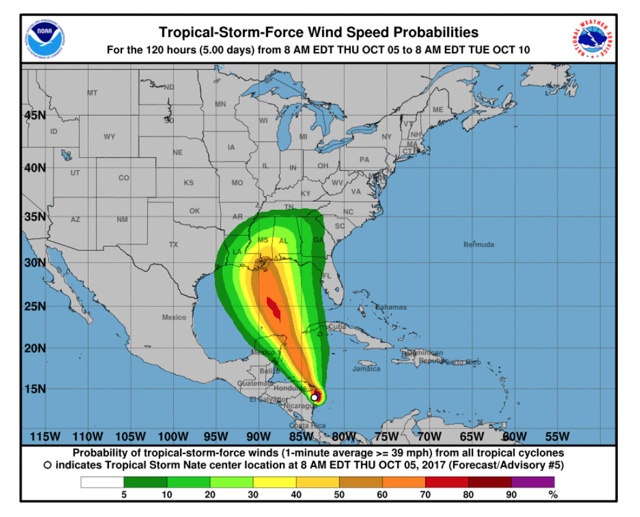 Source: The National Weather Service.
Takeaways
With surging exports, increased business optimism leading to capital investments, rising economic growth, and a potential OPEC production cut extension, crude oil should be well supported in the coming months.
As I wrote in my earlier article: only when the bottom has truly been determined for this year followed by multiple higher lows will traders feel comfortable getting in. With such a young rally, it's difficult to know when to pull the trigger.
I believe with crude rising 20% off the June lows, traders should increasingly become more comfortable taking long positions in the coming weeks. The overall bearish mood as a result of negative fundamentals earlier this year has been replaced with much-improved conditions.
As a result, I believe crude has a very attractive outlook in the coming months. I believe crude will continue to perform well and make another move higher to $53.50 following the current pullback. If $53.50 breaks and the fundamentals stay positive, a bump up to $55 appears doable.
In the days ahead, I'll be putting out a more detailed price action analysis for key levels to watch in crude. I'm looking for visible evidence of the end of the current short-term pullback before expecting another push higher. If you're looking for more analysis, please become a follower and the next article will be emailed to you or send me a direct message if you'd like to contact me directly (see below).
Good luck out there.
If you like this article and would like to receive email alerts stay up to date on crude oil, commodities, and macro events, please click my profile page and click the "follow" button next to my name, and check the "get email alerts" to receive these articles sent via email to your inbox.
You can also find the "follow" button at the top of this article next to my name.And, of course, feel free to comment below if you have any questions or send me a private message by clicking the "send a message" link on my profile page.
Disclosure: I/we have no positions in any stocks mentioned, and no plans to initiate any positions within the next 72 hours.
I wrote this article myself, and it expresses my own opinions. I am not receiving compensation for it (other than from Seeking Alpha). I have no business relationship with any company whose stock is mentioned in this article.