Note: Companies with small market capitalization inherently come with elevated risks due to - among other things - liquidity, capital and diminished coverage/information. You should always do your own due diligence before making any investment decision.
A few days ago I wrote about FutureFuel (NYSE:FF), a cash-heavy/debt-free small cap. Now we're going to discuss Graham Corporation (NYSEMKT:GHM), which has a similar balance sheet, although it is smaller (market cap $211.6M). Allow me to go ahead and describe what I see as some main differences between them:
GHM's connection with energy, including refining, makes its business more cyclical than FF, but also presents greater opportunities for growth.
Both are obviously well managed from a financial perspective; however, GHM's management has better publicly articulated its strategies for growth than FF's management.
FF is arguably more diversified in terms of products.
FF has a history of special dividends and GHM does not.
Full Disclosure: I opened a long position on GHM over the course of my research/analysis.
About GHM

Describing what GHM manufactures is no small feat, but I'm going to try. It produces vacuum and heat transfer equipment that's most often used in chemical production, petroleum refining and power generation. This includes components for nuclear power plants, a capability that was enhanced with its acquisition of Energy Steel & Supply in 2010.
Heat transfer equipment typically uses convection to essentially recycle heat from one part of a process to another. This saves energy costs and reduces environmental impacts. Its vacuum equipment (ejectors, condensers, liquid ring vacuum pumps) is often combined together as part of a vacuum system. These systems are frequently used to separate and remove water, unwanted solvents and other materials during processes such as chemical production and petroleum refining.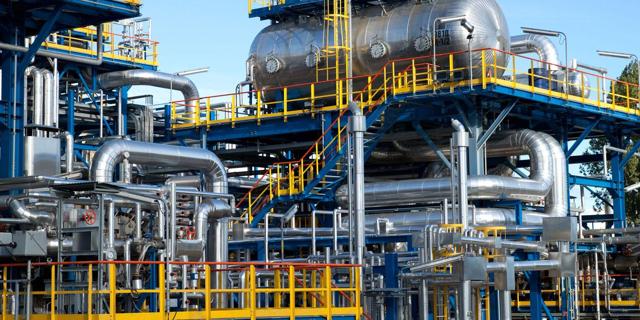 GHM has been around since 1936 and supplied critical parts for navy ships during World War II. It's been a public company since at least the early 1970s, and for most of its history has had low volatility, with two notable exceptions in 2007 and 2008 when it spiked (which appeared based on speculative overbuying after outlier quarters).
You may have been surprised by its price considering the market cap. There are only 9.8M shares, but fortunately the float is 9.5M, and there's decent liquidity (average daily volume is around 30k). The stock has had a few splits, and the original number of shares was around 4M.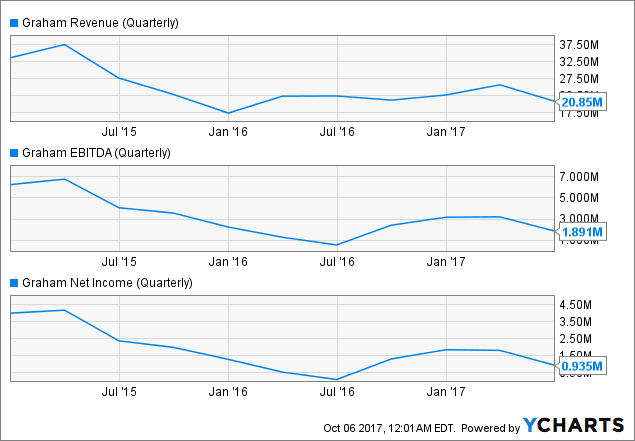 GHM Revenue (Quarterly) data by YCharts
From a valuation perspective, GHM is probably a little overvalued right now when earnings are considered. It seemed appropriate to use Graham's Number for Graham Corporation, but sharing a name didn't do GHM any favors, as it shows it as significantly overvalued (11.7).
Below is some comparative valuation with the two other equities within the "Boiler, Tank and Shipping Container Manufacturing" NAICS industry. I limited it to only those listed on either NASDAQ or NYSE. Note that these companies are not perfect analogs to GHM and that other companies not shown manufacture at least some of the same products GHM does.
You can see that things have been a bit rough across the board, especially earnings. When debt is considered, I believe that GHM and GTLS are pretty similar from a "price to valuation" perspective.
| | | | | | | | | |
| --- | --- | --- | --- | --- | --- | --- | --- | --- |
| | Price | Market Cap | PE | PS | P/FCF | P/B | Debt/Asset | Graham Number |
| Graham | $21.45 | $209.5M | 41.25 | 2.2 | 17.3 | 1.8 | n/a | 11.7 |
| Energy Recovery (NASDAQ:ERII) | $8.05 | $431.3M | 402.50 | 8.1 | 115.8 | 6.5 | 0.02% | 0.74 |
| Chart Industries (GTLS) | $39.90 | $1.22B | 43.85 | 1.4 | 8.0 | 1.7 | 19.73% | 21.60 |
Interesting side note: GHM's payout ratio is inversely correlated with earnings. Looks like two crooked light sabers clashing.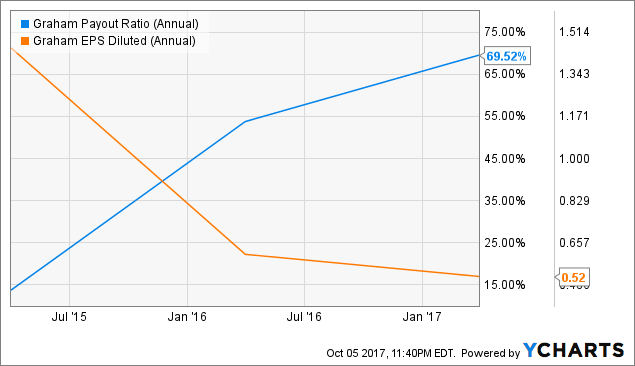 GHM Payout Ratio (Annual) data by YCharts
No Debt, Lots of Cash
GHM has no debt and even its overall liabilities are very low (liabilities to assets is 0.22). While I appreciate its balance sheet, it does seem to be accumulating a lot of cash (~$39M), which could be interpreted as being less than shareholder friendly.
Why I Recommend Watching GHM
$39M in cash and no debt.
Improvements in the energy market will almost certainly reverse the downward trend. GHM has made this much known. It's only by the grace of United States Navy that the past few quarters haven't been worse. Its FY2018 guidance is flat/slight down from FY2017, although 1Q18 earnings beat estimates by $0.09 ($0.10 vs. $0.01), as did revenue. The low expectations for FY18 alone make this one to watch.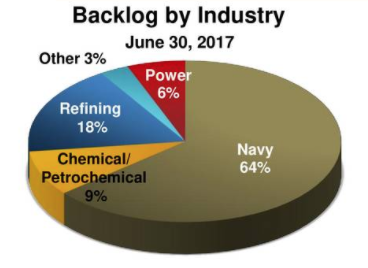 Source: 1Q18 Earnings Slides
As CEO James Lines responded during its 1Q18 call to an analyst question on improvements within the oil refining business:
"To be candid, we are surprised it hasn't happened yet, and I don't think we are the only ones that are saying that. Many of the suppliers to this industry had expected the MRO type work to have moved forward by now, but it just hasn't.

Again, we don't believe this is something that can be enduring or a structural change afoot. The capital spending to keep these plants up and running, just basic spending to keep the lights on and the doors open, those can be delayed for quarters but not for long periods of time. And that typically is half to two-thirds of annual CapEx, is I would say ordinary CapEx, just keeping the house in order and in good shape.

And then the other one-third to half is around growth or strategic investment. That can be more discretionary. So we are seeing that being pushed to the right and deliberate conversations about that or Boards unwilling to make a higher financial commitment. But the budgets that are allocated to classic MRO, we have to see that start to pick up and we would expect that to pick up and we are ready for it. It's just a surprise it hasn't happened yet." (emphasis mine)
Note: My last two points below come from GHM's own slides, which - as you'd expect - have positive spins. So consider these "icing on the cake" observations. Even if neither came to fruition, GHM would still border on a buy and certainly be a "monitor," in my opinion.
Management is actively looking to increase market share, and there is serious growth potential relative to current revenue. Its goal, based on the below slide, is ~$100M in additional annual revenue from four key markets. Its finances and history give credibility as to whether any of this will happen. This isn't some fast talking value trap.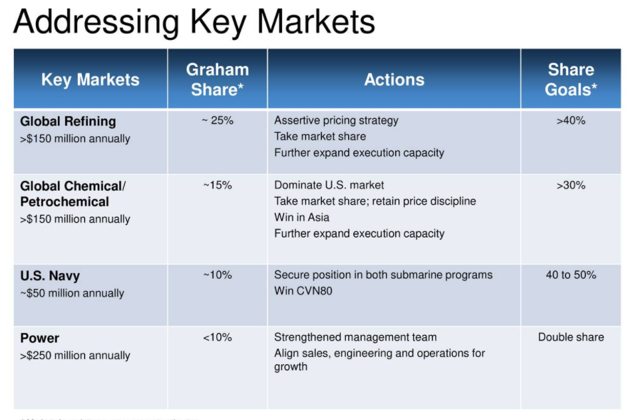 Source: The Sidoti & Company Fall 2017 Convention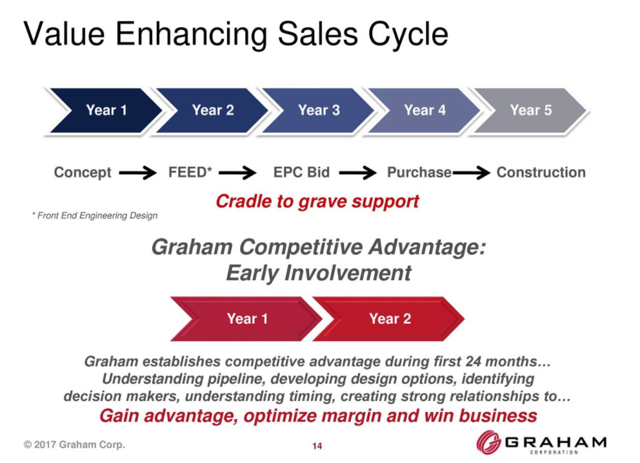 Source: The Sidoti & Company Fall 2017 Convention
It is looking to diversify through acquisitions. On its 1Q18 call management stated that a business manager had been hired to help "open up the pipeline and drive the number of deals that we're beginning to look at." Once again, it has the credibility where this can be taken seriously.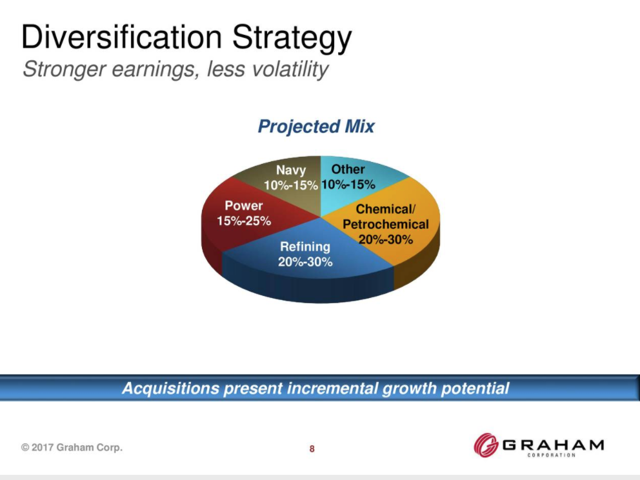 Source: The Sidoti & Company Fall 2017 Convention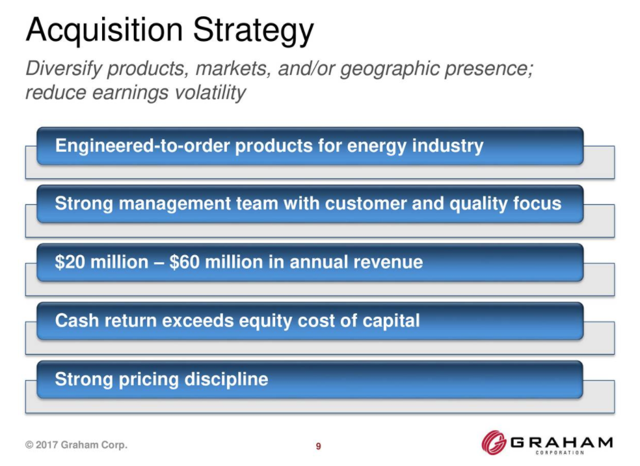 Source: The Sidoti & Company Fall 2017 Convention
Conclusion
While I believe GHM's current valuation is fair, it isn't pricing in some of the cyclical considerations which should lead to improved results. It also isn't pricing in (justifiably, I may add) some potential growth that is above and beyond these cyclical upticks.
With no debt, lots of cash and a realistic possibility of doubling revenue through market share and acquisitions, this is one to keep an eye on.
Interested to hear about some of the less covered companies with serious growth potential? Follow me on Seeking Alpha! Read more about my investment philosophy and writing here.
View a spreadsheet of my track record here.
Disclosure: I am/we are long GHM.
I wrote this article myself, and it expresses my own opinions. I am not receiving compensation for it (other than from Seeking Alpha). I have no business relationship with any company whose stock is mentioned in this article.