While the extent of the dividend growth phenomenon may be difficult to surmise, it's fair to say more than just a few investors have adopted the strategy over the past decade.
With the 10-year Treasury having spent the majority of the past 10 years under 3%, and with even large-cap equity indexes yielding in the neighborhood of 2%, the desire to swap out of fixed-income and into growing equity-income has certainly been understandable. It has been easy, recently, to build a portfolio of stocks sometimes dramatically exceeding Treasury yield.
10-year Treasury Yield - One Decade

By and large, the "dividend growth swap" has been a profitable one (on a total return level) versus more conservative allocation. While there have been a fair share of dividend growth disasters -- Kinder Morgan (KMI) initially coming to mind -- if we lean on aggregate S&P 500 index results since the end of the financial crisis, even a dart-throwing elementary age stock picker probably had a good chance of outperforming bonds and cash.
Of course, what is past is past. As the market inches further into record territory, however, it might be foolish to expect a repeat over the next decade.
Bailing On Bonds?
Though it may be beyond their bailiwick, the dividend growth investor may want to start paying closer attention to bonds. If we accept the notion that equities, specifically dividend equities, have seen multiple expansion as a result of ZIRP, the corollary may likely be that dividend equity will see valuation contraction in a rising risk-free yield environment.
For the DG-purist, that prospect may be viewed as good news, with the opportunity to purchase attractive stocks at lower multiples and higher yields -- assuming there is cash available to do so. On the other hand, it will likely suppress total returns and present opportunity costs to those who invested heavily in overhead supply.
Of course, a secular rise in bond yields is not a foregone conclusion. Indeed, at best it may be, despite the for-years-omnipresent prediction, that the current "bond bubble" will burst.
The Fed's hawkish inclinations over the past 24 months aside, bond traders seem unconvinced that sustained economic prosperity is necessarily in the offing. After four 25bps tightenings by central bankers since December of 2015, bond yield movement has been volatile and omnidirectional, with a clear lack of conviction to now. Still, a fifth 25bps move in December by the Fed looks likely at this juncture.
Summary of Fed Funds Tightening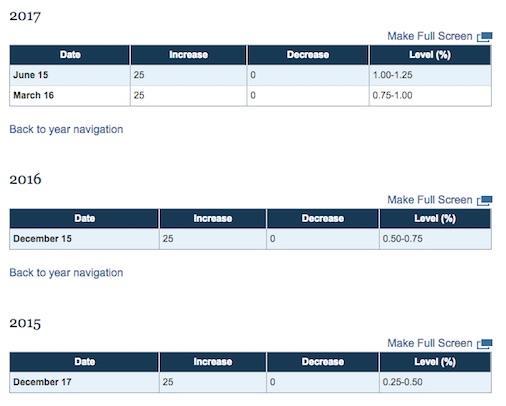 Source: FederalReserve.gov
Meanwhile, even if equity investors' instincts tell them that bond yields are not going rip-roaring higher, it would be unwise to not consider what might happen should they do so.
Let's face it, I doubt that those living in the 1950s-60s would have been predicting a double-digit 10-year Treasury by the early 80s. Similarly, those in the eighties probably wouldn't have ever imagined that a pending reversal would cause yields to cascade ferociously lower over the next several decades.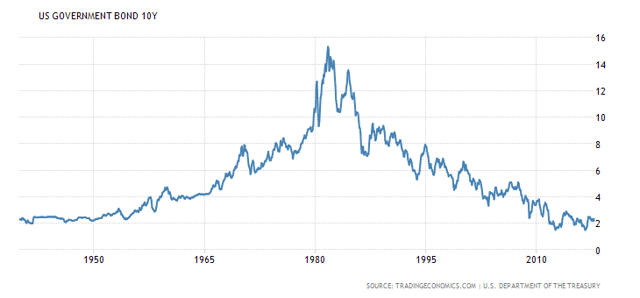 Like everyone else, I'd be highly suspect of seeing a double-digit 10-year Treasury again in my lifetime, but we can never know for certain what the future brings. Predicting decades out is probably the most foolish of fool's errands and not particularly helpful from a near-term strategic portfolio perspective. Still, the bigger investment fool may be the one who leverages himself to the hilt on a presumed "no-brainer" idea -- then having the exact opposite thing happen.
When Does A Blip Become A Trend?
When looking at the chart above, as yields descended over the past four decades, it certainly was not in uniform fashion. Many sharp upticks occurred amidst the overall decline. For instance, in a period during 1993-94, yields increased nearly 300 basis points. In 2013, in what is now known unaffectionately as the "Taper Tantrum," yields rose 140 basis points from 1.6% to three percent in about half a year.
Then, one of the crowded trades heading into 2014 was a short on bonds, given the upside yield momentum. That didn't work out so well with yields actually reversing course sharply by 100 basis points over the next year. Even last year, bond yields tightened 130 basis points between the so-called "Brexit" vote and shortly after Donald Trump's election as U.S. President.
Speculation as to when one of these blips might sustain itself is a shot in the dark. Still, I'd opine it unwise to assume that we are not on the potential cusp of it happening, even if convictions and data might indicate otherwise.
Equity-Type As Well As Rate And Yield Velocity May Be Part Of The Effective Equation
For years now, it has been spoken that REITs, which tend to frequently be held by dividend growth investors, will be doomed in a higher interest rate scenario given their multiple-level-sensitivities. On one level, REITs typically employ a great deal of leverage and on a second, REITs possess bond-like attributes. Doom, however, is broad brush sentiment that may or may not necessarily be in the cards depending on the forward conditions that actually prevail.
First, we must acknowledge that not all REITs are viewed as equal. Rate-sensitive triple-net REITs have traded like yo-yos over the past five years as rates have waxed and waned, while other REITs with shorter lease-locks have traded on more traditional cash flow trends.
But during the 2013 yield burst, REITs, on a wholesale level, were pummeled collectively (VNQ) by 20% -- and some more sensitive REITs, like Realty Income (O), plummeted by 30% and more. By comparison, however, your garden variety C-corp. dividend growth stock (Coca-Cola (NYSE:KO), Johnson & Johnson (NYSE:JNJ), etc...) was much less impacted if it was impacted at all. Keep in mind that large-cap stocks rose by 30% in 2013, despite the bond market kerfuffle.
So if a move to 3% on the 10-year Treasury isn't enough to wholesale spook equity-income investors, what would be the catalyst?
Tough to say, but clearly those who somewhere along the line abandoned or lightened up on bonds over the past several decades will start to reconsider that position at some point if yields were to rise.
Should we hit 4% on the 10-year, with similar maturity corporates yielding perhaps 50% higher, it's tough to fathom someone seeing, say, Procter & Gamble (PG) at its current 3% yield, 20+ earnings multiple, and <5% bottom line growth as necessarily the superior alternative.
Given that Realty Income has been trading at roughly 2X the 10-year yield for many years now, we might project that its yield would hit 8% with a 4% 10-year. O's yield nearly hit 6% four years ago with the 10-year flirting with 3 percent. Eight percent yield would equate to a $32 stock price today, were it to happen overnight (which it clearly won't).
What's The Likely Forward Scenario?
What appears more likely at this juncture is a continued slow sequential tightening by the Fed. Should short-term rates move by only 25-50bps per year for a string of years, and even if bond yields actually start to trend parallel, we could be looking at another 5 years until we see 4% on the 10-year Treasury. And that may be an optimistic view.
If Washington and Stateside fiscal reform gridlock continue, it's possible that 4% over the next five years would be a pipedream. Three percent might be unattainable as well. Some feel (including yours truly) that the Fed may be setting the country up for a recession with unwarranted tightening in the face of slack economic growth and a laundry list of potential economically destructive catalysts.
Either scenario doesn't seem to implicate disaster for DGers, although clearly, a recession would be bad news all around, likely leading to Fed easement and a quickly back-to-sub-2% 10 year.
Further, with plentiful commodity supply, the seemingly disruptive/deflationary forces enveloping retail, and a lack of visibly destructive inflationary forces elsewhere, there would appear even less of a need for the Fed to keep their finger on the tightening trigger.
Thus, I'd probably conclude that a DG strategy may be "safe" all things considered for the foreseeable future. However, as I've continually noted over the past year, investors need to pare their expectations. That would be both in terms of absolute dividend growth and probably total return as well.
Trees can grow only so far.
Strategy Session
It's becoming difficult to find things to recommend nowadays. There would appear much more justification to pare positions than to accumulate right now. If you believe that stance but don't want to sell, covered calls may be an appropriate middle ground that preserves a position but benefits from some near-term income potential. Of course, if the rally continues, you risk losing that position.
While I've been loath to recommend much in the retail space outside of Home Depot (HD) recently, given the hornet's nest that it has become, I do have one thought there, and that would be Dollar General (DG). While the low dividend yield isn't exactly an attraction, I believe the necessity/discount brick and mortar retail shops will be strong survivors. The stock isn't super cheap, but from a forward expectations standpoint, I like the risk/reward here and would see $90-$100 as easily attainable over the next 12-24 months.
On the higher yield side, I'd take a look at Pattern Energy (PEGI), the wind farm owner. A recent 10% slide has left the stock yielding 7 percent, and though DG slowed this year, it still managed 5% dividend upside. If the company can at least keep that up, which I firmly expect it to, this will be looked back upon as a good entry point and a very attractive yield growth story.
I wish I could offer something more exciting or optimistic right now, but investment wisdom 101 tells us not to pound round pegs into square holes. Unfortunately, for those dividend investors wishing to put money to work today, that seems to be, in large part, what you are currently looking at.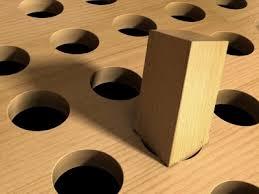 Summary
The prospect may not be right around the corner, but savvy dividend investors should nonetheless consider what their reaction might be should cash and bond yields rise precipitously and sustainably. At some point, as the economy evolves, the income risk/reward tradeoff might be much less favorable sitting in dividend growth stocks than it is today. And you'll want to be ready.
Disclosure: I am/we are long DG,HD,PEGI.
I wrote this article myself, and it expresses my own opinions. I am not receiving compensation for it (other than from Seeking Alpha). I have no business relationship with any company whose stock is mentioned in this article.