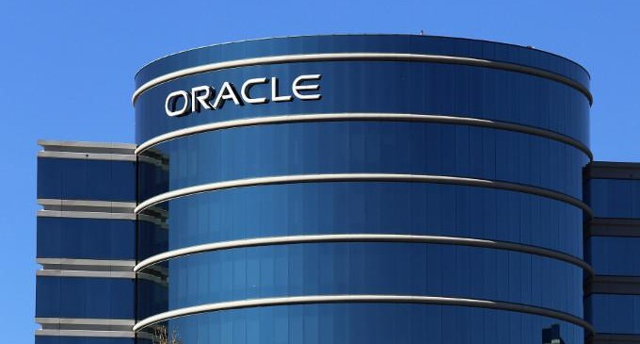 Even though Oracle (ORCL) currently trades near its 52-week high, it's a fair price to pay for such a reliable company. Oracle is just one of those companies that almost never goes on sale. However, now is a good time to buy given the following factors:
Earnings growth will be driven by an improving sales mix, acquisitions, and share repurchases.
Large amounts of capital will continue being returned to shareholders. Oracle produces a significant amount of free cash flow which supports share repurchases and a small, but growing dividend payment.
Reasonable fundamental valuation based on multiple approaches. I calculated 19% upside potential based on a single-stage discounted cash flow model. I also believe a PEG ratio of 1.89 is attractive given Oracle's strong brand and reliability.
Cash repatriation from Trump's tax plan.
Oracle's Operations
Over the last couple of years, Oracle's sales have been adversely impacted given challenges related to hardware and legacy software offerings. With that being said, Oracle has been investing heavily and has been active in acquiring companies (NetSuite was the most recent major move; $9 billion acquisition in 2016).

Data Source: Google Finance
If Oracle's 1st quarter of fiscal year 2018 is any indication, it's going to be a really good year. Going back to 2014, it's Oracle's strongest start. According to the press release:
Total revenues were up 7% from the prior year to $9.2 billion.
Cloud/on-premise software revenues were up 9% to $7.4 billion.
Total cloud revenues were up 51% to $1.5 billion.
GAAP EPS was up 19% to $0.52, while non-GAAP EPS was up 12% to $0.62.
Oracle's Cash vs. Debt
Both cash and debt have been increasing, but Oracle's net cash position has remained relatively unchanged over the last couple of years. Free cash flow has been strong, but this has been used to fund dividend payments, share repurchases, and acquisitions. One thing that I'll get into later is Oracle's large foreign cash balance, which is one of the reasons there has been a large increase in Oracle's debt. Instead of paying America's heavy corporate taxes on foreign profits, Oracle has instead funded domestic priorities with debt. With that being said, Oracle still has a positive net cash position and a solid looking overall balance sheet.

Dividend & Share Repurchases
Oracle isn't a huge dividend payer, but a yield of 1.57% is decent and I expect this to continue slowly increasing. With a payout ratio that was only 22% during 2017, the dividend payment has plenty of room for growth.

Share repurchases are where Oracle has returned the majority of capital back to its shareholders. Over the last 4 years, Oracle has returned $24.6 billion in capital through this program. I'm generally a fan of stock repurchases for a variety of reasons. First, share repurchases increase earnings per share, even if earnings remain flat. Second, share repurchases have a similar effect to a dividend, but there is more flexibility in increasing or stopping it (i.e., no negative investor sentiment). Lastly, share repurchases can tell you a lot about a management's view on the price of its stock. Large changes in stock repurchases can be a good indication of management's belief its stock is undervalued or overvalued.
Oracle Trades at a Reasonable Multiple
Relative to other mature, large-cap technology companies, Oracle trades at a reasonable valuation multiple. While Forward P/E, EV/EBITDA, and Price/Sales all exhibit a premium, this is fair given an attractive PEG ratio.

Enterprise Value, Forward P/E, EV/EBITDA, Price/Sales, PEG Ratio, and Yield provided by Yahoo Finance.
Single-Stage Discounted Cash Flow Analysis Yields 19% Upside Potential
This is a simple model, but it does yield similar results to Wall Street's estimates (see below). I also think its quite conservative given I used a 3% long-term growth rate. Keep in mind that Oracle's long-term growth rate, according to Reuters, is 8.8%.

Risk Free Rate - I used the yield on a 30-year treasury bond.
Equity Risk Premium - this figure is calculated every month by Aswath Damodaran, a Stern Business School Professor.
Beta - I used the beta listed on Google.
Required Rate of Return - calculated by multiplying the Equity Risk Premium by Beta and then adding the Risk Free Rate.
Oracle's Valuation Over Time
Oracle's valuation multiples have trended up over the last couple of years, but are within its historical range over a longer period of time. A creep up in valuation is also reasonable given Oracle's strong recent quarter and the appearance that a period of growth is beginning.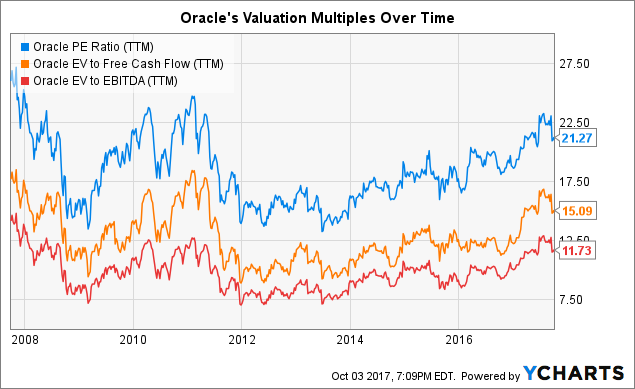 ORCL PE Ratio (TTM) data by YCharts
Trump's Corporate Tax Plan
President Trump's proposed tax plan has two major components. First, corporate tax rates would be lowered to 15%-20%, and there would be a cash repatriation holiday for cash held abroad. Current rules require companies that generate cash in low tax jurisdictions to pay the standard U.S. corporate rate on repatriated cash, less whatever tax they paid in in a foreign country. The result is that cash sits in overseas accounts, where it can't be used to pay dividends, repurchase stock or to buy U.S. companies. While I don't expect tax cuts to help Oracle that much since its effective tax rate is already approximately 20%, but cash repatriation could be a significant positive. This is because Oracle holds approximately $48 billion in cash overseas and is ranked 6th in terms of the companies that will benefit most, according to Business Insider. This cash could be used to help accelerate internal investments or domestic acquisitions, both which would be beneficial for future growth.
Wall Street Is Bullish
According to MarketWatch, 23 out of 35 analysts recommend Oracle as a 'buy' (only 1 recommends as a 'sell'). The average target price is $55.95 per share. Given the current stock price of $48.54, that's 15% upside.
Conclusion
With a forward P/E of 15.33 and a PEG ratio of 1.89, Oracle trades at an attractive price. This is especially true given Oracle's strong 1st quarter, which is an indication that cloud investments and acquisitions are finally paying off after a period of stagnate sales growth. Oracle is also attractive given a strong balance sheet, growing dividend, share repurchases, and a corporate tax overhaul that could provide an added layer of upside. Given all these factors, I consider Oracle a solid buy, especially for an investor that prefers stocks that will be held for a long period of time.
Disclosure: I/we have no positions in any stocks mentioned, and no plans to initiate any positions within the next 72 hours.
I wrote this article myself, and it expresses my own opinions. I am not receiving compensation for it (other than from Seeking Alpha). I have no business relationship with any company whose stock is mentioned in this article.