Those who follow my personal account on Twitter will be familiar with my weekly S&P 500 #ChartStorm in which I pick out 10 charts on the S&P 500 to tweet. Typically, I'll pick a couple of themes and hammer them home with the charts, but sometimes it's just a selection of charts that will add to your perspective and help inform your own view - whether it's bearish, bullish, or something else!
The purpose of this note is to add some extra context beyond the 140 characters of Twitter. It's worth noting that the aim of the #ChartStorm isn't necessarily to arrive at a certain view but to highlight charts and themes worth paying attention to.
So here's another S&P 500 #ChartStorm write-up!
1. Fear and Greed Index: This chart has gathered a lot of attention as the CNN Money Fear and Greed Index has moved to the highest level in the past couple of years. Simply put, greed is in, fear is out. It reminds me of the famous Warren Buffett quote: "Be fearful when others are greedy, and greedy when others are fearful." Greedy/optimistic sentiment alone is not enough to tank a market, but it's certainly more vulnerable when these conditions are in.
Bottom line: Greed is in, fear is out.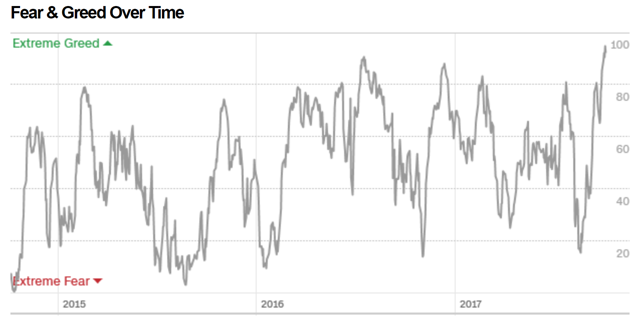 2. Great Expectations: This chart from Dana Lyons shows the UM Survey of Consumers "Probability of Increase in Stock Market in Next Year" - basically how many people expect stocks to be up over the next 12 months. Keeping in form with the first chart, it shows great expectations on the outlook, and this level of optimism was last encountered around the 2007 peak and the June 2015 micro-peak. It lines up with the previous chart, and builds on a similar theme we have been observing: exuberance has returned.
Bottom line: Consumers have great expectations on the stock market outlook.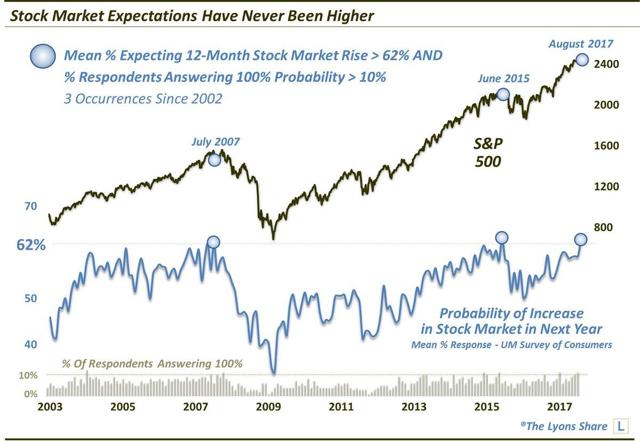 3. VIX and HY Credit Spreads: Taking the other side of confidence or optimism is complacency. This chart shows the VIX and HY credit spreads both tracking around the lows at arguably complacent levels. Again it reminds me of another market saying or rule of thumb: "Low volatility is a good predictor of future higher volatility, and high volatility is a good predictor of future lower volatility." One to keep in mind as the pieces of the constantly evolving puzzle fall into place.
Bottom line: The VIX and US HY credit spreads are at complacent levels.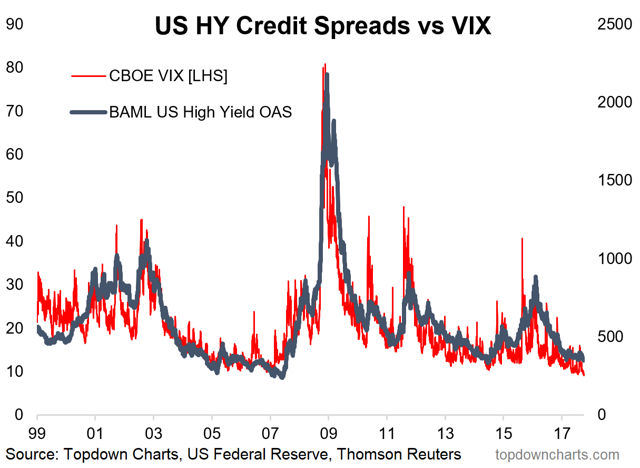 4. S&P 500 Earnings Yield vs. IG Credit Yields: On the topic of credit, here's where the S&P 500 earnings yield is tracking vs. IG credit yields. There remains a significant gap or premium between the two. All else equal, this is a supportive sign for equities, and it shows there remains some relative value in the market, even if valuations are very high in absolute terms. Of course, being a bond bear, I would note that IG yields could easily (and possibly swiftly) rise to close the gap should Treasury yield or broader bond yields rise.
Bottom line: S&P 500 still sees considerable relative value vs. IG credit.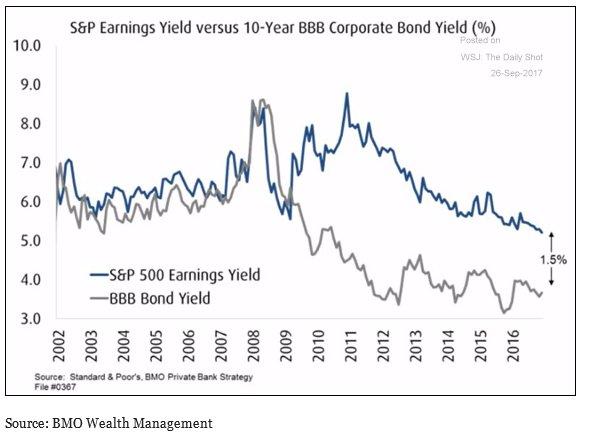 5. Forced VIX Buyers: This curious chart (back to the topic of the VIX) shows the various cohorts of "forced VIX buyers" at differing levels of market declines. Rather than fret about the details and definitions, the key point is that the rising popularity of volatility ETFs/ETPs has meant during the next big selloff or correction, there may be a big surge in forced VIX buying, so I would say that in some ways this increases the overall fragility of the market or at least the vulnerability to self-reinforcing breakdowns.
Bottom line: There will be a large amount of forced buying of VIX futures during the next big selloff or correction.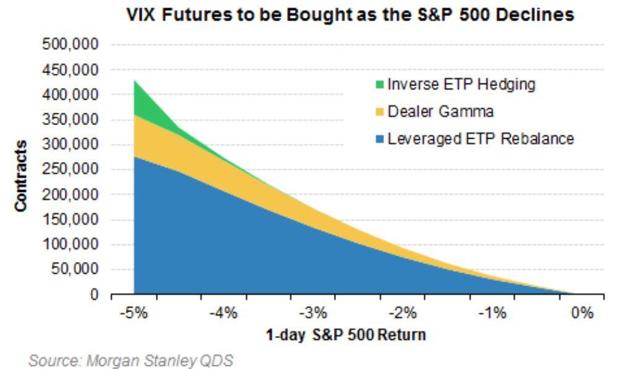 6. VIX Models: Keeping with the VIX topic, here's one of my own charts which shows the VIX against five various VIX models I track - the punchline is that the VIX is trading not only around post-crisis lows but also well below all five of those models (and it's a good spectrum of models from intermarket to fundamentals). Again, another sign of potential disconnects and underlying vulnerability. It could well be that these models improve even further to meet the very low VIX, but I would say the better odds are for a higher VIX.
Bottom line: The VIX is trading lower than where it "should" be.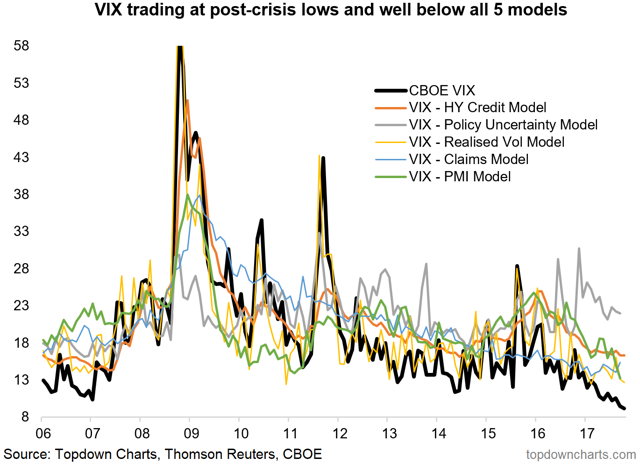 7. Buy, Hold, and Sell Ratings: Here's a breakdown of buy/hold/sell ratings by sector, put together by FactSet. There's a couple of interesting observations; for e.g., first at a glance you can see there is not many sell ratings at all. Second, at the aggregate level, it's about 50% with buy ratings. Finally, between sectors, Tech/Energy/Healthcare are the hot or favorite sectors while Utilities and telecoms are the least favored. It provides an interesting cross-section of how sell-side recommendations are sitting and a good segue into the next...
Bottom line: At an aggregate level, 50% of the ratings for the market are buys.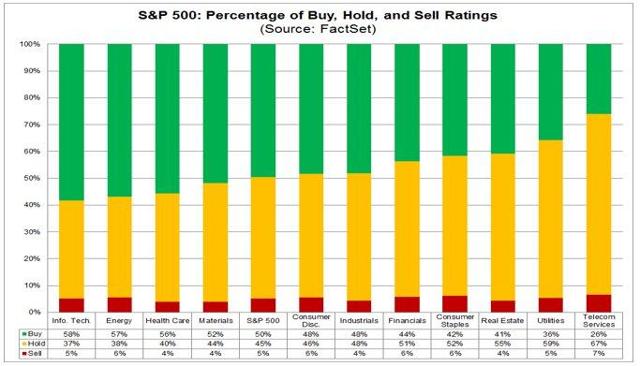 8. Sell-Side Consensus: This chart shows the evolution of sell-side ratings across time. As you might expect given some of the other charts we've looked at in this edition, optimism has been rising among sell-side analysts. Relative to history though, it still looks about middle of the range, and has ticked down recently. While the bands move across time, I would point out that the current level is not that far from where it was in 1987. It helps round out the sentiment picture, as optimism becomes more generalized.
Bottom line: Sell-side optimism is elevated.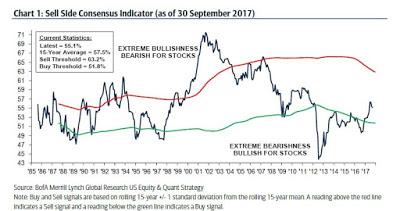 9. S&P 500 Median Effective Tax Rate: With all the talk about tax, this chart provides some very interesting context indeed. What might be surprising to some is how this metric has trended down over time from around 45% in the 1970s to around 27% now. So the question is in some respects, how much further can it be pushed? No doubt, much of the decline has been driven in part by progressively creative and resourceful tax accountants - which speaks more to the tax reform aspect vs. pure tax cuts. Moves to cut or simplify taxes are generally market friendly, though I do wonder how much further it can be pushed when it has already gone this far, but hey, maybe it's a case of "the trend is your friend".
Bottom line: Effective tax rates have already fallen from 45% to 27%.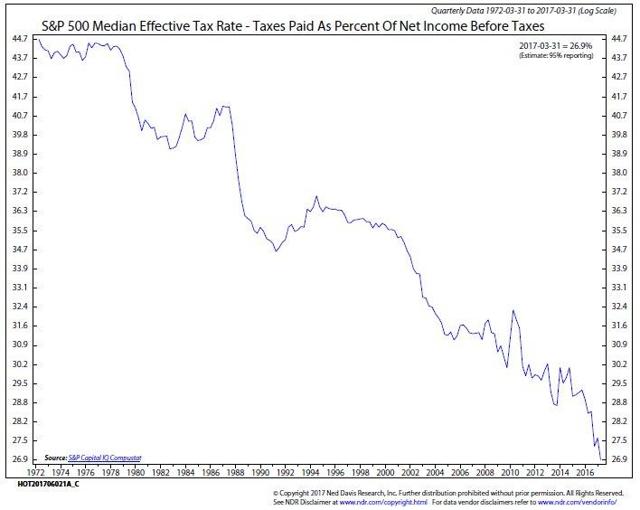 10. Multiboarded CEOs: This chart comes from an interesting article in the WSJ that looks at some analysis on CEOs who sit on the board of directors of other companies. As you might expect, those who sit on multiple boards end up getting paid more, but at least over the period looked at their companies' stock price didn't do as well. There might be some benefits to a CEO sitting on other boards, but I guess the distraction element may end up outweighing. Certainly something to think about in terms of the governance factor.
Bottom line: Multiboarded CEOs earn more but their shareholders don't.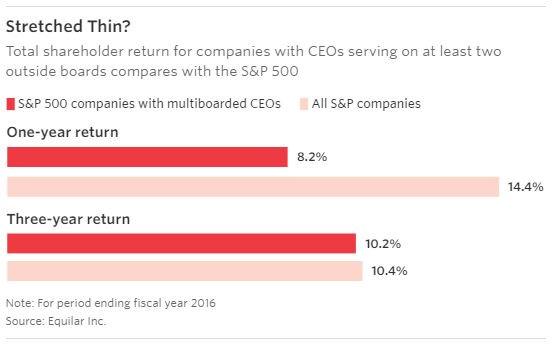 So where does all this leave us?
This week there's probably two major categories of interest:
1. Rising optimism
On the rising optimism theme, there was the fear and greed index in greed mode, high expectations by consumers of higher stock prices, and elevated optimism among sell-side analysts.
2. Increasing complacency
A very much related topic is the amount of complacency (either well placed or otherwise), with HY credit spreads and a low VIX being the main expression of this theme. Also of relevance was the VIX models which showed a disconnect, and the "forced VIX buyers" aspect creates a potentially volatile mix.
Summary
While there were a few interesting context-charts in this week's edition, the main theme was rising optimism and increasing complacency. As noted, complacency and greed aren't necessarily enough by themselves to tip a market over, but it's these sort of signs that you tend to see more often than not around a market top. Again, we await some sort of catalyst or actual deterioration in the underlying fundamentals, but until then, "greed is good!"
Disclosure: I/we have no positions in any stocks mentioned, and no plans to initiate any positions within the next 72 hours.
I wrote this article myself, and it expresses my own opinions. I am not receiving compensation for it (other than from Seeking Alpha). I have no business relationship with any company whose stock is mentioned in this article.