The S&P 500 finished lower on Friday after 8 straight higher sessions in a row while the VIX closed on Thursday at the lowest level on record.
"Maybe it's the calm before the storm" offered President Trump in a slightly different context while posing for photos with senior military leaders ahead of a White House dinner.
Closed-end fund investors have been thinking the same thing, nervously eyeing the currently very long, by historical standards, business cycle and the very tight credit spreads.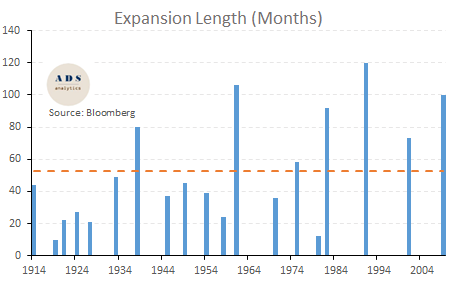 In DC news, the proposed tax plan is facing a number of challenges, first from the $2-2.5T addition to the budget deficit over the next decade, something difficult for fiscal conservatives to accept as well as from those Republicans representing states most negatively affected by the plan such as California and New York. Fed model estimates suggest a pickup in growth of 0.4pp by end of 2018. It's not all sunshine and unicorns, however, as we should expect the Fed to further tighten policy than they currently anticipate if the tax cuts are passed.
Markets
It was truly a risk-on quarter with S&P 500 +5.8%, base metals +13.1% and Emerging Market stocks +9.6%.
Treasuries belied a 35 bp round trip and ended the quarter pretty flat with High Yield and Emerging Market bonds up on the quarter. The only losers of the major assets were the USD and the safe-haven Swiss Franc.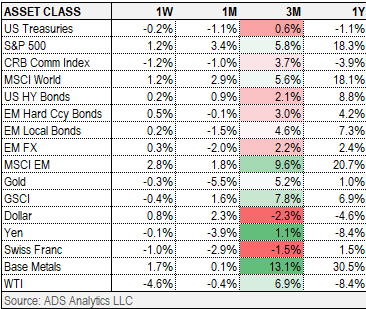 Macro
US Payrolls fell 33k (vs. +80k estimate) - a decline for the first time since 2010 due to the impact of hurricane activity. The unemployment rate fell to 4.2% from 4.4% - the lowest figure since 2001.
ISM Manufacturing came in above expectations rising 2 points to 60.8 - a 13-year high.
Fund Space
The key market themes of the last few quarters have mostly remained.
Low market volatility has persisted, despite rising geopolitical tensions and high political uncertainty.
The yield curve has remained flattish with a very low term premium due to a relatively hawkish Fed and benign inflation and wage costs.
The macro picture (both US and global) remains robust with solid corporate earnings and labor market improvements.
However, the market has appeared to move past two previously key risks: the Fed balance sheet unwind plan as well as the oil drawdown.
The balance sheet plan, long-telegraphed by the Fed, has not yet made a significant impact on the fixed-income market, particularly on mortgage valuations, although the actual implementation which started this month bears close watching. In the past year, equities have decidedly broken their correlation to the size of the Fed balance sheet.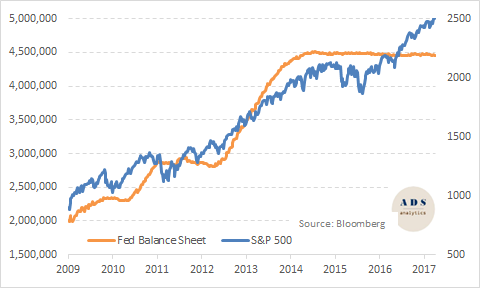 The painful oil drawdown that hammered MLP fund investors with a 60% drawdown in the benchmark Alerian MLP Index (AMZ) ended in June with WTI staging a 15% rally from the trough. Inventory rebalancing, a growth recovery and supportive comments from OPEC on additional supply reductions have helped to stabilize the price action. The correlation between AMZ and WTI has dropped below 50% which along with a sector yield of 10.5% and with added portfolio diversification versus traditional equity and fixed-income asset classes make MLPs relatively attractive. We should add a point of caution and say that some MLPs have made questionable and potentially unsustainable decisions in how they fund their distributions which requires their business models to continually tap the equity and debt markets - all well and good at record equity prices and low interest rates but something that may become difficult in a more challenging market environment.
Overall, it was a very good quarter for closed-end funds with the average major sector up 3.0% qoq.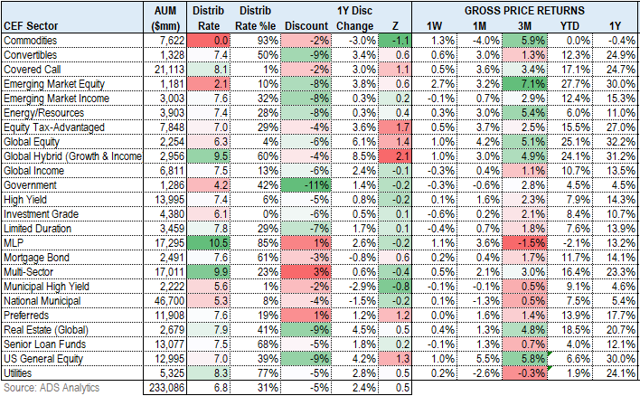 The best performing sectors were high-beta sectors that are leveraged to the business cycle. The worst-performing sectors were defensive ones like Utilities, Munis and Loans or ones with idiosyncratic stories like MLPs.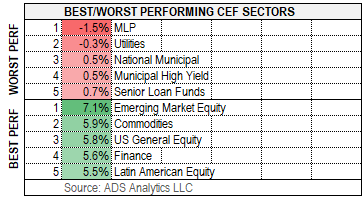 The biggest increases in discounts (higher NAV vs. Price) were mostly in the Equity sectors which corresponds to the typical procyclical behavior we see in the closed-end fund space where the best-performing sectors become relatively more expensive.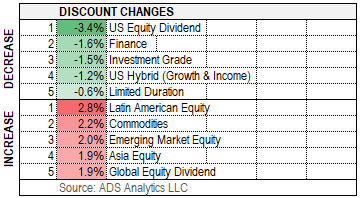 What's a fund investor to do?
We are hesitant to overweight equities or covered calls given rich valuations and low implied volatility.
However, with the recent rise in interest rates, a fixed-income barbell strategy of RMBS and Munis looks appealing to us. RMBS assets are relatively high-yielding, less sensitive to interest rates and leveraged to the US economy, particularly housing prices which we expect to do well. The other leg of the strategy is an allocation to Munis, particularly High Yield Munis, which appear attractive on a Z-Score basis and provide greater cushion now if interest rates were to fall in a risk-off scenario.
Good Luck!
Disclosure: I/we have no positions in any stocks mentioned, and no plans to initiate any positions within the next 72 hours.
I wrote this article myself, and it expresses my own opinions. I am not receiving compensation for it (other than from Seeking Alpha). I have no business relationship with any company whose stock is mentioned in this article.
Additional disclosure: This article is for information purposes only and does not constitute investment advice or an offer or the solicitation of an offer to buy or sell any securities. Past performance is not a guarantee and may not be repeated. Investment strategies are not suitable for everyone and you should always conduct your own research or speak to a financial advisor. Although information in this document has been obtained from sources believed to be reliable, ADS ANALYTICS LLC does not guarantee its accuracy or completeness and accept no liability for any direct or consequential losses arising from its use. ADS ANALYTICS LLC does not provide tax or legal advice. Any such taxpayer should seek advice based on the taxpayer's particular circumstances from an independent tax advisor.