In this article, I will explain why we are at one of the most interesting points when it comes to buying a stock that even the cleaning lady won't touch at a price that could be a very interesting turnaround.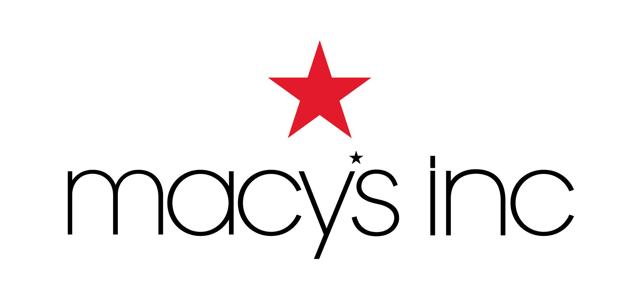 Source: Macy's
Everyone Hates This Stock
Macy's (M) lost 4.6% last week which pushes the YTD return down to a stunning minus 42%. There are not many stocks that have a worse performance. The stock is trading like it is about to get out of business, especially if you include the performance of the last few years.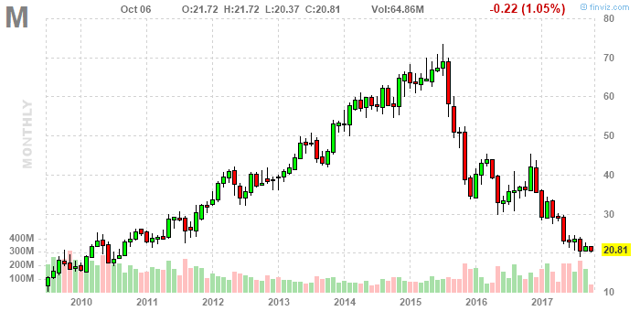 Traders have been massively short this stock after the consumer peaked in the first half of 2015, shortly after the manufacturing peak of 2014. At this point, we see that 14.4% of all shares are sold short which is by far the highest level of the last few years.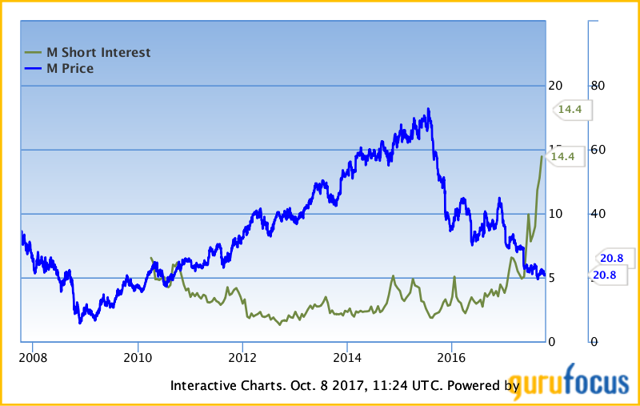 I expect that many large traders have traded Macy's against stronger trades in the retail industry like Amazon (AMZN). It has been a trading tool, nothing more, nothing less.
The Party Has Ended
At this point, I believe it is safe to say that new short sellers are late to the party. Negative sentiment has been building up for quite some time while the fundamental case has turned bullish over the last few months. Most severe downtrends end like this when people keep jumping on the bandwagon while they forget that fundamentals are changing.
Well, let's look at one of those fundamentals. The graph below shows leading retail industry sentiment. I made this graph with data from monthly ISM reports. It displays 12 months accumulative sentiment which is very handy when it comes to displaying long-term trends and turnarounds.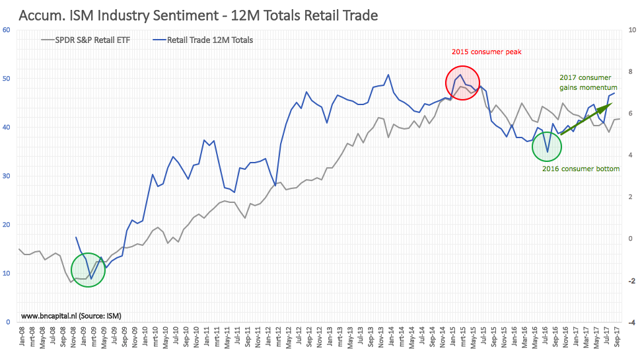 What we see is that retail peaked in the first half of 2015. Sentiment took a big hit after it hit another high in the first quarter of that very same year. The SPDR S&P Retail ETF (XRT) peaked around the same time.
Note that we are currently seeing a growth rally after the retail bottom of the second half of 2016. Sentiment is close to 2015 levels after two very strong months in August and September of this year.
The retail ETF price seems to confirm this sentiment move. On the weekly chart, we see an interesting break-out from the falling downtrend that started in the first week of this year.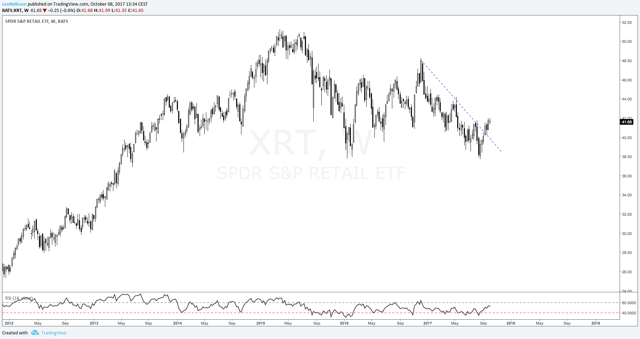 Macy's is not very different with one big exception: the stock did not get punished, it got slaughtered. Both Macy's and retail sentiment peaked simultaneously while the retail bottom has been fully ignored.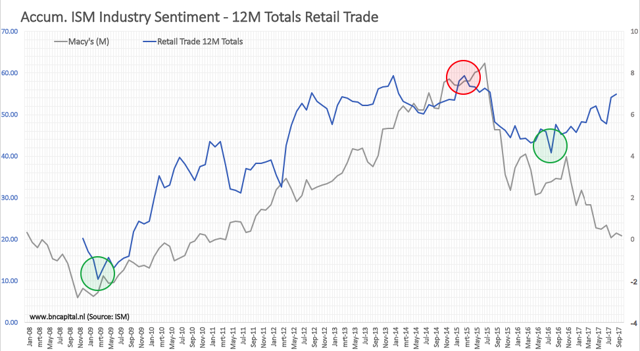 Now, it's probably a good thing that Macy seems to lag about 6-12 months when it comes to absorbing the good news. The same happened between 2009-2011 and 2011-2013. Higher sentiment could easily push the stock up to $30 over the next few months.
Additional Sweeteners & Conclusion
In addition to an interesting contrarian buy, you get a high dividend (>7%) and a valuation that seems to expect a recession. The PEG ratio is as low as 0.50 with expected 5-year EPS growth of only 18%.
Expectations are just so low that it makes Macy's one of the most interesting retail stocks. Mainly because you are buying into the end of one big short selling party that has erased all future expectations.
And I did not even talk about incentives that could give the business model a new boost.
However, make sure that you keep your position small. The risk/reward ratio is high, but so is the volatility. Once this thesis turns out to be right, it gets more interesting to add on dips.
Thank you for reading my article. Please leave a comment below if you have questions or remarks.
Disclosure: I/we have no positions in any stocks mentioned, but may initiate a long position in M over the next 72 hours.
I wrote this article myself, and it expresses my own opinions. I am not receiving compensation for it (other than from Seeking Alpha). I have no business relationship with any company whose stock is mentioned in this article.
Additional disclosure: This article serves the sole purpose of adding value to the research process. Always take care of your own risk management and asset allocation.