The current bull market in stocks is over eight years old. Recently, market volatility has taken a sabbatical. The S&P 500 (SPY, IVV) has not had even a 4% dip since Oct-Nov 2016 (4-5% declines from peak happen 1-2 times per year, on average). There are always positives and negatives out there. In this quarterly outlook, I wanted to outline some significant risks that are perhaps under investors' radar. They fall into two broad categories: domestic economic, and global geopolitical.
1. Economic optimism – but not much else
Consumer and business sentiment has surged since the election and remained high this year: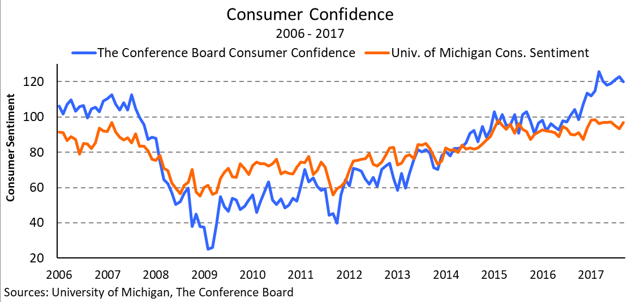 High confidence is typically followed by high economic activity. Oddly, this hasn't occurred. The bankers who advise the Federal Reserve board of governors were puzzled earlier in September by slowing credit demand despite high levels of sentiment:
The post-election expectation was that the gain in confidence and financial market deregulation would spur credit creation… While consumers and businesses remain optimistic, that has not translated into significant growth in loan demand. [1]
The Atlanta Fed's estimate of Q3 GDP growth currently stands at 2.5%. The blue-chip economists' consensus is at 2.2%. If we average the two, growth of around 2.4% might be disappointing after Q2 printed at 3.1%.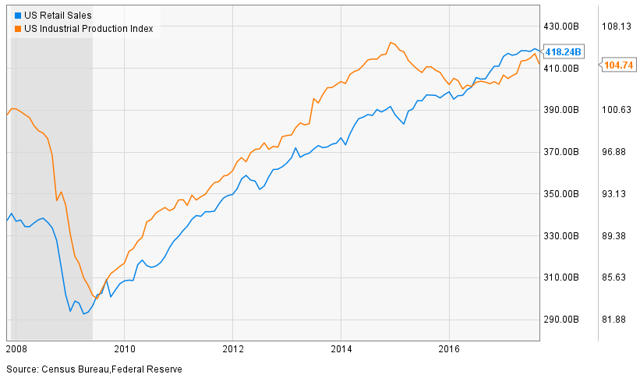 After a strong Q2, industrial production dipped in August (see chart, yellow line). Consumer spending, which makes up 70% of our economy, in fact slowed this year (the blue line).
A five-year chart of Autodata's vehicle sales is shown below. Sales remained around three-year lows of 16.8 million annual rate in the previous three months, then took another decisive dip to 16.14 million in August (and this is before the September hurricanes). If consumers are optimistic, why are they not buying cars? This is a concern.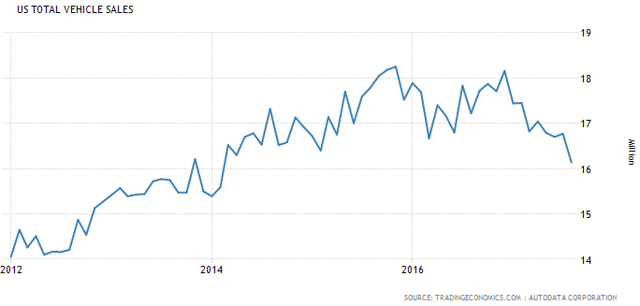 A note on tax reform
President Trump's administration released its tax plan last month. It proposes across-the-board cuts to rates for individuals and businesses, eliminates most deductions, and simplifies the tax code. Lower and simpler taxes are expected to boost economic growth in the long run. But the legislative debate is only beginning. The CBO has not yet released its projections, but will likely show a negative effect on the federal budget. The Democrats might resist it anyway, and its eventual consensus form is unclear. Trump's cabinet wants to have the reform passed this year, but for major legislation like this the process might extend into 2018. Because investors have already priced it in, any delay is a significant risk for the market.
Some of the effects of the proposed tax reform are not yet well understood. For example, the top corporate rate is proposed to be reduced from 35% to 20%. However, large corporations already pay significantly lower taxes due to loopholes and inversions (moving headquarters offshore). The effective tax paid by most large U.S. companies is between 10% and 20%. The largest, most profitable American company, Apple Inc. (AAPL), paid 17% of its gross income in taxes in its fiscal 2016.[2] So, if loopholes are eliminated, taxes could in fact rise for corporations that exploit them to a significant extent. This would offset some of the reduction in income taxes on individuals (which would only be fair). In my view, this would benefit our economy as offshore activity returns. But most people think that the reform would lower corporate taxes - it may not.
2. Geopolitics
North Korea has dominated the news recently. The regime's nuclear and ballistic programs are a serious threat and need to be stopped. This position is shared by all United Nations Security Council members. The U.S. has so far pursued diplomatic solutions including UN sanctions and extending pressure on China to execute on its promises of reducing exports to North Korea. The U.S. has also made clear that military solutions are on the table. While military action poses minimal threat to the U.S., it could be devastating to our allies including South Korea, and could jolt global markets.
But geopolitical risks are not limited to the Korean Peninsula – they seem to pop up in other parts of the globe. Spanish province of Catalonia held independence referendum last Sunday which was earlier declared unconstitutional by the government in Madrid. Spanish police from outside Catalonia were sent to stop the vote. Despite the police brutality against the referendum supporters, 85% of those who voted supported independence, according to unofficial figures.
Mariano Rajoy's government doubled down, declaring the referendum illegal. This was followed by mass protests. Major roads were blocked in as pro-independence protesters made a show of force. This is only the latest example of pro-independence trends slowly gaining strength across Europe.
What Does It Mean For Active Investors?
Both implied and realized volatility have bumped along historic lows in recent months. The VIX index (VIXY), a measure of implied volatility, spiked during the mid-August market dip, but plummeted below 9.5% in recent weeks. Devoid of risk, the market has been "boring." With serious risks that remain below investors' radar, it might get more interesting in the fourth quarter.
---
[1] Source: the minutes released by the Federal Reserve Board of its Sep 8 meeting with the Federal Advisory Council.
[2] Taxes paid is found in the "Cash paid for income taxes, net" line of Cash Flow Statement in the Sep-2016 10-K report.
Disclosure: I am/we are long IVV.
I wrote this article myself, and it expresses my own opinions. I am not receiving compensation for it. I have no business relationship with any company whose stock is mentioned in this article.
Additional disclosure: Roman Chuyan is a partner of Model Capital Management LLC, a Registered Investment Adviser. This article is for informational purposes only. There are risks involved in investing, including loss of principal. The author makes no explicit or implicit guarantee with respect to performance or the outcome of any investment or projections made by him or Model Capital Management LLC. There is no guarantee that the goals of the strategies discussed in this article will be met. Information or opinions expressed may change without notice, and should not be considered recommendations to buy or sell any security.